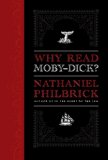 I adore Moby Dick by Herman Melville.  This site's quotation collection reflects that.  (Click here to see quotes from Moby Dick.)  However my appreciation for the novel is nothing compared to that of Nathaniel Philbrick's.
Philbrick's book Why Read Moby-Dick? helps us understand the time period of the book's creation as well as showing us how it relates to our lives today.
Amazon has this to say:
Philbrick skillfully navigates Melville's world and illuminates the book's humor and unforgettable characters-finding the thread that binds Ishmael and Ahab to our own time and, indeed, to all times. A perfect match between author and subject, Why Read Moby-Dick? gives us a renewed appreciation of both Melville and the proud seaman's town of Nantucket that Philbrick himself calls home. Like Alain de Botton's How Proust Can Change Your Life, this remarkable little book will start conversations, inspire arguments, and, best of all, bring a new wave of readers to a classic tale waiting to be discovered anew.