Bram Stoker a Late Bloomer?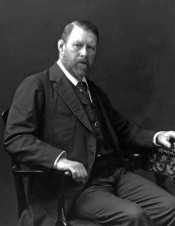 April 20th marked 100 years since the death of Bram Stoker, the author of Dracula.
An interesting fact about Stoker is that he was a late bloomer in terms of his writing career.  His work history included theater critic, civil servant and 27 years spent as the manager of the Lyceum Theater in London.  Stoker didn't publish Dracula until he was fifty years old.
Then a dog began to howl somewhere in a farmhouse far down the road, a long, agonized wailing, as if from fear. The sound was taken up by another dog, and then another and another, till, borne on the wind which now sighed softly through the Pass, a wild howling began, which seemed to come from all over the country, as far as the imagination could grasp it through the gloom of the night. ~ Dracula by Bram Stoker
[amazon_carousel widget_type="SearchAndAdd" width="450″ height="200″ title="" market_place="US" shuffle_products="False" show_border="False" keywords="dracula" browse_node="" search_index="DVD" /]