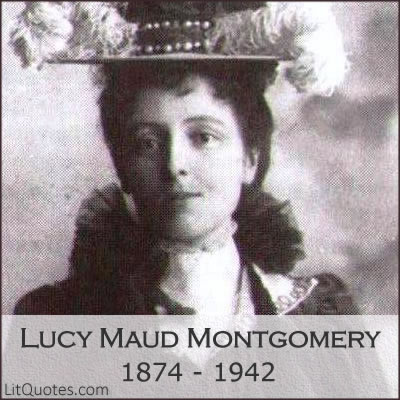 Lucy Maud Montgomery, author of Anne of Green Gables, was born on November 30th 1874.
Montgomery's life seems like a dark version of Anne's adventures.  Clara Montgomery, Lucy's mother, died when Lucy was just 21 months old.  Lucy was raised by her maternal Grandparents who were very strict.
Montgomery had many suitors, but in the end married Ewen Macdonald, a Presbyterian minister.  It was not a story-book life.  One of their children was stillborn.  Montgomery struggled with the demanding roles of mother and and clergyman's wife.  There were lawsuits with publishers.  Additionally, Montgomery's husband suffered from mental illness.  It may have all been too much for for her.
Lucy Maud Montgomery died in 1942.  At the time it was reported that she'd passed from heart failure.  In 2008 her granddaughter, Kate Macdonald Butler,  revealed that Montgomery may have taken her own life.   The evidence was a  note found on Montgomery's bedside the day that she died.
This copy is unfinished and never will be. It is in a terrible state because I made it when I had begun to suffer my terrible breakdown of 1940. It must end here. If any publishers wish to publish extracts from it under the terms of my will they must stop here. The tenth volume can never be copied and must not be made public during my lifetime. Parts of it are too terrible and would hurt people. I have lost my mind by spells and I do not dare think what I may do in those spells. May God forgive me and I hope everyone else will forgive me even if they cannot understand. My position is too awful to endure and nobody realizes it. What an end to a life in which I tried always to do my best.
Some people believe that the note was part of a journal entry and that Montgomery did not commit suicide.  The fact is that we'll never for sure what happened.  All that is certain is that we owe Lucy Maud Montgomery a debt of gratitude for the joy that she's brought into all our lives.
"Isn't it splendid to think of all the things there are to find out about? It just makes me feel glad to be alive–it's such an interesting world. It wouldn't be half so interesting if we know all about everything, would it? There'd be no scope for imagination then, would there?" ~  Anne of Green Gables by Lucy Maud Montgomery
Books in the Anne of Green Gables Series
Anne of Green Gables
Anne of Avonlea
Anne of the Island
Anne of Windy Poplars
Anne's House of Dreams
Anne of Ingleside
Rainbow Valley
Rilla of Ingleside
The Blythes Are Quoted
Books in the Emily Trilogy
Emily of New Moon
Emily Climbs
Emily's Quest
Pat of Silver Bush Books
Pat of Silver Bush
Mistress Pat
The Story Girl Books
The Story Girl
The Golden Road
Other Books
Kilmeny of the Orchard
The Blue Castle
Magic for Marigold
A Tangled Web
Jane of Lantern Hill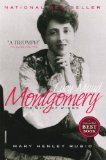 If you're interested in learning more about Lucy Maud Montgomery, you'll enjoy Lucy Maud Montgomery: The Gift of Wings.
I've added a new quote to the LitQuotes Facebook page.  Feel free to share it with friends and family.
We live in deeds, not years; in thoughts, not breaths;
In feelings, not in figures on a dial. ~ Festus by Philip James Bailey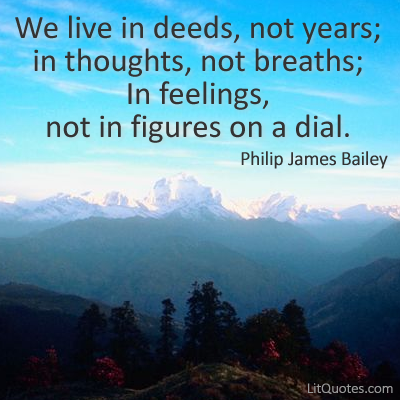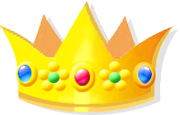 Over the weekend I added a new quote topic, king quotes.  You can see all of the king quotes here.  In the meantime here are a few of my favorites:
"All I say is, kings is kings, and you got to make allowances. Take them all around, they're a mighty ornery lot. It's the way they're raised." ~  The Adventures of Huckleberry Finn by Mark Twain
A well proportioned mind is one which shows no particular bias; one of which we may safely say that it will never cause its owner to be confined as a madman, tortured as a heretic, or crucified as a blasphemer. Also, on the other hand, that it will never cause him to be applauded as a prophet, revered as a priest, or exalted as a king. Its usual blessings are happiness and mediocrity. ~  Return of the Native by Thomas Hardy
"When I am king, they shall not have bread and shelter only, but also teachings out of books; for a full belly is little worth where the mind is starved." ~  The Prince and The Pauper by Mark Twain

Do you follow us on Twitter? If not, you'll want to check it out.  Here are some interesting items that we've tweeted about recently:
Dickens vs Shakespeare: A tale of two writers – Life & Style – NZ Herald News nzh.tw/10848513 via @nzherald

— LitQuotes (@LitQuotesSite) November 25, 2012
Thomas Hardy and George Eliot fall out of fashion while Dickens and Austen do well via @telegraph soc.li/MeCMpeD

— LitQuotes (@LitQuotesSite) November 13, 2012
Ask Srcrooge a Question: Our partner site, Charles Dickens Gad's Hill Place, has a fun… goo.gl/fb/H74rF

— LitQuotes (@LitQuotesSite) November 12, 2012
Our Twitter Feed also has a separate daily quote.

No one can be happy in eternal solitude. ~The Tenant of Wildfell Hall by Anne Bronte litquotes.com/single.php?Rid…

— LitQuotes (@LitQuotesSite) November 23, 2012
This was torment indeed, to inherit the responsibility of one's own life. ~The Rainbow by D. H. Lawrence ow.ly/f08oQ #Quote

— LitQuotes (@LitQuotesSite) November 13, 2012
The fool wonders, the wise man asks. ~ Count Alarcos: A Tragedy by Benjamin #Disraeli litquotes.com/single.php?Rid…

— LitQuotes (@LitQuotesSite) November 11, 2012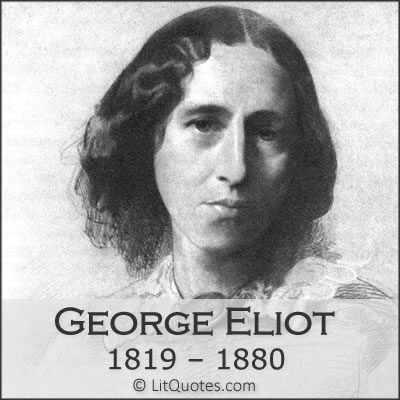 Mary Anne Evans, commonly known as George Eliot, was born on November 22, 1819.   Evans wrote under a male pen name to ensure that her works  would be taken seriously.  At the time it was thought that women authors wrote only lighthearted romances.
Middlemarch, for instance, deals with subjects like the Great Reform Bill, the beginnings of railways and the death of King George IV.  Virginia Woolf once said that Middlemarch, "is one of the few English novels written for grown-up people."
Other novels by George Eliot include Adam Bede, The Mill on the Floss, Silas Marner,   Romola, Daniel Deronda as well as Felix Holt, the Radical.
Pride helps us; and pride is not a bad thing when it only urges us to hide our own hurts—not to hurt others. ~ Middlemarch by George Eliot
Novels by George Eliot
Adam Bede
The Mill on the Floss
Silas Marner
Romola
Felix Holt, the Radical
Middlemarch
Daniel Deronda
More About George Eliot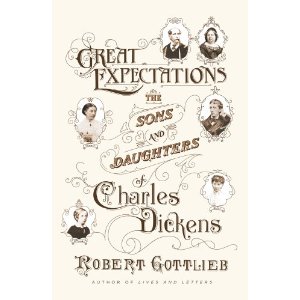 What a great year for books about Charles Dickens! The 200th birthday of the author has seen the publication of some interesting  biographies. The latest, Great Expectations: The Sons and Daughters of Charles Dickens by Robert Gottlieb, hits the bookstores on November 27th.
Gottlieb's book focuses on the lives of the ten children of Charles Dickens.  (Yep, he had ten children.)  It also touches on a possible child that Dickens had with his mistress, Ellen Ternan.
I haven't read a review copy, but Publisher's Weekly has.  In their review of  Great Expectations: The Sons and Daughters of Charles Dickens PW says, "This smart and accessible biography is written in a clever, conversational tone that radiates coziness during even the coldest moments, keeping the pages swiftly turning. "
Here's what Amazon has to say about the book:
Charles Dickens, famous for the indelible child characters he created—from Little Nell to Oliver Twist and David Copperfield—was also the father of ten children (and a possible eleventh). What happened to those children is the fascinating subject of Robert Gottlieb's Great Expectations. With sympathy and understanding he narrates the highly various and surprising stories of each of Dickens's sons and daughters, from Kate, who became a successful artist, to Frank, who died in Moline, Illinois, after serving a grim stretch in the Royal Canadian Mounted Police.

Each of these lives is fascinating on its own. Together they comprise a unique window on Victorian England as well as a moving and disturbing study of Dickens as a father and as a man.
Go to Amazon.com to buy Great Expectations: The Sons and Daughters of Charles Dickens
Here's a new quote photo.  This funny quote is from A Woman of No Importance by Oscar Wilde.   I've also added it to the LitQuotes Facebook page for easier sharing.
"After a good dinner one can forgive anybody, even one's own relations." ~ A Woman of No Importance by Oscar Wilde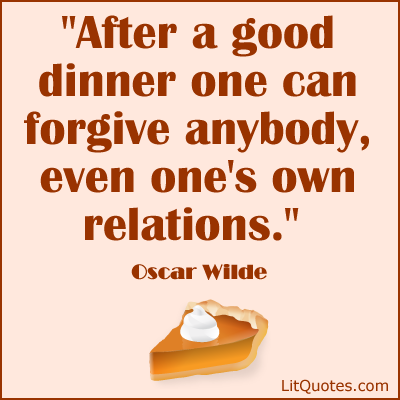 Classic literature can be inspirational.  It can be poetic.  It can be educational.  Classic literature can also be really funny!  Check out these ten funny quotes from literature:
1 – "How dreadful!" cried Lord Henry. "I can stand brute force, but brute reason is quite unbearable. There is something unfair about its use. It is hitting below the intellect." ~  The Picture of Dorian Gray by Oscar Wilde
2 – "If you could see my legs when I take my boots off, you'd form some idea of what unrequited affection is."  ~  Dombey and Son by Charles Dickens
3 – Indeed, he would sometimes remark, when a man fell into his anecdotage, it was a sign for him to retire from the world. ~  Lothair by Benjamin Disraeli
4 – You cannot make a man by standing a sheep on its hind-legs. But by standing a flock of sheep in that position you can make a crowd of men. ~  Zuleika Dobson by Sir Max Beerbohm
5 – The bishop did not whistle: we believe that they lose the power of doing so on being consecrated. ~  The Warden by Anthony Trollope
6 – A story with a moral appended is like the bill of a mosquito. It bores you, and then injects a stinging drop to irritate your conscience. ~  Strictly Business by O. Henry
7  – From politics, it was an easy step to silence. ~  Northanger Abbey by Jane Austen
8 – Few things are harder to put up with than the annoyance of a good example. ~  The Tragedy of Pudd'nhead Wilson by Mark Twain
9 – It is not that I object to the work, mind you; I like work: it fascinates me. I can sit and look at it for hours. ~  Three Men in a Boat by Jerome K. Jerome
10 – I don't want to repeat my innocence. I want the pleasure of losing it again. ~  This Side of Paradise by F. Scott Fitzgerald
If you enjoyed these quotes check out our humorous quotes page or our random funny quote feature.
This Friday (November 16th) a movie adaptation of Anna Karenina opens in limited release in the United States. As you can see by the below trailer, the movie is a lush period piece.
I've never read the book so I looked for the Kindle version of Anna Karenina at Amazon. I'm not sure how long it will be at this price, but I see that it's free today.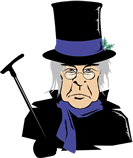 Our partner site, Charles Dickens Gad's Hill Place, has a fun feature that you may enjoy.  Go there to ask Ebenezer Scrooge a yes or no question.    And if you're a Scrooge fan, check out our gift shop for Scrooge clothing, mugs and more.
Darkness is cheap, and Scrooge liked it.
  A Christmas Carol by Charles Dickens