Arnold Bennett 1867 – 1931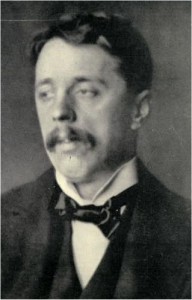 British author Enoch Arnold Bennett was born on May 27, 1867 and died on March 27, 1931. He's remembered for more than his plays and novels, he's also remembered because of a recipe.   Bennett was a frequent visitor at the Savoy Hotel.  Whenever he ate there he ordered an omelette made with smoked haddock, Parmesan cheese and cream.  The Savoy renamed the dish Omelette Arnold Bennett.
While I was unable to find a current menu from The Savoy Grill, a restaurant review from 2010 mentions the dish.   If you'd like to make the dish at home, here's the recipe.
A cause may be inconvenient, but it's magnificent. It's like champagne or high heels, and one must be prepared to suffer for it. ~ The Title by Arnold Bennett