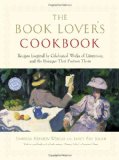 I was browsing through Amazon.com and was happily surprised to find The Book Lover's Cookbook: Recipes Inspired by Celebrated Works of Literature.  You can be sure that I've added it to my wish list!  It combines two of may favorite things, cooking and reading.
Wake up to a perfect breakfast with Mrs. Dalby's Buttermilk Scones, courtesy of James Herriot's All Things Bright and Beautiful and Ichabod's Slapjacks, as featured in Washington Irving's The Legend of Sleepy Hollow. There's homey comfort food like Connie May's Tomato Pie, created with and inspired by Connie May Fowler (Remembering Blue); Thanksgiving Spinach Casserole (Elizabeth Berg's Open House); and Amish Chicken and Dumplings (Jodi Picoult's Plain Truth) . . . Sample salads, breads, and such soul-warming soups as Nearly-a-Meal Potato Soup (Terry Kay's Shadow Song); Mr. Casaubon's Chicken Noodle Soup (George Eliot's Middlemarch); and Mrs. Leibowitz's Lentil-Vegetable Soup (Frank McCourt's Angela's Ashes) . . . After relishing appetizers and entrees, there's a dazzling array of desserts, including Carrot Pudding (Charles Dickens's A Christmas Carol); Effie Belle's Coconut Cake (Olive Ann Burns's Cold Sassy Tree); and the kids will love C.S. Lewis's Turkish Delight from The Lion, The Witch, and the Wardrobe.

Sprinkled throughout with marvelous anecdotes about writers and writing, The Book Lover's Cookbook is a culinary and literary delight, a browser's cornucopia of reading pleasure, and a true inspiration in the kitchen.
Some of the Recipes and the Books that Inspired Them
Jo's Best Omelette . . . Little Women by Louisa May Alcott
No Dieter's Delight Chicken Neapolitan . . . Thinner by Stephen King
Extra-Special Rhubarb Pie . . . The Persian Pickle Club by Sandra Dallas
Grand Feast Crab Meat Casserole . . . At Home in Mitford by Jan Karon
Persian Cucumber and Yogurt . . . House of Sand and Fog by Andre Dubus III
Tamales . . . Like Water for Chocolate by Laura Esquivel
Bev's No-Fuss Crab Cakes . . . Unnatural Exposure by Patricia Cornwell
Macaroni and Cheese . . . The Accidental Tourist by Anne Tyler
Veteran Split Pea Soup . . . The Red Badge of Courage by Stephen Crane
Alternative Carrot-Raisin-Pineapple Salad . . . Midwives by Chris Bohjalian
Summer's Day Cucumber-Tomato Sandwiches . . . Women in Love by D. H. Lawrence
Refreshing Black Cows . . . The Book of Ruth by Jane Hamilton
Dump Punch . . . Pride and Prejudice by Jane Austen
Not Violet, But Blueberry Pie . . . Charlie and the Chocolate Factory by Roald Dahl
Innocent Sweet Bread . . . The Bluest Eye by Toni Morrison
Daddy's Rich Chocolate Cake . . . Fatherhood by Bill Cosby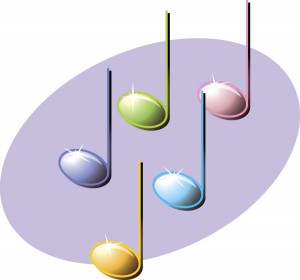 "I do hate singing before that sort of audience. It is like giving them your soul to look at, and you don't want them to see it. It seems indecent. To my mind, music is the most REVEALING thing in the world." ~  The Rosary by Florence L. Barclay
For his part, every beauty of art or nature made him thankful as well as happy, and that the pleasure to be had in listening to fine music, as in looking at the stars in the sky, or at a beautiful landscape or picture, was a benefit for which we might thank Heaven as sincerely as for any other worldly blessing. ~  Vanity Fair by William Makepeace Thackeray
At a single strain of music, the scent of a flower, or even one glimpse of a path of moonlight lying fair upon a Summer sea, the barriers crumble and fall. Through the long corridors the ghosts of the past walk unforbidden, hindered only by broken promises, dead hopes, and dream-dust. ~  Old Rose and Silver by Myrtle Reed
"Your voice and music are the same to me." ~  The Haunted Man by Charles Dickens
She made up her mind to tell them to play loud–there was a lot of music in a cornet, if the man would only put his soul into it. ~  The Forsyte Saga by John Galsworthy
"I think I should have no other mortal wants, if I could always have plenty of music. It seems to infuse strength into my limbs, and ideas into my brain. Life seems to go on without effort, when I am filled with music." ~  The Mill on the Floss by George Eliot
"And now, Doctor, we've done our work, so it's time we had some play. A sandwich and a cup of coffee, and then off to violin-land, where all is sweetness and delicacy and harmony, and there are no red-headed clients to vex us with their conundrums." ~  The Red-Headed League by Sir Arthur Conan Doyle
see all of the music quotes from literature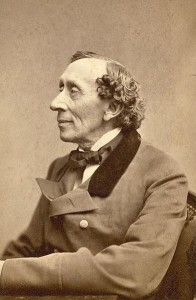 Hans Christian Andersen was born on April 2 in 1805.  He died on August 4, 1875.  His fairy tales, such as The Little Mermaid and  The Little Match Girl, have inspired movies, plays and ballets.
Here are five quick facts about the author that you may not know:
1 – He was born in Odense, Denmark.  His father was a shoemaker and his mother worked as a washerwoman.
2 – Andersen's father set the stage for his son's love of literature by reading him Arabian Nights.
3 – Hans Christian Anderson was not lucky in love.  Jenny Lind, the opera singer, was the most famous of his unrequited loves.
4 – In the spring of 1872, Andersen fell out of his bed and was injured.  He never fully recovered. Soon after he started to have signs of liver cancer.  He died on August 4, 1875 in a house near Copenhagen.
5 – An early fairy tale by Andersen called The Tallow Candle was discovered in a Danish archive in October 2012. The story, written in the 1820s, was about a candle who did not feel appreciated. Its existence was unknown for close to two centuries.
Andersen's fairy tales include:
The Angel
The Bell
The Emperor's New Clothes
The Fir-Tree
The Galoshes of Fortune
The Happy Family
The Ice-Maiden
It's Quite True!
The Little Match Girl
The Little Mermaid
Little Tuck
The Most Incredible Thing
The Nightingale
The Old House
The Princess and the Pea
The Red Shoes
Sandman
The Shadow
The Shepherdess and the Chimney Sweep
The Snow Queen
The Steadfast Tin Soldier
The Story of a Mother
The Swineherd
Thumbelina
The Tinderbox
The Ugly Duckling
The Wild Swans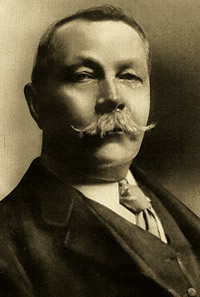 April Fools Day seems like an appropriate time to talk about one of the early successes of Sir Arthur Conan Doyle's career, J. Habakuk Jephson's Statement.
The short story is a work of fiction.  However it's based on a true story, the maritime mystery of the Mary Celeste. In 1872 the Mary Celeste was spotted  by the crew of the British brigantine Dei Gratia.  The Mary Celeste seemed to be in trouble. Some of her sails were missing while others flapped uselessly in the wind. Most alarming of all was the fact that there was no one at the wheel!
The Mary Celeste was boarded and found to be relatively undamaged.  The cargo was intact. There was plenty of food and water aboard. However there was no sign of  the crew.  Not a soul was on board.  To this day no one knows what happened to the crew of the Mary Celeste.
J. Habakuk Jephson's Statement was published anonymously.  In it, Conan Doyle wrote about an abandoned vessel named the Marie Celeste. The story tells how the ship was commandeered and sailed to Africa.  Later the passengers and crew were murdered.
The problem was that the story was so vivid that some people mistook it for an article.  They thought they were reading a piece of investigative journalism.  It caused quite an uproar.
Other people reading the tale understood that it was a work of fiction.  However it drew a lot of attention when hundreds of readers thought that they recognized the writing style of the anonymous author.  They suspected that the author was none other than Robert Louis Stevenson.
You can get more details about J. Habakuk Jephson's Statement at our partner site,
The Chronicles of Sir Arthur Conan Doyle.