George Orwell 1903 – 1950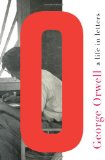 Eric Arthur Blair, who used the pen name George Orwell, was an English novelist, essayist, journalist and critic. He was born on June 25, 1903 in Motihari, India.  He died on January 21, 1950 in London.
He wrote Nineteen Eighty-Four and Animal Farm, but how much do you really know about George Orwell?  George Orwell: A Life in Letters allows us a fascinating look into the life of this complicated man.
From his school days to his tragic early death, George Orwell, who never wrote an autobiography, chronicled the dramatic events of his turbulent life in a profusion of powerful letters. Indeed, one of the twentieth century's most revered icons was a lively, prolific correspondent who developed in rich, nuanced dispatches the ideas that would influence generations of writers and intellectuals.

Over the course of a lifetime, Orwell corresponded with hundreds of people, including many distinguished political and artistic figures. Witty, personal, and profound, the letters tell the story of Orwell's passionate first love that ended in devastation and explains how young Eric Arthur Blair chose the pseudonym "George Orwell." In missives to luminaries such as T. S. Eliot, Stephen Spender, Arthur Koestler, Cyril Connolly, and Henry Miller, he spells out his literary and philosophical beliefs.

Combined with rare photographs and hand-drawn illustrations, George Orwell: A Life in Letters offers "everything a reader new to Orwell needs to know…and a great deal that diehard fans will be enchanted to have" (New Statesmen).