I'm feeling a bit philosophical today after reading these two quotes from To the Lighthouse by Virginia Woolf
The very stone one kicks with one's boot will outlast Shakespeare.
and
What is the meaning of life? That was all–a simple question; one that tended to close in on one with years. The great revelation had never come. The great revelation perhaps never did come. Instead there were little daily miracles, illuminations, matches struck unexpectedly in the dark.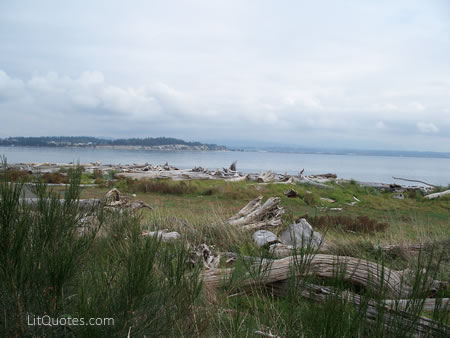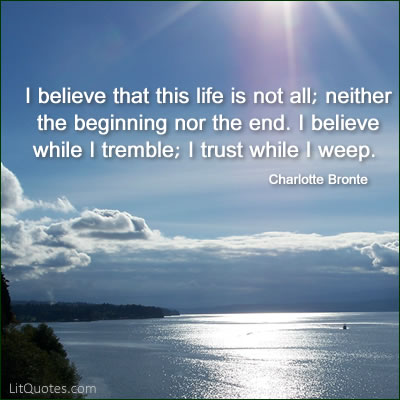 I believe that this life is not all; neither the beginning nor the end. I believe while I tremble; I trust while I weep. ~ Villette by Charlotte Bronte
I've been missing a dear cousin who passed away two years ago.  I do believe we'll meet again. If you've lost someone, maybe this will help you too.   I've posted this on the LitQuotes Facebook page as well as the LitQuotes Google Plus page for easier sharing.
Yesterday we added experience quotes as a topic.  Here are five of my favorites from the collection.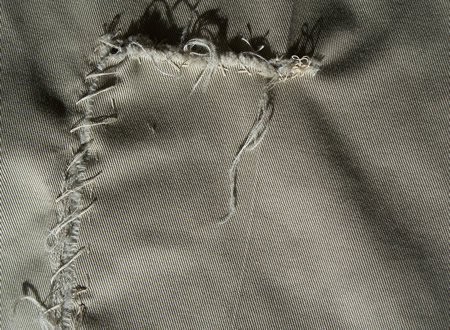 "Experience is the name every one gives to their mistakes." ~ Lady Windermere's Fan by Oscar Wilde
"Thanks to his constant habit of shaking the bottle in which life handed him the wine of experience, he presently found the taste of the lees rising as usual into his draught." ~ The Ambassadors by Henry James
How is it that the poets have said so many fine things about our first love, so few about our later love? Are their first poems their best? Or are not those the best which come from their fuller thought, their larger experience, their deeper-rooted affections? ~ Adam Bede by George Eliot
A moment's insight is sometimes worth a life's experience. ~ The Professor at the Breakfast Table by Oliver Wendell Holmes, Sr.
"No, I am not at all cynical, I have merely got experience, which, however, is very much the same thing." ~ Lord Arthur Savile's Crime by Oscar Wilde
See Entire Experience Quote Collection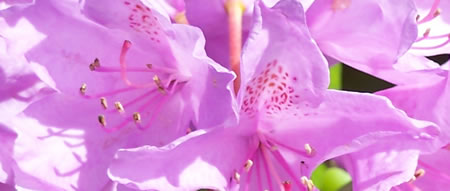 Today is the first day of summer.  Enjoy!  Here are five literary quotes about summer to help you savor the moment.
And so with the sunshine and the great bursts of leaves growing on the trees–just as things grow in fast movies–I had that familiar conviction that life was beginning over again with the summer. ~ The Great Gatsby by F. Scott Fitzgerald
Saturday morning was come, and all the summer world was bright and fresh, and brimming with life. There was a song in every heart; and if the heart was young the music issued at the lips. There was cheer in every face and a spring in every step. ~ The Adventures of Tom Sawyer by Mark Twain
Her love was entire as a child's, and though warm as summer it was fresh as spring. ~ Far From The Madding Crowd by Thomas Hardy
A tranquil summer sunset shone upon him as he approached the end of his walk, and passed through the meadows by the river side. He had that sense of peace, and of being lightened of a weight of care, which country quiet awakens in the breasts of dwellers in towns. ~ Little Dorrit by Charles Dickens
He has been eight years upon a project for extracting sunbeams out of cucumbers, which were to be put in phials hermetically sealed, and let out to warm the air in raw inclement summers. ~ Gulliver's Travels by Jonathan Swift
Check out the entire collection of summer quotes from literature.
This Sherlockian license plate frame is one of  the most popular item at the LitQuotes gift shop.  I know the quote is in The Adventure of Abbey Grange.  Does anyone know if it's in other Sherlock Holmes stories?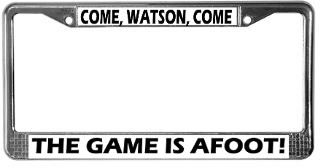 "Come, Watson, come!" he cried. The game is afoot." ~ The Adventure of Abbey Grange by Sir Arthur Conan Doyle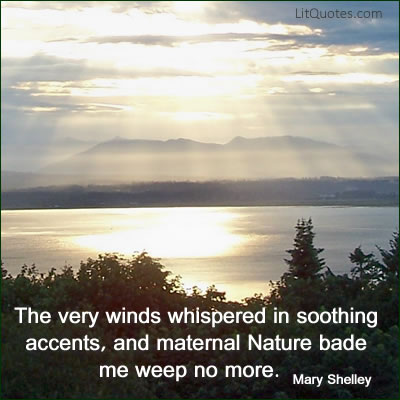 The very winds whispered in soothing accents, and maternal Nature bade me weep no more. ~ Frankenstein by Mary Shelley
Yes, it's true.  There are inspirational and beautiful quotes to be foundin classic horror literature like, Frankenstein.  I've posted this on the LitQuotes Facebook page as well as the LitQuotes Google Plus page for easier sharing.