Metaphysics from Charles Dickens?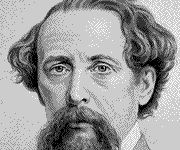 We have all some experience of a feeling, that comes over us occasionally, of what we are saying and doing having been said and done before, in a remote time – of our having been surrounded, dim ages ago, by the same faces, objects, and circumstances – of our knowing perfectly what will be said next, as if we suddenly remembered it! ~ David Copperfield by Charles Dickens
There is a drowsy state, between sleeping and waking, when you dream more in five minutes with your eyes half open, and yourself half conscious of everything that is passing around you, than you would in five nights with your eyes fast closed, and your senses wrapt in perfect unconsciousness. At such time, a mortal knows just enough of what his mind is doing, to form some glimmering conception of its mighty powers, its bounding from earth and spurning time and space, when freed from the restraint of its corporeal associate. ~ Oliver Twist by Charles Dickens
Metaphysics from Charles Dickens?  Who'd have thought it possible?