New Quotes Added – Shakespeare, Saki, Sinclair Lewis and More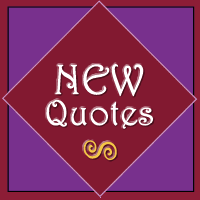 I'm thinking about literature this Labor Day weekend.  OK, who am I kidding?  One look at my numerous bookshelves shows that I'm always thinking about literature.
Anyway, the point is that I've added new quotes to the collection.  Here are my favorites.  Remember that if you have a quote that you'd like to see added, you can contribute a quote.
The world is full enough of hurts and mischances without wars to multiply them. ~ The Return of the King by J. R. R. Tolkien
There is no charm equal to tenderness of heart. ~ Emma by Jane Austen
Could I come near your beauty with my nails,
I could set my ten commandments in your face. ~ Henry VI, Part Two by William Shakespeare
The revenge of an elder sister may be long in coming, but, like a South-Eastern express, it arrives in its own good time. ~ Reginald by Saki
He had, in fact, got everything from the church and Sunday School, except, perhaps, any longing whatever for decency and kindness and reason. ~ Elmer Gantry by Sinclair Lewis
Who knows the end? What has risen may sink, and what has sunk may rise. Loathsomeness waits and dreams in the deep, and decay spreads over the tottering cities of men. ~ The Call of Cthulhu by H. P. Lovecraft
Other LitQuotes Features