For those of you living on the East Coast of the United States it might be hard to believe, but spring really is on its way.  Really! Here are some quotes from literature to let you know what will soon be coming your way.
It was an ideal spring day, a light blue sky, flecked with little fleecy white clouds drifting across from west to east. The sun was shining very brightly, and yet there was an exhilarating nip in the air, which set an edge to a man's energy. ~ The Adventure of the Copper Beeches by Sir Arthur Conan Doyle
It was that period in the vernal quarter when we may suppose the Dryads to be waking for the season. The vegetable world begins to move and swell and the saps to rise, till in the completest silence of lone gardens and trackless plantations, where everything seems helpless and still after the bond and slavery of frost, there are bustlings, strainings, united thrusts, and pulls-all-together, in comparison with which the powerful tugs of cranes and pulleys in a noisy city are but pigmy efforts. ~ Far From The Madding Crowd by Thomas Hardy
For, as when the red-cheeked, dancing girls, April and May, trip home to the wintry, misanthropic woods; even the barest, ruggedest, most thunder-cloven old oak will at least send forth some few green sprouts, to welcome such glad-hearted visitants. ~ Moby Dick by Herman Melville
"That is one good thing about this world. . .there are always sure to be more springs." ~ Anne Of Avonlea by Lucy Maud Montgomery
The early mist had vanished and the fields lay like a silver shield under the sun. It was one of the days when the glitter of winter shines through a pale haze of spring. ~ Ethan Frome by Edith Wharton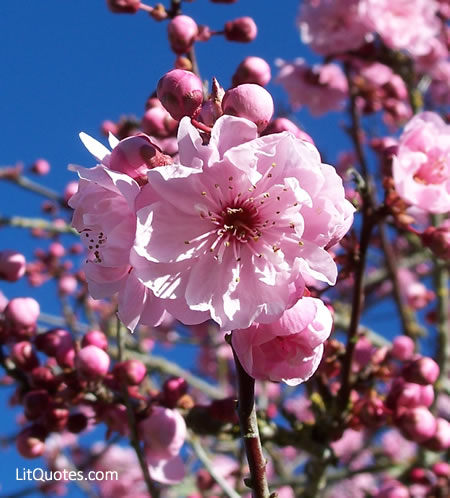 See More Literary Quotes About Spring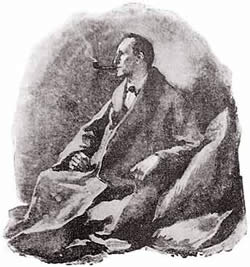 A new Sherlock Holmes novel will hit bookstores in September.  Art in the Blood is by Bonnie MacBird.  She teaches screenwriting at UCLA Extension.  MacBird is also a speaker on multiple subjects.  She's an expert on the topics of writing, creativity and of course, Sherlock Holmes.
pre-order Art in the Blood: A Sherlock Holmes Adventure
"Thoroughly entertaining … worthy of Doyle himself. … a superb, labyrinthine plot, snappy pacing and, most importantly, a deep respect for the classic characters." –Bryan Cogman, Co-Producer/Writer, HBO's Game of Thrones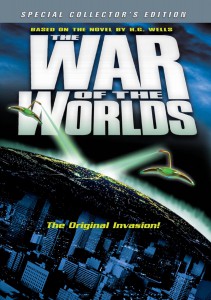 The War of the Worlds,  by H. G. Wells, was written between 1895 and 1897.   It was first serialized in 1897 and was published in hardcover the next year.
I wasn't aware of this but the 1953 version of War of the Worlds, based on the H. G. Wells book of the same name,  was re-released in 2005.   Gene Barry.  Ann Robinson.  Byron Haskin. All I need is some popcorn and I'm set!
Quotes from the book The War of the Worlds by H. G. Wells
I first posted this quote photo last year.  But it's perfect for Valentine's Day so here it is again.  As usual, I've posted this on the LitQuotes Facebook page as well as the LitQuotes Google Plus page for easier sharing.
"I see you everywhere, in the stars, in the river; to me you're everything that exists; the reality of everything." ~ Night and Day by Virginia Woolf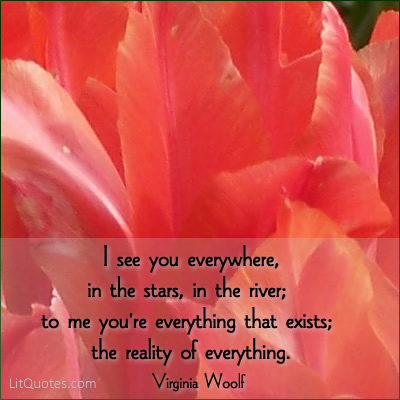 More Love Quotes From Literature
It's not always easy to find just the right words.   If you're trying to decide what to put inside a Valentine's Day card or letter, you know what I mean.   Not to worry.  These love  quotes from literature will help.
"Those who speak of love most promiscuously are the ones who've never felt it. They make some sort of feeble stew out of sympathy, compassion, contempt and general indifference, and they call it love. Once you've felt what it means to love as you and I know it–the total passion for the total height–you're incapable of anything less." ~ The Fountainhead by Ayn Rand

Doubt thou the stars are fire;
Doubt that the sun doth move;
Doubt truth to be a liar;
But never doubt I love. ~ Hamlet, Prince of Denmark by William Shakespeare

If you loved someone, you loved him, and when you had nothing else to give, you still gave him love. ~ Nineteen Eighty-Four by George Orwell

If all else perished, and he remained, I should still continue to be; and if all else remained, and he were annihilated, the universe would turn to a mighty stranger. ~ Wuthering Heights by Emily Bronte

It is best to love wisely, no doubt: but to love foolishly is better than not to be able to love at all. ~ The History of Pendennis by William Makepeace Thackeray

Love is a flower that grows in any soil, works its sweet miracles undaunted by autumn frost or winter snow, blooming fair and fragrant all the year, and blessing those who give and those who receive. ~ Little Men by Louisa May Alcott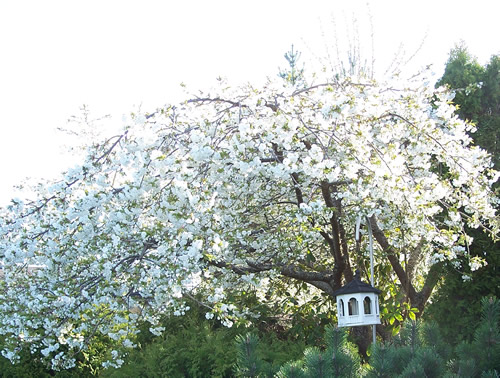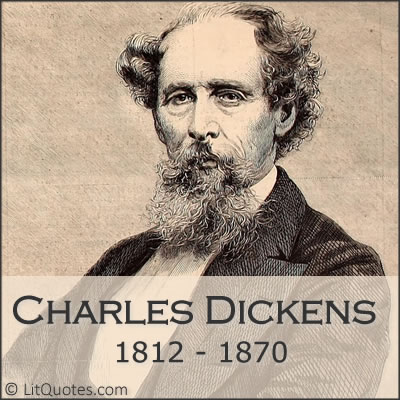 Charles Dickens was born on February 7, 1812 and died in 1870.  He's the author of A Christmas Carol, Great Expectations and other classic novels.  Now here are some things you may not know about Charles Dickens.
1 – As a child, his family was always on the verge of economic collapse. Everything fell apart for the family in 1827. Dickens' father was sent the Marshalsea debtors' prison and young Charles was sent to work in Warren's Blacking Factory. These incidents would haunt Dickens for the rest of his life.
2 – Dickens worked as law clerk, a court stenographer and even contemplated becoming an actor. Luckily for us, Dickens was ill on the day of his audition at the Lyceum Theater and couldn't go. Can you imagine a life without Scrooge?  If Dickens, who was a talented actor, had attended his audition he might not have written A Christmas Carol.
3 – In his early writing he called himself Boz. Boz? You see, one of his favorite characters in Goldsmith's Vicar of Wakefield was called Moses. Moses became Boses which became Boz.
4 – Dickens married Catherine Hogarth in 1835. There were some happy years, but in 1958 they were legally separated. One of the reasons for the separation was Dickens' interest in the actress, Ellen Ternan.
Dickens met Ellen in 1857. Matters came to a head the next year when a bracelet that Dickens bought as a present for Ellen was accidentally delivered to the Dickens household. In a scene straight from a soap opera, Catherine discovered the bracelet and accused Charles of having an affair.
5 – One of the most fascinating aspects of Charles Dickens is that he understood the power of the media. Yes, even in the Victorian Era people had to worry about the press. In September of 1860, behind his home at Gad's Hill Place, Charles Dickens tried to cover his tracks. He gathered "the accumulated letters and papers of twenty years" and set them ablaze in his backyard. What could we have learned had he not taken this action? We'll never know.
More About Charles Dickens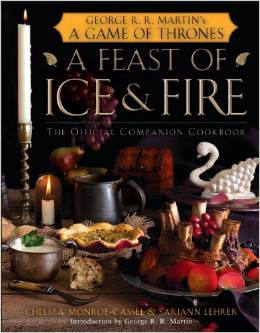 I stumbled upon this on the Amazon website and couldn't believe my eyes. There's an official cookbook for A Game of Thrones?  Yes, there is!
It also has some good reviews.  At the moment it has 4.8 out of 5 stars with 312 reviews. That's not too shabby.
"The combination of headnotes and recipes [in A Feast of Ice and Fire] almost reaches the Elizabeth David level of 'put down this book, get out of bed and start cooking.' … And with their adherence to the imagined geography of Westeros, the authors also might actually outdo Alice Waters in local and seasonal cooking." -Newsweek
"Sleep is good," he said. "And books are better." – A Clash of Kings by George R. R. Martin
This morning I tried to find a quote to post about the Seahawks and the Super Bowl.  It was hard to find a quote that worked and I almost rejected this one.  After all, wouldn't a quote from Anne of Green Gables be to "girly" to use to describe the heartbreaking loss of the Seahawks?  I decided to go with it anyway.
Out of all the teams that tried to get to the Super Bowl this year only two teams made it.  Only one of those teams was there for the second year in a row.  The lesson is to not be so afraid of losing that you're afraid to try.
And besides, there's always next year.  Go Hawks!
"Next to trying and winning, the best thing is trying and failing." ~ Anne of Green Gables by Lucy Maud Montgomery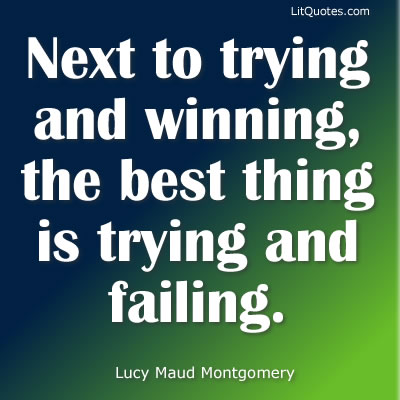 You can find this quote photo on the LitQuotes Facebook page, the LitQuotes Twitter feed as well as the LitQuotes Google Plus page to make it easy to share.