I added new quotes to the site today.  The quotes are by George R. R. Martin and Anthony Trollope.  New titles included in this batch are A Storm of Swords and Framley Parsonage.
Here are some of my favorites from the new batch.  If you have a quote that you'd like to see added to the site, you can contribute a quote.
All men must die, Jon Snow. But first we'll live. ~ A Storm of Swords by George R. R. Martin
He took such high ground that there was no getting on to it. ~ The Warden by Anthony Trollope
Having a comfortable allowance from his father, he could devote the whole proceeds of his curacy to violet gloves and unexceptionable neck ties. ~ Barchester Towers by Anthony Trollope
A burden that will crush a single pair of shoulders will, when equally divided—when shared by two, each of whom is willing to take the heavier part—become light as a feather. ~ Framley Parsonage by Anthony Trollope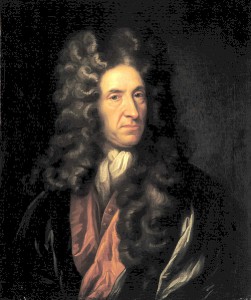 Daniel Defoe (1660 – April 24, 1731) was an English writer most famous for his novels Robinson Crusoe and Moll Flanders. Here are five facts about him that you may not know:
1 – His name at birth was Daniel Foe. He later changed his name to the more aristocratic-sounding Defoe.
2 – He lived through both the Great Plague of London (1665) and the Great Fire of London (1666).
3 – For a time he worked as a general merchant. Some of the goods he dealt with were hosiery, general woolen goods, and wine.  His business was not successful and he went bankrupt in 1692.
4 – In 1684 he married Mary Tuffley. They had eight children.
5 –  Defoe's first literary endeavors were writing political pamphlets and as a journalist.  In 1701 he wrote The True-Born Englishman.  The satirical poem defended King William III, who was Dutch, against William's enemies who pushed for "English racial purity".
Fear of danger is ten thousand times more terrifying than danger itself. ~ Robinson Crusoe by Daniel Defoe
Novels by Daniel Defoe
Robinson Crusoe
The Farther Adventures of Robinson Crusoe
Serious reflections during the life and surprising adventures of Robinson Crusoe: with his Vision of the angelick world
Memoirs of a Cavalier
Captain Singleton
A Journal of the Plague Year
Colonel Jack
Moll Flanders
Roxana: The Fortunate Mistress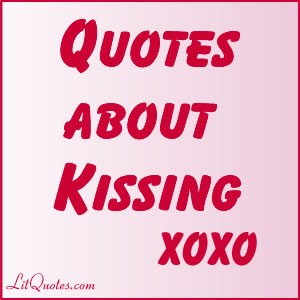 Here are five quotes from literature about kissing.  One of them is funny.  One of them is famous.  And two of them . . . well, two of them might just might quicken your pulse.
She lifted her face to him, and he bent forward and kissed her on the mouth, gently, with the one kiss that is an eternal pledge. And as he kissed her his heart strained again in his breast. He never intended to love her. But now it was over. He had crossed over the gulf to her, and all that he had left behind had shrivelled and become void. ~ The Horse Dealer's Daughter by D. H. Lawrence
"Kissing don't last: cookery do!" ~ The Ordeal of Richard Feverel by George Meredith
"O fie, Miss, you must not kiss and tell." ~ Love for Love by William Congreve
The sound of a kiss is not so loud as that of a cannon, but its echo lasts a deal longer. ~ The Professor at the Breakfast Table by Oliver Wendell Holmes, Sr.
He knew that when he kissed this girl, and forever wed his unutterable visions to her perishable breath, his mind would never romp again like the mind of God. So he waited, listening for a moment longer to the tuning fork that had been struck upon a star. Then he kissed her. At his lips' touch she blossomed for him like a flower and the incarnation was complete. ~ The Great Gatsby by F. Scott Fitzgerald
Quotes about Kissing from Literature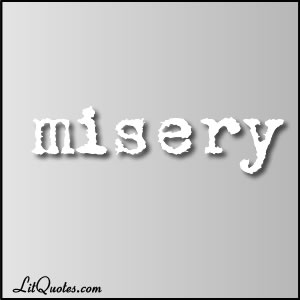 It's not fun to think about, but misery is part of the human condition.
Ah, happiness courts the light, so we deem the world is gay; but misery hides aloof, so we deem that misery there is none. ~ Bartleby, the Scrivener by Herman Melville

The agony of my feelings allowed me no respite; no incident occurred from which my rage and misery could not extract its food. ~ Frankenstein by Mary Shelley
Passion takes no count of time; peril marks no hours or minutes; wrong makes its own calendar; and misery has solar systems peculiar to itself. ~ The True Story of Guenever by Elizabeth Stuart Phelps
Yes, I was a fool, but I was in love, and though I was suffering the greatest misery I had ever known I would not have had it otherwise for all the riches of Barsoom. Such is love, and such are lovers wherever love is known. ~ A Princess of Mars by Edgar Rice Burroughs
There are a set of religious, or rather moral writers, who teach that virtue is the certain road to happiness, and vice to misery, in this world. A very wholesome and comfortable doctrine, and to which we have but one objection, namely, that it is not true. ~ Tom Jones by Henry Fielding
More Quotes from Literature about Misery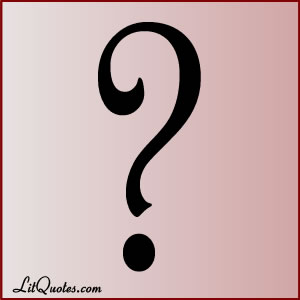 Have you ever thought about questions?  Questions are very, very important.  Without questions we'd have no answers.
Those are my thoughts on questions.  Now here are five quotes from literature about questions:
There are no ugly questions except those clothed in condescension. ~ East of Eden by John Steinbeck
Aunt Polly asked him questions that were full of guile, and very deep—for she wanted to trap him into damaging revealments. Like many other simple-hearted souls, it was her pet vanity to believe she was endowed with a talent for dark and mysterious diplomacy, and she loved to contemplate her most transparent devices as marvels of low cunning. ~ The Adventures of Tom Sawyer by Mark Twain
"What is any public question but a conglomeration of private interests?" ~ The Warden by Anthony Trollope
"Questions are never indiscreet. Answers sometimes are." ~ An Ideal Husband by Oscar Wilde
"I feel very strongly about putting questions; it partakes too much of the style of the day of judgment." ~ The Strange Case of Dr. Jekyll and Mr. Hyde by Robert Louis Stevenson
A Study in Scarlet was written in 1886 by Sir Arthur Conan Doyle and published the following year.  It served as the introduction of one of the most famous characters in literature, Sherlock Holmes.
"There's the scarlet thread of murder running through the colorless skein of life, and our duty is to unravel it, and isolate it, and expose every inch of it." ~ A Study in Scarlet by Sir Arthur Conan Doyle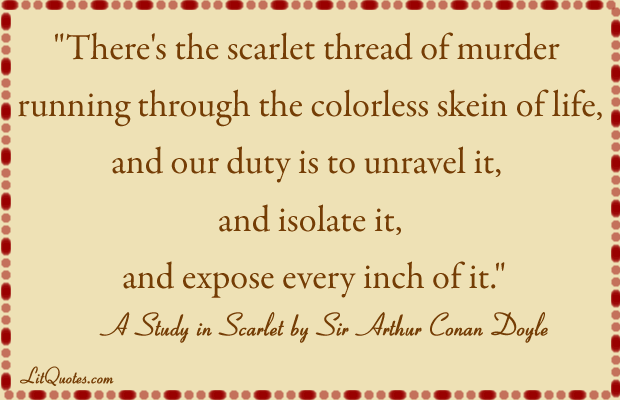 I've posted this at the LitQuotes Facebook page and the LitQuotes Twitter page in case you'd like to share the photo.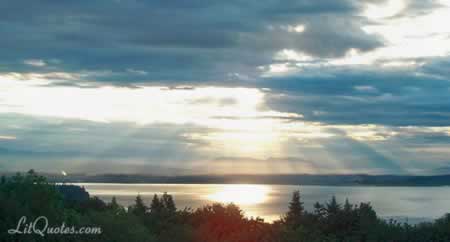 The western sky was clear and flushed with vivid crimson, towards which the prairie rolled away in varying tones of blue. ~ Blake's Burden by Harold Bindloss
The whole earth was brimming sunshine that morning. She tripped along, the clear sky pouring liquid blue into her soul. ~ Sister Carrie by Theodore Dreiser
Who has not in his great grief felt a longing to look upon the outward features of the universal Mother; to lie on the mountains and watch the clouds drive across the sky and hear the rollers break in thunder on the shore, to let his poor struggling life mingle for a while in her life; to feel the slow beat of her eternal heart, and to forget his woes. ~ Allan Quatermain by H. Rider Haggard
The sky was clear — remarkably clear — and the twinkling of all the stars seemed to be but throbs of one body, timed by a common pulse. ~ Far From The Madding Crowd by Thomas Hardy
It's lovely to live on a raft. We had the sky up there, all speckled with stars, and we used to lay on our backs and look up at them, and discuss about whether they was made or only just happened. ~ The Adventures of Huckleberry Finn by Mark Twain