Frank Herbert the Author of Dune
Frank Herbert's full name was Frank Patrick Herbert, Jr.  He was born on October 8, 1920 in Tacoma, Washington. He's best known for his novel Dune.  Before he became a popular author he worked as a newspaper journalist, photographer, short story writer, book reviewer, ecological consultant and lecturer.  He died on February 11, 1986.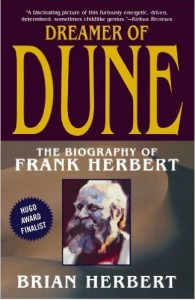 To learn more about Frank Herbert, and there's tons more to know, check out Dreamer of Dune: The Biography of Frank Herbert.  The book is written by Herbert's son, Brian.  If you're a fan of Dune you're sure to love it.  You'll also enjoy the book if you're an aspiring writer or someone trying to make a new start in life.  Frank Herbert didn't always have an easy road to travel. What he had was intellect, a strong work ethic, a unique vision and that made for one extraordinary life.  I loved this book and highly recommend it.
A fan of Dune said to me about this book, "The way that Brian presented his father, warts and all, reminded me of Dune Messiah.  Not that Brian was tearing down his father, but he presented both the good and bad about him.  I think that Frank Herbert wouldn't have had it any other way."
I must not fear. Fear is the mind-killer. Fear is the little-death that brings total obliteration. I will face my fear. I will permit it to pass over me and through me. And when it has gone past I will turn the inner eye to see its path. Where the fear has gone there will be nothing. Only I will remain. ~ Dune by Frank Herbert
Novels in the Dune Series by Frank Herbert:
Dune
Dune Messiah
Children of Dune
God Emperor of Dune
Heretics of Dune
Chapterhouse: Dune