Romeo and Juliet by William Shakespeare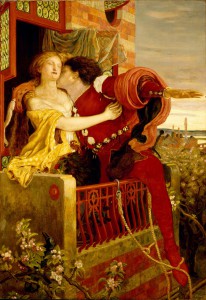 Romeo and Juliet is a tragedy written by William Shakespeare.  No one knows when Shakespeare wrote the play, but it first appeared in print in 1597.
The play features two star-crossed lovers whose deaths reconcile their feuding families.  It was among Shakespeare's most popular plays during his lifetime.  Along with Hamlet, it is one of his most frequently performed plays.
"But soft! What light through yonder window breaks?
It is the East, and Juliet is the sun!
Arise, fair sun, and kill the envious moon,
who is already sick and pale with grief
That thou her maid art far more fair than she." ~ Romeo and Juliet by William Shakespeare