A Woman of No Importance by Oscar Wilde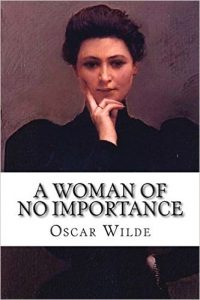 A Woman of No Importance is a play written by Oscar Wilde. The play premiered on 19 April 1893 at London's Haymarket Theatre.
The play starts at a swanky house party located at Lady Hunstanton's country estate.  It's announced that Gerald Arbuthnot has been appointed as Lord Illingworth's secretary.  Drama ensues because of a scandalous secret regarding Gerald's mother.  Will Gerald's prospects be derailed?
"Men always want to be a woman's first love. That is their clumsy vanity. We women have a more subtle instinct about things. What we like is to be a man's last romance." ~ A Woman of No Importance by Oscar Wilde
More about A Woman of No Importance