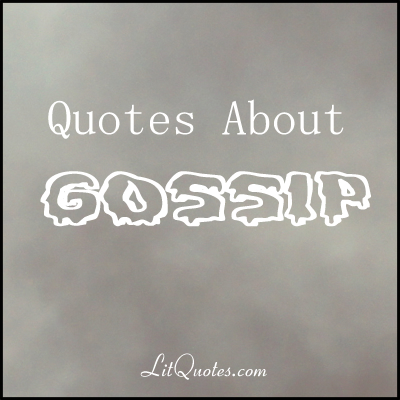 "My own business always bores me to death. I prefer other people's." ~ Lady Windermere's Fan by Oscar Wilde
"Gossip is never fatal, Georgie," he said, "until it is denied." ~ The Magnificent Ambersons by Booth Tarkington
Grace Stepney's mind was like a kind of moral fly-paper, to which the buzzing items of gossip were drawn by a fatal attraction, and where they hung fast in the toils of an inexorable memory. ~ The House of Mirth by Edith Wharton
There was a lady at Santarem–but my lips are sealed. It is the part of a gallant man to say nothing, though he may indicate that he could say a great deal. ~ The Crime of The Brigadier by Sir Arthur Conan Doyle
The talked-about is always the last to hear the talk. ~ Saint's Progress by John Galsworthy
There are two things that will be believed of any man whatsoever, and one of them is that he has taken to drink. ~ Penrod by Booth Tarkington
"There is only one thing in the world worse than being talked about, and that is not being talked about." ~ The Picture of Dorian Gray by Oscar Wilde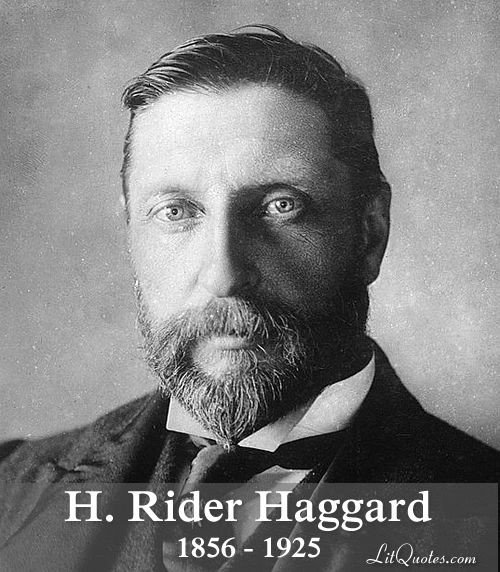 Sir Henry Rider Haggard, better known as H. Rider Haggard, was an English writer of adventure novels.  He was born in 1856 and died in 1925.
He was born at Bradenham, Norfolk.  In his youth Haggard traveled to South Africa to work in the British government.  Later he would draw upon his experiences and knowledge of Africa as a writer.  He married Marianna Louisa Margitson in 1880.  The couple had a son named Jack (who died of measles at age 10) and three daughters, Angela, Dorothy and Lilias.
King Solomon's Mines, one of his most famous books, was published in 1885 and introduced the character of Allan Quatermain.
Out of the dark we came, into the dark we go. Like a storm-driven bird at night we fly out of the Nowhere; for a moment our wings are seen in the light of the fire, and, lo! we are gone again into the Nowhere. ~ King Solomon's Mines by H. Rider Haggard
The Novels of H. Rider Haggard
Dawn
The Witch's Head
King Solomon's Mines
She
Allan Quatermain
Jess
A Tale of Three Lions
Maiwa's Revenge, or the War of the Little Hand
Colonel Quaritch, VC
Cleopatra
Beatrice
The World's Desire
Eric Brighteyes
Nada the Lily
An Heroic Effort
Montezuma's Daughter
The People of the Mist
Heart of the World
Joan Haste
The Wizard
Doctor Therne
Swallow: A Tale of the Great Trek
Lysbeth
Pearl Maiden
Stella Fregelius: A Tale of Three Destinies
The Brethren
Ayesha: The Return of She
The Way of the Spirit
Benita
Fair Margaret
The Ghost Kings
The Yellow God
The Lady of Blossholme
Morning Star
Queen Sheba's Ring
Red Eve
The Mahatma and the Hare
Marie
Child of Storm
The Wanderer's Necklace
The Holy Flower
The Ivory Child
Finished
Love Eternal
Moon of Israel
When the World Shook
The Ancient Allan
She and Allan
The Virgin of the Sun
Wisdom's Daughter
Heu-Heu
Queen of the Dawn
The Treasure of the Lake
Allan and the Ice-gods
Mary of Marion Isle
Belshazzar
Gossip is a sort of smoke that comes from the dirty tobacco-pipes of of those who diffuse it: it proves nothing but the bad taste of the smoker. ~ Daniel Deronda by George Eliot
"I say that the strongest principle of growth lies in human choice." ~ Daniel Deronda by George Eliot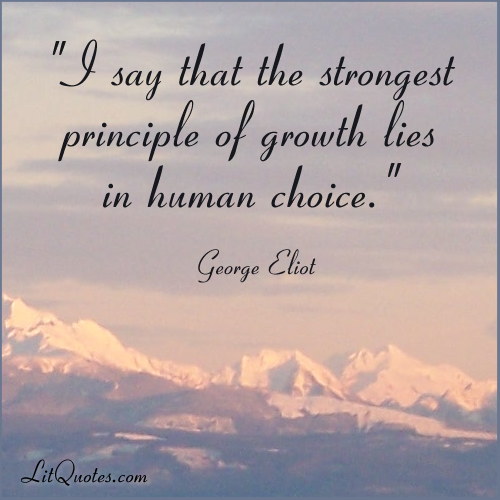 Motivational Quotes from Literature
With fake news running wild, how do we know what's true? Here's what William Shakespeare, Herman Melville, George R. R. Martin and others have to say.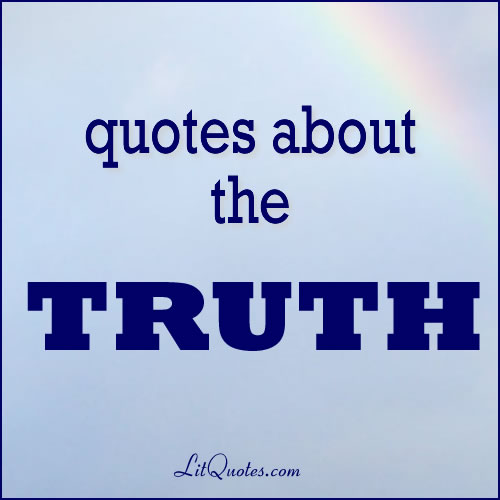 There was a great historian lost in Wolverstone. He had the right imagination that knows just how far it is safe to stray from the truth and just how far to colour it so as to change its shape for his own purposes. ~ Captain Blood by Rafael Sabatini
"Truth is like a thrashing-machine; tender sensibilities must keep out of the way." ~ The Confidence-Man by Herman Melville
You'll find truth in your looking glass, not on the tongues of men. ~ A Feast for Crows by George R. R. Martin
Being in a minority, even a minority of one, did not make you mad. There was truth and there was untruth, and if you clung to the truth even against the whole world, you were not mad. ~ Nineteen Eighty-Four by George Orwell
"It is an old maxim of mine that when you have excluded the impossible, whatever remains, however improbable, must be the truth." ~ The Adventure of the Beryl Coronet by Sir Arthur Conan Doyle
"Journalists say a thing that they know isn't true, in the hope that if they keep on saying it long enough it will be true." ~ The Title by Arnold Bennett
People often claim to hunger for truth, but seldom like the taste when it's served up. ~ A Clash of Kings by George R. R. Martin
"I make no manner of doubt that you threw a very diamond of truth at me, though you see it hit me so directly in the face that it wasn't exactly appreciated, at first." ~ Uncle Tom's Cabin by Harriet Beecher Stowe
Truth is tough. It will not break, like a bubble, at a touch; nay, you may kick it about all day, like a football, and it will be round and full at evening. ~ The Professor at the Breakfast Table by Oliver Wendell Holmes, Sr.
"For truth is truth to the end of reckoning." ~ Measure for Measure by William Shakespeare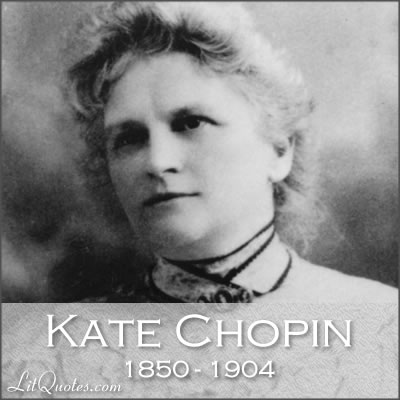 Kate Chopin's maiden name was O'Flaherty.  She was born on February 8, 1850 in St. Louis, Missouri.  In 1870 she married Oscar Chopin.  During the course of their marriage they  had six children.  The family initially lived in New Orleans.  Later they moved to Cloutierville.
Oscar Chopin died of malaria in 1882 and left Kate with a great deal of debt.  In 1884 Kate and her children moved back to St. Louis to live with Kate's mother.  Sadly, Kate's mother died the next year.
The death of her husband and mother in such a short span of time hit Kate hard.  A family friend suggested that she take up writing as a way to deal with her depression.  By the early 1890s Chopin's work was being published in magazines in newspapers.  Her best-known work, The Awakening, was published in 1899.
Kate Chopin died on August 22, 1904.
She was becoming herself and daily casting aside that fictitious self which we assume like a garment with which to appear before the world. ~ The Awakening by Kate Chopin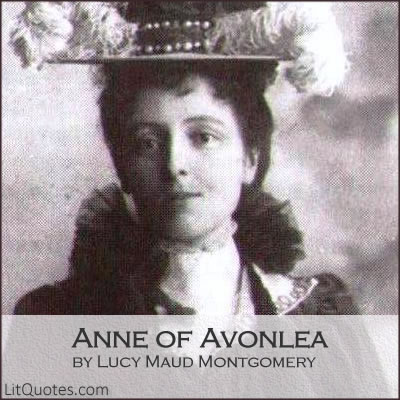 Anne of Avonlea was published in 1909.  It is the second book in the Anne of Green Gables series and depicts Anne's life from ages 16 to 18.  This book introduces the characters of the twins, Davy and Dora.  It also marks the first appearance of the neighbor, Mr. Harrison.
"Everything that's worth having is some trouble." ~ Anne Of Avonlea by Lucy Maud Montgomery
The Anne of Green Gables Series
Anne of Green Gables
Anne of Avonlea
Anne of the Island
Anne of Windy Poplars
Anne's House of Dreams
Anne of Ingleside
Rainbow Valley
Rilla of Ingleside
The Blythes Are Quoted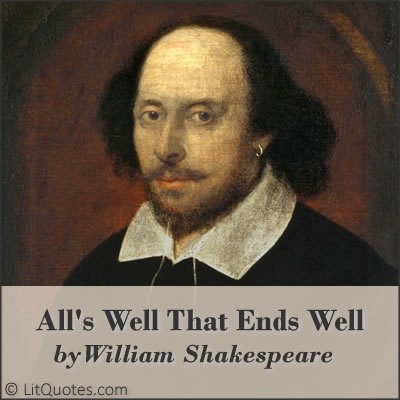 All's Well That Ends Well is a play by William Shakespeare. It's believed that Shakespeare wrote it between 1604 and 1605.
Historically the play has been classified as a comedy.  However some critics believe it to be one of his "problem plays", so named because they cannot be neatly classified as tragedy or comedy.  The other problem plays are Measure for Measure and Troilus and Cressida.
"Moderate lamentation is the right of the dead: excessive grief the enemy to the living." ~ All's Well That Ends Well by William Shakespeare
Resources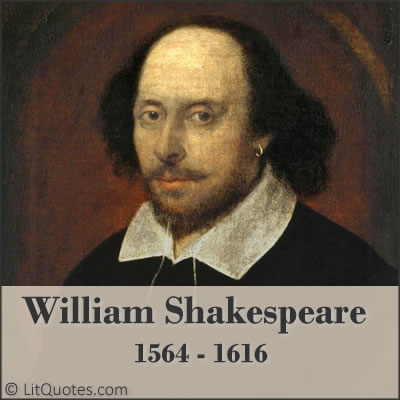 William Shakespeare was an English poet, playwright and actor.  His plays have been translated into every major living language and are performed more often than those of any other playwright.
Shakespeare was baptised on April 26, 1564 and died on April 23, 1616.  While his exact date of birth is unknown, historians believe it to be April 23, 1564.
At the age of 18, Shakespeare married Anne Hathaway.  They had three children: Susanna, and twins Hamnet and Judith. Sometime between 1585 and 1592, Shakespeare began a career in London as an actor, writer, and part-owner of a theatrical company called the Lord Chamberlain's Men.  The company later changed its name to the King's Men.
It's believed that in 1613 Shakespeare retired to Stratford.  He died there three years later.
There are few records of Shakespeare's private life.  That's lead to much speculation about his physical appearance, sexuality, religious beliefs and the authenticity of works attributed to him.
William Shakespeare at Amazon.com
Comedies by William Shakespeare
Pericles, Prince of Tyre
Twelfth Night
Histories by William Shakespeare
Henry VI, part 3
Richard III
Tragedies by William Shakespeare
Partial List of Poems by William Shakespeare
The Sonnets
The Rape of Lucrece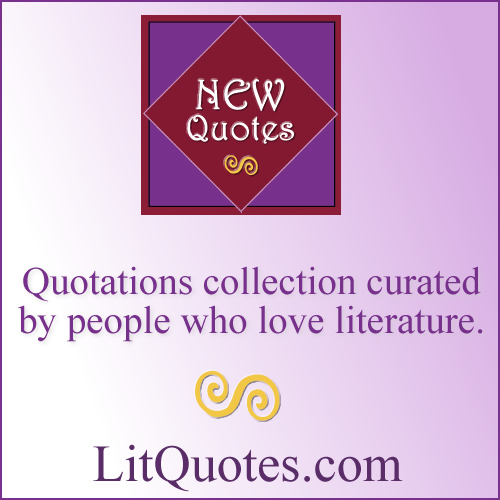 New quotes were added to the site today.  Just a reminder that all of the quotes list an author and a source. This quotation collection is curated by people and NOT by a computer program.
Here are some quotes from the new additions. . .
No legacy is so rich as honesty. ~ All's Well That Ends Well by William Shakespeare
"I'm so thankful for friendship. It beautifies life so much." ~ Anne Of Avonlea by Lucy Maud Montgomery
She was becoming herself and daily casting aside that fictitious self which we assume like a garment with which to appear before the world. ~ The Awakening by Kate Chopin
Truth uncompromisingly told will always have its ragged edges. ~ Billy Budd by Herman Melville
"Truth is like a thrashing-machine; tender sensibilities must keep out of the way." ~ The Confidence-Man by Herman Melville
The first thing you learn in life is you're a fool. The last thing you learn in life is you're the same fool. ~ Dandelion Wine by Ray Bradbury
"You must be the best judge of your own happiness." ~ Emma by Jane Austen