H. Rider Haggard 1856 – 1925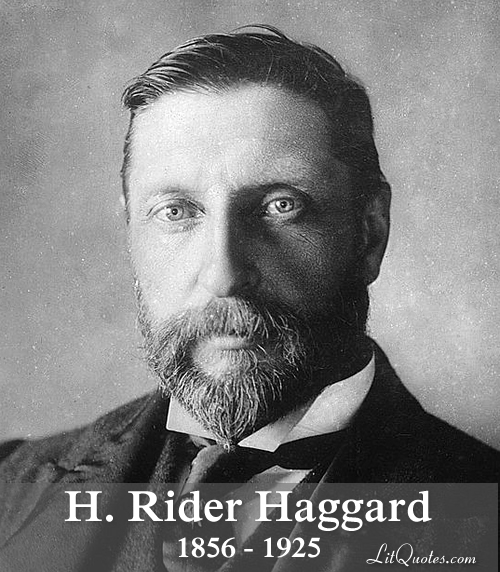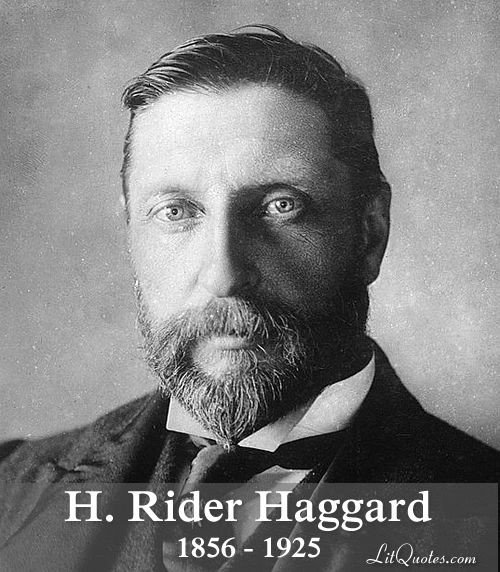 Sir Henry Rider Haggard, better known as H. Rider Haggard, was an English writer of adventure novels.  He was born in 1856 and died in 1925.
He was born at Bradenham, Norfolk.  In his youth Haggard traveled to South Africa to work in the British government.  Later he would draw upon his experiences and knowledge of Africa as a writer.  He married Marianna Louisa Margitson in 1880.  The couple had a son named Jack (who died of measles at age 10) and three daughters, Angela, Dorothy and Lilias.
King Solomon's Mines, one of his most famous books, was published in 1885 and introduced the character of Allan Quatermain.
Out of the dark we came, into the dark we go. Like a storm-driven bird at night we fly out of the Nowhere; for a moment our wings are seen in the light of the fire, and, lo! we are gone again into the Nowhere. ~ King Solomon's Mines by H. Rider Haggard
The Novels of H. Rider Haggard
Dawn
The Witch's Head
King Solomon's Mines
She
Allan Quatermain
Jess
A Tale of Three Lions
Maiwa's Revenge, or the War of the Little Hand
Colonel Quaritch, VC
Cleopatra
Beatrice
The World's Desire
Eric Brighteyes
Nada the Lily
An Heroic Effort
Montezuma's Daughter
The People of the Mist
Heart of the World
Joan Haste
The Wizard
Doctor Therne
Swallow: A Tale of the Great Trek
Lysbeth
Pearl Maiden
Stella Fregelius: A Tale of Three Destinies
The Brethren
Ayesha: The Return of She
The Way of the Spirit
Benita
Fair Margaret
The Ghost Kings
The Yellow God
The Lady of Blossholme
Morning Star
Queen Sheba's Ring
Red Eve
The Mahatma and the Hare
Marie
Child of Storm
The Wanderer's Necklace
The Holy Flower
The Ivory Child
Finished
Love Eternal
Moon of Israel
When the World Shook
The Ancient Allan
She and Allan
The Virgin of the Sun
Wisdom's Daughter
Heu-Heu
Queen of the Dawn
The Treasure of the Lake
Allan and the Ice-gods
Mary of Marion Isle
Belshazzar