Fifty new quotes were added to the site today.  All of our quotes list an author and a source. We're proud that this quotation collection is curated by people and NOT by a computer program.
Here are some quotes from the new additions.
If you need something to worship, then worship life — all life, every last crawling bit of it! We're all in this beauty together! ~ Dune Messiah by Frank Herbert
The end of religion is not to teach us how to die, but how to live. ~ Agnes Grey by Anne Bronte
"A man's fate is his own temper; and according to that will be his opinion as to the particular manner in which the course of events is regulated. A consistent man believes in Destiny, a capricious man in Chance." ~ Vivian Grey by Benjamin Disraeli
"Who, being loved, is poor?" ~ A Woman of No Importance by Oscar Wilde
Life is easy to chronicle, but bewildering to practice. ~ A Room With A View by E. M. Forster
It is a narrow mind which cannot look at a subject from various points of view. ~ Middlemarch by George Eliot
The course of true love never did run smooth. ~ A Midsummer Night's Dream by William Shakespeare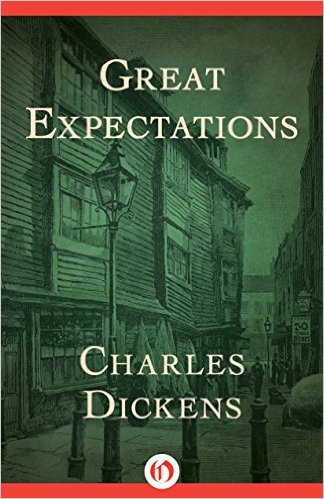 Great Expectations was the thirteenth novel that Charles Dickens wrote.  In the UK the novel was published in weekly installments in All the Year Round from December of 1860 until August 1861.  Harper's Weekly, in the United States, published installments of the novel from November 1860 through August of 1861.
All the Year Round was founded by Dickens. Its first issue was printed on April 30, 1859. The publication featured serialized novels.  In fact, the first novel it featured was Dickens's A Tale of Two Cities.
In October of 1860 sales of All the Year Round were declining.  The featured novel, A Day's Ride by Charles Lever, wasn't very popular.  In order to boost sales, Dickens adapted Great Expectations, originally planned for publication in another format, to be published in All the Year Round.  His plan worked and sales for the publication increased.
"Suffering has been stronger than all other teaching, and has taught me to understand what your heart used to be. I have been bent and broken, but – I hope – into a better shape." ~ Great Expectations by Charles Dickens
More About Great Expectations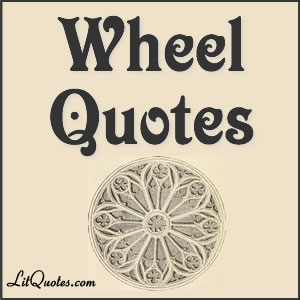 History is a wheel, for the nature of man is fundamentally unchanging. What has happened before will perforce happen again. ~ A Feast for Crows by George R. R. Martin
Insanity is often the logic of an accurate mind overtasked. Good mental machinery ought to break its own wheels and levers, if anything is thrust among them suddenly which tends to stop them or reverse their motion. A weak mind does not accumulate force enough to hurt itself; stupidity often saves a man from going mad. ~ The Autocrat of the Breakfast Table by Oliver Wendell Holmes, Sr.
"The world is a wheel, and it will all come round right." ~ Endymion by Benjamin Disraeli
Laughter and tears are meant to turn the wheels of the same machinery of sensibility; one is wind-power, and the other water-power; that is all. ~ The Autocrat of the Breakfast Table by Oliver Wendell Holmes, Sr.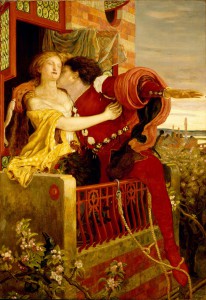 Romeo and Juliet is a tragedy written by William Shakespeare.  No one knows when Shakespeare wrote the play, but it first appeared in print in 1597.
The play features two star-crossed lovers whose deaths reconcile their feuding families.  It was among Shakespeare's most popular plays during his lifetime.  Along with Hamlet, it is one of his most frequently performed plays.
"But soft! What light through yonder window breaks?
It is the East, and Juliet is the sun!
Arise, fair sun, and kill the envious moon,
who is already sick and pale with grief
That thou her maid art far more fair than she." ~ Romeo and Juliet by William Shakespeare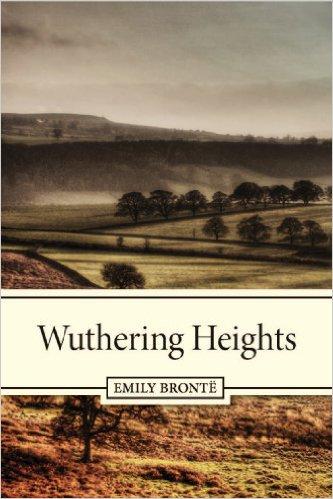 Wuthering Heights, by Emily Bronte, was published in 1847 under the pen name of Ellis Bell.  The novel was written between October 1845 and June 1846.
Bronte died in 1848 and Wuthuring Heights is her only novel. The review from the Atlas is typical of the response to the novel at the time of its publication.
Wuthering Heights is a strange, inartistic story. There are evidences in every chapter of a sort of rugged power—an unconscious strength—which the possessor seems never to think of turning to the best advantage. The general effect is inexpressibly painful. We know nothing in the whole range of our fictitious literature which presents such shocking pictures of the worst forms of humanity.
More About Wuthering Heights
If all else perished, and he remained, I should still continue to be; and if all else remained, and he were annihilated, the universe would turn to a mighty stranger. ~ Wuthering Heights by Emily Bronte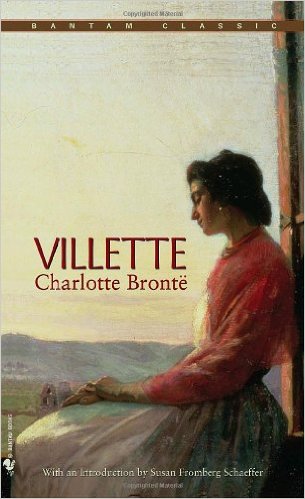 Villette is the fourth novel by Charlotte Bronte.  It was published in 1853. Bronte drew on her own experience as a teacher in Brussels in writing the novel. The book features an interesting mix of gothic and psychological themes.
I seemed to hold two lives—the life of thought, and that of reality; and, provided the former was nourished with a sufficiency of the strange necromantic joys of fancy, the privileges of the latter might remain limited to daily bread, hourly work, and a roof of shelter. ~ Villette by Charlotte Bronte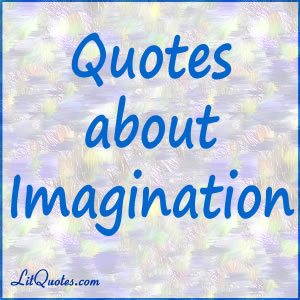 It was better to know the worst than to wonder. ~ Gone With The Wind by Margaret Mitchell
"You gave too much rein to your imagination. Imagination is a good servant, and a bad master. The simplest explanation is always the most likely." ~ The Mysterious Affair at Styles by Agatha Christie
My imagination requires a judicious rein; I am afraid to let it loose, for it carries me sometimes into appalling places beyond the stars and beneath the world. ~ The Listener by Algernon Blackwood
It will be found, in fact, that the ingenious are always fanciful, and the truly imaginative never otherwise than analytic. ~ The Murders in the Rue Morgue by Edgar Allan Poe
"I call people rich when they're able to meet the requirements of their imagination." ~ The Portrait of a Lady by Henry James
See More Imagination Quotes from Literature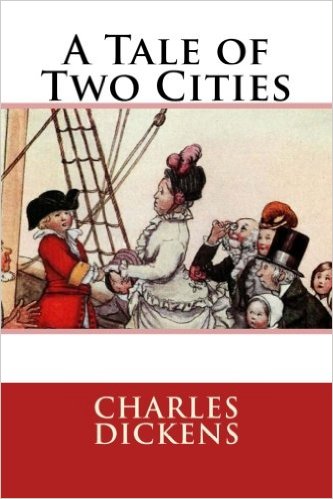 Quotes from A Tale of Two Cities
A Tale of Two Cities is the twelfth novel by Charles Dickens.  The book was published in weekly installments in All the Year Round. The first chapters of the book were published in April of 1859.  The last chapter was printed in November of that same year.
The book deals with the French revolution. It's one of the two historical novels by Dickens.  Barnaby Rudge is the other.
The idea for the novel came from a production of The Frozen Deep.  In 1857 Dickens acted in the play and portrayed the character of Richard Wardour.  (Dickens was interested in the stage and sometimes performed in amateur productions.) In the play Wardour decides that he's going to kill Frank Aldersley because Frank stole his true love, Clara Burnham.  Instead Wardour saves Aldersley's life at the cost of his own.  Wardour dies in Clara's arms and earns her eternal gratitude for saving the life of the man that she loves.
In addition to giving Dickens the idea for A Tale of Two Cites, the play brought about lasting changes to Dickens's life.  Professional actresses were hired to act in a benefit production of The Frozen Deep.  One of them was Ellen Ternan.  She became Dickens's mistress.  Their affair lasted until Dickens's death in 1870.
Learn More about A Tale of Two Cities
It was the best of times, it was the worst of times, it was the age of wisdom, it was the age of foolishness, it was the epoch of belief, it was the epoch of incredulity, it was the season of light, it was the season of darkness, it was the spring of hope, it was the winter of despair, we had everything before us, we had nothing before us, we were all going direct to heaven, we were all going direct the other way–in short, the period was so far like the present period, that some of its noisiest authorities insisted on its being received, for good or for evil, in the superlative degree of comparison only. ~ A Tale of Two Cities by Charles Dickens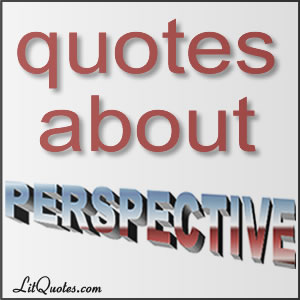 Think you of the fact that a deaf person cannot hear. Then, what deafness may we not all possess? What senses do we lack that we cannot see and cannot hear another world all around us? ~ Dune by Frank Herbert
Perhaps no man could appreciate his own world until he had seen it from space. ~ A Fall of Moondust by Arthur C. Clarke
The very stone one kicks with one's boot will outlast Shakespeare. ~ To the Lighthouse by Virginia Woolf
One never can tell from the sidewalk just what the view is to some one on the inside, looking out. ~ Knocking the Neighbors by George Ade
Come what may, I am bound to think that all things are ordered for the best; though when the good is a furlong off, and we with our beetle eyes can only see three inches, it takes some confidence in general principles to pull us through. ~ The Stark Munro Letters by Sir Arthur Conan Doyle
Will not a tiny speck very close to our vision blot out the glory of the world, and leave only a margin by which we see the blot? ~ Middlemarch by George Eliot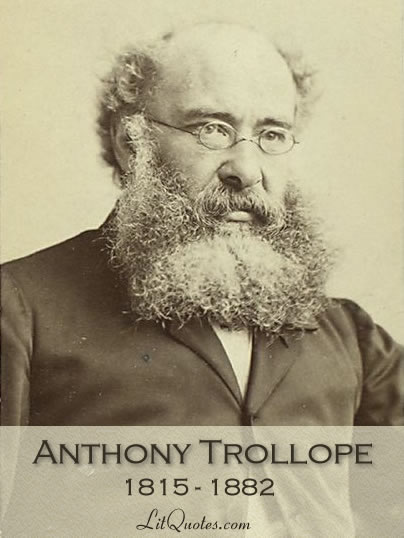 Anthony Trollope (April 24, 1815 – December 6, 1882) was one of the most successful and prolific novelists of the Victorian era. Among his best-known works is a series of novels collectively known as the Chronicles of Barsetshire, which revolves around the imaginary county of Barsetshire.
Trollope was born in London.  His father, Thomas Anthony Trollope, was an unhappy man.  He wanted his sons to be raised as gentlemen, but didn't have the means to make that happen. The money situation came to a head in 1834 when the entire Trollope family moved to Belgium to avoid being arrested for debt.
Later in 1834 Anthony accepted a position as clerk in the General Post Office in London. He worked for the postal system in various positions and locations until 1864.
Trollope wrote in his spare time and while traveling for his postal service job.  His finished his first novel, The Macdermots of Ballycloran, in 1845.
Ride at any fence hard enough, and the chances are you'll get over. The harder you ride the heavier the fall, if you get a fall; but the greater the chance of your getting over. ~ Phineas Redux by Anthony Trollope
The Novels in the Chronicles of Barsetshire are:
The Warden (1855)
Barchester Towers (1857)
Doctor Thorne (1858)
Framley Parsonage (1861)
The Small House at Allington (1864)
The Last Chronicle of Barset (1867)
Palliser Novels
Can You Forgive Her? (1865)
Phineas Finn (1869)
The Eustace Diamonds (1873)
Phineas Redux (1874)
The Prime Minister (1876)
The Duke's Children (1880)
Other Novels by Anthony Trollope
The Macdermots of Ballycloran (1847)
The Kellys and the O'Kellys (1848)
La Vendée: An Historical Romance (1850)
The Three Clerks (1858)
The Bertrams (1859)
Castle Richmond (1860)
Orley Farm (1862)
The Struggles of Brown, Jones & Robinson (1862)
Rachel Ray (1863)
Miss Mackenzie (1865)
The Belton Estate (1866)
The Claverings (1867)
Nina Balatka (1867)
Linda Tressel (1868)
He Knew He Was Right (1869)
The Vicar of Bullhampton (1870)
Sir Harry Hotspur of Humblethwaite (1871)
Ralph the Heir (1871)
The Golden Lion of Granpère (1872)
Harry Heathcote of Gangoil (1874)
Lady Anna (1874)
The Way We Live Now (1875)
The American Senator (1877)
Is He Popenjoy? (1878)
John Caldigate (1879)
An Eye for an Eye (1879)
Cousin Henry (1879)
Ayala's Angel (1881)
Doctor Wortle's School (1881)
The Fixed Period (1882)
Kept in the Dark (1882)
Marion Fay (1882)
Mr. Scarborough's Family (1883)
The Landleaguers (1883)
An Old Man's Love (1884)
Learn More about Anthony Trollope