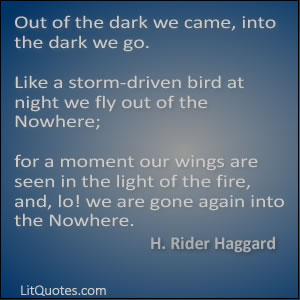 Out of the dark we came, into the dark we go. Like a storm-driven bird at night we fly out of the Nowhere; for a moment our wings are seen in the light of the fire, and, lo! we are gone again into the Nowhere. ~ King Solomon's Mines by H. Rider Haggard
I've posted this at the LitQuotes Facebook page and the LitQuotes Twitter page in case you'd like to share the photo.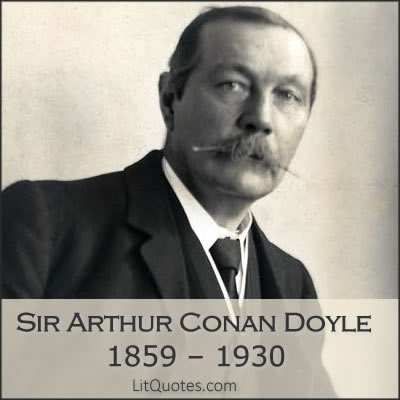 Sir Arthur Conan Doyle was born in 1859 and died in 1930.  He's best known as the creator of the Sherlock Holmes.  But here are five things about him that you may not know.
1 – Conan Doyle was a physician.  He attended the University of Edinburgh Medical School and graduated in 1881 with a Bachelor of Medicine and Mastery of Surgery.
2 – He worked as a ship's surgeon on a whaling vessel.
3 – Conan Doyle was not knighted for his Sherlock Holmes stories.  The War in South Africa: Its Causes and Conduct caught the eye of the monarchy.  In it, Conan Doyle comes to Great Britain's defense against charges of war crimes in the Boer War.
4 – George Edalji was an innocent man convicted of mutilating and killing livestock.  Who helped him prove his innocence?  The case was solved by Arthur Conan Doyle.  Sir Arthur solved two real-life crime cases, the George Edalji case and the Oscar Slater case.
5 – Conan Doyle believed in Spiritualism.  It's true.  The man who created the ever-logical Sherlock Holmes believed in spirits and things like automatic writing.
You can learn more about all of these subjects at our partner site, Conan Doyle Info.  As the site says, Sherlock Holmes is just the beginning.
Partial List of Work by Conan Doyle
A Study in Scarlet
Micah Clarke
The Mystery of Cloomber
The Sign of the Four
The Firm of Girdlestone
The White Company
The Doings of Raffles Haw
The Great Shadow
The Refugees
The Parasite
The Stark Munro Letters
Rodney Stone
Uncle Bernac
The Tragedy of the Korosko
A Duet, with an Occasional Chorus
The Hound of the Baskervilles
Sir Nigel
The Lost World
The Poison Belt
The Valley of Fear
The Land of Mist
The Maracot Deep
More Information about Sir Arthur Conan Doyle
Life may as properly be called an art as any other. ~ Amelia by Henry Fielding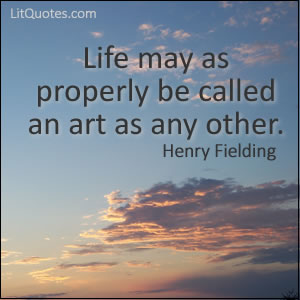 I've posted this on the LitQuotes Facebook page as well as the LitQuotes Twitter page for easier sharing.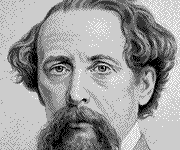 Our partner site, Charles Dickens Info, has a quiz for the Dickens aficionado! You're given the first lines of ten of Dickens's works. What novel or story to they come from?  You're given three choices for each of the starting lines and you'd think that would make it easy.  Nope.  It's fun, but it's challenging!
Charles Dickens Quiz – Opening Lines to the Novels of Charles Dickens
Having a siesta. Taking a snooze. Getting forty winks. Heading off to slumber land. Whatever you call it, sleep is important. Here are eight quotes about sleep from literature.
"Give me honorable enemies rather than ambitious ones, and I'll sleep more easily by night." ~ A Game of Thrones by George R. R. Martin
The sigh of all the seas breaking in measure round the isles soothed them; the night wrapped them; nothing broke their sleep, until, the birds beginning and the dawn weaving their thin voices in to its whiteness. ~ To the Lighthouse by Virginia Woolf
But sleep, in the long run, proves greater than all emotions. ~ The Wendigo by Algernon Blackwood
We rose up betimes, for sleep weighs lightly on the hopeful as well as on the anxious. ~ The Swiss Family Robinson by Johann D. Wyss
The day was made for laziness, and lying on one's back in green places, and staring at the sky till its brightness forced one to shut one's eyes and go to sleep. ~ The Old Curiosity Shop by Charles Dickens
"O sleep, O gentle sleep, Nature's soft nurse, how have I frightened thee, that thou no more will weigh my eyelids down, and steep my senses in forgetfulness?" ~ Henry IV, Part Two by William Shakespeare
It was the forty-fathom slumber that clears the soul and eye and heart, and sends you to breakfast ravening. ~ Captains Courageous by Rudyard Kipling
How blessed are some people, whose lives have no fears, no dreads, to whom sleep is a blessing that comes nightly, and brings nothing but sweet dreams. ~ Dracula by Bram Stoker
See More Quotes about Sleep from Literature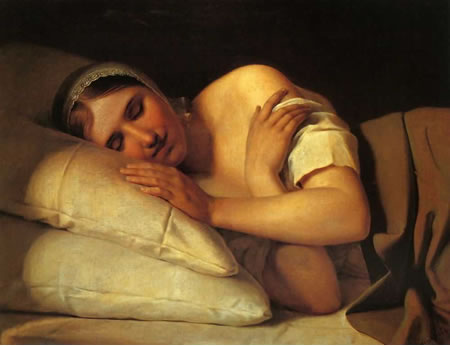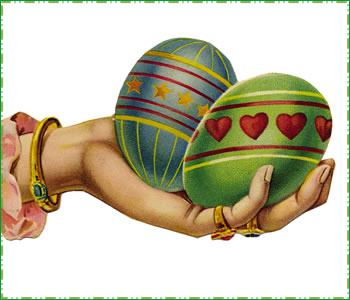 First of all, for those of you that celebrate the holiday, Happy Easter!
Secondly, I've added new quotes to the site. We're now over 2,500 quotes! If you have a quote that you'd like to see added to the site, you can submit your quote here.
Power resides where men believe it resides. No more and no less. ~ A Clash of Kings by George R. R. Martin
My civilization is not even skin deep—it does not go deeper than my clothes. ~ The Return of Tarzan by Edgar Rice Burroughs
We have only one story. All novels, all poetry, are built on the never-ending contest in ourselves of good and evil. ~ East of Eden by John Steinbeck
He lives, then, on ginger-nuts, thought I; never eats a dinner, properly speaking; he must be a vegetarian then; but no; he never eats even vegetables, he eats nothing but ginger-nuts. My mind then ran on in reveries concerning the probable effects upon the human constitution of living entirely on ginger-nuts. ~ Bartleby, the Scrivener by Herman Melville
I have never understood this quote.  If this makes sense to anyone please explain it to me.
Hell is an idea first born on an undigested apple-dumpling; and since then perpetuated through the hereditary dyspepsias nurtured by Ramadans. ~ Moby Dick by Herman Melville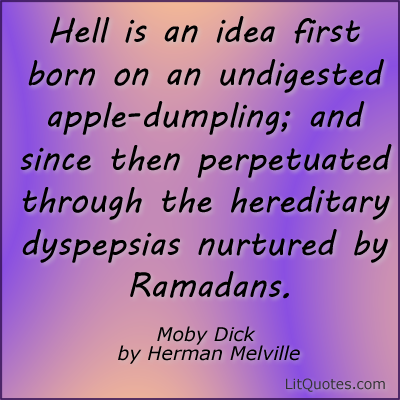 I've posted this on the LitQuotes Facebook page as well as the LitQuotes Twitter Feed for easier sharing.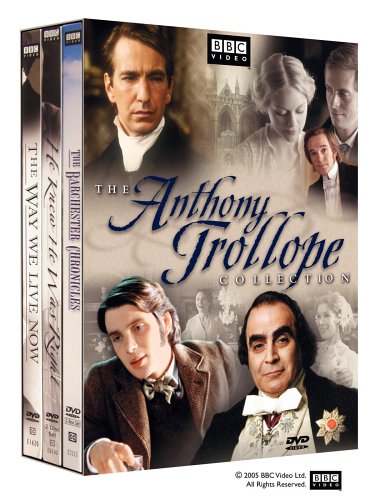 I just found this at Amazon and I'm pretty excited about it.  The Anthony Trollope Collection by the BBC is a 6-DVD set.   The set contains  The Barchester Chronicles (an adaptation of the first two Barchester novels, The Warden and Barchester Towers), He Knew He Was Right  and  The Way We Live Now.  I only wish I already had ordered this.  It would be perfect for a lazy, Sunday afternoon.
She well knew the great architectural secret of decorating her constructions, and never condescended to construct a decoration. ~ Barchester Towers by Anthony Trollope
Don't you think Sir Arthur Conan Doyle would have loved this? As usual, I've posted this on the LitQuotes Facebook page as well as the LitQuotes Twitter Feed for easier sharing.
"Circumstantial evidence," continued the young man, as if he scarcely heard Lady Audley's interruption-"that wonderful fabric which is built out of straws collected at every point of the compass, and which is yet strong enough to hang a man." ~ Lady Audley's Secret by Mary Elizabeth Braddon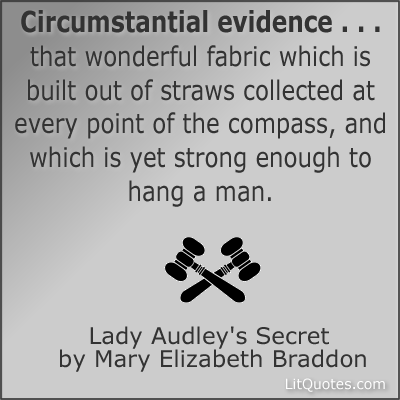 Here's a funny quote about love.  As usual, I've posted this on the LitQuotes Facebook page as well as the LitQuotes Google Plus page for easier sharing.
"Kissing don't last: cookery do!" ~ The Ordeal of Richard Feverel by George Meredith