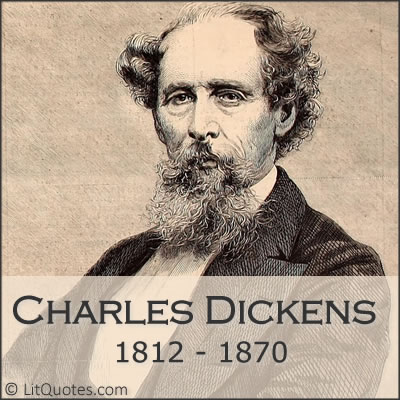 Charles Dickens was born on February 7, 1812 and died in 1870.  He's the author of A Christmas Carol, Great Expectations and other classic novels.  Now here are some things you may not know about Charles Dickens.
1 – As a child, his family was always on the verge of economic collapse. Everything fell apart for the family in 1827. Dickens' father was sent the Marshalsea debtors' prison and young Charles was sent to work in Warren's Blacking Factory. These incidents would haunt Dickens for the rest of his life.
2 – Dickens worked as law clerk, a court stenographer and even contemplated becoming an actor. Luckily for us, Dickens was ill on the day of his audition at the Lyceum Theater and couldn't go. Can you imagine a life without Scrooge?  If Dickens, who was a talented actor, had attended his audition he might not have written A Christmas Carol.
3 – In his early writing he called himself Boz. Boz? You see, one of his favorite characters in Goldsmith's Vicar of Wakefield was called Moses. Moses became Boses which became Boz.
4 – Dickens married Catherine Hogarth in 1835. There were some happy years, but in 1958 they were legally separated. One of the reasons for the separation was Dickens' interest in the actress, Ellen Ternan.
Dickens met Ellen in 1857. Matters came to a head the next year when a bracelet that Dickens bought as a present for Ellen was accidentally delivered to the Dickens household. In a scene straight from a soap opera, Catherine discovered the bracelet and accused Charles of having an affair.
5 – One of the most fascinating aspects of Charles Dickens is that he understood the power of the media. Yes, even in the Victorian Era people had to worry about the press. In September of 1860, behind his home at Gad's Hill Place, Charles Dickens tried to cover his tracks. He gathered "the accumulated letters and papers of twenty years" and set them ablaze in his backyard. What could we have learned had he not taken this action? We'll never know.
More About Charles Dickens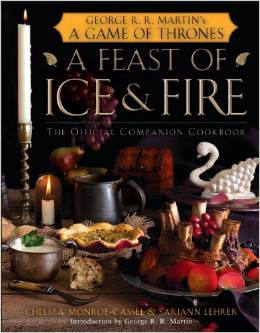 I stumbled upon this on the Amazon website and couldn't believe my eyes. There's an official cookbook for A Game of Thrones?  Yes, there is!
It also has some good reviews.  At the moment it has 4.8 out of 5 stars with 312 reviews. That's not too shabby.
"The combination of headnotes and recipes [in A Feast of Ice and Fire] almost reaches the Elizabeth David level of 'put down this book, get out of bed and start cooking.' … And with their adherence to the imagined geography of Westeros, the authors also might actually outdo Alice Waters in local and seasonal cooking." -Newsweek
"Sleep is good," he said. "And books are better." – A Clash of Kings by George R. R. Martin
This morning I tried to find a quote to post about the Seahawks and the Super Bowl.  It was hard to find a quote that worked and I almost rejected this one.  After all, wouldn't a quote from Anne of Green Gables be to "girly" to use to describe the heartbreaking loss of the Seahawks?  I decided to go with it anyway.
Out of all the teams that tried to get to the Super Bowl this year only two teams made it.  Only one of those teams was there for the second year in a row.  The lesson is to not be so afraid of losing that you're afraid to try.
And besides, there's always next year.  Go Hawks!
"Next to trying and winning, the best thing is trying and failing." ~ Anne of Green Gables by Lucy Maud Montgomery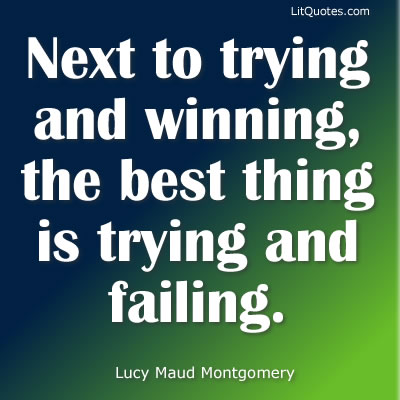 You can find this quote photo on the LitQuotes Facebook page, the LitQuotes Twitter feed as well as the LitQuotes Google Plus page to make it easy to share.
Trust Mark Twain to say what everyone else is thinking.
Few things are harder to put up with than the annoyance of a good example. ~ The Tragedy of Pudd'nhead Wilson by Mark Twain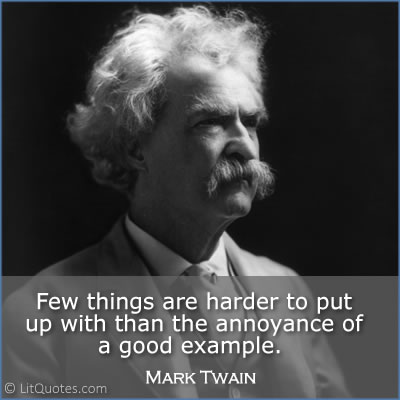 You can find this quote photo on the LitQuotes Facebook page, the LitQuotes Twitter feed as well as the LitQuotes Google Plus page to make it easy to share.
From the death of each day's hope another hope sprung up to live to-morrow. ~ The Old Curiosity Shop by Charles Dickens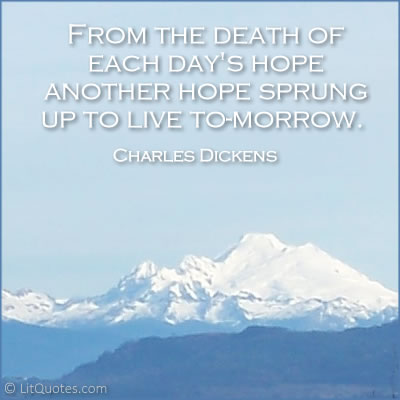 As per usual, I've posted this quote photo on the LitQuotes Facebook page, the LitQuotes Twitter feed as well as the LitQuotes Google Plus page to make it easy to share.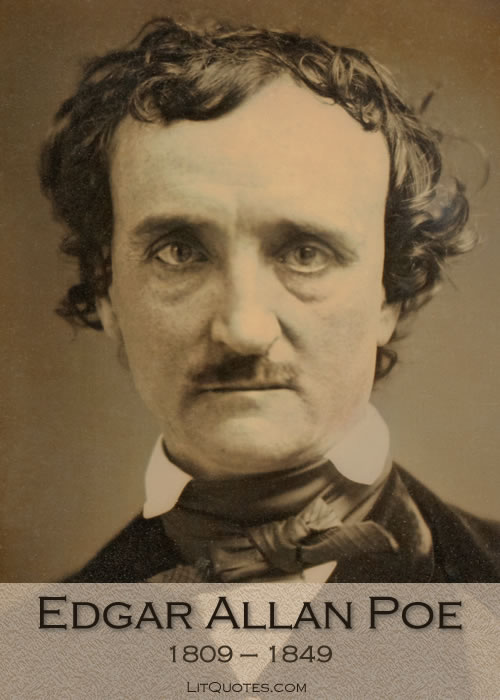 You may know that Edgar Allan Poe wrote The Raven and The Fall of the House of Usher but did you know that . . .
1 – Edgar Allan Poe was born on January 19, 1809 in Boston.  He died on October 7, 1849.
2 – His parents were both actors. In fact, Poe may have been named after a character in King Lear. His parents performed the play the year of Poe's birth.
3 – Poe's father abandoned the family in 1810. Sadly, Poe's mother passed away in 1811. Edgar was raised by John and Frances Allan of Richmond, Virginia.
4 – In 1835 Poe married Virginia Clemm, his first cousin.  She was thirteen-year-old at the time.  They remained married until her death in 1847.
5 – Edgar Allan Poe is considered to be the inventor of the detective fiction genre because of his work, The Murders in the Rue Morgue.
6 – Poe died in 1849 at the age of 40. The cause of his death is a mystery. Theories about the matter include alcohol, carbon monoxide poisoning, suicide and even rabies.
Partial List of Poe's Work
The Cask of Amontillado
A Descent into the Maelstrom
The Facts in the Case of M. Valdemar
The Fall of the House of Usher
The Gold-Bug
Hop-Frog
The Imp of the Perverse
Ligeia
The Masque of the Red Death
Morella
The Murders in the Rue Morgue
The Oval Portrait
The Pit and the Pendulum
The Premature Burial
The Purloined Letter
The System of Doctor Tarr and Professor Fether
The Tell-Tale Heart
More Edgar Allan Poe Information
The dictionary tells us that sympathy is a felling of pity or sorrow for someone else's misfortune. And here's how it's used in quotes by the masters of literature.
My heart was fashioned to be susceptible of love and sympathy, and when wrenched by misery to vice and hatred, it did not endure the violence of the change without torture such as you cannot even imagine. ~ Frankenstein by Mary Shelley
I don't know if it be a peculiarity in me, but I am seldom otherwise than happy while watching in the chamber of death, should no frenzied or despairing mourner share the duty with me. I see a repose that neither earth nor hell can break; and I feel an assurance of the endless and shadowless hereafter – the Eternity they have entered – where life is boundless in its duration, and love in its sympathy, and joy in its fulness. ~ Wuthering Heights by Emily Bronte
"Oh! I have a heart to be stabbed in or shot in, I have no doubt," said Estella, "and of course if it ceased to beat I should cease to be. But you know what I mean. I have no softness there, no—sympathy—sentiment—nonsense." ~ Great Expectations by Charles Dickens
He spoke wistfully of a sudden leaving, a breaking of old ties, a flight into a strange world, ending in this dreary valley, and Ettie listened, her dark eyes gleaming with pity and with sympathy – those two qualities which may turn so rapidly and so naturally to love. ~ The Valley of Fear by Sir Arthur Conan Doyle
more sympathy quotes from literature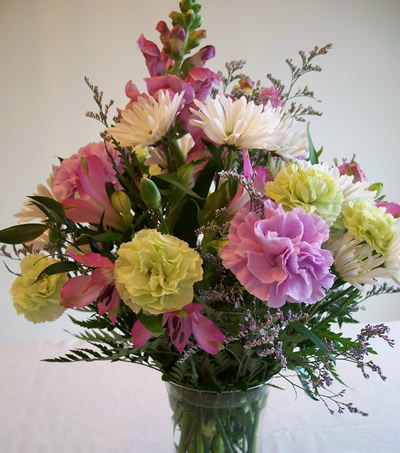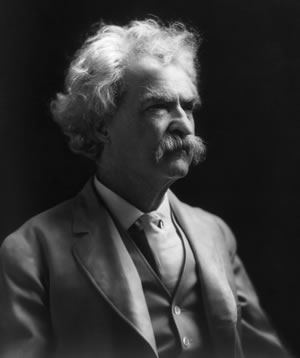 1 – Mark Twain, whose real name was Samuel Langhorne Clemens, was born on November 30th 1835. He died on April 21st, 1910.
2 – For a time he worked as a riverboat pilot on the Mississippi River. He also worked as a newspaper journalist and a miner before he turned to writing fiction.
3 – While he was well paid as a writer, he was plagued with financial problems. One of his biggest problems was bad investments. He lost a lot of money with his investment in Paige Compositor, a mechanical typesetter. Twain eventually declared bankruptcy. However later he paid back all of his creditors.
4 – He married Olivia Landon in 1870. They remained together until her death in 1904. They had four children.
5 – Twain was born shortly after a visit by Halley's Comet. He told people that he would "go out with it" as well. Here's a quote from Twain in 1909.
I came in with Halley's Comet in 1835. It is coming again next year, and I expect to go out with it. It will be the greatest disappointment of my life if I don't go out with Halley's Comet. The Almighty has said, no doubt: 'Now here are these two unaccountable freaks; they came in together, they must go out together'.
Twain predicted correctly. He died the day after the comet's return.
Novels by Mark Twain
The Gilded Age: A Tale of Today
The Adventures of Tom Sawyer
The Prince and the Pauper
Adventures of Huckleberry Finn
A Connecticut Yankee in King Arthur's Court
The American Claimant
The Tragedy of Pudd'nhead Wilson
Tom Sawyer Abroad
Personal Recollections of Joan of Arc
Tom Sawyer, Detective
The Mysterious Stranger (published posthumously)
More about Mark Twain
"My advice is, never do tomorrow what you can do today. Procrastination is the thief of time." ~ David Copperfield by Charles Dickens
I've posted this quote photo on the LitQuotes Facebook page, the LitQuotes Twitter feed as well as the LitQuotes Google Plus page to make it easy to share.
The world is a stage, but the play is badly cast. ~ Lord Arthur Savile's Crime by Oscar Wilde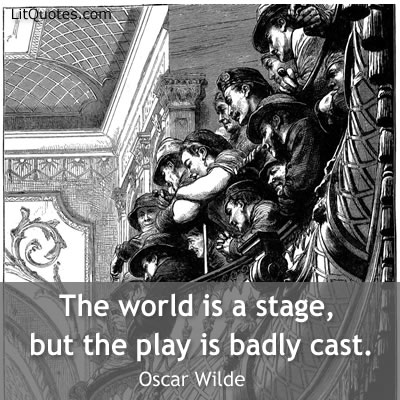 I've posted this quote photo on the LitQuotes Facebook page, the LitQuotes Twitter feed as well as the LitQuotes Google Plus page to make it easy to share.