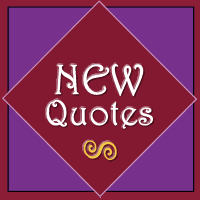 Today I added  new quotes to the collection.  Here are my favorites.  AND if you have a quote that you'd like to see added, feel free to contribute a quote.
"Books are the mirrors of the soul." ~ Between the Acts by Virginia Woolf
Rigid, the skeleton of habit alone upholds the human frame. ~ Mrs. Dalloway by Virginia Woolf
The bird that would soar above the level plain of tradition and prejudice must have strong wings. ~ The Awakening by Kate Chopin
May the wind under your wings bear you where the sun sails and the moon walks. ~ The Hobbit by J. R. R. Tolkien
"Many that live deserve death. And some that die deserve life. Can you give it to them? Then do not be too eager to deal out death in judgement. For even the very wise cannot see all ends." ~ The Fellowship of the Ring by J. R. R. Tolkien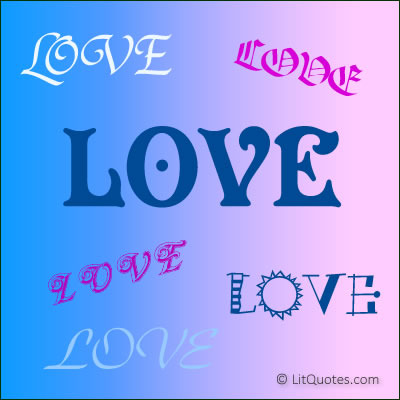 How is it that the poets have said so many fine things about our first love, so few about our later love? Are their first poems their best? Or are not those the best which come from their fuller thought, their larger experience, their deeper-rooted affections? ~ Adam Bede by George Eliot
These fellow-mortals, every one, must be accepted as they are: you can neither straighten their noses, nor brighten their wit, nor rectify their dispositions; and it is these people–amongst whom your life is passed–that it is needful you should tolerate, pity, and love: it is these more or less ugly, stupid, inconsistent people whose movements of goodness you should be able to admire–for whom you should cherish all possible hopes, all possible patience. ~ Adam Bede by George Eliot
Such young unfurrowed souls roll to meet each other like two velvet peaches that touch softly and are at rest; they mingle as easily as two brooklets that ask for nothing but to entwine themselves and ripple with ever-interlacing curves in the leafiest hiding-places. ~ Adam Bede by George Eliot
A difference of taste in jokes is a great strain on the affections. ~ Daniel Deronda by George Eliot
She and Stephen were in that stage of courtship which makes the most exquisite moment of youth, the freshest blossom-time of passion,–when each is sure of the other's love, but no formal declaration has been made, and all is mutual divination, exalting the most trivial word, the lightest gesture, into thrills delicate and delicious as wafted jasmine scent. ~ The Mill on the Floss by George Eliot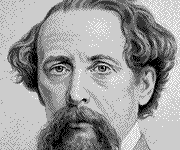 We have all some experience of a feeling, that comes over us occasionally, of what we are saying and doing having been said and done before, in a remote time – of our having been surrounded, dim ages ago, by the same faces, objects, and circumstances – of our knowing perfectly what will be said next, as if we suddenly remembered it! ~ David Copperfield by Charles Dickens
There is a drowsy state, between sleeping and waking, when you dream more in five minutes with your eyes half open, and yourself half conscious of everything that is passing around you, than you would in five nights with your eyes fast closed, and your senses wrapt in perfect unconsciousness. At such time, a mortal knows just enough of what his mind is doing, to form some glimmering conception of its mighty powers, its bounding from earth and spurning time and space, when freed from the restraint of its corporeal associate. ~ Oliver Twist by Charles Dickens
Metaphysics from Charles Dickens?  Who'd have thought it possible?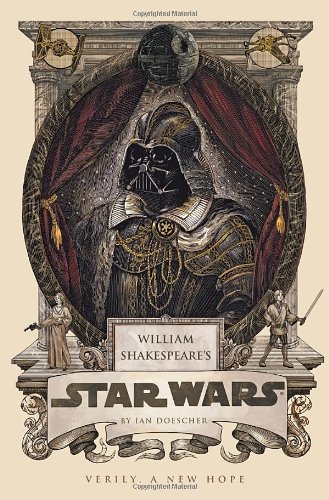 I was reading the newspaper yesterday and this book was mentioned.  William Shakespeare's Star Wars.
Who knew?
Return once more to a galaxy far, far away with this sublime retelling of George Lucas's epic Star Wars in the style of the immortal Bard of Avon. The saga of a wise (Jedi) knight and an evil (Sith) lord, of a beautiful princess held captive and a young hero coming of age, Star Wars abounds with all the valor and villainy of Shakespeare's greatest plays. 'Tis a tale told by fretful droids, full of faithful Wookiees and fearstome Stormtroopers, signifying…pretty much everything.
"Friendship, I fancy, means one heart between two." ~ Diana of the Crossways by George Meredith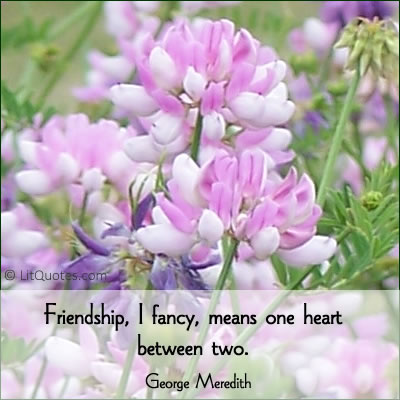 I've posted this on the LitQuotes Facebook page as well as the LitQuotes Google Plus page for easier sharing.  You also might enjoy other friendship quotes from literature.  Just click on the link to see the entire collection.
Let's hear it for our feathered friends!  Here are five quotes about birds from literature.
The sigh of all the seas breaking in measure round the isles soothed them; the night wrapped them; nothing broke their sleep, until, the birds beginning and the dawn weaving their thin voices in to its whiteness. ~ To the Lighthouse by Virginia Woolf
"There is many a young cockerel that will stand upon a dunghill and crow about his father, by way of making his own plumage to shine." ~ Cousin Phillis by Elizabeth Gaskell
Nothing in the world is quite as adorably lovely as a robin when he shows off-and they are nearly always doing it. ~ The Secret Garden by Frances Hodgson Burnett
"Do you know," Peter asked "why swallows build in the eaves of houses? It is to listen to the stories." ~ Peter Pan by James M. Barrie
All is going on as it was wont. The waves are hoarse with repetition of their mystery; the dust lies piled upon the shore; the sea-birds soar and hover; the winds and clouds go forth upon their trackless flight; the white arms beckon, in the moonlight, to the invisible country far away. ~ Dombey and Son by Charles Dickens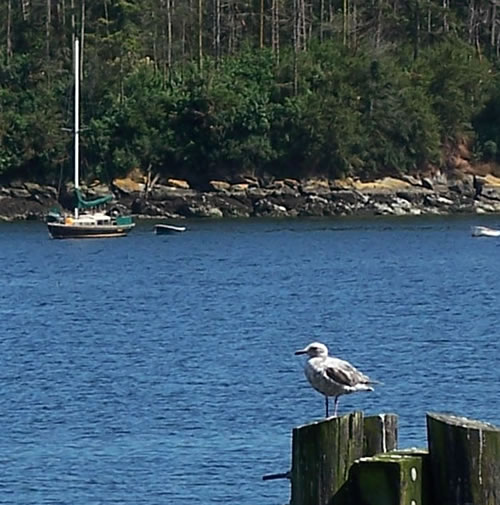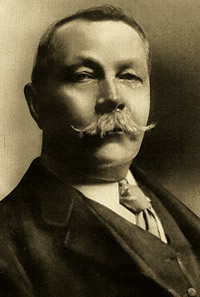 One of my favorite authors, Sir Arthur Conan Doyle, died on this day  in 1930.   He was 71 years old.
Conan Doyle is best known as the creator of Sherlock Holmes.  However he wrote many other novels and short stories.  Here are five of my favorite quotes from Sir Arthur Conan Doyle that don't have anything to do with Sherlock Holmes.
Come what may, I am bound to think that all things are ordered for the best; though when the good is a furlong off, and we with our beetle eyes can only see three inches, it takes some confidence in general principles to pull us through. ~ The Stark Munro Letters by Sir Arthur Conan Doyle
"There are times, young fellah, when every one of us must make a stand for human right and justice, or you never feel clean again." ~ The Lost World by Sir Arthur Conan Doyle
Goresthorpe Grange is a feudal mansion – or so it was termed in the advertisement which originally brought it under my notice. Its right to this adjective had a most remarkable effect upon its price, and the advantages gained may possibly be more sentimental than real. Still, it is soothing to me to know that I have slits in my staircase through which I can discharge arrows; and there is a sense of power in the fact of possessing a complicated apparatus by means of which I am enabled to pour molten lead upon the head of the casual visitor. ~ Selecting a Ghost by Sir Arthur Conan Doyle
Clouds of insects danced and buzzed in the golden autumn light, and the air was full of the piping of the song-birds. Long, glinting dragonflies shot across the path, or hung tremulous with gauzy wings and gleaming bodies. ~ The White Company by Sir Arthur Conan Doyle
What can we know? What are we all? Poor silly half-brained things peering out at the infinite, with the aspirations of angels and the instincts of beasts. ~ The Stark Munro Letters by Sir Arthur Conan Doyle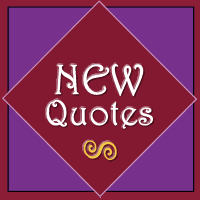 Today I added two dozen new quotes to the collection.  Some of my favorites are:
It has been said that the love of money is the root of all evil. The want of money is so quite as truly. ~ Erewhon by Samuel Butler
I am I, and I won't subordinate my taste to the unanimous judgment of mankind. ~ Martin Eden by Jack London
"Death and taxes and childbirth! There's never any convenient time for any of them!" ~ Gone With The Wind by Margaret Mitchell
"No one believes more firmly than Comrade Napoleon that all animals are equal. He would be only too happy to let you make your decisions for yourselves. But sometimes you might make the wrong decisions, comrades, and then where should we be?" ~ Animal Farm by George Orwell
The big round tears
Coursed one another down his innocent nose
In piteous chase. ~ As You Like It by William Shakespeare
"Miss Taggart, do you know the hallmark of the second-rater? It's resentment of another man's achievement." ~ Atlas Shrugged by Ayn Rand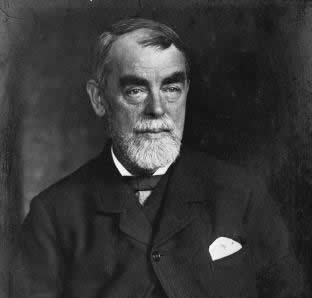 Samuel Butler, the author of Erewhon and The Way of All Flesh was born in December of 1835.
He was born 

in the village of 

Langar in 

England.

He didn't get along well with his parents.  He found the relationship with his father particularly troubling.  He noted of his father that,

"He never liked me, nor I him; from my earliest recollections I can call to mind no time when I did not fear him and dislike him…. I have never passed a day without thinking of him many times over as the man who was sure to be against me."

Butler graduated from Cambridge in 1858.
After his graduation, Samuel's father wanted him to become a priest.  However a crisis of faith lead Samuel down a different path.  He emigrated to New Zealand and raised sheep instead.  He returned to England in 1864.

Butler made prose translations of the 

Iliad

 and 

Odyssey

 which remain in use to this day.

He died on June 18, 1902 in London.
The Way of All Flesh is a semi-autobiographical novel and was published posthumously.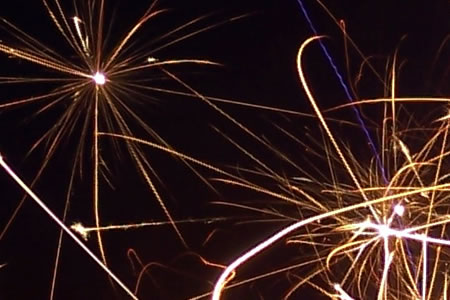 I hope you all have a fun and safe Fourth of July!!  To commemorate the day, here are five quotes about freedom.
Peril, loneliness, an uncertain future, are not oppressive evils, so long as the frame is healthy and the faculties are employed; so long, especially, as Liberty lends us her wings, and Hope guides us by her star. ~ Villette by Charlotte Bronte
She had not known the weight until she felt the freedom! ~ The Scarlet Letter by Nathaniel Hawthorne
"You know, there are two good things in life, freedom of thought and freedom of action." ~ Of Human Bondage by W. Somerset Maugham
"Liberty is worth paying for." ~ 20,000 Leagues Under the Sea by Jules Verne
"I am no bird; and no net ensnares me; I am a free human being with an independent will." ~ Jane Eyre by Charlotte Bronte
See Entire Collection of Freedom Quotes