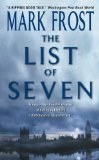 Looking for a good book to read over the weekend?  Check out List of Seven by Mark Frost.  Frost, a co-creator of the Twin Peaks television series, brings us an entertaining mystery featuring a young Arthur Conan Doyle.   The novel opens in London of 1884 when things go horribly wrong at a seance.  To solve the mystery, Conan Doyle joins forces with special agent Jack Sparks.  Together they pursue a deadly group of Victorian Satanists known as the Dark Brotherhood.
Here's what one reader had to say . . .
There are books that are OK, books you like, books you love, and then there a another whole class of very special uber-books that you flat-out enjoy, devour every page, and feel devastated when they are finished.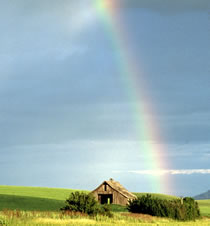 Let's start the week out right with five love quotes from literature.
Love, it is said, is blind, but love is not blind. It is an extra eye, which shows us what is most worthy of regard. To see the best is to see most clearly, and it is the lover's privilege. ~ The Little Minister by James M. Barrie
As the gambler said of his dice, to love and win is the best thing, to love and lose is the next best. ~ The History of Pendennis by William Makepeace Thackeray
She had found her heart at last. Never having known its worth till now, she had never known the worth of his. ~ Barnaby Rudge by Charles Dickens
That which is loved may pass, but love hath no end. ~ Parables Of A Province by Gilbert Parker
"I don't want sunbursts and marble halls. I just want you." ~ Anne of the Island by Lucy Maud Montgomery
See the entire collection of Love Quotes from Literature


Our partner site, Charles Dickens Gad's Hill Place, is moving!  It's now located at http://www.charlesdickensinfo.com and has been renamed Charles Dickens Info.
This original site debuted in about 1998.  The website featured a photo of Gad's Hill Place on the home page.  Visitors moved to different parts of the site by clicking on the door and windows of the image.  It was one of those things that seemed very, very cool at the time.
How things have changed!  The current site is done in WordPress and now features social sharing buttons and is mobile friendly.  Visit the new site today for quotes, games and little-known facts about Charles Dickens.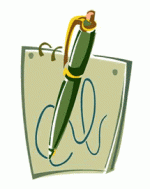 Here's a great idea, NPR has an online  book club for kids.  Check out NPR's Backseat Book Club to learn more and see the list of books.
The Sun himself is weak when he first rises, and gathers strength and courage as the day gets on. ~ The Old Curiosity Shop by Charles Dickens
Here's a new quote photo.  I've also posted it on the LitQuotes Facebook page as well as our new Google Plus page for easier sharing.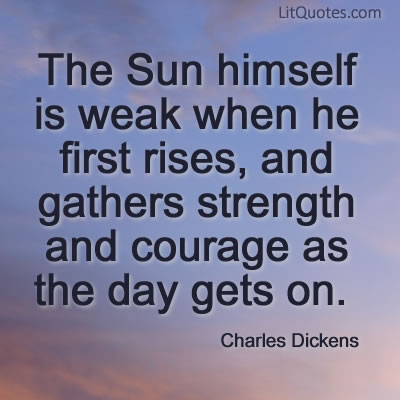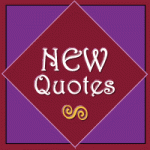 Today I added  new quotes to the collection.  Here are my favorites.
She carried her pocket Shakespeare about with her, and met life fortified by the words of the poets. ~ Night and Day by Virginia Woolf
Reserving judgments is a matter of infinite hope. ~ The Great Gatsby by F. Scott Fitzgerald
Nothing in the world is quite as adorably lovely as a robin when he shows off-and they are nearly always doing it. ~ The Secret Garden by Frances Hodgson Burnett
Human beings, on the contrary, have a soul which lives forever, lives after the body has been turned to dust. It rises up through the clear, pure air beyond the glittering stars. ~ The Little Mermaid by Hans Christian Andersen
Here's a quote photo to share with friends and family.  I've also posted it on the LitQuotes Facebook page as well as our new Google Plus page for easier sharing.
One of the new things people began to find out in the last century was that thoughts–just mere thoughts–are as powerful as electric batteries–as good for one as sunlight is, or as bad for one as poison. ~ The Secret Garden by Frances Hodgson Burnett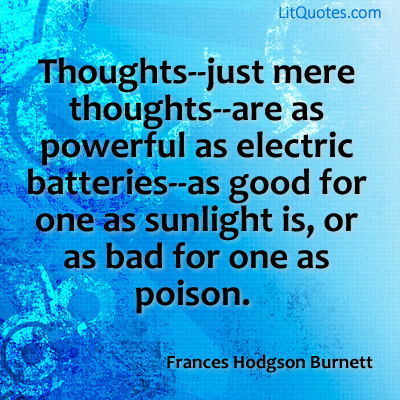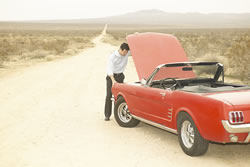 I hope that your weekend is off to a good start!  No flat tires, arguments or bounced checks.  Just in case though, here are five quotes about trouble that may help you take it all in stride.
"Most of the trouble in life comes from misunderstanding, I think," said Anne. ~ Anne of the Island by Lucy Maud Montgomery
"Would the world ever have been made if its maker had been afraid of making trouble? Making life means making trouble." ~ Pygmalion by George Bernard Shaw
"Half the trouble in life is caused by pretending there isn't any." ~ The House of Mirth by Edith Wharton
"I have read in your face, as plain as if it was a book, that but for some trouble and sorrow we should never know half the good there is about us." ~ The Haunted Man by Charles Dickens
"Oh, friend John, it is a strange world, a sad world, a world full of miseries, and woes, and troubles. And yet when King Laugh come, he make them all dance to the tune he play." ~ Dracula by Bram Stoker
Happy Friday!  I hope your weekend will prove to be nice and sunny.  If not, hopefully spring will be coming your way soon!
The Sun himself is weak when he first rises, and gathers strength and courage as the day gets on. ~  The Old Curiosity Shop by Charles Dickens
"I don't want sunbursts and marble halls. I just want you." ~  Anne of the Island by Lucy Maud Montgomery
The whole earth was brimming sunshine that morning. She tripped along, the clear sky pouring liquid blue into her soul. ~  Sister Carrie by Theodore Dreiser
"Love comforteth like sunshine after rain." ~ Venus and Adonis by William Shakespeare
"The sun does not shine upon this fair earth to meet frowning eyes, depend upon it." ~ Nicholas Nickleby by Charles Dickens
See all our Literary Sun Quotes