New quotes were added to the site today.  As per usual, all of the quotes list an author and a source. We're proud that this quotation collection is curated by people and NOT by a computer program.
Here are some quotes from the new additions:
Men must want to do things of their own innermost drives. People, not commercial organizations or chains of command, are what make great civilizations work. Every civilization depends upon the quality of the individuals it produces. If you over-organize humans, over-legalize them, suppress their urge to greatness — they cannot work and their civilization collapses. ~ Children of Dune by Frank Herbert
"A sermon is not to tell you what you are, but what you ought to be, and a novel should tell you not what you are to get, but what you'd like to get." ~ The Small House at Allington by Anthony Trollope
"Must we be strangers, you and I, because there was a time in which we were almost more than friends?" ~ Phineas Finn by Anthony Trollope
Your man with a thin skin, a vehement ambition, a scrupulous conscience, and a sanguine desire for rapid improvement, is never a happy, and seldom a fortunate politician. ~ The Prime Minister by Anthony Trollope
Something unpleasant is coming when men are anxious to tell the truth. ~ The Young Duke by Benjamin Disraeli
"God did not give me my life to throw away." ~ Jane Eyre by Charlotte Bronte
The wild rains of the day are abated; the great single cloud disparts and rolls away from heaven, not passing and leaving a sea all sapphire, but tossed buoyant before a continued, long-sounding, high-rushing moonlight tempest. The moon reigns glorious, glad of the gale, as glad as if she gave herself to his fierce caress with love. ~ Shirley by Charlotte Bronte
We should acknowledge God merciful, but not always for us comprehensible. ~ Villette by Charlotte Bronte
"Your father, Jo. He never loses patience, never doubts or complains, but always hopes, and works and waits so cheerfully that one is ashamed to do otherwise before him." ~ Little Women by Louisa May Alcott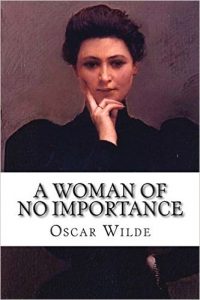 A Woman of No Importance is a play written by Oscar Wilde. The play premiered on 19 April 1893 at London's Haymarket Theatre.
The play starts at a swanky house party located at Lady Hunstanton's country estate.  It's announced that Gerald Arbuthnot has been appointed as Lord Illingworth's secretary.  Drama ensues because of a scandalous secret regarding Gerald's mother.  Will Gerald's prospects be derailed?
"Men always want to be a woman's first love. That is their clumsy vanity. We women have a more subtle instinct about things. What we like is to be a man's last romance." ~ A Woman of No Importance by Oscar Wilde
More about A Woman of No Importance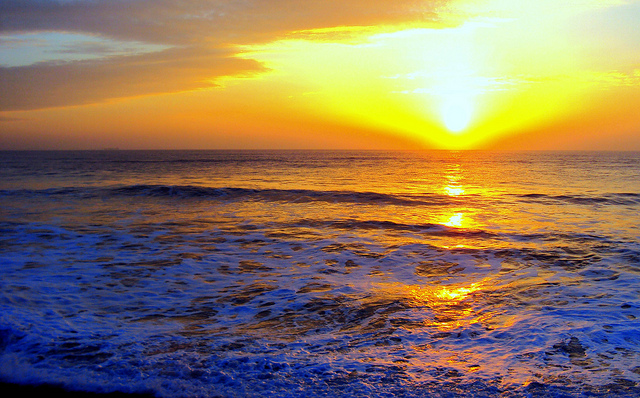 "The sea is everything. It covers seven tenths of the terrestrial globe. Its breath is pure and healthy. It is an immense desert, where man is never lonely, for he feels life stirring on all sides." ~ 20,000 Leagues Under the Sea by Jules Verne
No mercy, no power but its own controls it. Panting and snorting like a mad battle steed that has lost its rider, the masterless ocean overruns the globe. ~ Moby Dick by Herman Melville
And then, the unspeakable purity – and freshness of the air! There was just enough heat to enhance the value of the breeze, and just enough wind to keep the whole sea in motion, to make the waves come bounding to the shore, foaming and sparkling, as if wild with glee. ~ Agnes Grey by Anne Bronte
The sigh of all the seas breaking in measure round the isles soothed them; the night wrapped them; nothing broke their sleep, until, the birds beginning and the dawn weaving their thin voices in to its whiteness. ~ To the Lighthouse by Virginia Woolf
"Look at that sea, girls–all silver and shadow and vision of things not seen. We couldn't enjoy its loveliness any more if we had millions of dollars and ropes of diamonds." ~ Anne of Green Gables by Lucy Maud Montgomery
When angry, count four; when very angry, swear. ~ The Tragedy of Pudd'nhead Wilson by Mark Twain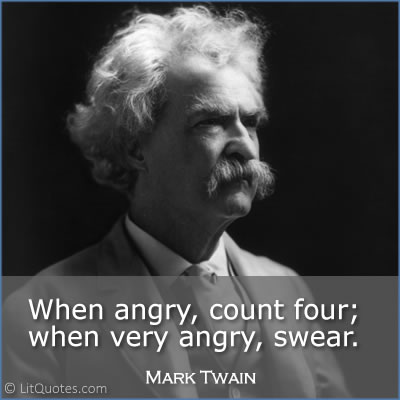 I've posted this at the LitQuotes Facebook page and the LitQuotes Twitter page in case you'd like to share the photo. AND it's on our new Pinterest page.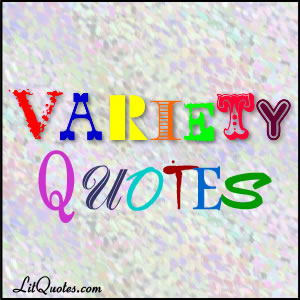 Age cannot wither her, nor custom stale
Her infinite variety. ~ Antony and Cleopatra by William Shakespeare
"I never keep to anything long. Variety is the mother of Enjoyment." ~ Vivian Grey by Benjamin Disraeli
The complex affair we call the world requires a great variety of people to keep it going. ~ The Golden House by Charles Dudley Warner
"I trust that age doth not wither nor custom stale my infinite variety." ~ The Adventure of the Empty House by Sir Arthur Conan Doyle
A difference of taste in jokes is a great strain on the affections. ~ Daniel Deronda by George Eliot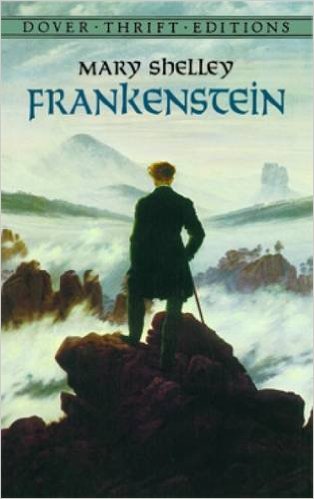 Frankenstein was written by Mary Shelley in 1816.
The summer of 1816 was dreary one because of the eruption of Mount Tambora in 1815. It adversely affected the weather and some people called 1816 "the year without a summer." That year Mary Shelley, then Mary Godwin, and her future husband, Percy Bysshe Shelley, visited Lord Byron at the Villa Diodati by Lake Geneva in Switzerland. Because of the bad weather the group ended up spending a lot of time indoors.  One of the things they did to pass the time was to read ghost stories.  That gave Byron an idea.  He proposed that they "each write a ghost story."  That challenge lead to Mary Shelley writing Frankenstein.
The first edition of the book was published anonymously in London in 1818. Shelley's name appears on the second edition, published in France in 1823.
The moon gazed on my midnight labours, while, with unrelaxed and breathless eagerness, I pursued nature to her hiding-places. ~ Frankenstein by Mary Shelley
More About Frankenstein by Mary Shelley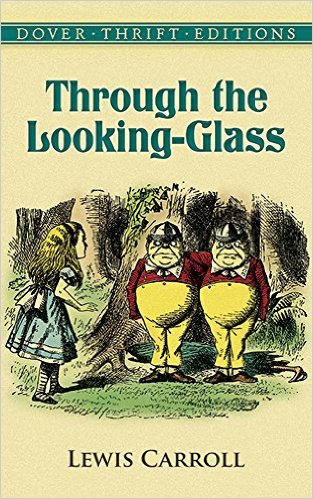 Through the Looking-Glass, and What Alice Found There by Lewis Carroll was published in 1871. The novel is a sequel to Alice's Adventures in Wonderland.
In Through the Looking-Glass Alice climbs through a mirror into another world. Characters in the book include:
Bandersnatch
Haigha (March Hare)
Hatta (The Hatter)
Humpty Dumpty
The Jabberwock
Jubjub bird
Red King
Red Queen
The Lion and the Unicorn
The Sheep
The Walrus and the Carpenter
Tweedledum and Tweedledee
White King
White Knight
White Queen
"'Well, now that we HAVE seen each other," said the Unicorn, "if you'll believe in me, I'll believe in you." ~ Through the Looking-Glass by Lewis Carroll
More about Through the Looking-Glass
"It was as true . . . as turnips is. It was as true . . . as taxes is. And nothing's truer than them." ~ David Copperfield by Charles Dickens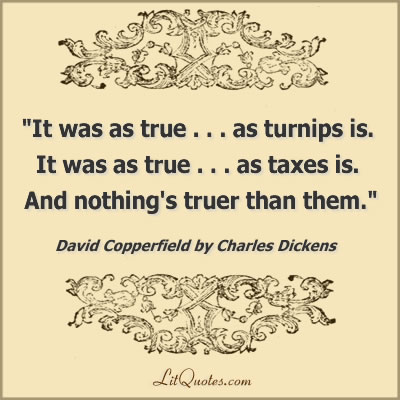 I've posted this at the LitQuotes Facebook page and the LitQuotes Twitter page in case you'd like to share the photo. AND it's on our new Pinterest page.
The end of religion is not to teach us how to die, but how to live. ~ Agnes Grey by Anne Bronte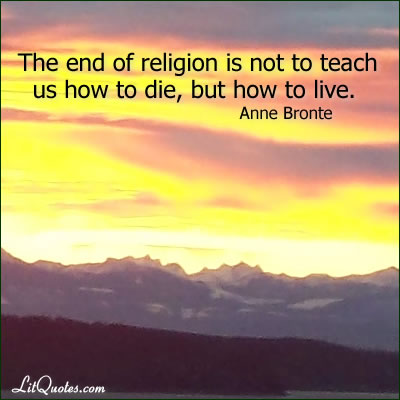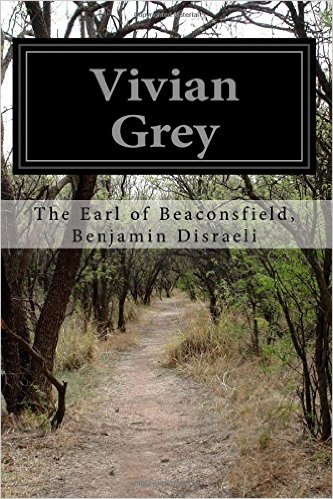 Vivian Grey is the first novel written by Disraeli.  It was published anonymously in 1826.
The novel depicts the life of Vivian Grey as he grows up and attempts to succeed in the world of politics.   The novel has autobiographical elements and is also a satire on the social and political life of the time.  Its publication caused quite a stir as the members of London society tried to deduce the name of the author.
The praise of a fool is incense to the wisest of us. ~ Vivian Grey by Benjamin Disraeli
More about Vivian Grey