Guest post by Lucy Adams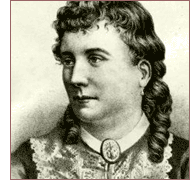 Literature has a way of preserving memories, entertaining a reader, and teaching valuable lessons to generations. People who have written it may have long been dead yet living because of their captivating pieces. Such was the case of Mary Elizabeth Braddon (1835-1915), an English novelist in the Victorian era. Here are more facts about her life and work:
Braddon's parents were separated – Her mother, Fanny, left her husband when Braddon was only four. The major reason for the move was infidelity. During that time, being a single mother was very rare.
She was well educated – Braddon was privately educated in England and France.
Mary Elizabeth Braddon was also an actress – Besides writing, Braddon was an actor. Her motivation was the fact that her family was going through financial difficulties. She supported her mother with the money that she raised. The acting career lasted for 8 years. Because of the controversy involved in being an actress,   she took a stage name-Mary Seyton.
She had famous mentors – Just like many great people, Braddon had mentors to offer her the advice and help that she needed to thrive in her career. The most prominent ones were John Gilby and Edward Bulwer-Lytton.
Braddon was one of the founders of "sensation fiction" – Along with Willkie Collins and Ellen Wood (Mrs. Henry Wood), Braddon was responsible for the genre of sensation fiction. Her most popular sensational novel was the Lady Audrey's Secret (1862).
She founded a magazine – In 1866, Braddon founded the Belgravia magazine. She presented sensational novels, travel narratives fashion its and poems among other literary works to the audience.
She had a controversial love life – In 1860, Braddon met John Maxwell. She moved in with him the next year, despite the fact that he was already married. Upon the death of the first wife, in 1874, the couple got married.
Certainly, Mary Elizabeth Braddon was a great writer and was able to overcome many odds in her life. She rose above these problems and is still famous today.
Phoebe Marks was a person who never lost her individuality. Silent and self-constrained, she seemed to hold herself within herself, and take no color from the outer world. ~ Lady Audley's Secret by Mary Elizabeth Braddon
---
Guest Author Bio:
Lucy Adams is a blogger from edublogawards.org. She's an author that never refuses to cover intriguing topics. Lucy is always in touch and very responsive so that you can expect a fast reply to your each and every request. Share the ideas you have in mind and start a mutually beneficial collaboration right away!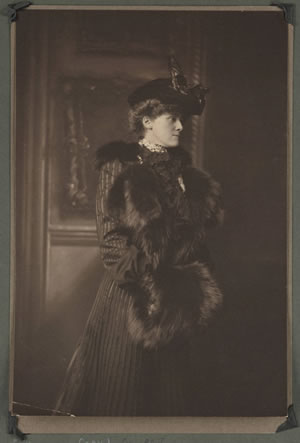 Edith Wharton was an American novelist, short story writer, and designer. She's best knows for her Pulitzer-winning novel, The Age of Innocence as well as Ethan Frome and The House of Mirth.
Edith Newbold Jones was born in New York City in 1862.  Her family was wealthy.  In fact the saying "keeping up with the Joneses" is said to refer to her father's family.
She was always interested in writing.  Wharton began her first novel at eleven.  When she was 15 she was published for the first time.  (It was a translation of a German poem.) Later she would go on to write fifteen novels, seven novellas, eighty-five short stores as well as poems and non-fiction.
In 1885 she married Edward (Teddy) Robbins Wharton.  He shared her love of travel. Sadly, their travels ceased because of Edward's acute depression.  Later his metal health grew worse.  Edith divorced him in 1913 after 28 years of marriage.
During World War One she lived in Paris and was involved in humanitarian projects.   In 1914 Wharton opened a workroom for unemployed women that provided food and employment.  She was involved in the American Hostels for Refugees organization as well as the Children of Flanders Rescue Committee.
Edith Wharton knew many of the well-known people of her time.  This includes Henry James, Sinclair Lewis, Theodore Roosevelt, Bernard Berenson, and Kenneth Clark.
"Half the trouble in life is caused by pretending there isn't any." ~ The House of Mirth by Edith Wharton
Novels and Novellas by Edith Wharton
The Touchstone, 1900
The Valley of Decision, 1902
Sanctuary, 1903
The House of Mirth, 1905
Madame de Treymes, 1907
The Fruit of the Tree, 1907
Ethan Frome, 1911
The Reef, 1912
The Custom of the Country, 1913
Bunner Sisters, 1916
Summer, 1917
The Marne, 1918
The Age of Innocence, 1920
The Glimpses of the Moon, 1922
A Son at the Front, 1923
Old New York: False Dawn, The Old Maid, The Spark, New Year's Day, 1924
The Mother's Recompense, 1925
Twilight Sleep, 1927
The Children, 1928
Hudson River Bracketed, 1929
The Gods Arrive, 1932
The Buccaneers, 1938 (unfinished)
Fast and Loose: A Novelette, 1938 (written in 1876–1877)
More About Edith Wharton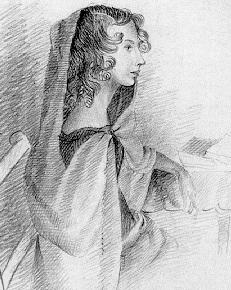 Anne Bronte was an English novelist and poet.  She's best known as the author of The Tenant of Wildfell Hall and Agnes Grey.
Anne worked as a governess.  She was employed by the Ingham family at Blake Hall and later by the Robinson family at Thorp Green Hall.   The Hall was the inspiration for Horton Lodge in Agnes Grey.
Anne and her sisters Charlotte and Emily were all writers. In 1846 their joint work,  Poems by Currer, Ellis, and Acton Bell  was published.  Anne was Action Bell.  Charlotte was Currer Bell and Emily was Action Bell. The pseudonyms hid the sisters' gender while preserving their initials.
September of 1848 through May of 1849 was a dark time for the Bronte family.  Bramwell Bronte, the only boy of the Bronte siblings, passed away in September.  Emily Bronte passed in December of 1848.  Lastly, Anne passed away in May of 1849. Her final poem was entitled A dreadful darkness closes in.
The end of religion is not to teach us how to die, but how to live. ~ Agnes Grey by Anne Bronte
More About Anne Bronte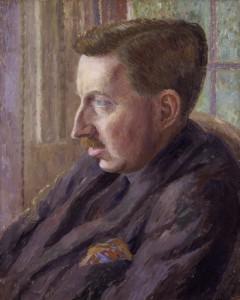 Edward Morgan Forster, known as E. M. Forster, was an English writer.  His best known works include A Room with a View, Howards End and A Passage to India.
Forster was born on January 1, 1879.  Sadly, his father died  of tuberculosis in 1880. Forster was raised by his mother and his paternal aunts.
Forster inherited a great deal of money from a paternal aunt  who passed away in 1887.
In the 1930s and 1940s Forster was a broadcaster on BBC Radio
Forster died of a stroke on June 7, 1970 in Coventry. He was 91.
Maurice was published posthumously. Its homosexual themes caused some controversy as Forster's sexual preferences weren't widely known previously.
Life is easy to chronicle, but bewildering to practice. ~ A Room With A View by E. M. Forster
Novels by E. M. Forster
Where Angels Fear to Tread (1905)
The Longest Journey (1907)
A Room with a View (1908)
Howards End (1910)
A Passage to India (1924)
Maurice (written in 1913–14, published posthumously in 1971)
More About E. M. Forster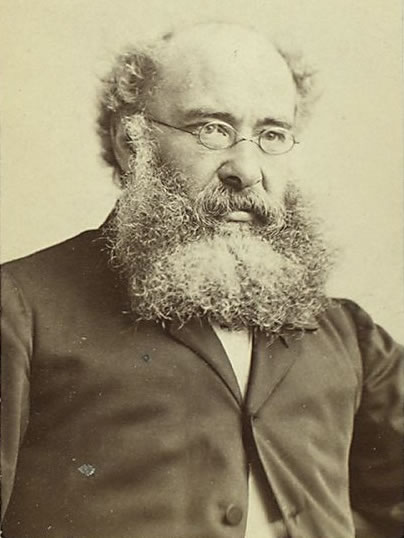 Anthony Trollope (April 24, 1815 – December 6, 1882) was one of the most successful and prolific novelists of the Victorian era. Among his best-known works is a series of novels collectively known as the Chronicles of Barsetshire, which revolves around the imaginary county of Barsetshire.
Trollope was born in London.  His father, Thomas Anthony Trollope, was an unhappy man.  He wanted his sons to be raised as gentlemen, but didn't have the means to make that happen. The money situation came to a head in 1834 when the entire Trollope family moved to Belgium to avoid being arrested for debt.
Later in 1834 Anthony accepted a position as clerk in the General Post Office in London. He worked for the postal system in various positions and locations until 1864.
Trollope wrote in his spare time and while traveling for his postal service job.  His finished his first novel, The Macdermots of Ballycloran, in 1845.
Ride at any fence hard enough, and the chances are you'll get over. The harder you ride the heavier the fall, if you get a fall; but the greater the chance of your getting over. ~ Phineas Redux by Anthony Trollope
The Novels in the Chronicles of Barsetshire are:
The Warden (1855)
Barchester Towers (1857)
Doctor Thorne (1858)
Framley Parsonage (1861)
The Small House at Allington (1864)
The Last Chronicle of Barset (1867)
Palliser Novels
Can You Forgive Her? (1865)
Phineas Finn (1869)
The Eustace Diamonds (1873)
Phineas Redux (1874)
The Prime Minister (1876)
The Duke's Children (1880)
Other Novels by Anthony Trollope
The Macdermots of Ballycloran (1847)
The Kellys and the O'Kellys (1848)
La Vendée: An Historical Romance (1850)
The Three Clerks (1858)
The Bertrams (1859)
Castle Richmond (1860)
Orley Farm (1862)
The Struggles of Brown, Jones & Robinson (1862)
Rachel Ray (1863)
Miss Mackenzie (1865)
The Belton Estate (1866)
The Claverings (1867)
Nina Balatka (1867)
Linda Tressel (1868)
He Knew He Was Right (1869)
The Vicar of Bullhampton (1870)
Sir Harry Hotspur of Humblethwaite (1871)
Ralph the Heir (1871)
The Golden Lion of Granpère (1872)
Harry Heathcote of Gangoil (1874)
Lady Anna (1874)
The Way We Live Now (1875)
The American Senator (1877)
Is He Popenjoy? (1878)
John Caldigate (1879)
An Eye for an Eye (1879)
Cousin Henry (1879)
Ayala's Angel (1881)
Doctor Wortle's School (1881)
The Fixed Period (1882)
Kept in the Dark (1882)
Marion Fay (1882)
Mr. Scarborough's Family (1883)
The Landleaguers (1883)
An Old Man's Love (1884)
Learn More about Anthony Trollope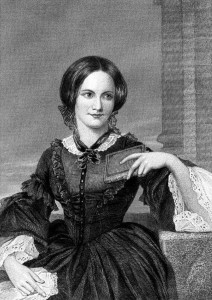 Charlotte Bronte was born on April 21, 1816 in Yorkshire.  She was the eldest of the three famous Bronte sisters.  (Anne and Emily were the other two.)  Charlotte is best known as the author of Jane Eyre.
Charlotte, Emily and Anne initially published their work using pen names.  They were Currer (Charlotte), Ellis (Emily) and Acton (Anne) Bell. The pseudonyms hid the sisters' gender while preserving their initials.
In 1854 Charlotte married Arthur Bell Nicholls.  Their courtship was turbulent.  Charlotte initially refused Arthur's marriage proposal.  Even after Charlotte accepted his proposal her father was not convinced it was a good match.  He was concerned about Nicholls's poor financial status.  Eventually all the obstacles were cleared.  They married on June 29, 1854.
Sadly, Charlotte died soon after the marriage.  She passed on March 31, 1855.  Her death certificate lists the cause of death as tuberculosis. However  some biographers suspect that she died from complications connected with the fact that she was pregnant.
To see and know the worst is to take from Fear her main advantage. ~ Villette by Charlotte Bronte
I remembered that the real world was wide, and that a varied field of hopes and fears, of sensations and excitements, awaited those who had courage to go forth into its expanse, to seek real knowledge of life amidst its perils. ~ Jane Eyre by Charlotte Bronte
Novels by Charlotte Bronte
Jane Eyre
Shirley
Villette
The Professor
Learn More about Charlotte Bronte
Frank Herbert's full name was Frank Patrick Herbert, Jr.  He was born on October 8, 1920 in Tacoma, Washington. He's best known for his novel Dune.  Before he became a popular author he worked as a newspaper journalist, photographer, short story writer, book reviewer, ecological consultant and lecturer.  He died on February 11, 1986.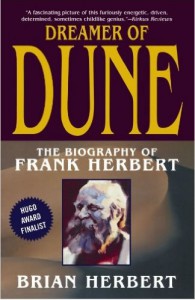 To learn more about Frank Herbert, and there's tons more to know, check out Dreamer of Dune: The Biography of Frank Herbert.  The book is written by Herbert's son, Brian.  If you're a fan of Dune you're sure to love it.  You'll also enjoy the book if you're an aspiring writer or someone trying to make a new start in life.  Frank Herbert didn't always have an easy road to travel. What he had was intellect, a strong work ethic, a unique vision and that made for one extraordinary life.  I loved this book and highly recommend it.
A fan of Dune said to me about this book, "The way that Brian presented his father, warts and all, reminded me of Dune Messiah.  Not that Brian was tearing down his father, but he presented both the good and bad about him.  I think that Frank Herbert wouldn't have had it any other way."
I must not fear. Fear is the mind-killer. Fear is the little-death that brings total obliteration. I will face my fear. I will permit it to pass over me and through me. And when it has gone past I will turn the inner eye to see its path. Where the fear has gone there will be nothing. Only I will remain. ~ Dune by Frank Herbert
Novels in the Dune Series by Frank Herbert:
Dune
Dune Messiah
Children of Dune
God Emperor of Dune
Heretics of Dune
Chapterhouse: Dune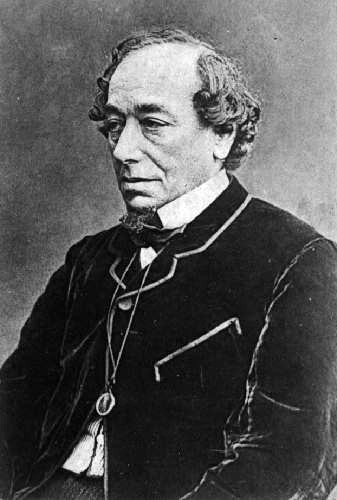 Benjamin Disraeli was born on December 21, 1804  and died on April 19, 1881.  He was a talented writer as well as a politician.  He twice served as Prime Minister. His works include Sybil, Coningsby and Vivian Grey.
While Disraeli was British, all of his grandparents and great grandparents were born in Italy
He was of Jewish birth, but later converted to Christianity.  As of this writing, he's the only person to hold the office of British Prime Minister who was born Jewish.
In 1839 Disraeli married Mary Anne Lewis.  She was twelve years older than Disraeli and had an income of £5,000 a year. "Dizzy married me for my money," his wife later said, "But, if he had the chance again, he would marry me for love."
He served as Prime Minister twice.  The first time was from February 27 to 1 December of 1868.  The second time Disraeli was Prime Minister was from February 20, 1874 to April 21, 1880.
Disraeli is remembered for his political battles with the Liberal leader, William Ewart Gladstone.
Hughenden Manor, a red brick Victorian mansion, located in High Wycombe, Buckinghamshire, England was Disraeli's country house.  In 1862 the Disraelis had the house remodelled by the architect Edward Buckton Lamb. Today, it is owned by the National Trust and open to the public.
Disraeli had a close friendship with Queen Victoria, who in 1876 created him Earl of Beaconsfield.
"There is no act of treachery or meanness of which a political party is not capable; for in politics there is no honour." ~ Vivian Grey by Benjamin Disraeli
"We are all born for love," said Morley. "It is the principle of existence, and its only end." ~ Sybil by Benjamin Disraeli
"Nurture your mind with great thoughts. To believe in the heroic makes heroes." ~ Coningsby by Benjamin Disraeli
Novels by Benjamin Disraeli
Vivian Grey
Popanilla
The Young Duke
Contarini Fleming
Ixion in Heaven
The Wondrous Tale of Alroy
The Rise of Iskander
The Infernal Marriage
Henrietta Temple
Venetia
Coningsby, or the New Generation
Sybil, or The Two Nations
Tancred, or the New Crusade
Lothair
Endymion
Falconet (unfinished)
More About Benjamin Disraeli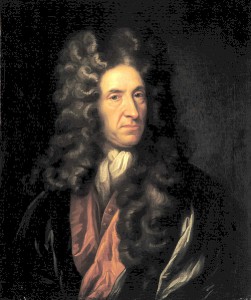 Daniel Defoe (1660 – April 24, 1731) was an English writer most famous for his novels Robinson Crusoe and Moll Flanders. Here are five facts about him that you may not know:
1 – His name at birth was Daniel Foe. He later changed his name to the more aristocratic-sounding Defoe.
2 – He lived through both the Great Plague of London (1665) and the Great Fire of London (1666).
3 – For a time he worked as a general merchant. Some of the goods he dealt with were hosiery, general woolen goods, and wine.  His business was not successful and he went bankrupt in 1692.
4 – In 1684 he married Mary Tuffley. They had eight children.
5 –  Defoe's first literary endeavors were writing political pamphlets and as a journalist.  In 1701 he wrote The True-Born Englishman.  The satirical poem defended King William III, who was Dutch, against William's enemies who pushed for "English racial purity".
Fear of danger is ten thousand times more terrifying than danger itself. ~ Robinson Crusoe by Daniel Defoe
Novels by Daniel Defoe
Robinson Crusoe
The Farther Adventures of Robinson Crusoe
Serious reflections during the life and surprising adventures of Robinson Crusoe: with his Vision of the angelick world
Memoirs of a Cavalier
Captain Singleton
A Journal of the Plague Year
Colonel Jack
Moll Flanders
Roxana: The Fortunate Mistress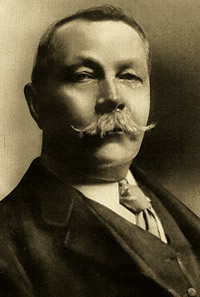 Sir Arthur Conan Doyle was born in 1859 and died in 1930.  He's best known as the creator of the Sherlock Holmes.  But here are five things about him that you may not know.
1 – Conan Doyle was a physician.  He attended the University of Edinburgh Medical School and graduated in 1881 with a Bachelor of Medicine and Mastery of Surgery.
2 – He worked as a ship's surgeon on a whaling vessel.
3 – Conan Doyle was not knighted for his Sherlock Holmes stories.  The War in South Africa: Its Causes and Conduct caught the eye of the monarchy.  In it, Conan Doyle comes to Great Britain's defense against charges of war crimes in the Boer War.
4 – George Edalji was an innocent man convicted of mutilating and killing livestock.  Who helped him prove his innocence?  The case was solved by Arthur Conan Doyle.  Sir Arthur solved two real-life crime cases, the George Edalji case and the Oscar Slater case.
5 – Conan Doyle believed in Spiritualism.  It's true.  The man who created the ever-logical Sherlock Holmes believed in spirits and things like automatic writing.
You can learn more about all of these subjects at our partner site, Conan Doyle Info.  As the site says, Sherlock Holmes is just the beginning.
Partial List of Work by Conan Doyle
A Study in Scarlet
Micah Clarke
The Mystery of Cloomber
The Sign of the Four
The Firm of Girdlestone
The White Company
The Doings of Raffles Haw
The Great Shadow
The Refugees
The Parasite
The Stark Munro Letters
Rodney Stone
Uncle Bernac
The Tragedy of the Korosko
A Duet, with an Occasional Chorus
The Hound of the Baskervilles
Sir Nigel
The Lost World
The Poison Belt
The Valley of Fear
The Land of Mist
The Maracot Deep
More Information about Sir Arthur Conan Doyle