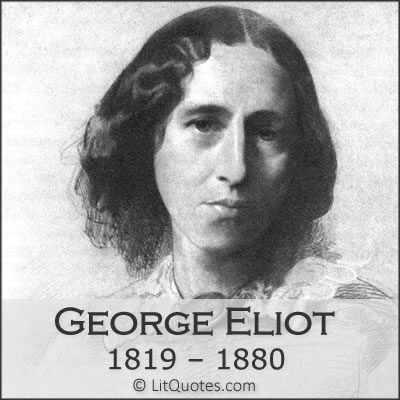 Mary Anne Evans, commonly known as George Eliot, was born on November 22, 1819.   Evans wrote under a male pen name to ensure that her works  would be taken seriously.  At the time it was thought that women authors wrote only lighthearted romances.
Middlemarch, for instance, deals with subjects like the Great Reform Bill, the beginnings of railways and the death of King George IV.  Virginia Woolf once said that Middlemarch, "is one of the few English novels written for grown-up people."
Other novels by George Eliot include Adam Bede, The Mill on the Floss, Silas Marner,   Romola, Daniel Deronda as well as Felix Holt, the Radical.
Pride helps us; and pride is not a bad thing when it only urges us to hide our own hurts—not to hurt others. ~ Middlemarch by George Eliot
Novels by George Eliot
Adam Bede
The Mill on the Floss
Silas Marner
Romola
Felix Holt, the Radical
Middlemarch
Daniel Deronda
More About George Eliot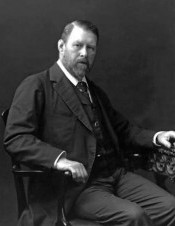 Bram Stoker, the author of Dracula,  was born on November 8, 1847 and died on April 20, 1912.  Here are five quick facts about the author that you may not know:
1 – Although we may think of Stoker as being English, he was actually born in Clontarf, Ireland.  (Clontarf is a suburb of Dublin.)
2 – He was a sickly child and was bedridden for much of his first seven years.   However Stoker thrived after that.  He grew to be over six feet tall.  His red hair plus athletic build lead a biographer to refer to Stoker as a "red-haired giant."
3 – An early romantic interest of Oscar Wilde was Florence Balcombe.  She eventually became the wife of Bram Stoker.
4 – Stoker was a late bloomer in terms of his writing career.  He didn't publish Dracula until he was fifty years old.
5 – Speaking of Dracula, in the 1980s the original manuscript of the novel was found in a barn in Pennsylvania.  It revealed that Stoker considered calling the novel THE UN-DEAD.  I don't know about you, but I like Dracula better.
Novels by Bram Stoker
The Primrose Path
The Snake's Pass
The Watter's Mou'
The Shoulder of Shasta
Dracula
Miss Betty
The Mystery of the Sea
The Jewel of Seven Stars
The Man (a.k.a. The Gates of Life)
Lady Athlyne
The Lady of the Shroud
The Lair of the White Worm (a.k.a. The Garden of Evil)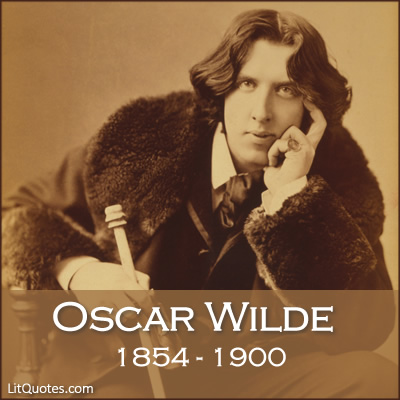 What you Probably Know
Oscar Wilde was an Irish author, playwright and poet. He's remembered for his novel, The Picture of Dorian Gray as well was other works. After writing in different forms throughout the 1880s, he became one of London's most popular playwrights in the early 1890s.  He was born on October 16, 1854 in Dublin.  He died on November 30, 1900 in Paris.
 What you May Not Know
His full name was Oscar Fingal O'Flahertie Wills Wilde.
His father, William Wilde, was an acclaimed doctor.  He was knighted for his work as medical adviser for the Irish censuses.  William Wilde founded St. Mark's Ophthalmic Hospital to treat the city's poor.
An early romantic interest of Oscar Wilde was Florence Balcombe.  She eventually became the wife of Bram Stoker, the author of Dracula.
In 1882 Wilde began a lecture tour of North America. The subject was Aestheticism, a movement that celebrated beauty and art.   During the tour Wilde meet with some of the leading American literary figures of the day, including Henry Longfellow, Oliver Wendell Holmes and Walt Whitman.
Wilde  married Constance Lloyd on May 29, 1884.  The couple had two sons, Cyril and Vyvyan.
In 1891 Wilde met Lord Alfred Douglas.   They became lovers.  Alfred's father was  John Douglas, 9th Marquess of Queensberry.  The elder Douglas did not approve of his son's relationship.  Feuding between John Douglas and Wilde eventually led to Wilde being convicted of "gross indecency" for homosexual acts.  Wilde was sentenced to  two years of hard labor.
Despite Wilde's preference for men and the social scandal caused by his trial and imprisonment, Wilde and his wife never divorced.  However Constance did change her and her sons' last name to Holland.
After his release from prison in 1897 Wilde left England and  moved to France.  He stayed there until his death.
Wilde wrote plays and short stories, but only one novel.  His only novel is The Picture of Dorian Gray.
Wilde died of meningitis on November 30, 1900. He was only 46 years old.
Novel by Oscar Wilde
The Picture of Dorian Gray (1890)
Partial List of Short Stories by Oscar Wilde
Lord Arthur Savile's Crime and Other Stories (1891) Including The Canterville Ghost first published in periodical form in 1887.
Partial List of Plays by Oscar Wilde
The Duchess of Padua (1883)
Lady Windermere's Fan (1892)
A Woman of No Importance (1893)
An Ideal Husband (1895)
The Importance of Being Earnest (1895)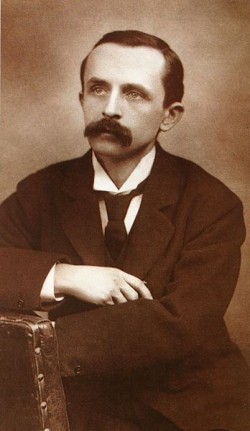 Could James M. Barrie, the author of Peter Pan, be the literary Kevin Bacon of his day? It might sound a little nutty, but take a look at his connections:
He had a long-standing correspondence with Robert Louis Stevenson.  Despite that fact that the two wrote many letters, they never met in person.
George Meredith, the author of The Ordeal of Richard Feverel, was his friend.
George Bernard Shaw was Barrie's neighbor for several years.
He collaborated with H.B. Marriott Watson on a biography of Richard Savage.
Barrie's friend H. G. Wells tried to help him with his marital problems.
Barrie knew Thomas Hardy.
Sir Arthur Conan Doyle and James M. Barrie were good friends.  You can read about their friendship at our partner site, The Chronicles of Sir Arthur Conan Doyle.
Barrie's formed a cricket team, the Allah-Akabarries. Some of Barrie's teammates included, Conan Dolye, H. G. Wells, Jerome K. Jerome, P. G. Wodehouse, A. E. W. Mason, E. V. Lucas, E. W. Hornung, Maurice Hewlett, A. A. Milne (of Winnie the Pooh fame) and G. K. Chesterton.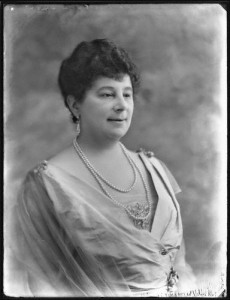 Baroness Emmuska (Emma) Orczy, the author of The Scarlet Pimpernel,  was born on September 23, 1865.  Her parents were the composer Baron Felix Orczy de Orczi and Countess Emma Wass von Szentegyed und Czege.
And interesting fact about Baroness Orczy is that in World War One she founded England's Active Service League.  Members pledged, "to persuade every man I know to offer his services to the country, and I also pledge myself never to be seen in public with any man who, being in every way fit and free for service, has refused to respond to his country's call."
While the organization fell short of its goal of enlisting 100,000 women, 20,000 women joined the cause.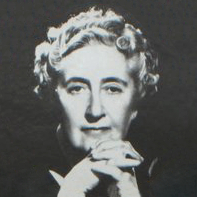 Agatha Christie was born on September 15, 1890 and passed away on January 12, 1976.  She's popular today for her mystery novels featuring detectives like Hercule Poirot and Miss Jane Marple.  What you may not know is that she wrote six novels using the pen name of Mary Westmacott.
The Westmacott novels are typically classified as romance novels.  Are they really romance novels though?  Judge for yourself as you read the descriptions below.
Absent in the Spring: Stranded between trains, Joan Scudamore finds herself reflecting upon her life, her family, and finally coming to grips with the uncomfortable truths about her life.
Giant's Bread: The story of Vernon Deyre, a composer and pianist whose obsession with art wreaks havoc with the two very different women in his life.
The Rose and the Yew Tree: In one of the finest explorations of the human heart, the compelling story of a deep and abiding love, the conflicts it encompasses, and the price that must be paid.
A Daughter's Daughter: A daughter's opposition to her mother's plan to remarry threatens to destroy their relationship
Unfinished Portrait: Bereft of three people she has held most dear, Cecilla must decide if she has the strength to come to terms with the past.
The Burden: The burden of one sister's love for her younger sister–whom she's sworn to protect–has a dramatic effect on both their lives.
Learn More
Mary Westmacott Novels at Amazon