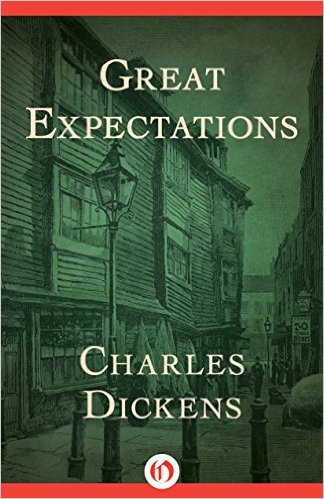 Great Expectations was the thirteenth novel that Charles Dickens wrote.  In the UK the novel was published in weekly installments in All the Year Round from December of 1860 until August 1861.  Harper's Weekly, in the United States, published installments of the novel from November 1860 through August of 1861.
All the Year Round was founded by Dickens. Its first issue was printed on April 30, 1859. The publication featured serialized novels.  In fact, the first novel it featured was Dickens's A Tale of Two Cities.
In October of 1860 sales of All the Year Round were declining.  The featured novel, A Day's Ride by Charles Lever, wasn't very popular.  In order to boost sales, Dickens adapted Great Expectations, originally planned for publication in another format, to be published in All the Year Round.  His plan worked and sales for the publication increased.
"Suffering has been stronger than all other teaching, and has taught me to understand what your heart used to be. I have been bent and broken, but – I hope – into a better shape." ~ Great Expectations by Charles Dickens
More About Great Expectations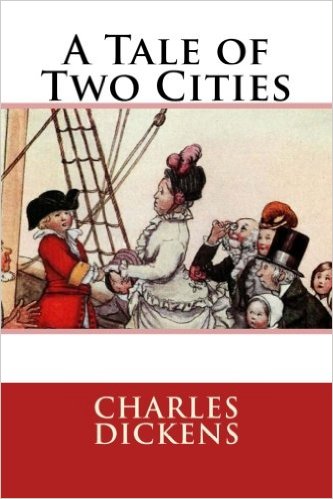 Quotes from A Tale of Two Cities
A Tale of Two Cities is the twelfth novel by Charles Dickens.  The book was published in weekly installments in All the Year Round. The first chapters of the book were published in April of 1859.  The last chapter was printed in November of that same year.
The book deals with the French revolution. It's one of the two historical novels by Dickens.  Barnaby Rudge is the other.
The idea for the novel came from a production of The Frozen Deep.  In 1857 Dickens acted in the play and portrayed the character of Richard Wardour.  (Dickens was interested in the stage and sometimes performed in amateur productions.) In the play Wardour decides that he's going to kill Frank Aldersley because Frank stole his true love, Clara Burnham.  Instead Wardour saves Aldersley's life at the cost of his own.  Wardour dies in Clara's arms and earns her eternal gratitude for saving the life of the man that she loves.
In addition to giving Dickens the idea for A Tale of Two Cites, the play brought about lasting changes to Dickens's life.  Professional actresses were hired to act in a benefit production of The Frozen Deep.  One of them was Ellen Ternan.  She became Dickens's mistress.  Their affair lasted until Dickens's death in 1870.
Learn More about A Tale of Two Cities
It was the best of times, it was the worst of times, it was the age of wisdom, it was the age of foolishness, it was the epoch of belief, it was the epoch of incredulity, it was the season of light, it was the season of darkness, it was the spring of hope, it was the winter of despair, we had everything before us, we had nothing before us, we were all going direct to heaven, we were all going direct the other way–in short, the period was so far like the present period, that some of its noisiest authorities insisted on its being received, for good or for evil, in the superlative degree of comparison only. ~ A Tale of Two Cities by Charles Dickens
"Now, I return to this young fellow. And the communication I have got to make is, that he has great expectations." ~ Great Expectations by Charles Dickens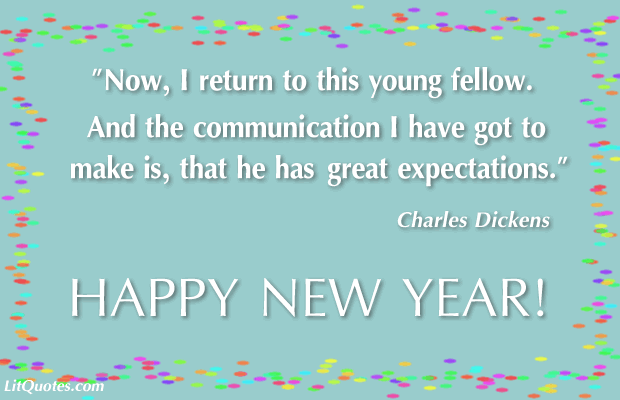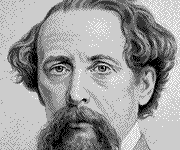 Our partner site, Charles Dickens Info, has a quiz for the Dickens aficionado! You're given the first lines of ten of Dickens's works. What novel or story to they come from?  You're given three choices for each of the starting lines and you'd think that would make it easy.  Nope.  It's fun, but it's challenging!
Charles Dickens Quiz – Opening Lines to the Novels of Charles Dickens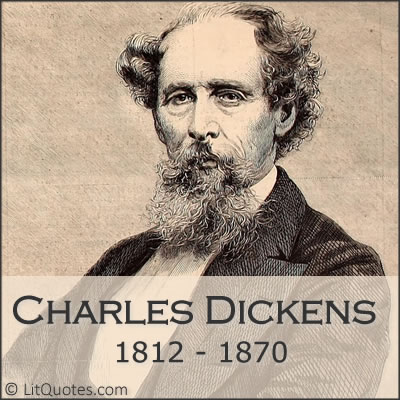 Charles Dickens was born on February 7, 1812 and died in 1870.  He's the author of A Christmas Carol, Great Expectations and other classic novels.  Now here are some things you may not know about Charles Dickens.
1 – As a child, his family was always on the verge of economic collapse. Everything fell apart for the family in 1827. Dickens' father was sent the Marshalsea debtors' prison and young Charles was sent to work in Warren's Blacking Factory. These incidents would haunt Dickens for the rest of his life.
2 – Dickens worked as law clerk, a court stenographer and even contemplated becoming an actor. Luckily for us, Dickens was ill on the day of his audition at the Lyceum Theater and couldn't go. Can you imagine a life without Scrooge?  If Dickens, who was a talented actor, had attended his audition he might not have written A Christmas Carol.
3 – In his early writing he called himself Boz. Boz? You see, one of his favorite characters in Goldsmith's Vicar of Wakefield was called Moses. Moses became Boses which became Boz.
4 – Dickens married Catherine Hogarth in 1835. There were some happy years, but in 1958 they were legally separated. One of the reasons for the separation was Dickens' interest in the actress, Ellen Ternan.
Dickens met Ellen in 1857. Matters came to a head the next year when a bracelet that Dickens bought as a present for Ellen was accidentally delivered to the Dickens household. In a scene straight from a soap opera, Catherine discovered the bracelet and accused Charles of having an affair.
5 – One of the most fascinating aspects of Charles Dickens is that he understood the power of the media. Yes, even in the Victorian Era people had to worry about the press. In September of 1860, behind his home at Gad's Hill Place, Charles Dickens tried to cover his tracks. He gathered "the accumulated letters and papers of twenty years" and set them ablaze in his backyard. What could we have learned had he not taken this action? We'll never know.
More About Charles Dickens
From the death of each day's hope another hope sprung up to live to-morrow. ~ The Old Curiosity Shop by Charles Dickens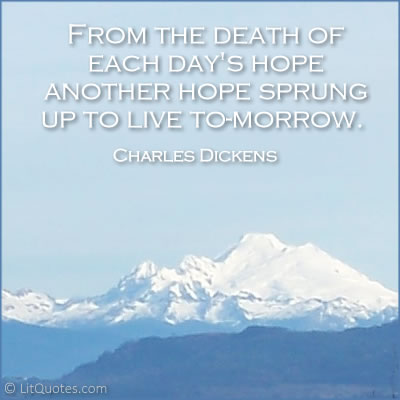 As per usual, I've posted this quote photo on the LitQuotes Facebook page, the LitQuotes Twitter feed as well as the LitQuotes Google Plus page to make it easy to share.
"My advice is, never do tomorrow what you can do today. Procrastination is the thief of time." ~ David Copperfield by Charles Dickens
I've posted this quote photo on the LitQuotes Facebook page, the LitQuotes Twitter feed as well as the LitQuotes Google Plus page to make it easy to share.
Is someone on your holiday shopping list a fan of Charles Dickens?  If so, may I humbly suggest you visit the Charles Dickens section of the LitQuotes Gift Shop.  One of the most popular items in the Charles Dickens section is the Novels of Charles Dickens mug.   One side features the image of the ever-popular author  of A Christmas Carol.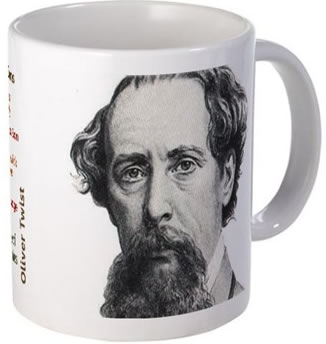 The other side lists the titles of his novels.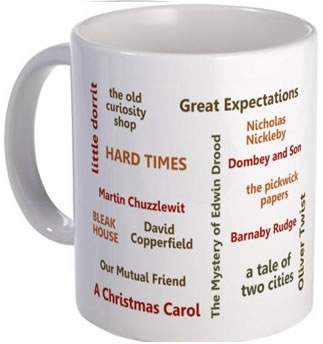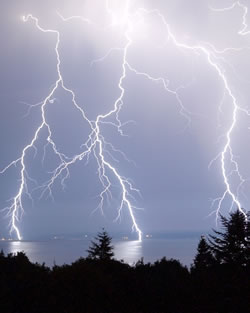 Charles Dickens (1812 to 1870) is possibly best known for A Christmas Carol.  However that's not his only work that features ghostly phrasings.  Here are five quotes from other works to give you a pre-Halloween thrill.
"I will die here where I have walked. And I will walk here, though I am in my grave. I will walk here until the pride of this house is humbled." ~ Bleak House by Charles Dickens
I saw that the bride within the bridal dress had withered like the dress, and like the flowers, and had no brightness left but the brightness of her sunken eyes. ~ Great Expectations by Charles Dickens
"I have heard it said that as we keep our birthdays when we are alive, so the ghosts of dead people, who are not easy in their graves, keep the day they died upon." ~ Barnaby Rudge by Charles Dickens
Around and around the house the leaves fall thick, but never fast, for they come circling down with a dead lightness that is sombre and slow. ~ Bleak House by Charles Dickens
There was a frosty rime upon the trees, which, in the faint light of the clouded moon, hung upon the smaller branches like dead garlands. ~ The Battle of Life by Charles Dickens
You May Also Be Interested In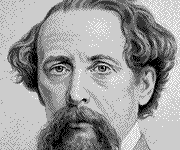 We have all some experience of a feeling, that comes over us occasionally, of what we are saying and doing having been said and done before, in a remote time – of our having been surrounded, dim ages ago, by the same faces, objects, and circumstances – of our knowing perfectly what will be said next, as if we suddenly remembered it! ~ David Copperfield by Charles Dickens
There is a drowsy state, between sleeping and waking, when you dream more in five minutes with your eyes half open, and yourself half conscious of everything that is passing around you, than you would in five nights with your eyes fast closed, and your senses wrapt in perfect unconsciousness. At such time, a mortal knows just enough of what his mind is doing, to form some glimmering conception of its mighty powers, its bounding from earth and spurning time and space, when freed from the restraint of its corporeal associate. ~ Oliver Twist by Charles Dickens
Metaphysics from Charles Dickens?  Who'd have thought it possible?