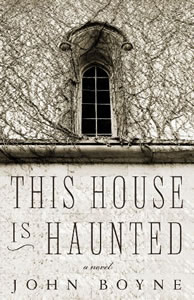 I blame Charles Dickens for the death of my father.
So begins This House is Haunted by John Boyne.  While the novel isn't about Dickens, his name comes up frequently. And those of you that like Dickens's style of writing are sure to adore this scary tale.
In this novel, reminiscent of  Jane Eyre and The Turn of the Screw,  Eliza Caine accepts the position of governess at Gaudline Hall.  But things are a little off at Gaudline Hall.   The children seem to be all on their own. The people in town seem to know a lot more than they're telling.  What is it exactly that they're afraid to say?  Could it relate to the odd feeling that Eliza has about Gaudline Hall?
This is the perfect book for this spooky time of year.
From the moment Eliza rises the following morning, her every step seems dogged by a malign presence that lives within Gaudlin's walls. Eliza realizes that if she and the children are to survive its violent attentions, she must first uncover the hall's long-buried secrets and confront the demons of its past. Clever, captivating, and witty, This House Is Haunted is pure entertainment with a catch.