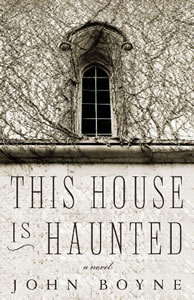 I blame Charles Dickens for the death of my father.
So begins This House is Haunted by John Boyne.  While the novel isn't about Dickens, his name comes up frequently. And those of you that like Dickens's style of writing are sure to adore this scary tale.
In this novel, reminiscent of  Jane Eyre and The Turn of the Screw,  Eliza Caine accepts the position of governess at Gaudline Hall.  But things are a little off at Gaudline Hall.   The children seem to be all on their own. The people in town seem to know a lot more than they're telling.  What is it exactly that they're afraid to say?  Could it relate to the odd feeling that Eliza has about Gaudline Hall?
This is the perfect book for this spooky time of year.
From the moment Eliza rises the following morning, her every step seems dogged by a malign presence that lives within Gaudlin's walls. Eliza realizes that if she and the children are to survive its violent attentions, she must first uncover the hall's long-buried secrets and confront the demons of its past. Clever, captivating, and witty, This House Is Haunted is pure entertainment with a catch.
Last year Great Expectations staring  Helena Bonham Carter, Ralph Fiennes, Sally Hawkins and Jason Flemyng debuted in the UK.  The US version of the movie is coming to theaters on November 8th.  That seems like ages to me!  I can't wait to see this film.  In the meantime here's the trailer:

Our partner site, CharlesDickensInfo.com has a fun quiz for the Dickens expert, match the character to the novel by Charles Dickens.  For example, does the name Rosa Bud sound familiar?   Maybe she was a love interest in Martin Chuzzlewit?  Or maybe she was appeared in The Pickwick Papers working at an inn?  If you think you know take the quiz and see how you do.


Our partner site, Charles Dickens Gad's Hill Place, is moving!  It's now located at http://www.charlesdickensinfo.com and has been renamed Charles Dickens Info.
This original site debuted in about 1998.  The website featured a photo of Gad's Hill Place on the home page.  Visitors moved to different parts of the site by clicking on the door and windows of the image.  It was one of those things that seemed very, very cool at the time.
How things have changed!  The current site is done in WordPress and now features social sharing buttons and is mobile friendly.  Visit the new site today for quotes, games and little-known facts about Charles Dickens.
The Sun himself is weak when he first rises, and gathers strength and courage as the day gets on. ~ The Old Curiosity Shop by Charles Dickens
Here's a new quote photo.  I've also posted it on the LitQuotes Facebook page as well as our new Google Plus page for easier sharing.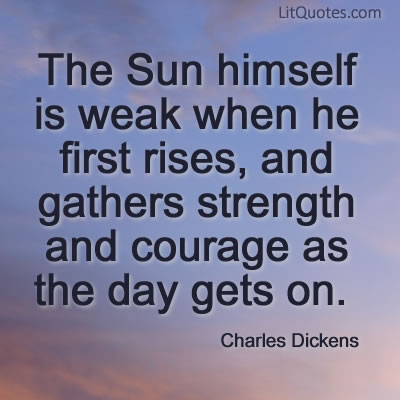 "I hope that real love and truth are stronger in the end than any evil or misfortune in the world." ~  David Copperfield by Charles Dickens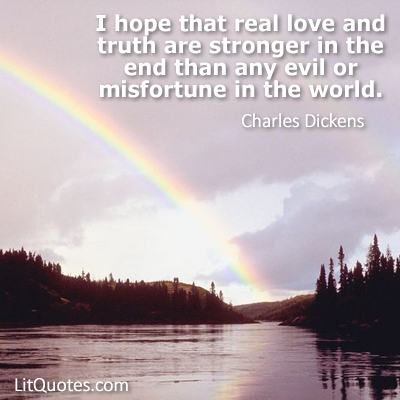 Here's a quote photo to share with friends and family.  I've posted it on the LitQuotes Facebook page for easier sharing. It's also on the LitQuotes Pinterest page.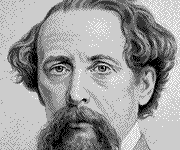 Today marks the 201st anniversary of the birth of Charles Dickens.  To mark the event I thought I'd share 10 of my favorite Dickens quotes:
Heaven knows we need never be ashamed of our tears, for they are rain upon the blinding dust of earth, overlying our hard hearts. ~  Great Expectations
At last, in the dead of the night, when the street was very still indeed, Little Dorrit laid the heavy head upon her bosom, and soothed her to sleep. And thus she sat at the gate, as it were alone; looking up at the stars, and seeing the clouds pass over them in their wild flight–which was the dance at Little Dorrit's party. ~  Little Dorrit
"If you could see my legs when I take my boots off, you'd form some idea of what unrequited affection is."  ~  Dombey and Son
"It's in vain, Trot, to recall the past, unless it works some influence upon the present."  ~  David Copperfield
All other swindlers upon earth are nothing to the self-swindlers, and with such pretences did I cheat myself. Surely a curious thing. That I should innocently take a bad half-crown of somebody else's manufacture, is reasonable enough; but that I should knowingly reckon the spurious coin of my own make, as good money!  ~  Great Expectations
"You may be an undigested bit of beef, a blot of mustard, a crumb of cheese, a fragment of underdone potato. There's more of gravy than of grave about you, whatever you are!" ~  A Christmas Carol
It was the best of times, it was the worst of times, it was the age of wisdom, it was the age of foolishness, it was the epoch of belief, it was the epoch of incredulity, it was the season of light, it was the season of darkness, it was the spring of hope, it was the winter of despair, we had everything before us, we had nothing before us, we were all going direct to heaven, we were all going direct the other way–in short, the period was so far like the present period, that some of its noisiest authorities insisted on its being received, for good or for evil, in the superlative degree of comparison only. ~  A Tale of Two Cities
Annual income twenty pounds, annual expenditure nineteen nineteen and six, result happiness. Annual income twenty pounds, annual expenditure twenty pounds ought and six, result misery. ~  David Copperfield
"Its matter was not new to me, but was presented in a new aspect. It shook me in my habit – the habit of nine-tenths of the world – of believing that all was right about me, because I was used to it." ~  Dombey and Son
"No one is useless in this world," retorted the Secretary, "who lightens the burden of it for any one else." ~  Our Mutual Friend
You might also enjoy these Dickens resources: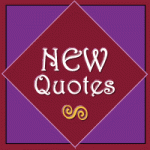 Today I added new quotes to the database.  This brings the collection to 2,259, sourced quotes from literature.  Will 2013 be the year that the collection grows to 3,000 quotes?  Here's hoping!  If you'd like to help make that happen, feel free to contribute a quote. In the meantime, here are my favorite quotes from the new batch.
Scattered wits take a long time picking up. ~ Great Expectations by Charles Dickens
Work consists of whatever a body is obliged to do, and that Play consists of whatever a body is not obliged to do. ~ The Adventures of Tom Sawyer by Mark Twain
That which is loved may pass, but love hath no end. ~ Parables Of A Province by Gilbert Parker
Wit is always at the elbow of want. ~ No Defense by Gilbert Parker
May 2013 bring you . . . .
They seemed to come suddenly upon happiness as if they had surprised a butterfly in the winter woods. ~  Ethan Frome by Edith Wharton
"Friendship, I fancy, means one heart between two." ~  Diana of the Crossways by George Meredith
Her love was entire as a child's, and though warm as summer it was fresh as spring. ~ Far From The Madding Crowd by Thomas Hardy
It is a fair, even-handed, noble adjustment of things, that while there is infection in disease and sorrow, there is nothing in the world so irresistibly contagious as laughter and good-humour. ~  A Christmas Carol by Charles Dickens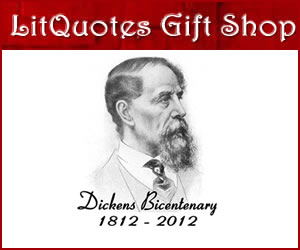 Don't miss out! Our Dickens 200th Birthday Gear will only be available until December 31st.  This great line of Dickens products includes t-shirts, bags, water bottles and more.