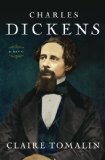 Just in time for his 200th birthday, Claire Tomalin, the author of The Invisible Woman, comes out with Charles Dickens: A Life. (The book will be released October 27, but can be pre-ordered now.)
Amazon has this to say about Charles Dickens: A Life, "Charles Dickens: A Life gives full measure to Dickens's heroic stature-his huge virtues both as a writer and as a human being- while observing his failings in both respects with an unblinking eye. Renowned literary biographer Claire Tomalin crafts a story worthy of Dickens's own pen, a comedy that turns to tragedy as the very qualities that made him great-his indomitable energy, boldness, imagination, and showmanship-finally destroyed him. The man who emerges is one of extraordinary contradictions, whose vices and virtues were intertwined as surely as his life and his art."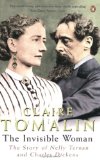 One of the first biographies I read about Charles Dickens was The Invisible Woman by Claire Tomalin.  The book focuses on Dickens' affair with the actress Ellen Ternan.
Charles Dickens and Nelly Ternan met in 1857; she was 18, a hard-working actress performing in his production of The Frozen Deep, and he was 45, the most lionized writer in England. Out of their meeting came a love affair that lasted thirteen years and destroyed Dickens's marriage while effacing Nelly Ternan from the public record.

In this remarkable work of biography and scholarly reconstruction, the acclaimed biographer of Mary Wollstonecraft, Thomas Hardy, Samuel Pepys and Jane Austen rescues Nelly from the shadows of history, not only returning the neglected actress to her rightful place, but also providing a compelling portrait of the great Victorian novelist himself. The result is a thrilling literary detective story and a deeply compassionate work that encompasses all those women who were exiled from the warm, well-lighted parlors of Victorian England.
You can learn more about Dickens' marriage and affair on our partner site, Charles Dickens Info.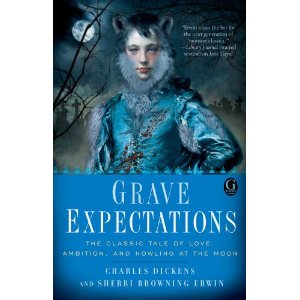 At the end of this month another horror rewrite of classic literature will hit the bookstores.  Grave Expectations by Sherri Browning Erwin and Charles Dickens will show us Pip and Estella as we've never seen them before.
Per Amazon's website, "Bristly, sensitive, and meat-hungry Pip is a robust young whelp, an orphan born under a full moon. Between hunting escaped convicts alongside zombified soldiers, trying not to become one of the hunted himself, and hiding his hairy hands from the supernaturally beautiful and haughty Estella, whose devilish moods keep him chomping at the bit, Pip is sure he will die penniless or a convict like the rest of his commonly uncommon kind."
Learn more about Charles Dickens:
Charles Dickens bought Gad's Hill Place in 1856 and lived there until his death in 1870. This video shows the house as well as the surrounding area.
Hmmm . . . I wonder how much a trip to England would cost?
Learn more about Charles Dickens: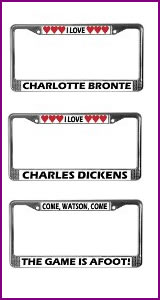 Show the world that you're a fan of literature with out new license plate frames.  We've got them for Charles Dickens, Sir Arthur Conan Doyle, Mark Twain, Edgar Allan Poe and more.

Welcome to the new LitQuotes blog! While LitQuotes has been a source of quotations for years, the blog is brand new.
So what are we going to talk about here? I'm sure that things will change over time, but as of right now I plan to blog about: