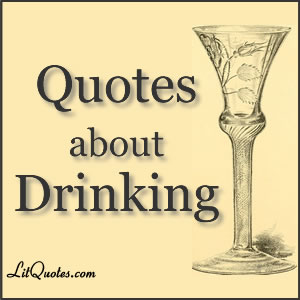 Does it mean anything that three out of the five quotes are from Charles Dickens?
Late hours, nocturnal cigars, and midnight drinkings, pleasurable though they may be, consume too quickly the free-flowing lamps of youth, and are fatal at once to the husbanded candle-ends of age. ~ Phineas Redux by Anthony Trollope
"Fan the sinking flame of hilarity with the wing of friendship; and pass the rosy wine." ~ The Old Curiosity Shop by Charles Dickens
There are two things that will be believed of any man whatsoever, and one of them is that he has taken to drink. ~ Penrod by Booth Tarkington
In particular, there was a butler in a blue coat and bright buttons, who gave quite a winey flavour to the table beer; he poured it out so superbly. ~ Dombey and Son by Charles Dickens
"Take another glass of wine, and excuse my mentioning that society as a body does not expect one to be so strictly conscientious in emptying one's glass, as to turn it bottom upwards with the rim on one's nose."  ~ Great Expectations by Charles Dickens
More Quotes about Drinking from Literature

It matters not how strait the gate,
How charged with punishments the scroll,
I am the master of my fate:
I am the captain of my soul. ~ Invictus by William Ernest Henley
"The world is a wheel, and it will all come round right." ~ Endymion by Benjamin Disraeli
"Look at that sea, girls–all silver and shadow and vision of things not seen. We couldn't enjoy its loveliness any more if we had millions of dollars and ropes of diamonds." ~ Anne of Green Gables by Lucy Maud Montgomery
"Simple, generous goodness is the best capital to found the business of this life upon. It lasts when fame and money fail, and is the only riches we can take out of this world with us." ~ Little Men by Louisa May Alcott
From the death of each day's hope another hope sprung up to live to-morrow. ~ The Old Curiosity Shop by Charles Dickens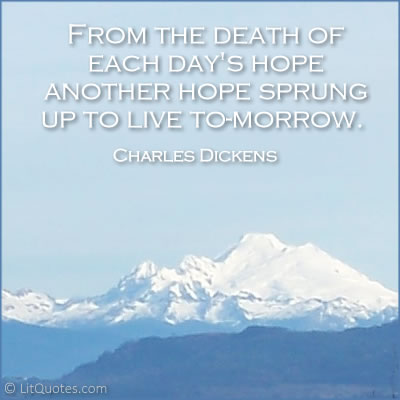 The mind is its own place, and in it self
Can make a Heaven of Hell, a Hell of Heaven. ~ Paradise Lost by John Milton
The dew seemed to sparkle more brightly on the green leaves; the air to rustle among them with a sweeter music; and the sky itself to look more blue and bright. Such is the influence which the condition of our own thoughts, exercise, even over the appearance of external objects. ~ Oliver Twist by Charles Dickens
"Nurture your mind with great thoughts. To believe in the heroic makes heroes." ~ Coningsby by Benjamin Disraeli
"I say that the strongest principle of growth lies in human choice." ~ Daniel Deronda by George Eliot
"All things are ready, if our minds be so." ~ Henry V by William Shakespeare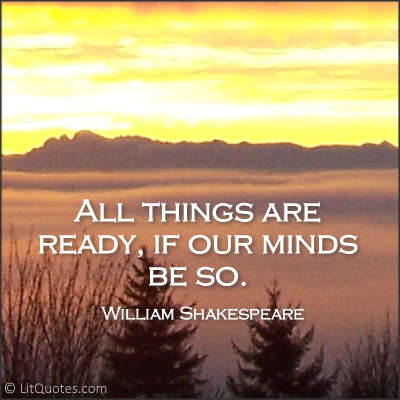 There are dark shadows on the earth, but its lights are stronger in the contrast. ~ The Pickwick Papers by Charles Dickens
The bird that would soar above the level plain of tradition and prejudice must have strong wings. ~ The Awakening by Kate Chopin
"Love has no age, no limit; and no death." ~ The Forsyte Saga by John Galsworthy
"You know, there are two good things in life, freedom of thought and freedom of action." ~ Of Human Bondage by W. Somerset Maugham
Come what may, I am bound to think that all things are ordered for the best; though when the good is a furlong off, and we with our beetle eyes can only see three inches, it takes some confidence in general principles to pull us through. ~ The Stark Munro Letters by Sir Arthur Conan Doyle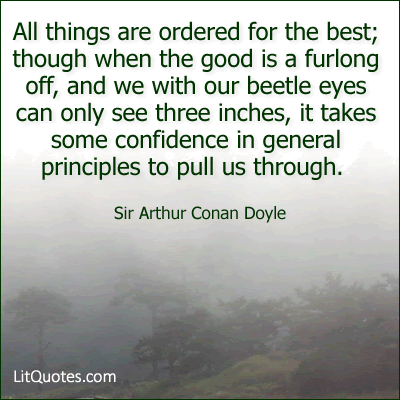 See More Inspirational Quotes from Literature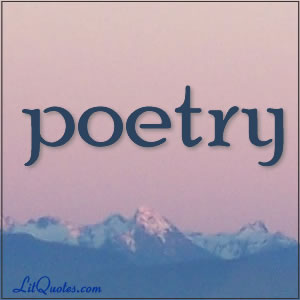 We have only one story. All novels, all poetry, are built on the never-ending contest in ourselves of good and evil. ~ East of Eden by John Steinbeck
She carried her pocket Shakespeare about with her, and met life fortified by the words of the poets. ~ Night and Day by Virginia Woolf
How is it that the poets have said so many fine things about our first love, so few about our later love? Are their first poems their best? Or are not those the best which come from their fuller thought, their larger experience, their deeper-rooted affections? ~ Adam Bede by George Eliot
"She dotes on poetry, sir. She adores it; I may say that her whole soul and mind are wound up, and entwined with it. She has produced some delightful pieces, herself, sir. You may have met with her `Ode to an Expiring Frog,' sir."  ~ The Pickwick Papers by Charles Dickens
More Quotes About Poetry from Literature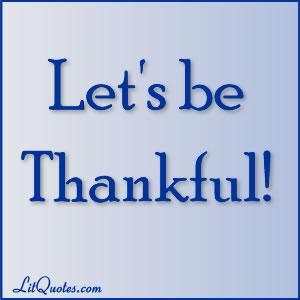 Here are some quotes from literature about being thankful.
The best way to be thankful is to use the goods the gods provide you. ~ The Last Chronicle of Barset by Anthony Trollope
For his part, every beauty of art or nature made him thankful as well as happy, and that the pleasure to be had in listening to fine music, as in looking at the stars in the sky, or at a beautiful landscape or picture, was a benefit for which we might thank Heaven as sincerely as for any other worldly blessing. ~ Vanity Fair by William Makepeace Thackeray
I admire machinery as much is any man, and am as thankful to it as any man can be for what it does for us. But it will never be a substitute for the face of a man, with his soul in it, encouraging another man to be brave and true. ~ Wreck of the Golden Mary by Charles Dickens
More Thankfulness Quotes from Literature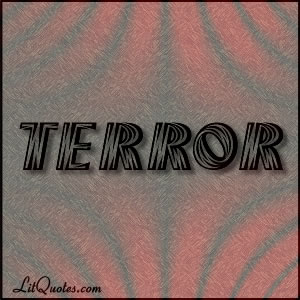 I have, indeed, no abhorrence of danger, except in its absolute effect – in terror. ~ The Fall of the House of Usher by Edgar Allan Poe
He understood now why the world was strange, why horses galloped furiously, and why trains whistled as they raced through stations. All the comedy and terror of nightmare gripped his heart with pincers made of ice. ~ The Other Wing by Algernon Blackwood
"Too much! Wait till you have lived here longer. Look down the valley! See the cloud of a hundred chimneys that overshadows it! I tell you that the cloud of murder hangs thicker and lower than that over the heads of the people. It is the Valley of Fear, the Valley of Death. The terror is in the hearts of the people from the dusk to the dawn. Wait, young man, and you will learn for yourself." ~ The Valley of Fear by Sir Arthur Conan Doyle
Terror made me cruel. ~ Wuthering Heights by Emily Bronte
And something born of the snowy desolation, born of the midnight and the silent grandeur, born of the great listening hollows of the night, something that lay 'twixt terror and wonder, dropped from the vast wintry spaces down into his heart—and called him. ~ The Glamour of the Snow by Algernon Blackwood
"They all agreed that it was a huge creature, luminous, ghastly, and spectral. I have cross-examined these men, one of them a hard-headed countryman, one a farrier, and one a moorland farmer, who all tell the same story of this dreadful apparition, exactly corresponding to the hell-hound of the legend. I assure you that there is a reign of terror in the district, and that it is a hardy man who will cross the moor at night." ~ The Hound of the Baskervilles by Sir Arthur Conan Doyle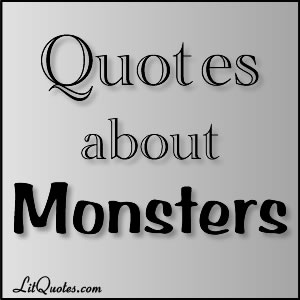 Eddie discovered one of his childhood's great truths. Grownups are the real monsters, he thought. ~ It by Stephen King
It seemed to be a sort of monster, or symbol representing a monster, of a form which only a diseased fancy could conceive. If I say that my somewhat extravagant imagination yielded simultaneous pictures of an octopus, a dragon, and a human caricature, I shall not be unfaithful to the spirit of the thing. A pulpy, tentacled head surmounted a grotesque and scaly body with rudimentary wings; but it was the general outline of the whole which made it most shockingly frightful. ~ The Call of Cthulhu by H. P. Lovecraft
It was the incarnation of blind and insensate Greed. It was a monster devouring with a thousand mouths, trampling with a thousand hoofs; it was the Great Butcher–it was the spirit of Capitalism made flesh. ~ The Jungle by Upton Sinclair
"O, beware, my lord, of jealousy! It is the green-eyed monster, which doth mock the meat it feeds on." ~ Othello by William Shakespeare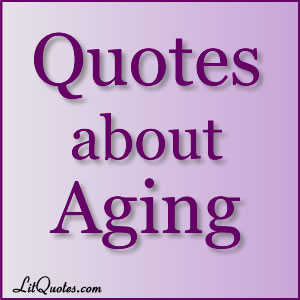 "At forty you stand upon the threshold of life, with values learned and rubbish cleared away. " ~ A Prisoner in Fairyland by Algernon Blackwood
"Anybody is liable to rheumatism in her legs, Anne. It's only old people who should have rheumatism in their souls, though. Thank goodness, I never have. When you get rheumatism in your soul you might as well go and pick out your coffin." ~ Anne of the Island by Lucy Maud Montgomery
At last, however, his conversation became unbearable–a foul young man is odious, but a foul old one is surely the most sickening thing on earth. One feels that the white upon the hair, like that upon the mountain, should signify a height attained. ~ The Stark Munro Letters by Sir Arthur Conan Doyle
When one grew old, the whole world was in conspiracy to limit freedom, and for what reason?–just to keep the breath in him a little longer. He did not want it at such cost. ~ The Forsyte Saga by John Galsworthy
Indeed, he would sometimes remark, when a man fell into his anecdotage, it was a sign for him to retire from the world. ~ Lothair by Benjamin Disraeli
"No one is ever too old to do a foolish thing." ~ Uncle Silas by J. Sheridan Le Fanu
"As I said just now, the world has gone past me. I don't blame it; but I no longer understand it. Tradesmen are not the same as they used to be, apprentices are not the same, business is not the same, business commodities are not the same. Seven-eighths of my stock is old-fashioned. I am an old-fashioned man in an old-fashioned shop, in a street that is not the same as I remember it. I have fallen behind the time, and am too old to catch it again." ~ Dombey and Son by Charles Dickens
"The young have aspirations that never come to pass, the old have reminiscences of what never happened. It's only the middle-aged who are really conscious of their limitations–that is why one should be so patient with them." ~ Reginald by Saki
Don't ever think the poetry is dead in an old man because his forehead is wrinkled, or that his manhood has left him when his hand trembles! If they ever WERE there, they ARE there still! ~ The Autocrat of the Breakfast Table by Oliver Wendell Holmes, Sr.
There comes with old age a time when the heart is no longer fusible or malleable, and must retain the form in which it has cooled down. ~ Uncle Silas by J. Sheridan Le Fanu
What is the meaning of life? That was all–a simple question; one that tended to close in on one with years. The great revelation had never come. The great revelation perhaps never did come. Instead there were little daily miracles, illuminations, matches struck unexpectedly in the dark. ~ To the Lighthouse by Virginia Woolf
More Quotes About Aging from Literature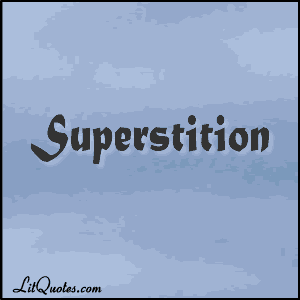 At this time of the year, superstition seems like a timely thing to contemplate.
All men, however highly educated, retain some superstitious inklings. ~ The Invisible Man by H. G. Wells
All this disquisition upon superstition leads me up to the fact that Mr. Manson, our second mate, saw a ghost last night–or, at least, says that he did, which of course is the same thing. ~ The Captain of the Polestar by Sir Arthur Conan Doyle
"Young men of this class never do anything for themselves that they can get other people to do for them, and it is the infatuation, the devotion, the superstition of others that keeps them going. These others in ninety-nine cases out of a hundred are women." ~ Washington Square by Henry James
Instead of trying to still his fears, he encouraged them, with that superstitious impression which clings to us all, that if we expect evil very strongly it is the less likely to come. ~ Silas Marner by George Eliot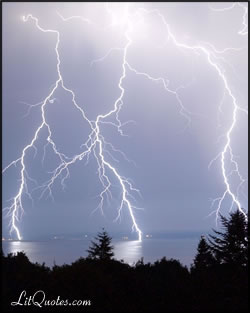 I've always loved Halloween.  The candy.  The costumes.  The nip in autumn air.  And above all I enjoy the spooky stories.
At LitQuotes we're going to celebrate Halloween the entire month of October.
Do you feel the chill in the air?  Halloween is on its way!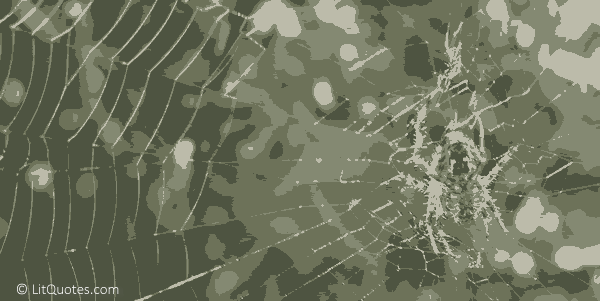 Something plucked at my heart and made me feel afraid. ~ The Willows by Algernon Blackwood
Something had passed darkly and gone! ~ The Haunted Man by Charles Dickens