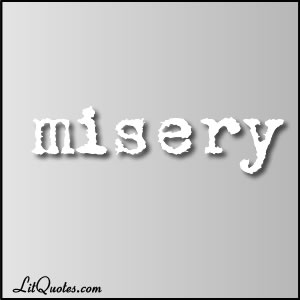 It's not fun to think about, but misery is part of the human condition.
Ah, happiness courts the light, so we deem the world is gay; but misery hides aloof, so we deem that misery there is none. ~ Bartleby, the Scrivener by Herman Melville

The agony of my feelings allowed me no respite; no incident occurred from which my rage and misery could not extract its food. ~ Frankenstein by Mary Shelley
Passion takes no count of time; peril marks no hours or minutes; wrong makes its own calendar; and misery has solar systems peculiar to itself. ~ The True Story of Guenever by Elizabeth Stuart Phelps
Yes, I was a fool, but I was in love, and though I was suffering the greatest misery I had ever known I would not have had it otherwise for all the riches of Barsoom. Such is love, and such are lovers wherever love is known. ~ A Princess of Mars by Edgar Rice Burroughs
There are a set of religious, or rather moral writers, who teach that virtue is the certain road to happiness, and vice to misery, in this world. A very wholesome and comfortable doctrine, and to which we have but one objection, namely, that it is not true. ~ Tom Jones by Henry Fielding
More Quotes from Literature about Misery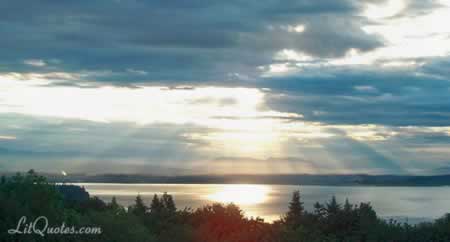 The western sky was clear and flushed with vivid crimson, towards which the prairie rolled away in varying tones of blue. ~ Blake's Burden by Harold Bindloss
The whole earth was brimming sunshine that morning. She tripped along, the clear sky pouring liquid blue into her soul. ~ Sister Carrie by Theodore Dreiser
Who has not in his great grief felt a longing to look upon the outward features of the universal Mother; to lie on the mountains and watch the clouds drive across the sky and hear the rollers break in thunder on the shore, to let his poor struggling life mingle for a while in her life; to feel the slow beat of her eternal heart, and to forget his woes. ~ Allan Quatermain by H. Rider Haggard
The sky was clear — remarkably clear — and the twinkling of all the stars seemed to be but throbs of one body, timed by a common pulse. ~ Far From The Madding Crowd by Thomas Hardy
It's lovely to live on a raft. We had the sky up there, all speckled with stars, and we used to lay on our backs and look up at them, and discuss about whether they was made or only just happened. ~ The Adventures of Huckleberry Finn by Mark Twain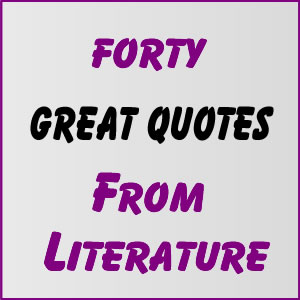 Need some advice or perspective?  Here are 40 great quotes from literature that may help.  These are some of our favorites from our words of wisdom quote collection.
Life may as properly be called an art as any other. ~ Amelia by Henry Fielding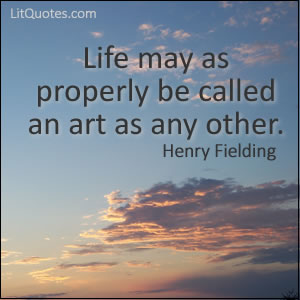 I've posted this on the LitQuotes Facebook page as well as the LitQuotes Twitter page for easier sharing.
Having a siesta. Taking a snooze. Getting forty winks. Heading off to slumber land. Whatever you call it, sleep is important. Here are eight quotes about sleep from literature.
"Give me honorable enemies rather than ambitious ones, and I'll sleep more easily by night." ~ A Game of Thrones by George R. R. Martin
The sigh of all the seas breaking in measure round the isles soothed them; the night wrapped them; nothing broke their sleep, until, the birds beginning and the dawn weaving their thin voices in to its whiteness. ~ To the Lighthouse by Virginia Woolf
But sleep, in the long run, proves greater than all emotions. ~ The Wendigo by Algernon Blackwood
We rose up betimes, for sleep weighs lightly on the hopeful as well as on the anxious. ~ The Swiss Family Robinson by Johann D. Wyss
The day was made for laziness, and lying on one's back in green places, and staring at the sky till its brightness forced one to shut one's eyes and go to sleep. ~ The Old Curiosity Shop by Charles Dickens
"O sleep, O gentle sleep, Nature's soft nurse, how have I frightened thee, that thou no more will weigh my eyelids down, and steep my senses in forgetfulness?" ~ Henry IV, Part Two by William Shakespeare
It was the forty-fathom slumber that clears the soul and eye and heart, and sends you to breakfast ravening. ~ Captains Courageous by Rudyard Kipling
How blessed are some people, whose lives have no fears, no dreads, to whom sleep is a blessing that comes nightly, and brings nothing but sweet dreams. ~ Dracula by Bram Stoker
See More Quotes about Sleep from Literature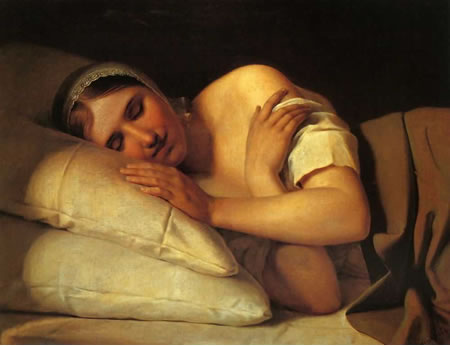 "We are plain quiet folk and have no use for adventures. Nasty disturbing uncomfortable things! Make you late for dinner!" ~ The Hobbit by J. R. R. Tolkien
"Adventurer" — he that goes out to meet whatever may come. Well, that is what we all do in the world one way or another. ~ Allan Quatermain by H. Rider Haggard
His love of danger, his intense appreciation of the drama of an adventure–all the more intense for being held tightly in–his consistent view that every peril in life is a form of sport, a fierce game betwixt you and Fate, with Death as a forfeit, made him a wonderful companion at such hours. ~ The Lost World by Sir Arthur Conan Doyle
It is in vain to say human beings ought to be satisfied with tranquillity: they must have action; and they will make it if they cannot find it. ~ Jane Eyre by Charlotte Bronte
By this, he seemed to mean, not only that the most reliable and useful courage was that which arises from the fair estimation of the encountered peril, but that an utterly fearless man is a far more dangerous comrade than a coward. ~ Moby Dick by Herman Melville
See More Adventure Quotes from Literature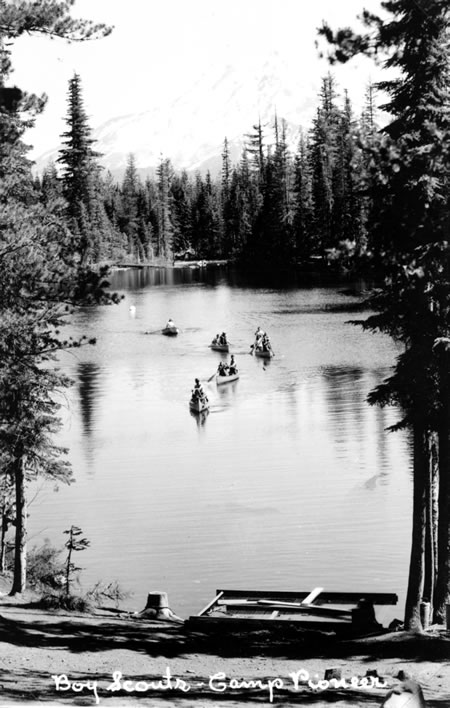 For those of you living on the East Coast of the United States it might be hard to believe, but spring really is on its way.  Really! Here are some quotes from literature to let you know what will soon be coming your way.
It was an ideal spring day, a light blue sky, flecked with little fleecy white clouds drifting across from west to east. The sun was shining very brightly, and yet there was an exhilarating nip in the air, which set an edge to a man's energy. ~ The Adventure of the Copper Beeches by Sir Arthur Conan Doyle
It was that period in the vernal quarter when we may suppose the Dryads to be waking for the season. The vegetable world begins to move and swell and the saps to rise, till in the completest silence of lone gardens and trackless plantations, where everything seems helpless and still after the bond and slavery of frost, there are bustlings, strainings, united thrusts, and pulls-all-together, in comparison with which the powerful tugs of cranes and pulleys in a noisy city are but pigmy efforts. ~ Far From The Madding Crowd by Thomas Hardy
For, as when the red-cheeked, dancing girls, April and May, trip home to the wintry, misanthropic woods; even the barest, ruggedest, most thunder-cloven old oak will at least send forth some few green sprouts, to welcome such glad-hearted visitants. ~ Moby Dick by Herman Melville
"That is one good thing about this world. . .there are always sure to be more springs." ~ Anne Of Avonlea by Lucy Maud Montgomery
The early mist had vanished and the fields lay like a silver shield under the sun. It was one of the days when the glitter of winter shines through a pale haze of spring. ~ Ethan Frome by Edith Wharton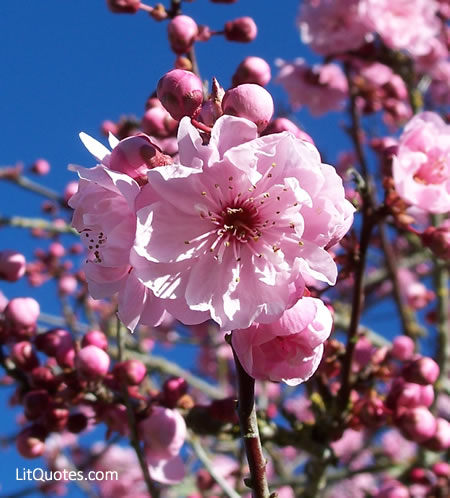 See More Literary Quotes About Spring
It's not always easy to find just the right words.   If you're trying to decide what to put inside a Valentine's Day card or letter, you know what I mean.   Not to worry.  These love  quotes from literature will help.
"Those who speak of love most promiscuously are the ones who've never felt it. They make some sort of feeble stew out of sympathy, compassion, contempt and general indifference, and they call it love. Once you've felt what it means to love as you and I know it–the total passion for the total height–you're incapable of anything less." ~ The Fountainhead by Ayn Rand

Doubt thou the stars are fire;
Doubt that the sun doth move;
Doubt truth to be a liar;
But never doubt I love. ~ Hamlet, Prince of Denmark by William Shakespeare

If you loved someone, you loved him, and when you had nothing else to give, you still gave him love. ~ Nineteen Eighty-Four by George Orwell

If all else perished, and he remained, I should still continue to be; and if all else remained, and he were annihilated, the universe would turn to a mighty stranger. ~ Wuthering Heights by Emily Bronte

It is best to love wisely, no doubt: but to love foolishly is better than not to be able to love at all. ~ The History of Pendennis by William Makepeace Thackeray

Love is a flower that grows in any soil, works its sweet miracles undaunted by autumn frost or winter snow, blooming fair and fragrant all the year, and blessing those who give and those who receive. ~ Little Men by Louisa May Alcott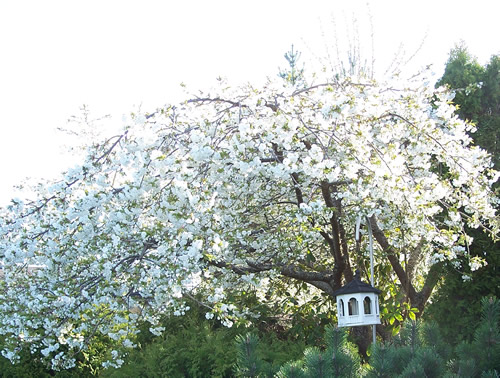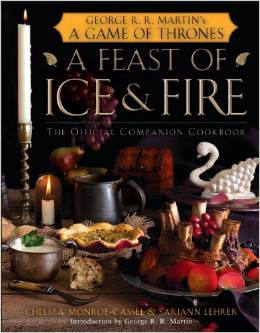 I stumbled upon this on the Amazon website and couldn't believe my eyes. There's an official cookbook for A Game of Thrones?  Yes, there is!
It also has some good reviews.  At the moment it has 4.8 out of 5 stars with 312 reviews. That's not too shabby.
"The combination of headnotes and recipes [in A Feast of Ice and Fire] almost reaches the Elizabeth David level of 'put down this book, get out of bed and start cooking.' … And with their adherence to the imagined geography of Westeros, the authors also might actually outdo Alice Waters in local and seasonal cooking." -Newsweek
"Sleep is good," he said. "And books are better." – A Clash of Kings by George R. R. Martin
The dictionary tells us that sympathy is a felling of pity or sorrow for someone else's misfortune. And here's how it's used in quotes by the masters of literature.
My heart was fashioned to be susceptible of love and sympathy, and when wrenched by misery to vice and hatred, it did not endure the violence of the change without torture such as you cannot even imagine. ~ Frankenstein by Mary Shelley
I don't know if it be a peculiarity in me, but I am seldom otherwise than happy while watching in the chamber of death, should no frenzied or despairing mourner share the duty with me. I see a repose that neither earth nor hell can break; and I feel an assurance of the endless and shadowless hereafter – the Eternity they have entered – where life is boundless in its duration, and love in its sympathy, and joy in its fulness. ~ Wuthering Heights by Emily Bronte
"Oh! I have a heart to be stabbed in or shot in, I have no doubt," said Estella, "and of course if it ceased to beat I should cease to be. But you know what I mean. I have no softness there, no—sympathy—sentiment—nonsense." ~ Great Expectations by Charles Dickens
He spoke wistfully of a sudden leaving, a breaking of old ties, a flight into a strange world, ending in this dreary valley, and Ettie listened, her dark eyes gleaming with pity and with sympathy – those two qualities which may turn so rapidly and so naturally to love. ~ The Valley of Fear by Sir Arthur Conan Doyle
more sympathy quotes from literature