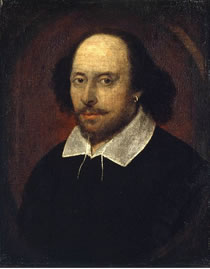 Yes, it's true.  Joss Whedon, the creator of Buffy the Vampire Slayer and Firefly is working on a version of Shakespeare's Much Ado About Nothing. Here's part of the the press release from the movie's website:
Santa Monica, CA (October 24th, 2011)

Bellwether Pictures proudly announces the completion of principal photography on MUCH ADO ABOUT NOTHING, a modern version of Shakespeare's classic comedy adapted and directed by Joss Whedon (Marvel's upcoming THE AVENGERS, "Dr. Horrible's Sing-Along Blog"). Filmed in just 12 days entirely on location in exotic Santa Monica, the film features a stellar cast of beloved (or soon to be beloved) actors – some of them veterans of Shakespearean theater, some completely new to the form. But all dedicated to the idea that this story bears retelling, that this dialogue is as fresh and intoxicating as any being written, and that the joy of working on a passion project surrounded by dear friends, admired colleagues and an atmosphere of unabashed rapture far outweighs their hilariously miniature paychecks.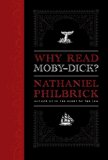 I adore Moby Dick by Herman Melville.  This site's quotation collection reflects that.  (Click here to see all 32 Moby Dick quotes.)  However my appreciation for the novel is nothing compared to that of Nathaniel Philbrick's.
Philbrick's book Why Read Moby-Dick? helps us understand the time period of the book's creation as well as showing us how it relates to our lives today.
Amazon has this to say:
Philbrick skillfully navigates Melville's world and illuminates the book's humor and unforgettable characters-finding the thread that binds Ishmael and Ahab to our own time and, indeed, to all times. A perfect match between author and subject, Why Read Moby-Dick? gives us a renewed appreciation of both Melville and the proud seaman's town of Nantucket that Philbrick himself calls home. Like Alain de Botton's How Proust Can Change Your Life, this remarkable little book will start conversations, inspire arguments, and, best of all, bring a new wave of readers to a classic tale waiting to be discovered anew.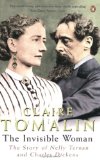 One of the first biographies I read about Charles Dickens was The Invisible Woman by Claire Tomalin.  The book focuses on Dickens' affair with the actress Ellen Ternan.
Charles Dickens and Nelly Ternan met in 1857; she was 18, a hard-working actress performing in his production of The Frozen Deep, and he was 45, the most lionized writer in England. Out of their meeting came a love affair that lasted thirteen years and destroyed Dickens's marriage while effacing Nelly Ternan from the public record.

In this remarkable work of biography and scholarly reconstruction, the acclaimed biographer of Mary Wollstonecraft, Thomas Hardy, Samuel Pepys and Jane Austen rescues Nelly from the shadows of history, not only returning the neglected actress to her rightful place, but also providing a compelling portrait of the great Victorian novelist himself. The result is a thrilling literary detective story and a deeply compassionate work that encompasses all those women who were exiled from the warm, well-lighted parlors of Victorian England.
You can learn more about Dickens' marriage and affair on our partner site, Charles Dickens Info.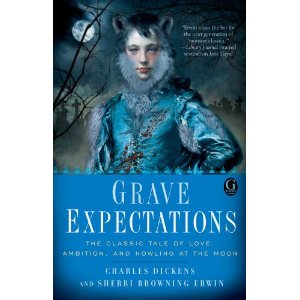 At the end of this month another horror rewrite of classic literature will hit the bookstores.  Grave Expectations by Sherri Browning Erwin and Charles Dickens will show us Pip and Estella as we've never seen them before.
Per Amazon's website, "Bristly, sensitive, and meat-hungry Pip is a robust young whelp, an orphan born under a full moon. Between hunting escaped convicts alongside zombified soldiers, trying not to become one of the hunted himself, and hiding his hairy hands from the supernaturally beautiful and haughty Estella, whose devilish moods keep him chomping at the bit, Pip is sure he will die penniless or a convict like the rest of his commonly uncommon kind."
Learn more about Charles Dickens: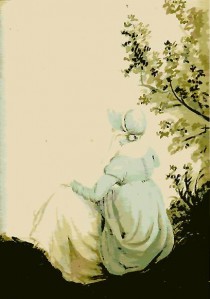 I had heard of Pride and Prejudice and Zombies before.  To be honest, I didn't really pay that much attention.  A rewrite of the Pride and Prejudice with Zombies?  I filed in my brain the same place as the ghost of Elvis and Big Foot.  Then I read the reviews.
Entertainment Weekly gave it an A-.  It made it to the top ten of the New York Times bestseller list.  The A.V. club states, "Grahame-Smith's amendments add some interest, pathos, and essential motivation to Austen's subplots."
This one could be worth a read.  In the meantime, if you want Zombie-free Jane Austen:
"Vanity and pride are different things, though the words are often used synonymously. A person may be proud without being vain. Pride relates more to our opinion of ourselves, vanity to what we would have others think of us." ~ Pride and Prejudice by Jane Austen