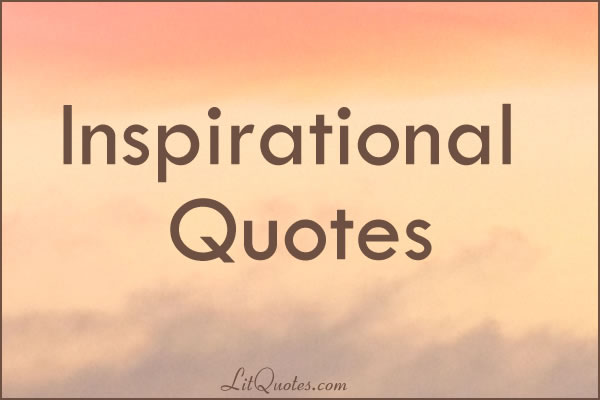 "Everything that's worth having is some trouble." ~ Anne Of Avonlea by Lucy Maud Montgomery
If you need something to worship, then worship life — all life, every last crawling bit of it! We're all in this beauty together! ~ Dune Messiah by Frank Herbert
To see and know the worst is to take from Fear her main advantage. ~ Villette by Charlotte Bronte
May the wind under your wings bear you where the sun sails and the moon walks. ~ The Hobbit by J. R. R. Tolkien
These fellow-mortals, every one, must be accepted as they are: you can neither straighten their noses, nor brighten their wit, nor rectify their dispositions; and it is these people–amongst whom your life is passed–that it is needful you should tolerate, pity, and love: it is these more or less ugly, stupid, inconsistent people whose movements of goodness you should be able to admire–for whom you should cherish all possible hopes, all possible patience. ~ Adam Bede by George Eliot
"You know, there are two good things in life, freedom of thought and freedom of action." ~ Of Human Bondage by W. Somerset Maugham
"Man is not the creature of circumstances. Circumstances are the creatures of men." ~ Vivian Grey by Benjamin Disraeli
"Simple, generous goodness is the best capital to found the business of this life upon. It lasts when fame and money fail, and is the only riches we can take out of this world with us." ~ Little Men by Louisa May Alcott
Men who look on nature, and their fellow-men, and cry that all is dark and gloomy, are in the right; but the sombre colours are reflections from their own jaundiced eyes and hearts. The real hues are delicate, and need a clearer vision. ~ Oliver Twist by Charles Dickens
Be men, or be more than men. Be steady to your purposes and firm as a rock. This ice is not made of such stuff as your hearts may be; it is mutable and cannot withstand you if you say that it shall not. ~ Frankenstein by Mary Shelley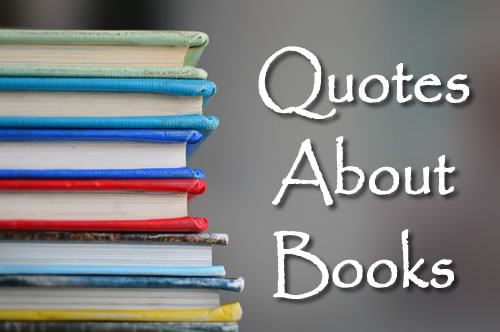 "Sleep is good," he said. "And books are better." ~ A Clash of Kings by George R. R. Martin
One bright day in the last week of February, I was walking in the park, enjoying the threefold luxury of solitude, a book, and pleasant weather. ~ Agnes Grey by Anne Bronte
"Books are the mirrors of the soul." ~ Between the Acts by Virginia Woolf
He who studies old books will always find in them something new, and he who reads new books will always find in them something old. ~ The Coming Race by Edward Bulwer-Lytton
"A reader lives a thousand lives before he dies," said Jojen. "The man who never reads lives only one." ~ A Dance with Dragons by George R. R. Martin
Every page of every book was a peep-hole into the realm of knowledge. His hunger fed upon what he read, and increased. ~ Martin Eden by Jack London
"The proper study of mankind is books." ~ Crome Yellow by Aldous Huxley
"It's all very well to read about sorrows and imagine yourself living through them heroically, but it's not so nice when you really come to have them, is it?" ~ Anne of Green Gables by Lucy Maud Montgomery
A mind needs books as a sword needs a whetstone, if it is to keep its edge. ~ A Game of Thrones by George R. R. Martin
"Be a good boy, remember; and be kind to animals and birds, and read all you can." ~ Jude the Obscure by Thomas Hardy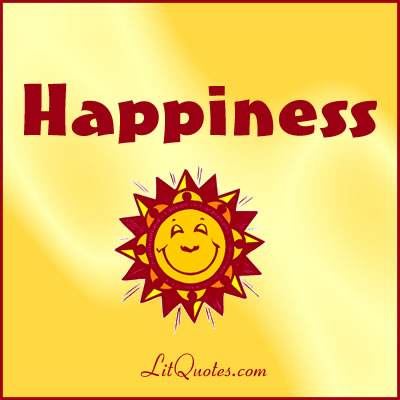 We've got a large collection of literary quotes about happiness.  Here are the 20 best quotes about from the collection. Authors include Charles Dickens, L. Frank Baum, George Eliot and Lucy Maud Montgomery.
---
"Money is a needful and precious thing, and when well used, a noble thing, but I never want you to think it is the first or only prize to strive for. I'd rather see you poor men's wives, if you were happy, beloved, contented, than queens on thrones, without self-respect and peace." ~ Little Women by Louisa May Alcott
---
"You must be the best judge of your own happiness." ~ Emma by Jane Austen
---
"I would always rather be happy than dignified." ~ Jane Eyre by Charlotte Bronte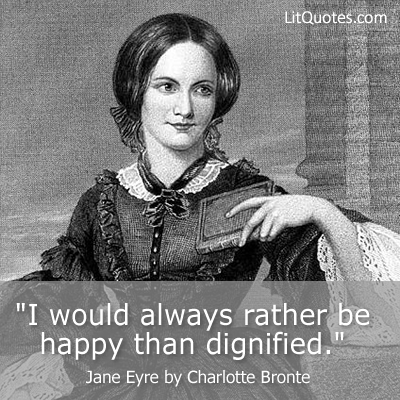 ---
Cheerfulness and content are great beautifiers, and are famous preservers of youthful looks, depend upon it. ~ Barnaby Rudge by Charles Dickens
---
There were days when she was very happy without knowing why. She was happy to be alive and breathing, when her whole being seemed to be one with the sunlight, the color, the odors, the luxuriant warmth of some perfect Southern day. She liked then to wander alone into strange and unfamiliar places. She discovered many a sunny, sleepy corner, fashioned to dream in. And she found it good to dream and to be alone and unmolested. ~ The Awakening by Kate Chopin
---
There is no happiness like that of being loved by your fellow-creatures, and feeling that your presence is an addition to their comfort. ~ Jane Eyre by Charlotte Bronte
---
It is a poor heart that never rejoices. ~ Barnaby Rudge by Charles Dickens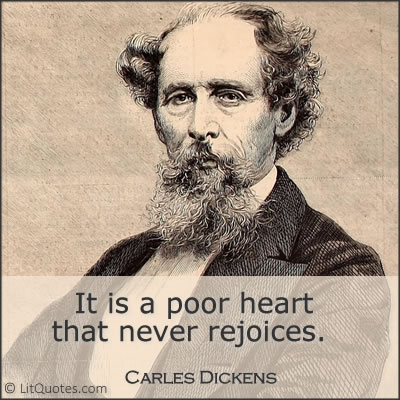 ---
"Action may not always be happiness," said the general; "but there is no happiness without action." ~ Lothair by Benjamin Disraeli
---
No one can be happy in eternal solitude. ~ The Tenant of Wildfell Hall by Anne Bronte
---
To see their sons and daughters so flushed and healthy and happy, gave them also a reflected glow, and it was hard to say who had most pleasure from the game, those who played or those who watched. ~ Beyond the City by Sir Arthur Conan Doyle
---
People who have tried it, tell me that a clear conscience makes you very happy and contented; but a full stomach does the business quite as well, and is cheaper, and more easily obtained. ~ Three Men in a Boat by Jerome K. Jerome
---
"Happy are they that hear their detractions, and can put them to mending." ~ Much Ado About Nothing by William Shakespeare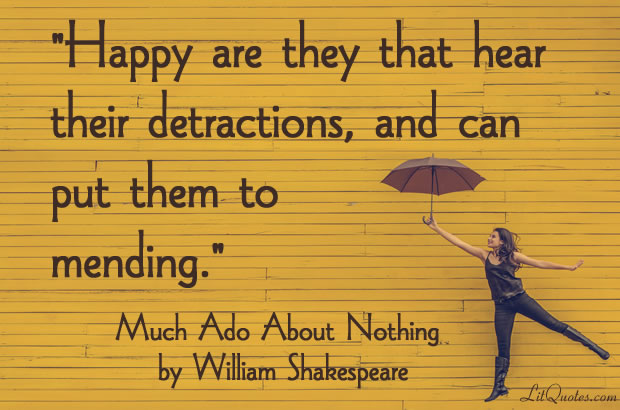 ---
Anne was always glad in the happiness of her friends; but it is sometimes a little lonely to be surrounded everywhere by a happiness that is not your own. ~ Anne of the Island by Lucy Maud Montgomery
---
"One gets a bad habit of being unhappy." ~ The Mill on the Floss by George Eliot
---
She better liked to see him free and happy, even than to have him near her, because she loved him better than herself. ~ Barnaby Rudge by Charles Dickens
---
No mockery in this world ever sounds to me so hollow as that of being told to cultivate happiness. What does such advice mean? Happiness is not a potato. ~ Villette by Charlotte Bronte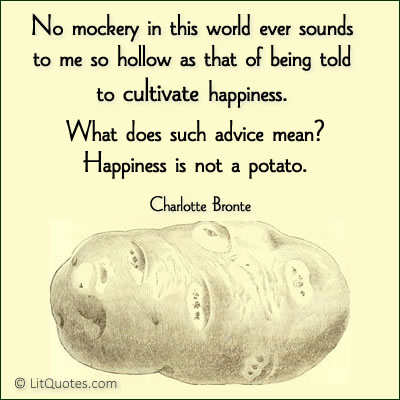 ---
There are a set of religious, or rather moral writers, who teach that virtue is the certain road to happiness, and vice to misery, in this world. A very wholesome and comfortable doctrine, and to which we have but one objection, namely, that it is not true. ~ Tom Jones by Henry Fielding
---
Annual income twenty pounds, annual expenditure nineteen nineteen and six, result happiness. Annual income twenty pounds, annual expenditure twenty pounds ought and six, result misery. ~ David Copperfield by Charles Dickens
"Happy is the man who can make a living by his hobby!" ~ Pygmalion by George Bernard Shaw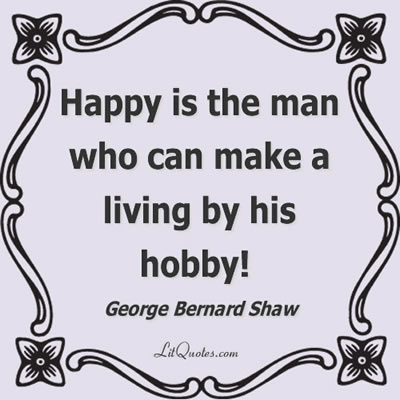 ---
"I shall take the heart," returned the Tin Woodman; "for brains do not make one happy, and happiness is the best thing in the world." ~ The Wonderful Wizard of Oz by L. Frank Baum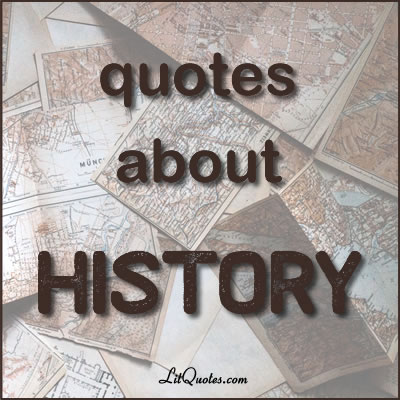 History is a wheel, for the nature of man is fundamentally unchanging. What has happened before will perforce happen again. ~ A Feast for Crows by George R. R. Martin
Who controls the past controls the future: who controls the present controls the past. ~ Nineteen Eighty-Four by George Orwell
History, like love, is so apt to surround her heroes with an atmosphere of imaginary brightness. ~ The Last of the Mohicans by James Fenimore Cooper
"Men get tired of everything, of heaven no less than of hell; and that all history is nothing but a record of the oscillations of the world between these two extremes. An epoch is but a swing of the pendulum; and each generation thinks the world is progressing because it is always moving." ~ Man And Superman by George Bernard Shaw
Events are as much the parents of the future as they were the children of the past. ~ Saint's Progress by John Galsworthy
There was a great historian lost in Wolverstone. He had the right imagination that knows just how far it is safe to stray from the truth and just how far to colour it so as to change its shape for his own purposes. ~ Captain Blood by Rafael Sabatini
"There are only two or three human stories, and they go on repeating themselves as fiercely as if they had never happened before; like the larks in this country, that have been singing the same five notes over for thousands of years." ~ O Pioneers! by Willa Cather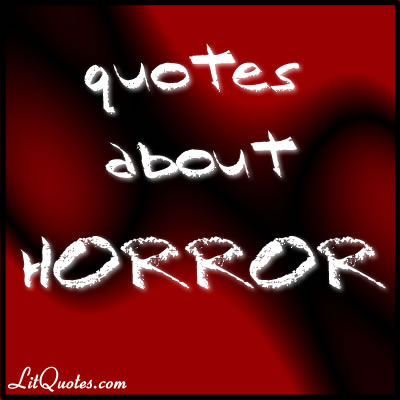 Dark, dark! The horror of darkness, like a shroud, wraps me and bears me on through mist and cloud. ~ Oedipus Rex by Sophocles
"'The horror! The horror!" ~ Heart of Darkness by Joseph Conrad
In victory one does not understand the horror of war. It is only in the cold chill of defeat that it is brought home to you. ~ The Adventures of Gerard by Sir Arthur Conan Doyle
For a moment he paused there, the wind blowing his long grey locks about his head, and twisting into grotesque and fantastic folds the nameless horror of the dead man's shroud. ~ The Canterville Ghost by Oscar Wilde
There are horrors beyond horrors, and this was one of those nuclei of all dreamable hideousness which the cosmos saves to blast an accursed and unhappy few. ~ The Shunned House by H. P. Lovecraft
Beyond this place of wrath and tears
Looms but the Horror of the shade,
And yet the menace of the years
Finds, and shall find, me unafraid. ~ Invictus by William Ernest Henley
It was worse than anything. Mrs. Hall, standing open-mouthed and horror-struck, shrieked at what she saw, and made for the door of the house. Everyone began to move. They were prepared for scars, disfigurements, tangible horrors, but nothing! The bandages and false hair flew across the passage into the bar, making a hobbledehoy jump to avoid them. Everyone tumbled on everyone else down the steps. For the man who stood there shouting some incoherent explanation, was a solid gesticulating figure up to the coat-collar of him, and then—nothingness, no visible thing at all! ~ The Invisible Man by H. G. Wells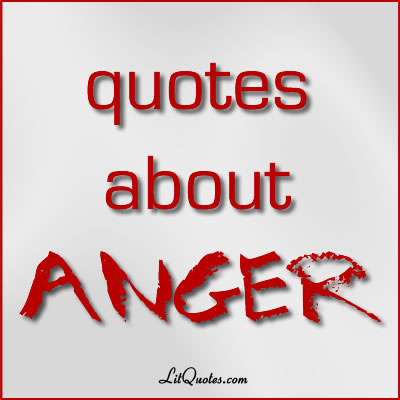 "You do not know how the people of this country bear malice. It is the boast of some of them that they can keep a stone in their pocket seven years, turn it at the end of that time, keep it seven years longer, and hurl it and hit their mark 'at last.'" ~ Shirley by Charlotte Bronte
How often it is that the angry man rages denial of what his inner self is telling him. ~ The Woman in White by Wilkie Collins
Any woman who is sure of her own wits is a match at any time for a man who is not sure of his own temper. ~ The Woman in White by Wilkie Collins
Anger and jealousy can no more bear to lose sight of their objects than love. ~ The Mill on the Floss by George Eliot
Anger's my meat; I sup upon myself,
And so shall starve with feeding. ~ Coriolanus by William Shakespeare
"From hell's heart I stab at thee; for hate's sake I spit my last breath at thee." ~ Moby Dick by Herman Melville
With a fierce action of her hand, as if she sprinkled hatred on the ground, and with it devoted those who were standing there to destruction, she looked up once at the black sky, and strode out into the wild night. ~ Dombey and Son by Charles Dickens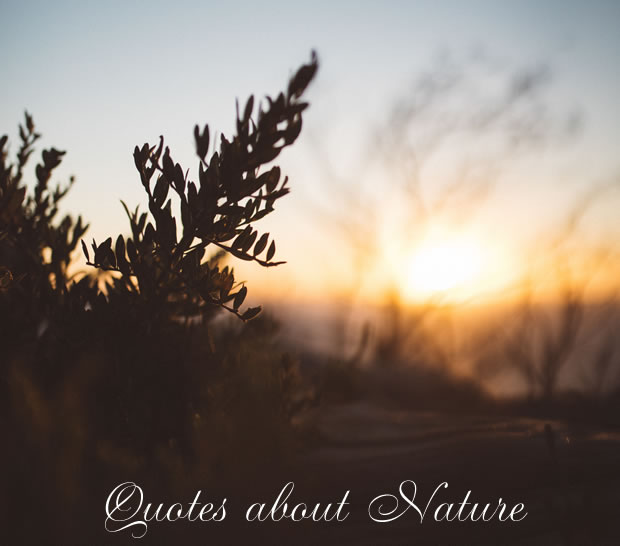 There are many literary quotes about nature.  Here are some of the best.
"There is no such thing as magic, though there is such a thing as a knowledge of the secrets of Nature." ~ She by H. Rider Haggard
"Bees do have a smell, you know, and if they don't they should, for their feet are dusted with spices from a million flowers." ~ Dandelion Wine by Ray Bradbury
If you need something to worship, then worship life — all life, every last crawling bit of it! We're all in this beauty together! ~ Dune Messiah by Frank Herbert
It was October, and the air was cool and sharp, woodsmoke and damp moss exquisitely mingled in it with the subtle odours of the pines. ~ Secret Worship by Algernon Blackwood
The western sky was clear and flushed with vivid crimson, towards which the prairie rolled away in varying tones of blue. ~ Blake's Burden by Harold Bindloss
Sunlight is the life-blood of Nature. Mother Earth looks at us with such dull, soulless eyes, when the sunlight has died away from out of her. It makes us sad to be with her then; she does not seem to know us or to care for us. ~ Three Men in a Boat by Jerome K. Jerome
Have you ever observed a humming-bird moving about in an aerial dance among the flowers–a living prismatic gem that changes its colour with every change of position. ~ Green Mansions by W. H. Hudson
Nature is the true revelation of the Deity to man. The nearest green field is the inspired page from which you may read all that it is needful for you to know. ~ The Stark Munro Letters by Sir Arthur Conan Doyle
Photo by Billy Pasco on Unsplash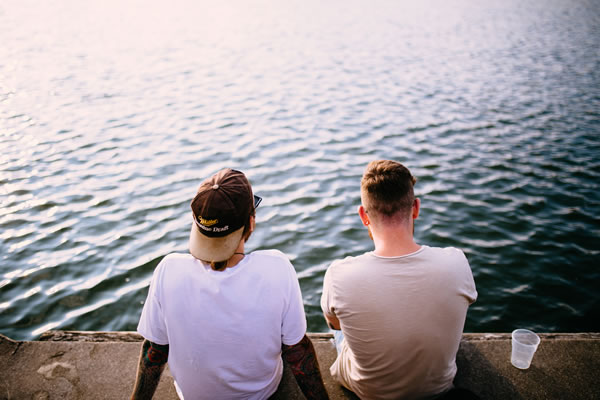 The site has a large collection of literary quotes about communication.  These are some of my favorites.
In reality they all lived in a kind of hieroglyphic world, where the real thing was never said or done or even thought, but only represented by a set of arbitrary signs. ~ The Age of Innocence by Edith Wharton
"Old men only lie in wait for people to ask them to talk. Then they rattle on like a rusty elevator wheezing up a shaft." ~ Dandelion Wine by Ray Bradbury
Often I must speak other than I think. That is called diplomacy. ~ Dune Messiah by Frank Herbert
"With no intention to take offence, I deny your right to put words into my mouth." ~ Treasure Island by Robert Louis Stevenson
Our words are giants when they do us an injury, and dwarfs when they do us a service. ~ The Woman in White by Wilkie Collins
"Words," said the host, at length, "is worse'n bullets. You never know what they'll hit." ~ The Night Horseman by Max Brand
Fair speech may hide a foul heart. ~ The Two Towers by J. R. R. Tolkien
We are never half so interesting when we have learned that language is given us to enable us to conceal our thoughts. ~ Anne of the Island by Lucy Maud Montgomery
"I make no manner of doubt that you threw a very diamond of truth at me, though you see it hit me so directly in the face that it wasn't exactly appreciated, at first." ~ Uncle Tom's Cabin by Harriet Beecher Stowe
Never tell all you know—not even to the person you know best. ~ The Secret Adversary by Agatha Christie
Fine, large, meaningless, general terms like romance and business can always be related. They take the place of thinking, and are highly useful to optimists and lecturers. ~ The Job by Sinclair Lewis
The fool wonders, the wise man asks. ~ Count Alarcos: A Tragedy by Benjamin Disraeli
A slight throbbing about the temples told me that this discussion had reached saturation point. ~ Right Ho, Jeeves by P. G. Wodehouse
Mrs. Bittacy rustled ominously, holding her peace meanwhile. She feared long words she did not understand. Beelzebub lay hid among too many syllables. ~ The Man Whom the Trees Loved by Algernon Blackwood
To read between the lines was easier than to follow the text. ~ The Portrait of a Lady by Henry James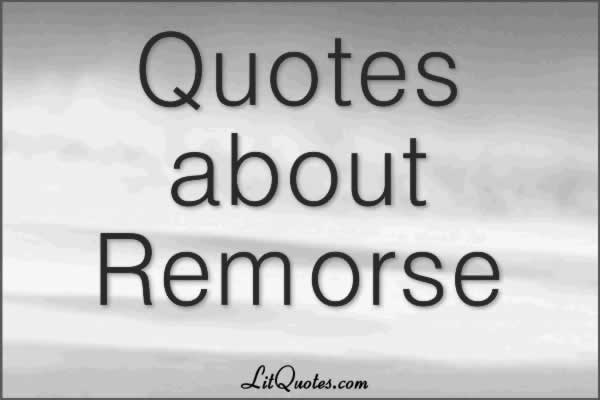 But sorry is the Kool-Aid of human emotions. It's what you say when you spill a cup of coffee or throw a gutterball when you're bowling with the girls in the league. True sorrow is as rare as true love. ~ Carrie by Stephen King
Her husband had archaic ideas about jewels; a man bought them for his wife in acknowledgment of things he could not gracefully utter. ~ A Lost Lady by Willa Cather
"The study of Nature makes a man at last as remorseless as Nature." ~ The Island of Doctor Moreau by H. G. Wells
"There is no refuge from memory and remorse in this world. The spirits of our foolish deeds haunt us, with or without repentance." ~ Mrs. Falchion by Gilbert Parker
It is a good rule in life never to apologize. The right sort of people do not want apologies, and the wrong sort take a mean advantage of them. ~ The Man Upstairs by P. G. Wodehouse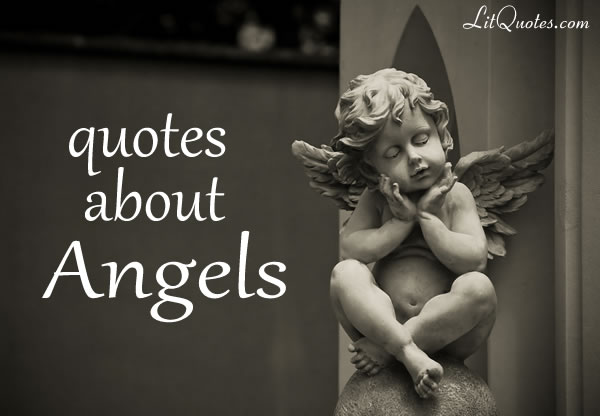 "I am not an angel," I asserted; "and I will not be one till I die: I will be myself." ~ Jane Eyre by Charlotte Bronte
You can't expect the fatted calf to share the enthusiasm of the angels over the prodigal's return. ~ Reginald by Saki
In old days there were angels who came and took men by the hand and led them away from the city of destruction. We see no white-winged angels now. But yet men are led away from threatening destruction: a hand is put into theirs, which leads them forth gently towards a calm and bright land, so that they look no more backward; and the hand may be a little child's. ~ Silas Marner by George Eliot
The shadows of our own desires stand between us and our better angels, and thus their brightness is eclipsed. ~ Barnaby Rudge by Charles Dickens
Heaven, too, was very near to them in those days. God's direct agency was to be seen in the thunder and the rainbow, the whirlwind and the lightning. To the believer, clouds of angels and confessors, and martyrs, armies of the sainted and the saved, were ever stooping over their struggling brethren upon earth, raising, encouraging, and supporting them. ~ The White Company by Sir Arthur Conan Doyle
It was the beginning of a day in June; the deep blue sky unsullied by a cloud, and teeming with brilliant light. The streets were, as yet, nearly free from passengers, the houses and shops were closed, and the healthy air of morning fell like breath from angels, on the sleeping town. ~ The Old Curiosity Shop by Charles Dickens
"Good night, sweet prince, and flights of angels sing thee to thy rest!" ~ Hamlet, Prince of Denmark by William Shakespeare