Thanks so much to Liz, a fan of the LitQuotes Daily Quote page.  She alerted me to a problem and the quotes are now displaying normally.
If you ever see a problem I'd be grateful if you would contact me.  I publish five other websites in addition to this one.  The only thing that prevents me from having more websites is the fact that cloning technology hasn't been perfected.  In other words, any help is much appreciated. 🙂

It's reassuring to think that we all have a place and a purpose.
"No one is useless in this world," retorted the Secretary, "who lightens the burden of it for any one else." ~ Our Mutual Friend by Charles Dickens
The complex affair we call the world requires a great variety of people to keep it going. ~ The Golden House by Charles Dudley Warner

If you like our daily quote, be sure to follow us on Twitter.  There's a separate daily quote:
Change begets change. Nothing propagates so fast. ~ Martin Chuzzlewit by Charles Dickens ow.ly/b4Kz7

— LitQuotes (@LitQuotesSite) June 17, 2012
Sometimes one likes foolish people for their folly, better than wise people for their wisdom. ~ Elizabeth Gaskell ow.ly/bkndv

— LitQuotes (@LitQuotesSite) June 16, 2012
As well as other interesting items:
Scottish National Portrait Gallery and a pint at The Conan Doyle tinyurl.com/6slzglw

— LitQuotes (@LitQuotesSite) June 16, 2012
A List of 27 Surprisingly Bizarre Objects Used as Bookmarks bit.ly/Iwl2gz

— LitQuotes (@LitQuotesSite) May 2, 2012

What do I mean by LitQuotes Duo?  Sometimes quotes, like chocolate chip cookies, are best served in pairs. Duos may be similar, surprising, contradictory or odd. They can make you smile or even make you think.
Today's Duo is one of my favorites! It deals with all things green.
Quote One: "O, beware, my lord, of jealousy! It is the green-eyed monster, which doth mock the meat it feeds on." ~ Othello by William Shakespeare
Quote Two: The snotgreen sea. The scrotumtightening sea. ~ Ulysses by James Joyce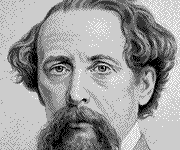 Yesterday I added 27 Barnaby Rudge quotes to the site. My favorite quote of the new batch is:
She had found her heart at last. Never having known its worth till now, she had never known the worth of his. ~ Barnaby Rudge by Charles Dickens

Other LitQuotes Features

I've added new quotes to the collection!  New titles include:
My favorite quote of the new batch is:
As the gambler said of his dice, to love and win is the best thing, to love and lose is the next best. ~ The History of Pendennis by William Makepeace Thackeray
Other LitQuotes Features

I am one of the luckiest people I know.  My day job is as a self-employed website developer.  I get to live my dream, working from home while I help people make their dreams come true, because of the Internet. Proposed laws threaten our ability to make a living on the Internet, express ourselves on the Internet, do research on the Internet and touch other people's lives via the Internet.
On January 18th I'm blacking out my three literary sites LitQuotes, The Chronicles of Sir Arthur Conan Doyle and Charles Dickens Gad's Hill Place in protest of the Internet censorship bills, SOPA & PIPA.
If you'd like to take part in the protest you can install this WordPress plugin to your WordPress site or click here to learn about other ways to take part.
.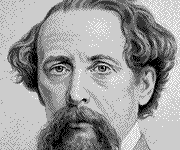 Are you familiar with Today in Literature?  It's an informative site that features a daily article on literary history.  Today's post is about Dickens's 1867 trip to America.
If you like Today in Literature you'll love our daily quote page! The daily quote page features a snippet of the Today in Literature daily article, a daily quote and a LitQuote Duo.  It's truly bookmark worthy!


We've added over 20 new quotes to our collection.   I'm not quite sure how it happened, but all the new quotes are from two titles.  There are Hamlet quotes and Heart of Darkness quotes.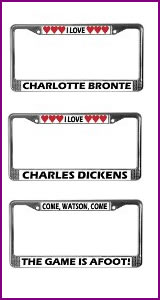 Show the world that you're a fan of literature with out new license plate frames.  We've got them for Charles Dickens, Sir Arthur Conan Doyle, Mark Twain, Edgar Allan Poe and more.