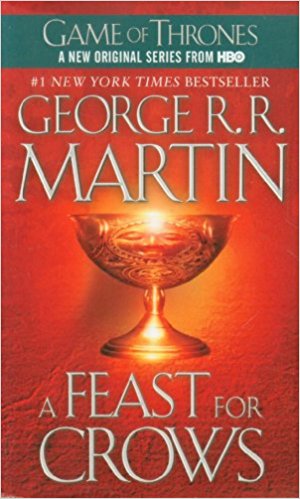 A Feast for Crows is the fourth of seven planned novels in the fantasy series A Song of Ice and Fire by George R. R. Martin. The novel was first published on October 17, 2005, in the United Kingdom.  A United States edition followed on in November  of 2005.
War makes monsters of us all. ~ A Feast for Crows by George R. R. Martin
Read More Quotes from A Feast for Crows
Buy A Feast for Crows at Amazon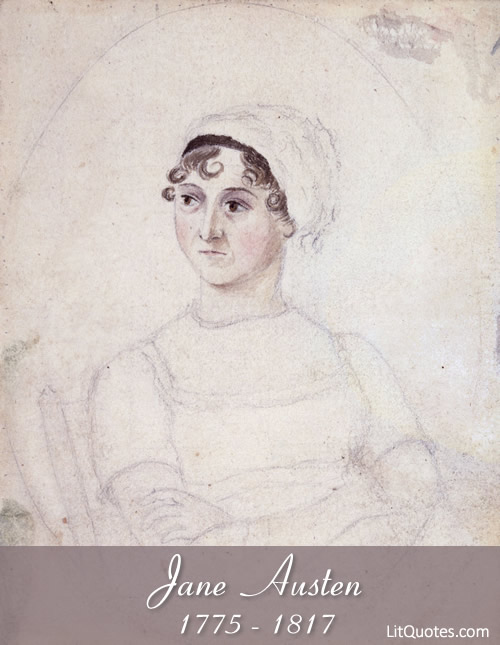 As she was planning the novel Jane Austen wrote, "I am going to take a heroine whom no one but myself will much like."  And that was the beginning of Emma Woodhouse, the main character in Emma.  This comedy features matchmaking gone horribly (and delightfully) awry.
The novel was first published in 1815 and has been adapted into movies and television shows.
"You must be the best judge of your own happiness." ~ Emma by Jane Austen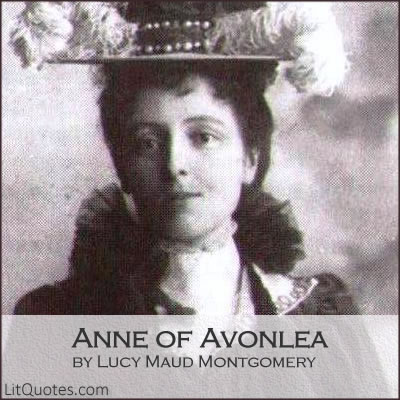 Anne of Avonlea was published in 1909.  It is the second book in the Anne of Green Gables series and depicts Anne's life from ages 16 to 18.  This book introduces the characters of the twins, Davy and Dora.  It also marks the first appearance of the neighbor, Mr. Harrison.
"Everything that's worth having is some trouble." ~ Anne Of Avonlea by Lucy Maud Montgomery
The Anne of Green Gables Series
Anne of Green Gables
Anne of Avonlea
Anne of the Island
Anne of Windy Poplars
Anne's House of Dreams
Anne of Ingleside
Rainbow Valley
Rilla of Ingleside
The Blythes Are Quoted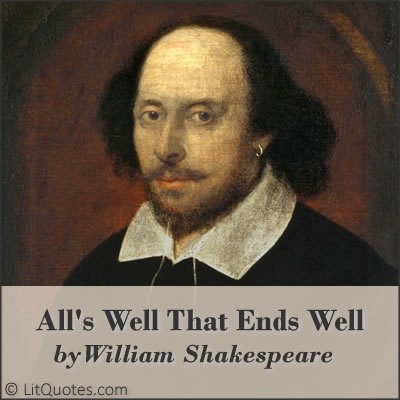 All's Well That Ends Well is a play by William Shakespeare. It's believed that Shakespeare wrote it between 1604 and 1605.
Historically the play has been classified as a comedy.  However some critics believe it to be one of his "problem plays", so named because they cannot be neatly classified as tragedy or comedy.  The other problem plays are Measure for Measure and Troilus and Cressida.
"Moderate lamentation is the right of the dead: excessive grief the enemy to the living." ~ All's Well That Ends Well by William Shakespeare
Resources
The House of Mirth was was written by Edith Wharton and published as a book in October of 1905. (Earlier in that year it was serialized in Scribner's Magazine.)  The novel tells the tale of socialite Lily Bart as she deals with issues of money, a woman's place in society and social expectations.
"Half the trouble in life is caused by pretending there isn't any." ~ The House of Mirth by Edith Wharton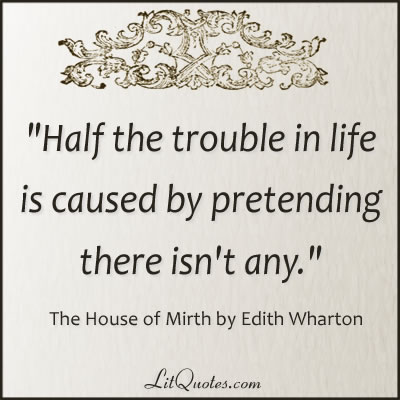 I've also posted this at the LitQuotes Facebook page, the LitQuotes Twitter page and our Pinterest page.
The Secret Garden, by Frances Hodgson Burnett, was initially published in serial format beginning in 1910.  It was first published in its entirety in 1911.
Nothing in the world is quite as adorably lovely as a robin when he shows off-and they are nearly always doing it. ~ The Secret Garden by Frances Hodgson Burnett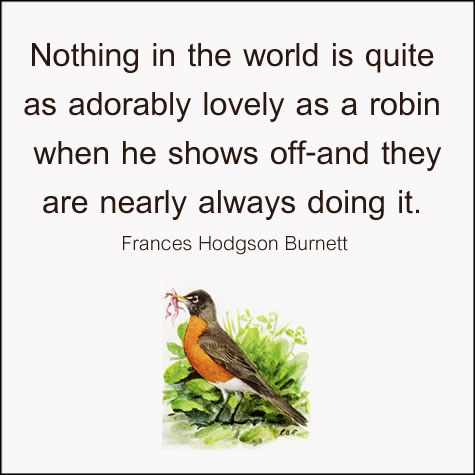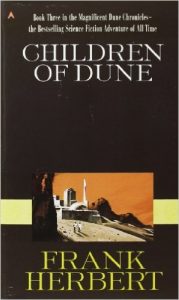 Children of Dune  by Frank Herbert is the third novel in the Dune series. Published in 1976, it was the first hardcover best-seller in the science fiction genre.
In 2003 the Sci-Fi Channel made a miniseries called Frank Herbert's Children of Dune.  The miniseries is actually an adaptation of both Dune Messiah and Children of Dune.
The book was nominated for the Hugo Award for Best Novel in 1977.  It lost to Where Late the Sweet Birds Sang by Kate Wilhelm.
The one-eyed view of our universe says you must not look far afield for problems. Such problems may never arrive. Instead, tend to the wolf within your fences. The packs ranging outside may not even exist. ~ Children of Dune by Frank Herbert
More about Children of Dune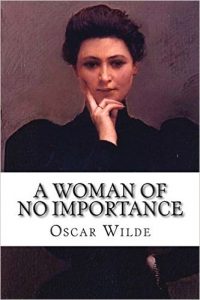 A Woman of No Importance is a play written by Oscar Wilde. The play premiered on 19 April 1893 at London's Haymarket Theatre.
The play starts at a swanky house party located at Lady Hunstanton's country estate.  It's announced that Gerald Arbuthnot has been appointed as Lord Illingworth's secretary.  Drama ensues because of a scandalous secret regarding Gerald's mother.  Will Gerald's prospects be derailed?
"Men always want to be a woman's first love. That is their clumsy vanity. We women have a more subtle instinct about things. What we like is to be a man's last romance." ~ A Woman of No Importance by Oscar Wilde
More about A Woman of No Importance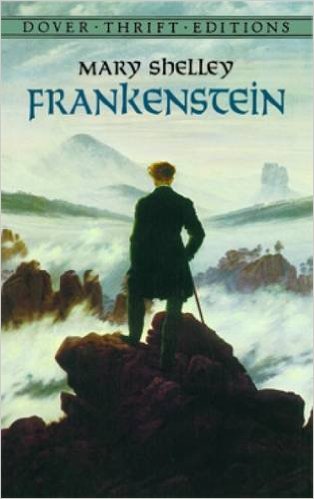 Frankenstein was written by Mary Shelley in 1816.
The summer of 1816 was dreary one because of the eruption of Mount Tambora in 1815. It adversely affected the weather and some people called 1816 "the year without a summer." That year Mary Shelley, then Mary Godwin, and her future husband, Percy Bysshe Shelley, visited Lord Byron at the Villa Diodati by Lake Geneva in Switzerland. Because of the bad weather the group ended up spending a lot of time indoors.  One of the things they did to pass the time was to read ghost stories.  That gave Byron an idea.  He proposed that they "each write a ghost story."  That challenge lead to Mary Shelley writing Frankenstein.
The first edition of the book was published anonymously in London in 1818. Shelley's name appears on the second edition, published in France in 1823.
The moon gazed on my midnight labours, while, with unrelaxed and breathless eagerness, I pursued nature to her hiding-places. ~ Frankenstein by Mary Shelley
More About Frankenstein by Mary Shelley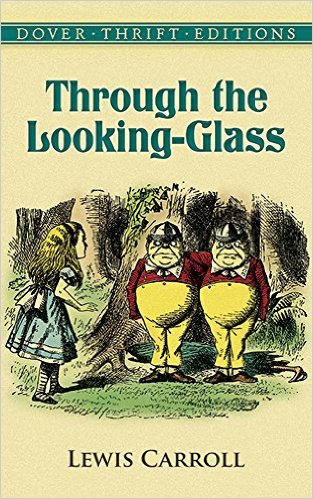 Through the Looking-Glass, and What Alice Found There by Lewis Carroll was published in 1871. The novel is a sequel to Alice's Adventures in Wonderland.
In Through the Looking-Glass Alice climbs through a mirror into another world. Characters in the book include:
Bandersnatch
Haigha (March Hare)
Hatta (The Hatter)
Humpty Dumpty
The Jabberwock
Jubjub bird
Red King
Red Queen
The Lion and the Unicorn
The Sheep
The Walrus and the Carpenter
Tweedledum and Tweedledee
White King
White Knight
White Queen
"'Well, now that we HAVE seen each other," said the Unicorn, "if you'll believe in me, I'll believe in you." ~ Through the Looking-Glass by Lewis Carroll
More about Through the Looking-Glass