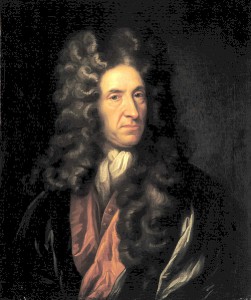 Daniel Defoe (1660 – April 24, 1731) was an English writer most famous for his novels Robinson Crusoe and Moll Flanders. Here are five facts about him that you may not know:
1 – His name at birth was Daniel Foe. He later changed his name to the more aristocratic-sounding Defoe.
2 – He lived through both the Great Plague of London (1665) and the Great Fire of London (1666).
3 – For a time he worked as a general merchant. Some of the goods he dealt with were hosiery, general woolen goods, and wine.  His business was not successful and he went bankrupt in 1692.
4 – In 1684 he married Mary Tuffley. They had eight children.
5 –  Defoe's first literary endeavors were writing political pamphlets and as a journalist.  In 1701 he wrote The True-Born Englishman.  The satirical poem defended King William III, who was Dutch, against William's enemies who pushed for "English racial purity".
Fear of danger is ten thousand times more terrifying than danger itself. ~ Robinson Crusoe by Daniel Defoe
Novels by Daniel Defoe
Robinson Crusoe
The Farther Adventures of Robinson Crusoe
Serious reflections during the life and surprising adventures of Robinson Crusoe: with his Vision of the angelick world
Memoirs of a Cavalier
Captain Singleton
A Journal of the Plague Year
Colonel Jack
Moll Flanders
Roxana: The Fortunate Mistress
A Study in Scarlet was written in 1886 by Sir Arthur Conan Doyle and published the following year.  It served as the introduction of one of the most famous characters in literature, Sherlock Holmes.
"There's the scarlet thread of murder running through the colorless skein of life, and our duty is to unravel it, and isolate it, and expose every inch of it." ~ A Study in Scarlet by Sir Arthur Conan Doyle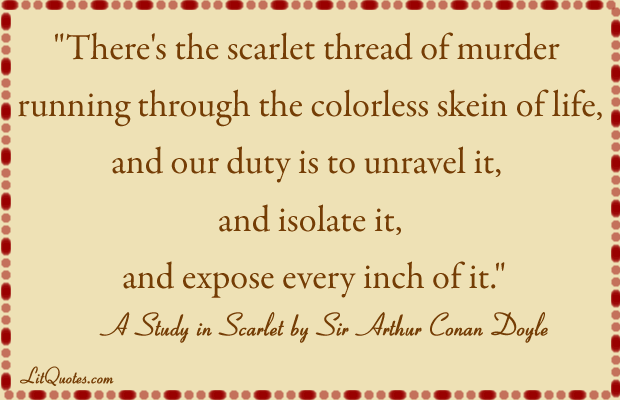 I've posted this at the LitQuotes Facebook page and the LitQuotes Twitter page in case you'd like to share the photo.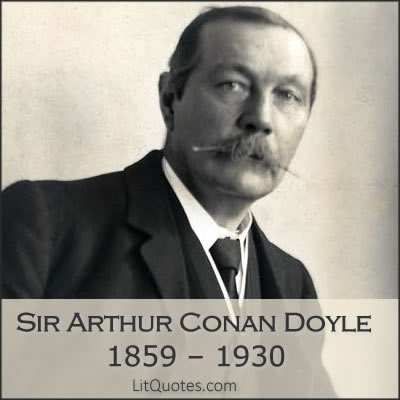 Sir Arthur Conan Doyle was born in 1859 and died in 1930.  He's best known as the creator of the Sherlock Holmes.  But here are five things about him that you may not know.
1 – Conan Doyle was a physician.  He attended the University of Edinburgh Medical School and graduated in 1881 with a Bachelor of Medicine and Mastery of Surgery.
2 – He worked as a ship's surgeon on a whaling vessel.
3 – Conan Doyle was not knighted for his Sherlock Holmes stories.  The War in South Africa: Its Causes and Conduct caught the eye of the monarchy.  In it, Conan Doyle comes to Great Britain's defense against charges of war crimes in the Boer War.
4 – George Edalji was an innocent man convicted of mutilating and killing livestock.  Who helped him prove his innocence?  The case was solved by Arthur Conan Doyle.  Sir Arthur solved two real-life crime cases, the George Edalji case and the Oscar Slater case.
5 – Conan Doyle believed in Spiritualism.  It's true.  The man who created the ever-logical Sherlock Holmes believed in spirits and things like automatic writing.
You can learn more about all of these subjects at our partner site, Conan Doyle Info.  As the site says, Sherlock Holmes is just the beginning.
Partial List of Work by Conan Doyle
A Study in Scarlet
Micah Clarke
The Mystery of Cloomber
The Sign of the Four
The Firm of Girdlestone
The White Company
The Doings of Raffles Haw
The Great Shadow
The Refugees
The Parasite
The Stark Munro Letters
Rodney Stone
Uncle Bernac
The Tragedy of the Korosko
A Duet, with an Occasional Chorus
The Hound of the Baskervilles
Sir Nigel
The Lost World
The Poison Belt
The Valley of Fear
The Land of Mist
The Maracot Deep
More Information about Sir Arthur Conan Doyle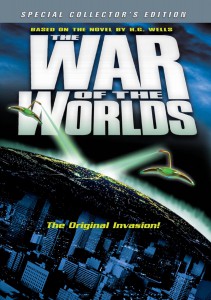 The War of the Worlds,  by H. G. Wells, was written between 1895 and 1897.   It was first serialized in 1897 and was published in hardcover the next year.
I wasn't aware of this but the 1953 version of War of the Worlds, based on the H. G. Wells book of the same name,  was re-released in 2005.   Gene Barry.  Ann Robinson.  Byron Haskin. All I need is some popcorn and I'm set!
Quotes from the book The War of the Worlds by H. G. Wells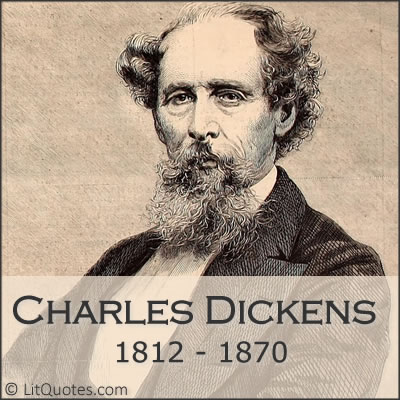 Charles Dickens was born on February 7, 1812 and died in 1870.  He's the author of A Christmas Carol, Great Expectations and other classic novels.  Now here are some things you may not know about Charles Dickens.
1 – As a child, his family was always on the verge of economic collapse. Everything fell apart for the family in 1827. Dickens' father was sent the Marshalsea debtors' prison and young Charles was sent to work in Warren's Blacking Factory. These incidents would haunt Dickens for the rest of his life.
2 – Dickens worked as law clerk, a court stenographer and even contemplated becoming an actor. Luckily for us, Dickens was ill on the day of his audition at the Lyceum Theater and couldn't go. Can you imagine a life without Scrooge?  If Dickens, who was a talented actor, had attended his audition he might not have written A Christmas Carol.
3 – In his early writing he called himself Boz. Boz? You see, one of his favorite characters in Goldsmith's Vicar of Wakefield was called Moses. Moses became Boses which became Boz.
4 – Dickens married Catherine Hogarth in 1835. There were some happy years, but in 1958 they were legally separated. One of the reasons for the separation was Dickens' interest in the actress, Ellen Ternan.
Dickens met Ellen in 1857. Matters came to a head the next year when a bracelet that Dickens bought as a present for Ellen was accidentally delivered to the Dickens household. In a scene straight from a soap opera, Catherine discovered the bracelet and accused Charles of having an affair.
5 – One of the most fascinating aspects of Charles Dickens is that he understood the power of the media. Yes, even in the Victorian Era people had to worry about the press. In September of 1860, behind his home at Gad's Hill Place, Charles Dickens tried to cover his tracks. He gathered "the accumulated letters and papers of twenty years" and set them ablaze in his backyard. What could we have learned had he not taken this action? We'll never know.
More About Charles Dickens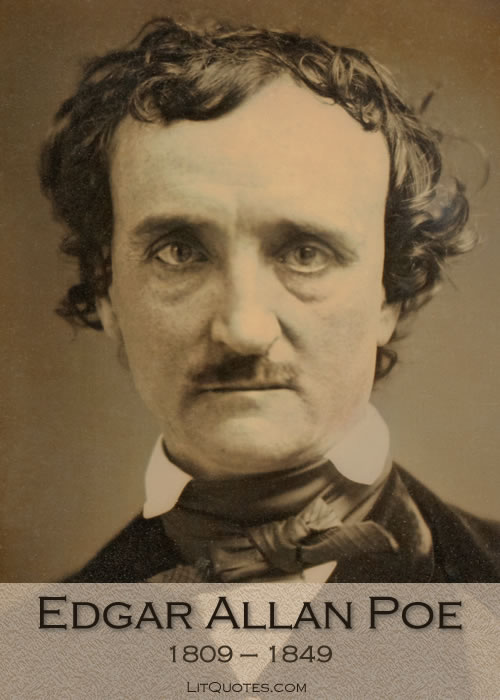 You may know that Edgar Allan Poe wrote The Raven and The Fall of the House of Usher but did you know that . . .
1 – Edgar Allan Poe was born on January 19, 1809 in Boston.  He died on October 7, 1849.
2 – His parents were both actors. In fact, Poe may have been named after a character in King Lear. His parents performed the play the year of Poe's birth.
3 – Poe's father abandoned the family in 1810. Sadly, Poe's mother passed away in 1811. Edgar was raised by John and Frances Allan of Richmond, Virginia.
4 – In 1835 Poe married Virginia Clemm, his first cousin.  She was thirteen-year-old at the time.  They remained married until her death in 1847.
5 – Edgar Allan Poe is considered to be the inventor of the detective fiction genre because of his work, The Murders in the Rue Morgue.
6 – Poe died in 1849 at the age of 40. The cause of his death is a mystery. Theories about the matter include alcohol, carbon monoxide poisoning, suicide and even rabies.
Partial List of Poe's Work
The Cask of Amontillado
A Descent into the Maelstrom
The Facts in the Case of M. Valdemar
The Fall of the House of Usher
The Gold-Bug
Hop-Frog
The Imp of the Perverse
Ligeia
The Masque of the Red Death
Morella
The Murders in the Rue Morgue
The Oval Portrait
The Pit and the Pendulum
The Premature Burial
The Purloined Letter
The System of Doctor Tarr and Professor Fether
The Tell-Tale Heart
More Edgar Allan Poe Information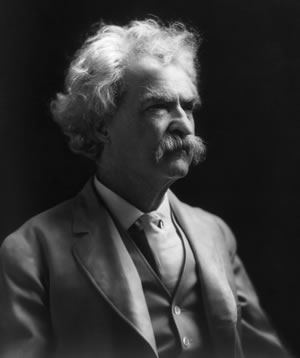 1 – Mark Twain, whose real name was Samuel Langhorne Clemens, was born on November 30th 1835. He died on April 21st, 1910.
2 – For a time he worked as a riverboat pilot on the Mississippi River. He also worked as a newspaper journalist and a miner before he turned to writing fiction.
3 – While he was well paid as a writer, he was plagued with financial problems. One of his biggest problems was bad investments. He lost a lot of money with his investment in Paige Compositor, a mechanical typesetter. Twain eventually declared bankruptcy. However later he paid back all of his creditors.
4 – He married Olivia Landon in 1870. They remained together until her death in 1904. They had four children.
5 – Twain was born shortly after a visit by Halley's Comet. He told people that he would "go out with it" as well. Here's a quote from Twain in 1909.
I came in with Halley's Comet in 1835. It is coming again next year, and I expect to go out with it. It will be the greatest disappointment of my life if I don't go out with Halley's Comet. The Almighty has said, no doubt: 'Now here are these two unaccountable freaks; they came in together, they must go out together'.
Twain predicted correctly. He died the day after the comet's return.
Novels by Mark Twain
The Gilded Age: A Tale of Today
The Adventures of Tom Sawyer
The Prince and the Pauper
Adventures of Huckleberry Finn
A Connecticut Yankee in King Arthur's Court
The American Claimant
The Tragedy of Pudd'nhead Wilson
Tom Sawyer Abroad
Personal Recollections of Joan of Arc
Tom Sawyer, Detective
The Mysterious Stranger (published posthumously)
More about Mark Twain
It's October 1st!  Halloween is coming!
The Call of Cthulhu was written by H. P. Lovecraft in 1926. It was first published in 1928, in the magazine Weird Tales.
We live on a placid island of ignorance in the midst of black seas of infinity, and it was not meant that we should voyage far. ~ The Call of Cthulhu by H. P. Lovecraft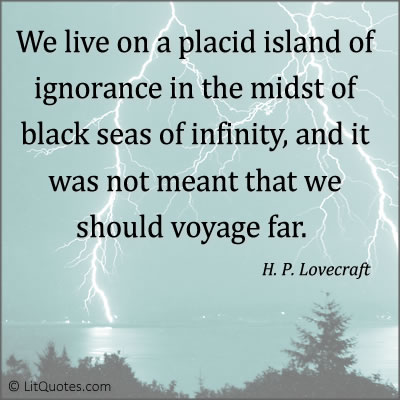 Feel free to share this quote photo with others.  I've posted this quote photo on the LitQuotes Facebook page as well as the LitQuotes Google Plus page to make that easy.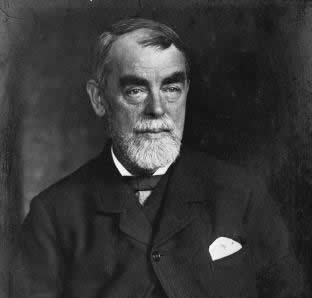 Samuel Butler, the author of Erewhon and The Way of All Flesh was born in December of 1835.
He was born 

in the village of 

Langar in 

England.

He didn't get along well with his parents.  He found the relationship with his father particularly troubling.  He noted of his father that,

"He never liked me, nor I him; from my earliest recollections I can call to mind no time when I did not fear him and dislike him…. I have never passed a day without thinking of him many times over as the man who was sure to be against me."

Butler graduated from Cambridge in 1858.
After his graduation, Samuel's father wanted him to become a priest.  However a crisis of faith lead Samuel down a different path.  He emigrated to New Zealand and raised sheep instead.  He returned to England in 1864.

Butler made prose translations of the 

Iliad

 and 

Odyssey

 which remain in use to this day.

He died on June 18, 1902 in London.
The Way of All Flesh is a semi-autobiographical novel and was published posthumously.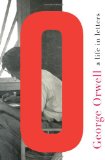 Eric Arthur Blair, who used the pen name George Orwell, was an English novelist, essayist, journalist and critic. He was born on June 25, 1903 in Motihari, India.  He died on January 21, 1950 in London.
He wrote Nineteen Eighty-Four and Animal Farm, but how much do you really know about George Orwell?  George Orwell: A Life in Letters allows us a fascinating look into the life of this complicated man.
From his school days to his tragic early death, George Orwell, who never wrote an autobiography, chronicled the dramatic events of his turbulent life in a profusion of powerful letters. Indeed, one of the twentieth century's most revered icons was a lively, prolific correspondent who developed in rich, nuanced dispatches the ideas that would influence generations of writers and intellectuals.

Over the course of a lifetime, Orwell corresponded with hundreds of people, including many distinguished political and artistic figures. Witty, personal, and profound, the letters tell the story of Orwell's passionate first love that ended in devastation and explains how young Eric Arthur Blair chose the pseudonym "George Orwell." In missives to luminaries such as T. S. Eliot, Stephen Spender, Arthur Koestler, Cyril Connolly, and Henry Miller, he spells out his literary and philosophical beliefs.

Combined with rare photographs and hand-drawn illustrations, George Orwell: A Life in Letters offers "everything a reader new to Orwell needs to know…and a great deal that diehard fans will be enchanted to have" (New Statesmen).