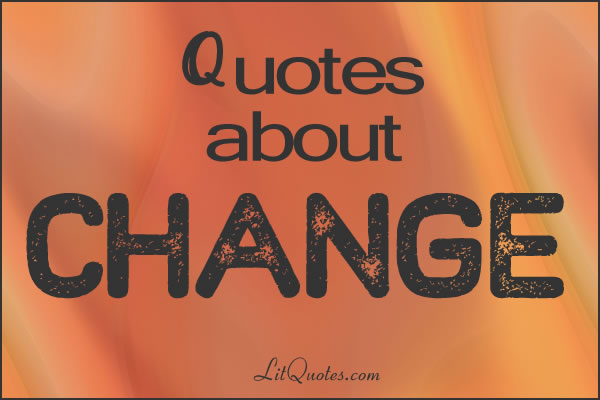 Till we can become divine we must be content to be human, lest in our hurry for change we sink to something lower. ~ Barchester Towers by Anthony Trollope
"There is no such thing as Death, though there be a thing called Change." ~ She by H. Rider Haggard
"I'm not a bit changed–not really. I'm only just pruned down and branched out. The real ME–back here–is just the same." ~ Anne of Green Gables by Lucy Maud Montgomery
Yet birth, and lust, and illness, and death are changeless things, and when one of these harsh facts springs out upon a man at some sudden turn of the path of life, it dashes off for the moment his mask of civilization and gives a glimpse of the stranger and stronger face below. ~ The Curse of Eve by Sir Arthur Conan Doyle
"The natur o' things doesn't change, though it seems as if one's own life was nothing but change. The square o' four is sixteen, and you must lengthen your lever in proportion to your weight, is as true when a man's miserable as when he's happy; and the best o' working is, it gives you a grip hold o' things outside your own lot." ~ Adam Bede by George Eliot
"It is a law of nature we overlook, that intellectual versatility is the compensation for change, danger, and trouble." ~ The Time Machine by H. G. Wells
"Men's courses will foreshadow certain ends, to which, if persevered in, they must lead," said Scrooge. "But if the courses be departed from, the ends will change. Say it is thus with what you show me!" ~ A Christmas Carol by Charles Dickens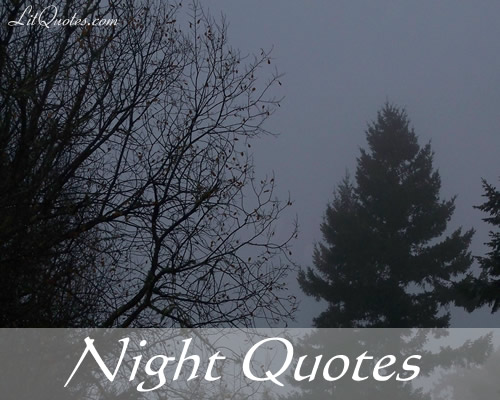 No man knows till he has suffered from the night how sweet and dear to his heart and eye the morning can be. ~ Dracula by Bram Stoker
"The owl, night's herald." ~ Venus and Adonis by William Shakespeare
They never pulled the curtains till it was too dark to see, nor shut the windows till it was too cold. Why shut out the day before it was over? The flowers were still bright; the birds chirped. You could see more in the evening often when nothing interrupted, when there was no fish to order, no telephone to answer. ~ Between the Acts by Virginia Woolf
The longest way must have its close,—the gloomiest night will wear on to a morning. ~ Uncle Tom's Cabin by Harriet Beecher Stowe
In the dead vast and middle of the night. ~ Hamlet, Prince of Denmark by William Shakespeare
At the enchanted metropolitan twilight I felt a haunting loneliness sometimes, and felt it in others–poor young clerks who loitered in front of windows waiting until it was time for a solitary restaurant dinner–young clerks in the dusk, wasting the most poignant moments of night and life. ~ The Great Gatsby by F. Scott Fitzgerald
The cool peace and dewy sweetness of the night filled me with a mood of hope: not hope on any definite point, but a general sense of encouragement and heart-ease. ~ Villette by Charlotte Bronte
Night, the mother of fear and mystery, was coming upon me. ~ The War of the Worlds by H. G. Wells
Once upon a midnight dreary, while I pondered, weak and weary,
Over many a quaint and curious volume of forgotten lore– ~ The Raven by Edgar Allan Poe
With a fierce action of her hand, as if she sprinkled hatred on the ground, and with it devoted those who were standing there to destruction, she looked up once at the black sky, and strode out into the wild night. ~ Dombey and Son by Charles Dickens
Leonard looked at her wondering, and had the sense of great things sweeping out of the shrouded night. But he could not receive them, because his heart was still full of little things. ~ Howards End by E. M. Forster
And when, on the still cold nights, he pointed his nose at a star and howled long and wolflike, it was his ancestors, dead and dust, pointing nose at star and howling down through the centuries and through him. ~ The Call of the Wild by Jack London
"Lead on!" said Scrooge. "Lead on! The night is waning fast, and it is precious time to me, I know. Lead on, Spirit!" ~ A Christmas Carol by Charles Dickens
"Good night, sweet prince, and flights of angels sing thee to thy rest!" ~ Hamlet, Prince of Denmark by William Shakespeare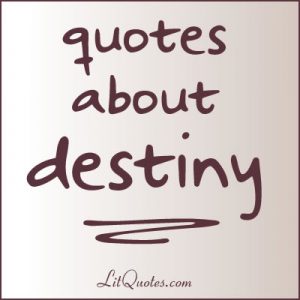 History is a wheel, for the nature of man is fundamentally unchanging. What has happened before will perforce happen again. ~ A Feast for Crows by George R. R. Martin
Can we outrun the heavens? ~ Henry VI, Part Two by William Shakespeare
Were we no better than chessmen, moved by an unseen power, vessels the potter fashions at his fancy, for honour or for shame? ~ Lord Arthur Savile's Crime by Oscar Wilde
Destiny has a constant passion for the incongruous. ~ The Magnificent Ambersons by Booth Tarkington
But often the great cat Fate lets us go only to clutch us again in a fiercer grip. ~ The Curse of Eve by Sir Arthur Conan Doyle
"This whole act's immutably decreed. 'Twas rehearsed by thee and me a billion years before this ocean rolled. Fool! I am the Fates' lieutenant; I act under orders." ~ Moby Dick by Herman Melville
"Men's courses will foreshadow certain ends, to which, if persevered in, they must lead," said Scrooge. "But if the courses be departed from, the ends will change. Say it is thus with what you show me!" ~ A Christmas Carol by Charles Dickens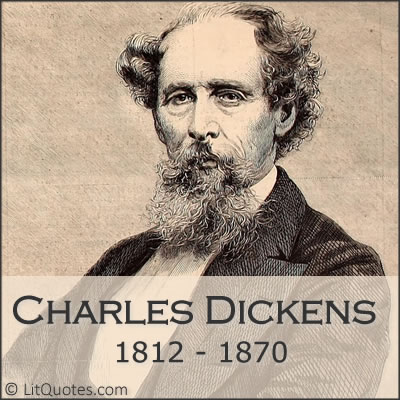 Charles Dickens was born on February 7, 1812 and died in 1870.  He's the author of A Christmas Carol, Great Expectations and other classic novels.  Now here are some things you may not know about Charles Dickens.
1 – As a child, his family was always on the verge of economic collapse. Everything fell apart for the family in 1827. Dickens' father was sent the Marshalsea debtors' prison and young Charles was sent to work in Warren's Blacking Factory. These incidents would haunt Dickens for the rest of his life.
2 – Dickens worked as law clerk, a court stenographer and even contemplated becoming an actor. Luckily for us, Dickens was ill on the day of his audition at the Lyceum Theater and couldn't go. Can you imagine a life without Scrooge?  If Dickens, who was a talented actor, had attended his audition he might not have written A Christmas Carol.
3 – In his early writing he called himself Boz. Boz? You see, one of his favorite characters in Goldsmith's Vicar of Wakefield was called Moses. Moses became Boses which became Boz.
4 – Dickens married Catherine Hogarth in 1835. There were some happy years, but in 1958 they were legally separated. One of the reasons for the separation was Dickens' interest in the actress, Ellen Ternan.
Dickens met Ellen in 1857. Matters came to a head the next year when a bracelet that Dickens bought as a present for Ellen was accidentally delivered to the Dickens household. In a scene straight from a soap opera, Catherine discovered the bracelet and accused Charles of having an affair.
5 – One of the most fascinating aspects of Charles Dickens is that he understood the power of the media. Yes, even in the Victorian Era people had to worry about the press. In September of 1860, behind his home at Gad's Hill Place, Charles Dickens tried to cover his tracks. He gathered "the accumulated letters and papers of twenty years" and set them ablaze in his backyard. What could we have learned had he not taken this action? We'll never know.
More About Charles Dickens
Is someone on your holiday shopping list a fan of Charles Dickens?  If so, may I humbly suggest you visit the Charles Dickens section of the LitQuotes Gift Shop.  One of the most popular items in the Charles Dickens section is the Novels of Charles Dickens mug.   One side features the image of the ever-popular author  of A Christmas Carol.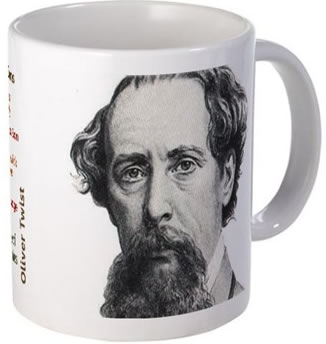 The other side lists the titles of his novels.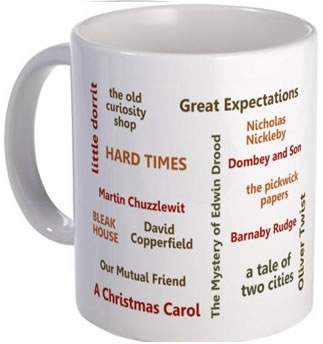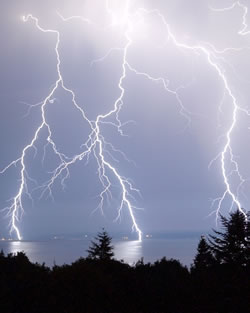 Charles Dickens (1812 to 1870) is possibly best known for A Christmas Carol.  However that's not his only work that features ghostly phrasings.  Here are five quotes from other works to give you a pre-Halloween thrill.
"I will die here where I have walked. And I will walk here, though I am in my grave. I will walk here until the pride of this house is humbled." ~ Bleak House by Charles Dickens
I saw that the bride within the bridal dress had withered like the dress, and like the flowers, and had no brightness left but the brightness of her sunken eyes. ~ Great Expectations by Charles Dickens
"I have heard it said that as we keep our birthdays when we are alive, so the ghosts of dead people, who are not easy in their graves, keep the day they died upon." ~ Barnaby Rudge by Charles Dickens
Around and around the house the leaves fall thick, but never fast, for they come circling down with a dead lightness that is sombre and slow. ~ Bleak House by Charles Dickens
There was a frosty rime upon the trees, which, in the faint light of the clouded moon, hung upon the smaller branches like dead garlands. ~ The Battle of Life by Charles Dickens
You May Also Be Interested In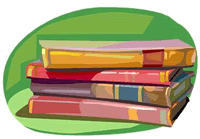 Morning made a considerable difference in my general prospect of Life, and brightened it so much that it scarcely seemed the same. ~  Great Expectations by Charles Dickens
"Self-love, my liege, is not so vile a sin, As self-neglecting." ~  Henry V by William Shakespeare
"Would the world ever have been made if its maker had been afraid of making trouble? Making life means making trouble." ~ Pygmalion by George Bernard Shaw
The mind is its own place, and in it self
Can make a Heaven of Hell, a Hell of Heaven. ~ Paradise Lost by John Milton
"Next to trying and winning, the best thing is trying and failing." ~ Anne of Green Gables by Lucy Maud Montgomery
The world is a looking-glass, and gives back to every man the reflection of his own face. Frown at it, and it will in turn look sourly upon you; laugh at it and with it, and it is a jolly kind companion; and so let all young persons take their choice. ~ Vanity Fair by William Makepeace Thackeray
Conventionality is not morality. Self-righteousness is not religion. To attack the first is not to assail the last. ~ Jane Eyre by Charlotte Bronte
"We learn from failure, not from success!" ~  Dracula by Bram Stoker
It is a fair, even-handed, noble adjustment of things, that while there is infection in disease and sorrow, there is nothing in the world so irresistibly contagious as laughter and good-humour. ~  A Christmas Carol by Charles Dickens
"This above all,–to thine own self be true; and it must follow, as the night the day, thou canst not then be false to any man." ~  Hamlet, Prince of Denmark by William Shakespeare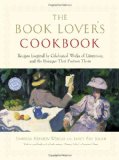 I was browsing through Amazon.com and was happily surprised to find The Book Lover's Cookbook: Recipes Inspired by Celebrated Works of Literature.  You can be sure that I've added it to my wish list!  It combines two of may favorite things, cooking and reading.
Wake up to a perfect breakfast with Mrs. Dalby's Buttermilk Scones, courtesy of James Herriot's All Things Bright and Beautiful and Ichabod's Slapjacks, as featured in Washington Irving's The Legend of Sleepy Hollow. There's homey comfort food like Connie May's Tomato Pie, created with and inspired by Connie May Fowler (Remembering Blue); Thanksgiving Spinach Casserole (Elizabeth Berg's Open House); and Amish Chicken and Dumplings (Jodi Picoult's Plain Truth) . . . Sample salads, breads, and such soul-warming soups as Nearly-a-Meal Potato Soup (Terry Kay's Shadow Song); Mr. Casaubon's Chicken Noodle Soup (George Eliot's Middlemarch); and Mrs. Leibowitz's Lentil-Vegetable Soup (Frank McCourt's Angela's Ashes) . . . After relishing appetizers and entrees, there's a dazzling array of desserts, including Carrot Pudding (Charles Dickens's A Christmas Carol); Effie Belle's Coconut Cake (Olive Ann Burns's Cold Sassy Tree); and the kids will love C.S. Lewis's Turkish Delight from The Lion, The Witch, and the Wardrobe.

Sprinkled throughout with marvelous anecdotes about writers and writing, The Book Lover's Cookbook is a culinary and literary delight, a browser's cornucopia of reading pleasure, and a true inspiration in the kitchen.
Some of the Recipes and the Books that Inspired Them
Jo's Best Omelette . . . Little Women by Louisa May Alcott
No Dieter's Delight Chicken Neapolitan . . . Thinner by Stephen King
Extra-Special Rhubarb Pie . . . The Persian Pickle Club by Sandra Dallas
Grand Feast Crab Meat Casserole . . . At Home in Mitford by Jan Karon
Persian Cucumber and Yogurt . . . House of Sand and Fog by Andre Dubus III
Tamales . . . Like Water for Chocolate by Laura Esquivel
Bev's No-Fuss Crab Cakes . . . Unnatural Exposure by Patricia Cornwell
Macaroni and Cheese . . . The Accidental Tourist by Anne Tyler
Veteran Split Pea Soup . . . The Red Badge of Courage by Stephen Crane
Alternative Carrot-Raisin-Pineapple Salad . . . Midwives by Chris Bohjalian
Summer's Day Cucumber-Tomato Sandwiches . . . Women in Love by D. H. Lawrence
Refreshing Black Cows . . . The Book of Ruth by Jane Hamilton
Dump Punch . . . Pride and Prejudice by Jane Austen
Not Violet, But Blueberry Pie . . . Charlie and the Chocolate Factory by Roald Dahl
Innocent Sweet Bread . . . The Bluest Eye by Toni Morrison
Daddy's Rich Chocolate Cake . . . Fatherhood by Bill Cosby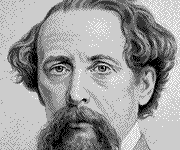 Today marks the 201st anniversary of the birth of Charles Dickens.  To mark the event I thought I'd share 10 of my favorite Dickens quotes:
Heaven knows we need never be ashamed of our tears, for they are rain upon the blinding dust of earth, overlying our hard hearts. ~  Great Expectations
At last, in the dead of the night, when the street was very still indeed, Little Dorrit laid the heavy head upon her bosom, and soothed her to sleep. And thus she sat at the gate, as it were alone; looking up at the stars, and seeing the clouds pass over them in their wild flight–which was the dance at Little Dorrit's party. ~  Little Dorrit
"If you could see my legs when I take my boots off, you'd form some idea of what unrequited affection is."  ~  Dombey and Son
"It's in vain, Trot, to recall the past, unless it works some influence upon the present."  ~  David Copperfield
All other swindlers upon earth are nothing to the self-swindlers, and with such pretences did I cheat myself. Surely a curious thing. That I should innocently take a bad half-crown of somebody else's manufacture, is reasonable enough; but that I should knowingly reckon the spurious coin of my own make, as good money!  ~  Great Expectations
"You may be an undigested bit of beef, a blot of mustard, a crumb of cheese, a fragment of underdone potato. There's more of gravy than of grave about you, whatever you are!" ~  A Christmas Carol
It was the best of times, it was the worst of times, it was the age of wisdom, it was the age of foolishness, it was the epoch of belief, it was the epoch of incredulity, it was the season of light, it was the season of darkness, it was the spring of hope, it was the winter of despair, we had everything before us, we had nothing before us, we were all going direct to heaven, we were all going direct the other way–in short, the period was so far like the present period, that some of its noisiest authorities insisted on its being received, for good or for evil, in the superlative degree of comparison only. ~  A Tale of Two Cities
Annual income twenty pounds, annual expenditure nineteen nineteen and six, result happiness. Annual income twenty pounds, annual expenditure twenty pounds ought and six, result misery. ~  David Copperfield
"Its matter was not new to me, but was presented in a new aspect. It shook me in my habit – the habit of nine-tenths of the world – of believing that all was right about me, because I was used to it." ~  Dombey and Son
"No one is useless in this world," retorted the Secretary, "who lightens the burden of it for any one else." ~  Our Mutual Friend
You might also enjoy these Dickens resources:
May 2013 bring you . . . .
They seemed to come suddenly upon happiness as if they had surprised a butterfly in the winter woods. ~  Ethan Frome by Edith Wharton
"Friendship, I fancy, means one heart between two." ~  Diana of the Crossways by George Meredith
Her love was entire as a child's, and though warm as summer it was fresh as spring. ~ Far From The Madding Crowd by Thomas Hardy
It is a fair, even-handed, noble adjustment of things, that while there is infection in disease and sorrow, there is nothing in the world so irresistibly contagious as laughter and good-humour. ~  A Christmas Carol by Charles Dickens