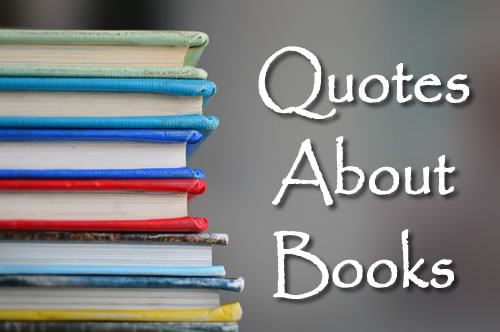 "Sleep is good," he said. "And books are better." ~ A Clash of Kings by George R. R. Martin
One bright day in the last week of February, I was walking in the park, enjoying the threefold luxury of solitude, a book, and pleasant weather. ~ Agnes Grey by Anne Bronte
"Books are the mirrors of the soul." ~ Between the Acts by Virginia Woolf
He who studies old books will always find in them something new, and he who reads new books will always find in them something old. ~ The Coming Race by Edward Bulwer-Lytton
"A reader lives a thousand lives before he dies," said Jojen. "The man who never reads lives only one." ~ A Dance with Dragons by George R. R. Martin
Every page of every book was a peep-hole into the realm of knowledge. His hunger fed upon what he read, and increased. ~ Martin Eden by Jack London
"The proper study of mankind is books." ~ Crome Yellow by Aldous Huxley
"It's all very well to read about sorrows and imagine yourself living through them heroically, but it's not so nice when you really come to have them, is it?" ~ Anne of Green Gables by Lucy Maud Montgomery
A mind needs books as a sword needs a whetstone, if it is to keep its edge. ~ A Game of Thrones by George R. R. Martin
"Be a good boy, remember; and be kind to animals and birds, and read all you can." ~ Jude the Obscure by Thomas Hardy
With fake news running wild, how do we know what's true? Here's what William Shakespeare, Herman Melville, George R. R. Martin and others have to say.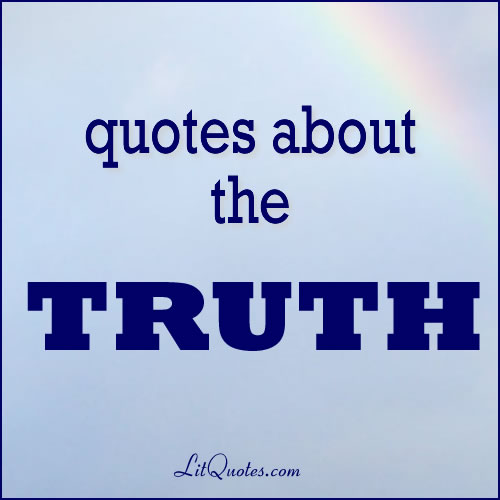 There was a great historian lost in Wolverstone. He had the right imagination that knows just how far it is safe to stray from the truth and just how far to colour it so as to change its shape for his own purposes. ~ Captain Blood by Rafael Sabatini
"Truth is like a thrashing-machine; tender sensibilities must keep out of the way." ~ The Confidence-Man by Herman Melville
You'll find truth in your looking glass, not on the tongues of men. ~ A Feast for Crows by George R. R. Martin
Being in a minority, even a minority of one, did not make you mad. There was truth and there was untruth, and if you clung to the truth even against the whole world, you were not mad. ~ Nineteen Eighty-Four by George Orwell
"It is an old maxim of mine that when you have excluded the impossible, whatever remains, however improbable, must be the truth." ~ The Adventure of the Beryl Coronet by Sir Arthur Conan Doyle
"Journalists say a thing that they know isn't true, in the hope that if they keep on saying it long enough it will be true." ~ The Title by Arnold Bennett
People often claim to hunger for truth, but seldom like the taste when it's served up. ~ A Clash of Kings by George R. R. Martin
"I make no manner of doubt that you threw a very diamond of truth at me, though you see it hit me so directly in the face that it wasn't exactly appreciated, at first." ~ Uncle Tom's Cabin by Harriet Beecher Stowe
Truth is tough. It will not break, like a bubble, at a touch; nay, you may kick it about all day, like a football, and it will be round and full at evening. ~ The Professor at the Breakfast Table by Oliver Wendell Holmes, Sr.
"For truth is truth to the end of reckoning." ~ Measure for Measure by William Shakespeare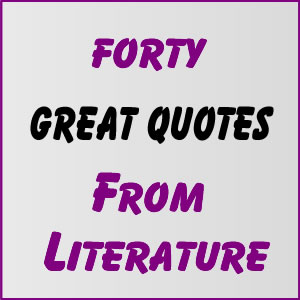 Need some advice or perspective?  Here are 40 great quotes from literature that may help.  These are some of our favorites from our words of wisdom quote collection.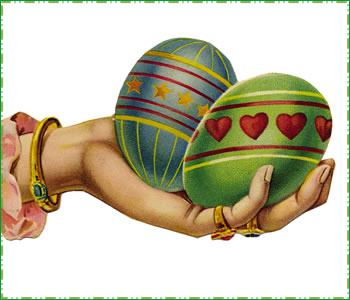 First of all, for those of you that celebrate the holiday, Happy Easter!
Secondly, I've added new quotes to the site. We're now over 2,500 quotes! If you have a quote that you'd like to see added to the site, you can submit your quote here.
Power resides where men believe it resides. No more and no less. ~ A Clash of Kings by George R. R. Martin
My civilization is not even skin deep—it does not go deeper than my clothes. ~ The Return of Tarzan by Edgar Rice Burroughs
We have only one story. All novels, all poetry, are built on the never-ending contest in ourselves of good and evil. ~ East of Eden by John Steinbeck
He lives, then, on ginger-nuts, thought I; never eats a dinner, properly speaking; he must be a vegetarian then; but no; he never eats even vegetables, he eats nothing but ginger-nuts. My mind then ran on in reveries concerning the probable effects upon the human constitution of living entirely on ginger-nuts. ~ Bartleby, the Scrivener by Herman Melville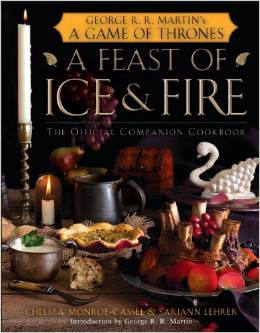 I stumbled upon this on the Amazon website and couldn't believe my eyes. There's an official cookbook for A Game of Thrones?  Yes, there is!
It also has some good reviews.  At the moment it has 4.8 out of 5 stars with 312 reviews. That's not too shabby.
"The combination of headnotes and recipes [in A Feast of Ice and Fire] almost reaches the Elizabeth David level of 'put down this book, get out of bed and start cooking.' … And with their adherence to the imagined geography of Westeros, the authors also might actually outdo Alice Waters in local and seasonal cooking." -Newsweek
"Sleep is good," he said. "And books are better." – A Clash of Kings by George R. R. Martin