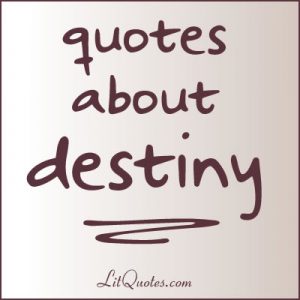 History is a wheel, for the nature of man is fundamentally unchanging. What has happened before will perforce happen again. ~ A Feast for Crows by George R. R. Martin
Can we outrun the heavens? ~ Henry VI, Part Two by William Shakespeare
Were we no better than chessmen, moved by an unseen power, vessels the potter fashions at his fancy, for honour or for shame? ~ Lord Arthur Savile's Crime by Oscar Wilde
Destiny has a constant passion for the incongruous. ~ The Magnificent Ambersons by Booth Tarkington
But often the great cat Fate lets us go only to clutch us again in a fiercer grip. ~ The Curse of Eve by Sir Arthur Conan Doyle
"This whole act's immutably decreed. 'Twas rehearsed by thee and me a billion years before this ocean rolled. Fool! I am the Fates' lieutenant; I act under orders." ~ Moby Dick by Herman Melville
"Men's courses will foreshadow certain ends, to which, if persevered in, they must lead," said Scrooge. "But if the courses be departed from, the ends will change. Say it is thus with what you show me!" ~ A Christmas Carol by Charles Dickens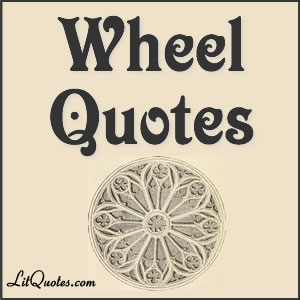 History is a wheel, for the nature of man is fundamentally unchanging. What has happened before will perforce happen again. ~ A Feast for Crows by George R. R. Martin
Insanity is often the logic of an accurate mind overtasked. Good mental machinery ought to break its own wheels and levers, if anything is thrust among them suddenly which tends to stop them or reverse their motion. A weak mind does not accumulate force enough to hurt itself; stupidity often saves a man from going mad. ~ The Autocrat of the Breakfast Table by Oliver Wendell Holmes, Sr.
"The world is a wheel, and it will all come round right." ~ Endymion by Benjamin Disraeli
Laughter and tears are meant to turn the wheels of the same machinery of sensibility; one is wind-power, and the other water-power; that is all. ~ The Autocrat of the Breakfast Table by Oliver Wendell Holmes, Sr.

I got in one more batch of new quotes before the end of the month.  The batch has quotes from A Feast for Crows, Invictus and more.
Here are some of my favorites from the new batch. . .
The best way to be thankful is to use the goods the gods provide you. ~ The Last Chronicle of Barset by Anthony Trollope
Men of honor will do things for their children that they would never consider doing for themselves. ~ A Feast for Crows by George R. R. Martin
There is nothing perhaps so generally consoling to a man as a well-established grievance; a feeling of having been injured, on which his mind can brood from hour to hour, allowing him to plead his own cause in his own court, within his own heart,—and always to plead it successfully. ~ Orley Farm by Anthony Trollope
Love is involuntary. It does not often run in a yoke with prudence. ~ Phineas Finn by Anthony Trollope
"With no intention to take offence, I deny your right to put words into my mouth." ~ Treasure Island by Robert Louis Stevenson
Out of the night that covers me,
Black as the pit From pole to pole,
I thank whatever gods may be
For my unconquerable soul. ~ Invictus by William Ernest Henley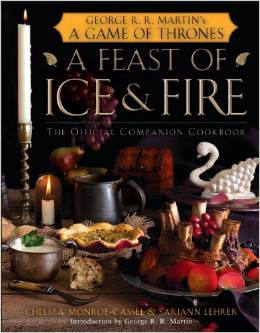 I stumbled upon this on the Amazon website and couldn't believe my eyes. There's an official cookbook for A Game of Thrones?  Yes, there is!
It also has some good reviews.  At the moment it has 4.8 out of 5 stars with 312 reviews. That's not too shabby.
"The combination of headnotes and recipes [in A Feast of Ice and Fire] almost reaches the Elizabeth David level of 'put down this book, get out of bed and start cooking.' … And with their adherence to the imagined geography of Westeros, the authors also might actually outdo Alice Waters in local and seasonal cooking." -Newsweek
"Sleep is good," he said. "And books are better." – A Clash of Kings by George R. R. Martin