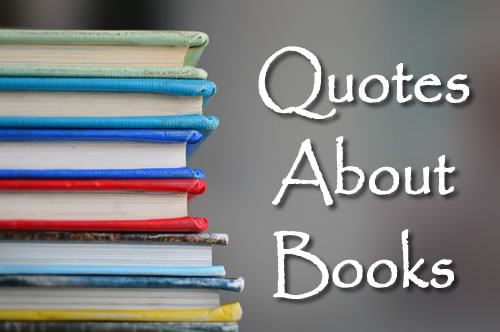 "Sleep is good," he said. "And books are better." ~ A Clash of Kings by George R. R. Martin
One bright day in the last week of February, I was walking in the park, enjoying the threefold luxury of solitude, a book, and pleasant weather. ~ Agnes Grey by Anne Bronte
"Books are the mirrors of the soul." ~ Between the Acts by Virginia Woolf
He who studies old books will always find in them something new, and he who reads new books will always find in them something old. ~ The Coming Race by Edward Bulwer-Lytton
"A reader lives a thousand lives before he dies," said Jojen. "The man who never reads lives only one." ~ A Dance with Dragons by George R. R. Martin
Every page of every book was a peep-hole into the realm of knowledge. His hunger fed upon what he read, and increased. ~ Martin Eden by Jack London
"The proper study of mankind is books." ~ Crome Yellow by Aldous Huxley
"It's all very well to read about sorrows and imagine yourself living through them heroically, but it's not so nice when you really come to have them, is it?" ~ Anne of Green Gables by Lucy Maud Montgomery
A mind needs books as a sword needs a whetstone, if it is to keep its edge. ~ A Game of Thrones by George R. R. Martin
"Be a good boy, remember; and be kind to animals and birds, and read all you can." ~ Jude the Obscure by Thomas Hardy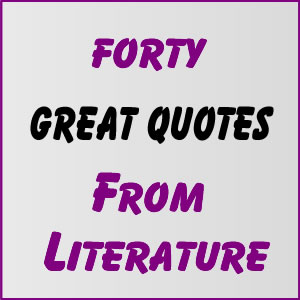 Need some advice or perspective?  Here are 40 great quotes from literature that may help.  These are some of our favorites from our words of wisdom quote collection.
Having a siesta. Taking a snooze. Getting forty winks. Heading off to slumber land. Whatever you call it, sleep is important. Here are eight quotes about sleep from literature.
"Give me honorable enemies rather than ambitious ones, and I'll sleep more easily by night." ~ A Game of Thrones by George R. R. Martin
The sigh of all the seas breaking in measure round the isles soothed them; the night wrapped them; nothing broke their sleep, until, the birds beginning and the dawn weaving their thin voices in to its whiteness. ~ To the Lighthouse by Virginia Woolf
But sleep, in the long run, proves greater than all emotions. ~ The Wendigo by Algernon Blackwood
We rose up betimes, for sleep weighs lightly on the hopeful as well as on the anxious. ~ The Swiss Family Robinson by Johann D. Wyss
The day was made for laziness, and lying on one's back in green places, and staring at the sky till its brightness forced one to shut one's eyes and go to sleep. ~ The Old Curiosity Shop by Charles Dickens
"O sleep, O gentle sleep, Nature's soft nurse, how have I frightened thee, that thou no more will weigh my eyelids down, and steep my senses in forgetfulness?" ~ Henry IV, Part Two by William Shakespeare
It was the forty-fathom slumber that clears the soul and eye and heart, and sends you to breakfast ravening. ~ Captains Courageous by Rudyard Kipling
How blessed are some people, whose lives have no fears, no dreads, to whom sleep is a blessing that comes nightly, and brings nothing but sweet dreams. ~ Dracula by Bram Stoker
See More Quotes about Sleep from Literature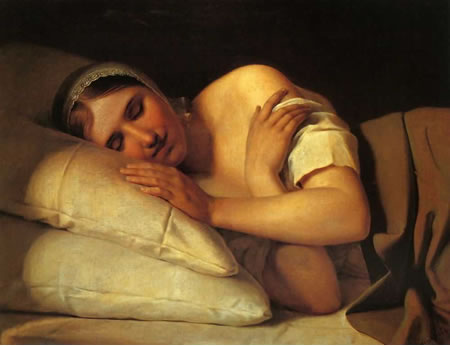 I added some new quotes to the site.  Here are some of my favorites from the new batch.  Remember that if you have a quote that you'd like to see added to the site, you can contribute a quote.
It was all very well for an Englishman like Mr. Fogg to make the tour of the world with a carpet-bag; a lady could not be expected to travel comfortably under such conditions. ~ Around the World in 80 Days by Jules Verne
"Better to put things at the worst at first," replied the engineer, "and reserve the best for a surprise." ~ The Mysterious Island by Jules Verne
A mind needs books as a sword needs a whetstone, if it is to keep its edge. ~ A Game of Thrones by George R. R. Martin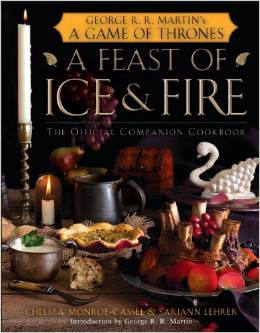 I stumbled upon this on the Amazon website and couldn't believe my eyes. There's an official cookbook for A Game of Thrones?  Yes, there is!
It also has some good reviews.  At the moment it has 4.8 out of 5 stars with 312 reviews. That's not too shabby.
"The combination of headnotes and recipes [in A Feast of Ice and Fire] almost reaches the Elizabeth David level of 'put down this book, get out of bed and start cooking.' … And with their adherence to the imagined geography of Westeros, the authors also might actually outdo Alice Waters in local and seasonal cooking." -Newsweek
"Sleep is good," he said. "And books are better." – A Clash of Kings by George R. R. Martin