I added new quotes to the site today.  The quotes are by George R. R. Martin and Anthony Trollope.  New titles included in this batch are A Storm of Swords and Framley Parsonage.
Here are some of my favorites from the new batch.  If you have a quote that you'd like to see added to the site, you can contribute a quote.
All men must die, Jon Snow. But first we'll live. ~ A Storm of Swords by George R. R. Martin
He took such high ground that there was no getting on to it. ~ The Warden by Anthony Trollope
Having a comfortable allowance from his father, he could devote the whole proceeds of his curacy to violet gloves and unexceptionable neck ties. ~ Barchester Towers by Anthony Trollope
A burden that will crush a single pair of shoulders will, when equally divided—when shared by two, each of whom is willing to take the heavier part—become light as a feather. ~ Framley Parsonage by Anthony Trollope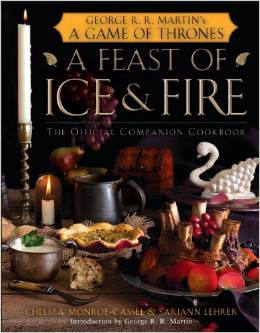 I stumbled upon this on the Amazon website and couldn't believe my eyes. There's an official cookbook for A Game of Thrones?  Yes, there is!
It also has some good reviews.  At the moment it has 4.8 out of 5 stars with 312 reviews. That's not too shabby.
"The combination of headnotes and recipes [in A Feast of Ice and Fire] almost reaches the Elizabeth David level of 'put down this book, get out of bed and start cooking.' … And with their adherence to the imagined geography of Westeros, the authors also might actually outdo Alice Waters in local and seasonal cooking." -Newsweek
"Sleep is good," he said. "And books are better." – A Clash of Kings by George R. R. Martin