A Study in Scarlet was written in 1886 by Sir Arthur Conan Doyle and published the following year.  It served as the introduction of one of the most famous characters in literature, Sherlock Holmes.
"There's the scarlet thread of murder running through the colorless skein of life, and our duty is to unravel it, and isolate it, and expose every inch of it." ~ A Study in Scarlet by Sir Arthur Conan Doyle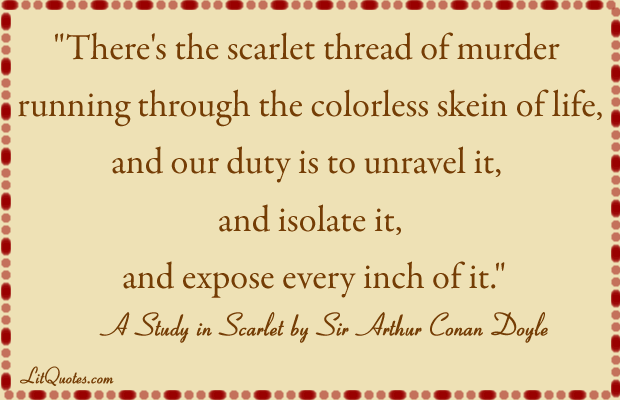 I've posted this at the LitQuotes Facebook page and the LitQuotes Twitter page in case you'd like to share the photo.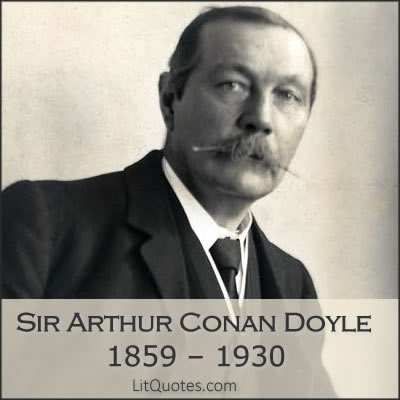 Sir Arthur Conan Doyle was born in 1859 and died in 1930.  He's best known as the creator of the Sherlock Holmes.  But here are five things about him that you may not know.
1 – Conan Doyle was a physician.  He attended the University of Edinburgh Medical School and graduated in 1881 with a Bachelor of Medicine and Mastery of Surgery.
2 – He worked as a ship's surgeon on a whaling vessel.
3 – Conan Doyle was not knighted for his Sherlock Holmes stories.  The War in South Africa: Its Causes and Conduct caught the eye of the monarchy.  In it, Conan Doyle comes to Great Britain's defense against charges of war crimes in the Boer War.
4 – George Edalji was an innocent man convicted of mutilating and killing livestock.  Who helped him prove his innocence?  The case was solved by Arthur Conan Doyle.  Sir Arthur solved two real-life crime cases, the George Edalji case and the Oscar Slater case.
5 – Conan Doyle believed in Spiritualism.  It's true.  The man who created the ever-logical Sherlock Holmes believed in spirits and things like automatic writing.
You can learn more about all of these subjects at our partner site, Conan Doyle Info.  As the site says, Sherlock Holmes is just the beginning.
Partial List of Work by Conan Doyle
More Information about Sir Arthur Conan Doyle
Out of all the tees, mugs, cards and other merchandise in the LitQuotes gift shop, what's the single most popular item? It's this Sherlock Holmes themed license plate frame . . .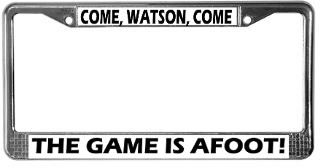 "Come, Watson, come!" he cried. The game is afoot." ~ The Adventure of Abbey Grange by Sir Arthur Conan Doyle
You also might enjoy: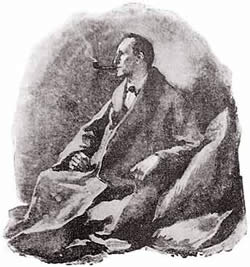 A new Sherlock Holmes novel will hit bookstores in September.  Art in the Blood is by Bonnie MacBird.  She teaches screenwriting at UCLA Extension.  MacBird is also a speaker on multiple subjects.  She's an expert on the topics of writing, creativity and of course, Sherlock Holmes.
pre-order Art in the Blood: A Sherlock Holmes Adventure
"Thoroughly entertaining … worthy of Doyle himself. … a superb, labyrinthine plot, snappy pacing and, most importantly, a deep respect for the classic characters." –Bryan Cogman, Co-Producer/Writer, HBO's Game of Thrones
Check out this fascinating YouTube video showing Sir Arthur Conan Doyle talking about how he came up with the idea for Sherlock Holmes.
Learn more about Sir Arthur Conan Doyle: