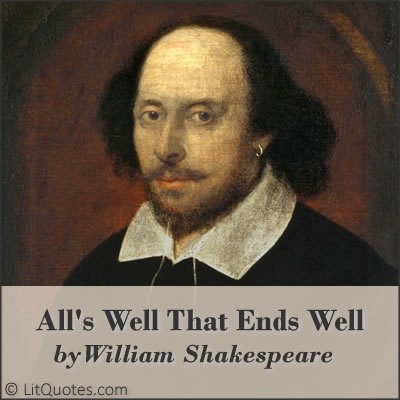 All's Well That Ends Well is a play by William Shakespeare. It's believed that Shakespeare wrote it between 1604 and 1605.
Historically the play has been classified as a comedy.  However some critics believe it to be one of his "problem plays", so named because they cannot be neatly classified as tragedy or comedy.  The other problem plays are Measure for Measure and Troilus and Cressida.
"Moderate lamentation is the right of the dead: excessive grief the enemy to the living." ~ All's Well That Ends Well by William Shakespeare
Resources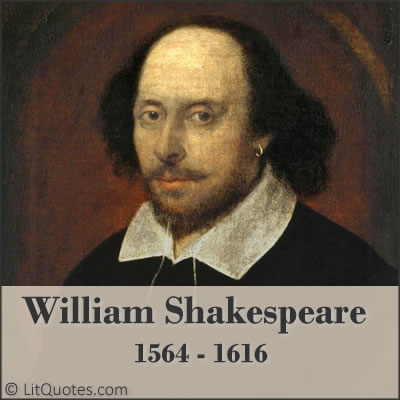 William Shakespeare was an English poet, playwright and actor.  His plays have been translated into every major living language and are performed more often than those of any other playwright.
Shakespeare was baptised on April 26, 1564 and died on April 23, 1616.  While his exact date of birth is unknown, historians believe it to be April 23, 1564.
At the age of 18, Shakespeare married Anne Hathaway.  They had three children: Susanna, and twins Hamnet and Judith. Sometime between 1585 and 1592, Shakespeare began a career in London as an actor, writer, and part-owner of a theatrical company called the Lord Chamberlain's Men.  The company later changed its name to the King's Men.
It's believed that in 1613 Shakespeare retired to Stratford.  He died there three years later.
There are few records of Shakespeare's private life.  That's lead to much speculation about his physical appearance, sexuality, religious beliefs and the authenticity of works attributed to him.
William Shakespeare at Amazon.com
Comedies by William Shakespeare
Pericles, Prince of Tyre
Twelfth Night
Histories by William Shakespeare
Henry VI, part 3
Richard III
Tragedies by William Shakespeare
Partial List of Poems by William Shakespeare
The Sonnets
The Rape of Lucrece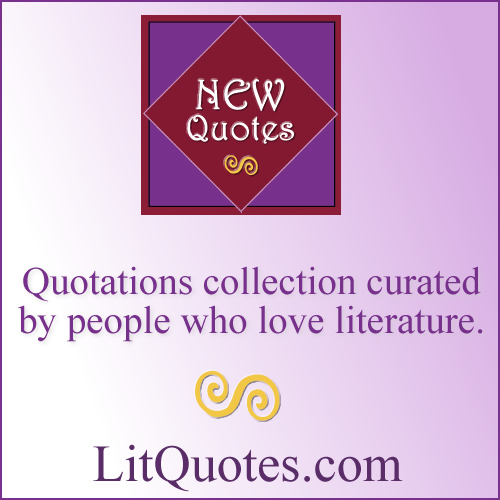 New quotes were added to the site today.  Just a reminder that all of the quotes list an author and a source. This quotation collection is curated by people and NOT by a computer program.
Here are some quotes from the new additions. . .
No legacy is so rich as honesty. ~ All's Well That Ends Well by William Shakespeare
"I'm so thankful for friendship. It beautifies life so much." ~ Anne Of Avonlea by Lucy Maud Montgomery
She was becoming herself and daily casting aside that fictitious self which we assume like a garment with which to appear before the world. ~ The Awakening by Kate Chopin
Truth uncompromisingly told will always have its ragged edges. ~ Billy Budd by Herman Melville
"Truth is like a thrashing-machine; tender sensibilities must keep out of the way." ~ The Confidence-Man by Herman Melville
The first thing you learn in life is you're a fool. The last thing you learn in life is you're the same fool. ~ Dandelion Wine by Ray Bradbury
"You must be the best judge of your own happiness." ~ Emma by Jane Austen
Happy Monday!  I saw this quote and was reminded about the yin and yang of life.  I've posted this quote photo on the LitQuotes Facebook page as well as the LitQuotes Google Plus page for easier sharing.
"The web of our life is of a mingled yarn, good and ill together. Our virtues would be proud if our faults whipt them not; and our crimes would despair if they were not cherish'd by our virtues." ~ All's Well That Ends Well by William Shakespeare