So I'm not the only one who's not a morning person.
"Only dull people are brilliant at breakfast." ~ An Ideal Husband by Oscar Wilde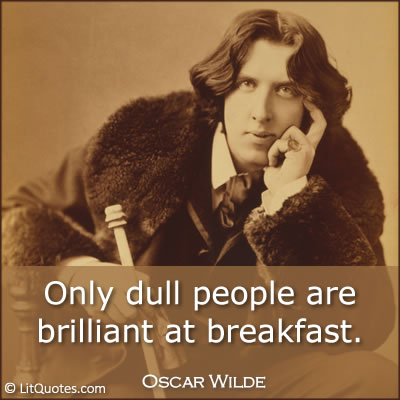 I've also posted this at the LitQuotes Facebook page and the LitQuotes Twitter page as well as our new Pinterest page.

"To win back my youth, Gerald, there is nothing I wouldn't do—except take exercise, get up early, or be a useful member of the community." ~ A Woman of No Importance by Oscar Wilde
"I always say beauty is only sin deep." ~ Reginald by Saki
It is the necessary nature of a political party in this country to avoid, as long as it can be avoided, the consideration of any question which involves a great change. ~ Phineas Redux by Anthony Trollope
The world is a stage, but the play is badly cast. ~ Lord Arthur Savile's Crime by Oscar Wilde
"Prophecy is like a half-trained mule," he complained to Jorah Mormont. "It looks as though it might be useful, but the moment you trust in it, it kicks you in the head." ~ A Dance with Dragons by George R. R. Martin
You can't expect the fatted calf to share the enthusiasm of the angels over the prodigal's return. ~ Reginald by Saki
Fox terriers are born with about four times as much original sin in them as other dogs are. ~ Three Men in a Boat by Jerome K. Jerome
Discovering that priests were infinitely more attentive when she was in process of losing or regaining faith in Mother Church, she maintained an enchantingly wavering attitude. ~ This Side of Paradise by F. Scott Fitzgerald
"This looks like one of those unwelcome social summonses which call upon a man either to be bored or to lie." ~ The Adventure of the Noble Bachelor by Sir Arthur Conan Doyle
"Morality is simply the attitude we adopt towards people whom we personally dislike." ~ An Ideal Husband by Oscar Wilde
In one respect at least the Martians are a happy people; they have no lawyers. ~ A Princess of Mars by Edgar Rice Burroughs
"I discovered early that crying makes my nose red, and the knowledge has helped me through several painful episodes." ~ The House of Mirth by Edith Wharton
In all the thousands of times I have asked other people for advice, I never yet got the advice I wanted. ~ Armadale by Wilkie Collins
A story with a moral appended is like the bill of a mosquito. It bores you, and then injects a stinging drop to irritate your conscience. ~ Strictly Business by O. Henry
Mrs. Bittacy rustled ominously, holding her peace meanwhile. She feared long words she did not understand. Beelzebub lay hid among too many syllables. ~ The Man Whom the Trees Loved by Algernon Blackwood
"Unbidden guests
Are often welcomest when they are gone." ~ Henry VI, Part One by William Shakespeare
The bishop did not whistle: we believe that they lose the power of doing so on being consecrated. ~ The Warden by Anthony Trollope
What the eye does not see, the stomach does not get upset over. ~ Three Men in a Boat by Jerome K. Jerome
I don't want to repeat my innocence. I want the pleasure of losing it again. ~ This Side of Paradise by F. Scott Fitzgerald
Unless one is a genius, it is best to aim at being intelligible. ~ Dolly Dialogues by Anthony Hope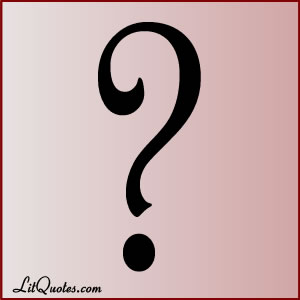 Have you ever thought about questions?  Questions are very, very important.  Without questions we'd have no answers.
Those are my thoughts on questions.  Now here are five quotes from literature about questions:
There are no ugly questions except those clothed in condescension. ~ East of Eden by John Steinbeck
Aunt Polly asked him questions that were full of guile, and very deep—for she wanted to trap him into damaging revealments. Like many other simple-hearted souls, it was her pet vanity to believe she was endowed with a talent for dark and mysterious diplomacy, and she loved to contemplate her most transparent devices as marvels of low cunning. ~ The Adventures of Tom Sawyer by Mark Twain
"What is any public question but a conglomeration of private interests?" ~ The Warden by Anthony Trollope
"Questions are never indiscreet. Answers sometimes are." ~ An Ideal Husband by Oscar Wilde
"I feel very strongly about putting questions; it partakes too much of the style of the day of judgment." ~ The Strange Case of Dr. Jekyll and Mr. Hyde by Robert Louis Stevenson

I added more quotes Oscar Wilde quotes to the site today.  The quotes are from Lady Windermere's Fan, An Ideal Husband and The Picture of Dorian Gray. I've got a few of my favorites below.
Remember, if you have a quote that you'd like to see in the collection, please feel free to submit a quote.
We are all in the gutter, but some of us are looking at the stars. ~ Lady Windermere's Fan by Oscar Wilde
"My own business always bores me to death. I prefer other people's." ~ Lady Windermere's Fan by Oscar Wilde
"Even you are not rich enough, Sir Robert, to buy back your past. No man is." ~ An Ideal Husband by Oscar Wilde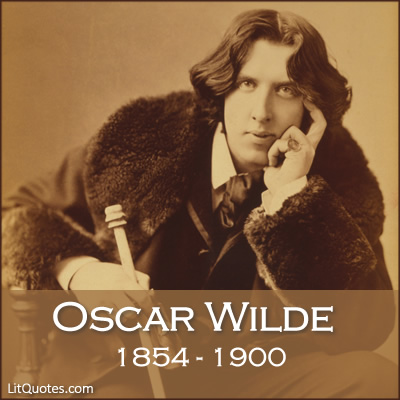 What you Probably Know
Oscar Wilde was an Irish author, playwright and poet. He's remembered for his novel, The Picture of Dorian Gray as well was other works. After writing in different forms throughout the 1880s, he became one of London's most popular playwrights in the early 1890s.  He was born on October 16, 1854 in Dublin.  He died on November 30, 1900 in Paris.
 What you May Not Know
His full name was Oscar Fingal O'Flahertie Wills Wilde.
His father, William Wilde, was an acclaimed doctor.  He was knighted for his work as medical adviser for the Irish censuses.  William Wilde founded St. Mark's Ophthalmic Hospital to treat the city's poor.
An early romantic interest of Oscar Wilde was Florence Balcombe.  She eventually became the wife of Bram Stoker, the author of Dracula.
In 1882 Wilde began a lecture tour of North America. The subject was Aestheticism, a movement that celebrated beauty and art.   During the tour Wilde meet with some of the leading American literary figures of the day, including Henry Longfellow, Oliver Wendell Holmes and Walt Whitman.
Wilde  married Constance Lloyd on May 29, 1884.  The couple had two sons, Cyril and Vyvyan.
In 1891 Wilde met Lord Alfred Douglas.   They became lovers.  Alfred's father was  John Douglas, 9th Marquess of Queensberry.  The elder Douglas did not approve of his son's relationship.  Feuding between John Douglas and Wilde eventually led to Wilde being convicted of "gross indecency" for homosexual acts.  Wilde was sentenced to  two years of hard labor.
Despite Wilde's preference for men and the social scandal caused by his trial and imprisonment, Wilde and his wife never divorced.  However Constance did change her and her sons' last name to Holland.
After his release from prison in 1897 Wilde left England and  moved to France.  He stayed there until his death.
Wilde wrote plays and short stories, but only one novel.  His only novel is The Picture of Dorian Gray.
Wilde died of meningitis on November 30, 1900. He was only 46 years old.
Novel by Oscar Wilde
The Picture of Dorian Gray (1890)
Partial List of Short Stories by Oscar Wilde
Lord Arthur Savile's Crime and Other Stories (1891) Including The Canterville Ghost first published in periodical form in 1887.
Partial List of Plays by Oscar Wilde
The Duchess of Padua (1883)
Lady Windermere's Fan (1892)
A Woman of No Importance (1893)
An Ideal Husband (1895)
The Importance of Being Earnest (1895)