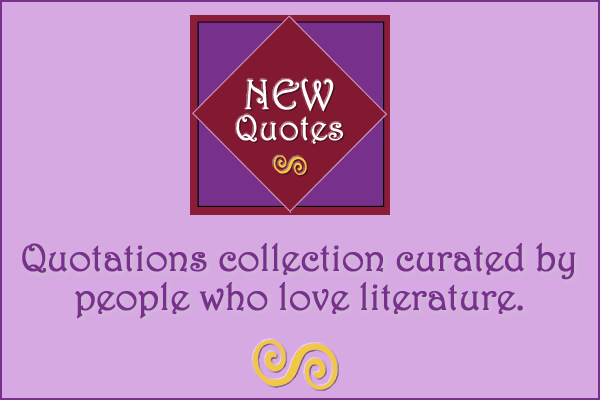 We added new quotes to the site today.  All of the quotes on this site list an author and a source. NONE of the quotes come from movies made from books.
Smiles and tears are so alike with me, they are neither of them confined to any particular feelings: I often cry when I am happy, and smile when I am sad. ~ The Tenant of Wildfell Hall by Anne Bronte
I wish I were a girl again, half savage and hardy, and free; and laughing at injuries, not maddening under them! ~ Wuthering Heights by Emily Bronte
A trusty companion halves the journey and doubles the courage. ~ The Coming Race by Edward Bulwer-Lytton
It was a dark and stormy night; the rain fell in torrents, except at occasional intervals, when it was checked by a violent gust of wind which swept up the streets (for it is in London that our scene lies), rattling along the house-tops, and fiercely agitating the scanty flame of the lamps that struggled against the darkness. ~ Paul Clifford by Edward Bulwer-Lytton
In case you're wondering, the above IS the quote that made "it was a dark and stormy night" famous.
"I'll borrow of imagination what reality will not give me." ~ Shirley by Charlotte Bronte
Feeling without judgment is a washy draught indeed; but judgment untempered by feeling is too bitter and husky a morsel for human deglutition. ~ Jane Eyre by Charlotte Bronte
But sorry is the Kool-Aid of human emotions. It's what you say when you spill a cup of coffee or throw a gutterball when you're bowling with the girls in the league. True sorrow is as rare as true love. ~ Carrie by Stephen King
Her husband had archaic ideas about jewels; a man bought them for his wife in acknowledgment of things he could not gracefully utter. ~ A Lost Lady by Willa Cather
Everything may be labelled—but everybody is not. ~ The Age of Innocence by Edith Wharton
"Why do we call all our generous ideas illusions, and the mean ones truths?" ~ The House of Mirth by Edith Wharton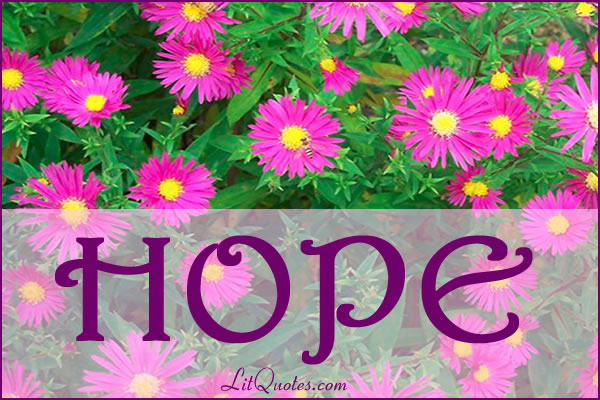 But our wishes are like tinder: the flint and steel of circumstances are continually striking out sparks, which vanish immediately, unless they chance to fall upon the tinder of our wishes; then, they instantly ignite, and the flame of hope is kindled in a moment.  ~ Agnes Grey by Anne Bronte
God shall be my hope,
My stay, my guide, and lantern to my feet. ~ Henry VI, Part Two by William Shakespeare
I hope, or I could not live. ~ The Island of Doctor Moreau by H. G. Wells
These fellow-mortals, every one, must be accepted as they are: you can neither straighten their noses, nor brighten their wit, nor rectify their dispositions; and it is these people–amongst whom your life is passed–that it is needful you should tolerate, pity, and love: it is these more or less ugly, stupid, inconsistent people whose movements of goodness you should be able to admire–for whom you should cherish all possible hopes, all possible patience. ~ Adam Bede by George Eliot
The cool peace and dewy sweetness of the night filled me with a mood of hope: not hope on any definite point, but a general sense of encouragement and heart-ease. ~ Villette by Charlotte Bronte
Remember to the last, that while there is life there is hope. ~ Wreck of the Golden Mary by Charles Dickens
"Our highest assurance of the goodness of Providence seems to me to rest in the flowers. All other things, our powers, our desires, our food, are all really necessary for our existence in the first instance. But this rose is an extra. Its smell and its color are an embellishment of life, not a condition of it. It is only goodness which gives extras, and so I say again that we have much to hope from the flowers." ~ The Naval Treaty by Sir Arthur Conan Doyle
Pride is one of the seven deadly sins; but it cannot be the pride of a mother in her children, for that is a compound of two cardinal virtues — faith and hope. ~ Nicholas Nickleby by Charles Dickens
"In this world you've just got to hope for the best and prepare for the worst and take whatever God sends." ~ Anne Of Avonlea by Lucy Maud Montgomery
My spirits were elevated by the enchanting appearance of nature; the past was blotted from my memory, the present was tranquil, and the future gilded by bright rays of hope and anticipations of joy. ~ Frankenstein by Mary Shelley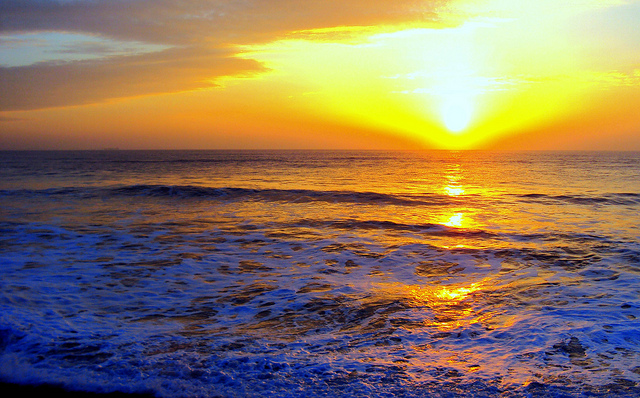 "The sea is everything. It covers seven tenths of the terrestrial globe. Its breath is pure and healthy. It is an immense desert, where man is never lonely, for he feels life stirring on all sides." ~ 20,000 Leagues Under the Sea by Jules Verne
No mercy, no power but its own controls it. Panting and snorting like a mad battle steed that has lost its rider, the masterless ocean overruns the globe. ~ Moby Dick by Herman Melville
And then, the unspeakable purity – and freshness of the air! There was just enough heat to enhance the value of the breeze, and just enough wind to keep the whole sea in motion, to make the waves come bounding to the shore, foaming and sparkling, as if wild with glee. ~ Agnes Grey by Anne Bronte
The sigh of all the seas breaking in measure round the isles soothed them; the night wrapped them; nothing broke their sleep, until, the birds beginning and the dawn weaving their thin voices in to its whiteness. ~ To the Lighthouse by Virginia Woolf
"Look at that sea, girls–all silver and shadow and vision of things not seen. We couldn't enjoy its loveliness any more if we had millions of dollars and ropes of diamonds." ~ Anne of Green Gables by Lucy Maud Montgomery
The end of religion is not to teach us how to die, but how to live. ~ Agnes Grey by Anne Bronte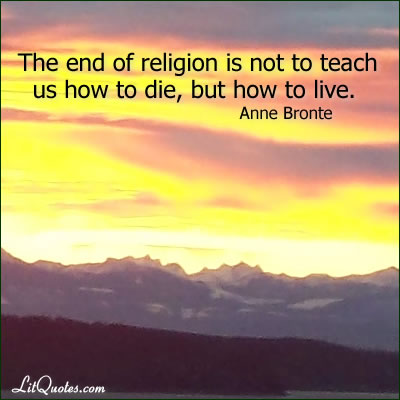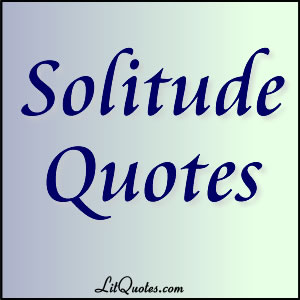 I can live alone, if self-respect, and circumstances require me so to do. I need not sell my soul to buy bliss. I have an inward treasure born with me, which can keep me alive if all extraneous delights should be withheld, or offered only at a price I cannot afford to give. ~ Jane Eyre by Charlotte Bronte
She discovered that, while solitude with dreams is glorious, solitude without them has few charms. ~ Anne of the Island by Lucy Maud Montgomery
She was not accustomed to taste the joys of solitude except in company. ~ The House of Mirth by Edith Wharton
One bright day in the last week of February, I was walking in the park, enjoying the threefold luxury of solitude, a book, and pleasant weather. ~ Agnes Grey by Anne Bronte
At the enchanted metropolitan twilight I felt a haunting loneliness sometimes, and felt it in others–poor young clerks who loitered in front of windows waiting until it was time for a solitary restaurant dinner–young clerks in the dusk, wasting the most poignant moments of night and life. ~ The Great Gatsby by F. Scott Fitzgerald
More Quotes about Solitude from Literature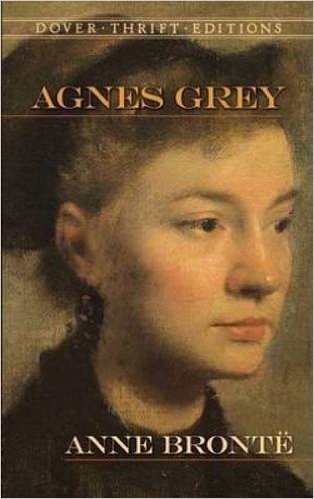 Agnes Grey was published in 1847 under Anne's pen name of Action Bell.  A second edition of the novel was printed in 1850. The second version of the book was edited by Anne's sister, Charlotte Bronte.
The story follows Agnes Grey, a governess, as she works for well-to-do English families.  Anne herself worked as a eagerness for five years so the novel is partly autobiographical.  The novel deals with the precarious nature of being a governess and how that affected women in that position.
But our wishes are like tinder: the flint and steel of circumstances are continually striking out sparks, which vanish immediately, unless they chance to fall upon the tinder of our wishes; then, they instantly ignite, and the flame of hope is kindled in a moment.  ~ Agnes Grey by Anne Bronte
More about Agnes Grey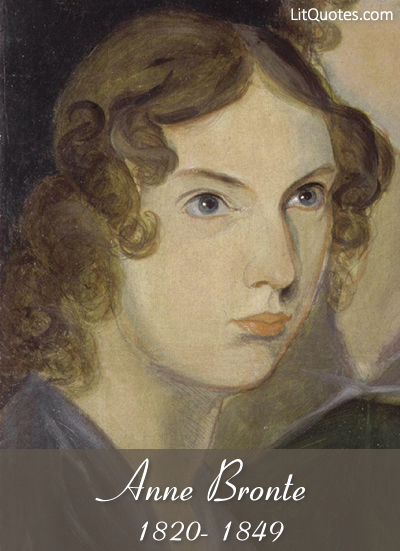 Anne Bronte was an English novelist and poet.  She's best known as the author of The Tenant of Wildfell Hall and Agnes Grey.
Anne worked as a governess.  She was employed by the Ingham family at Blake Hall and later by the Robinson family at Thorp Green Hall.   The Hall was the inspiration for Horton Lodge in Agnes Grey.
Anne and her sisters Charlotte and Emily were all writers. In 1846 their joint work,  Poems by Currer, Ellis, and Acton Bell  was published.  Anne was Action Bell.  Charlotte was Currer Bell and Emily was Action Bell. The pseudonyms hid the sisters' gender while preserving their initials.
September of 1848 through May of 1849 was a dark time for the Bronte family.  Bramwell Bronte, the only boy of the Bronte siblings, passed away in September.  Emily Bronte passed in December of 1848.  Lastly, Anne passed away in May of 1849. Her final poem was entitled A dreadful darkness closes in.
The end of religion is not to teach us how to die, but how to live. ~ Agnes Grey by Anne Bronte
More About Anne Bronte

Fifty new quotes were added to the site today.  All of our quotes list an author and a source. We're proud that this quotation collection is curated by people and NOT by a computer program.
Here are some quotes from the new additions.
If you need something to worship, then worship life — all life, every last crawling bit of it! We're all in this beauty together! ~ Dune Messiah by Frank Herbert
The end of religion is not to teach us how to die, but how to live. ~ Agnes Grey by Anne Bronte
"A man's fate is his own temper; and according to that will be his opinion as to the particular manner in which the course of events is regulated. A consistent man believes in Destiny, a capricious man in Chance." ~ Vivian Grey by Benjamin Disraeli
"Who, being loved, is poor?" ~ A Woman of No Importance by Oscar Wilde
Life is easy to chronicle, but bewildering to practice. ~ A Room With A View by E. M. Forster
It is a narrow mind which cannot look at a subject from various points of view. ~ Middlemarch by George Eliot
The course of true love never did run smooth. ~ A Midsummer Night's Dream by William Shakespeare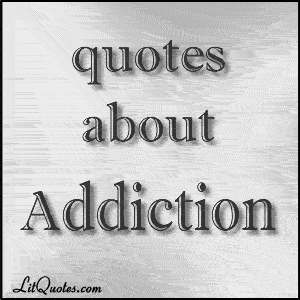 "I remember a mass of things, but nothing distinctly; a quarrel, but nothing wherefore. O God, that men should put an enemy in their mouths to steal away their brains!" ~ Othello by William Shakespeare
He raised his eyes languidly from the old black-letter volume which he had opened. "It is cocaine," he said, "a seven-per-cent solution. Would you care to try it?" ~ The Sign of The Four by Sir Arthur Conan Doyle
Drugs age you after mental excitement. Lethargy then. Why? Reaction. A lifetime in a night. Gradually changes your character. ~ Ulysses by James Joyce
"I am only myself when I am drunk. Liquor makes me human. At other times I'm merely Charley Steele!" ~ The Right of Way by Gilbert Parker
"I see that a man cannot give himself up to drinking without being miserable one-half his days and mad the other." ~ The Tenant of Wildfell Hall by Anne Bronte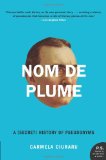 We all know that Samuel Clemens wrote under  the name of Mark Twain and that George Eliot was really Marian Evans.  But did you ever wonder about the back-story? In Nom de Plume: A (Secret) History of Pseudonyms Carmela Ciuraru examines this issue.  The book looks at the lives of of authors who used pen names.   In addition to Twain and Eliot, there are chapters on the Bronte sisters, Lewis Carroll, O. Henry, George Orwell and others.
Exploring the fascinating stories of more than a dozen authorial impostors across several centuries and cultures, Carmela Ciuraru plumbs the creative process and the darker, often crippling aspects of fame. Part detective story, part exposé, part literary history, Nom de Plume is an absorbing psychological meditation on identity and creativity.
Learn More – Nom de Plume: A (Secret) History of Pseudonyms