Recently a reader named Julie contributed some lovely quotes from Anne Bronte's The Tenant of Wildfell Hall.  (Thanks so much!!)  I've added them to the quotation collection along with two quotes that I found from A Princess of Mars by Edgar Rice Burroughs.
If you have a quote from classic literature that you'd like to add to the LitQuotes site, check out our quotation submission page.    In the meantime here's a sample of today's new quotes:
"There is such a thing as looking through a person's eyes into the heart, and learning more of the height, and breadth, and depth of another's soul in one hour than it might take you a lifetime to discover, if he or she were not disposed to reveal it, or if you had not the sense to understand it." ~ The Tenant of Wildfell Hall by Anne Bronte
It is better to arm and strengthen your hero, than to disarm and enfeeble the foe. ~ The Tenant of Wildfell Hall by Anne Bronte
Other LitQuotes Features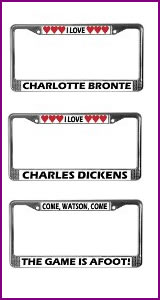 Show the world that you're a fan of literature with out new license plate frames.  We've got them for Charles Dickens, Sir Arthur Conan Doyle, Mark Twain, Edgar Allan Poe and more.