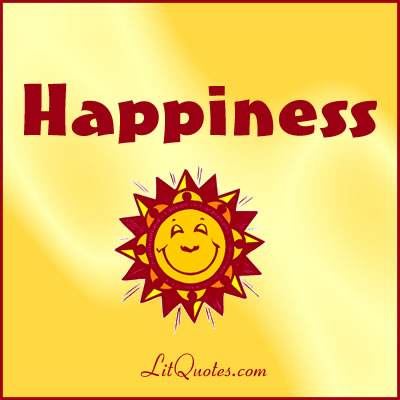 We've got a large collection of literary quotes about happiness.  Here are the 20 best quotes about from the collection. Authors include Charles Dickens, L. Frank Baum, George Eliot and Lucy Maud Montgomery.
---
"Money is a needful and precious thing, and when well used, a noble thing, but I never want you to think it is the first or only prize to strive for. I'd rather see you poor men's wives, if you were happy, beloved, contented, than queens on thrones, without self-respect and peace." ~ Little Women by Louisa May Alcott
---
"You must be the best judge of your own happiness." ~ Emma by Jane Austen
---
"I would always rather be happy than dignified." ~ Jane Eyre by Charlotte Bronte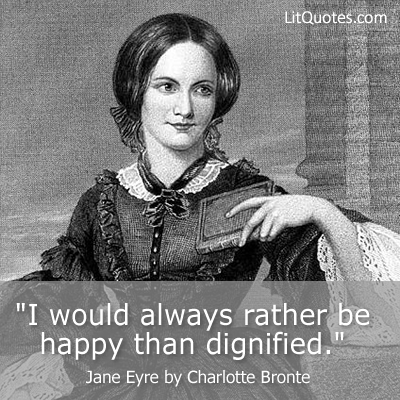 ---
Cheerfulness and content are great beautifiers, and are famous preservers of youthful looks, depend upon it. ~ Barnaby Rudge by Charles Dickens
---
There were days when she was very happy without knowing why. She was happy to be alive and breathing, when her whole being seemed to be one with the sunlight, the color, the odors, the luxuriant warmth of some perfect Southern day. She liked then to wander alone into strange and unfamiliar places. She discovered many a sunny, sleepy corner, fashioned to dream in. And she found it good to dream and to be alone and unmolested. ~ The Awakening by Kate Chopin
---
There is no happiness like that of being loved by your fellow-creatures, and feeling that your presence is an addition to their comfort. ~ Jane Eyre by Charlotte Bronte
---
It is a poor heart that never rejoices. ~ Barnaby Rudge by Charles Dickens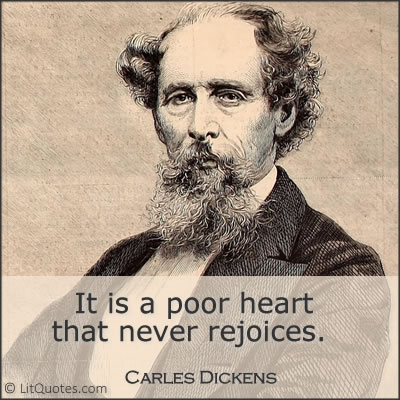 ---
"Action may not always be happiness," said the general; "but there is no happiness without action." ~ Lothair by Benjamin Disraeli
---
No one can be happy in eternal solitude. ~ The Tenant of Wildfell Hall by Anne Bronte
---
To see their sons and daughters so flushed and healthy and happy, gave them also a reflected glow, and it was hard to say who had most pleasure from the game, those who played or those who watched. ~ Beyond the City by Sir Arthur Conan Doyle
---
People who have tried it, tell me that a clear conscience makes you very happy and contented; but a full stomach does the business quite as well, and is cheaper, and more easily obtained. ~ Three Men in a Boat by Jerome K. Jerome
---
"Happy are they that hear their detractions, and can put them to mending." ~ Much Ado About Nothing by William Shakespeare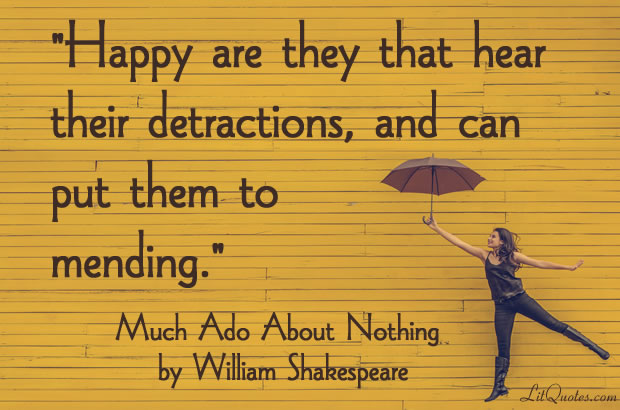 ---
Anne was always glad in the happiness of her friends; but it is sometimes a little lonely to be surrounded everywhere by a happiness that is not your own. ~ Anne of the Island by Lucy Maud Montgomery
---
"One gets a bad habit of being unhappy." ~ The Mill on the Floss by George Eliot
---
She better liked to see him free and happy, even than to have him near her, because she loved him better than herself. ~ Barnaby Rudge by Charles Dickens
---
No mockery in this world ever sounds to me so hollow as that of being told to cultivate happiness. What does such advice mean? Happiness is not a potato. ~ Villette by Charlotte Bronte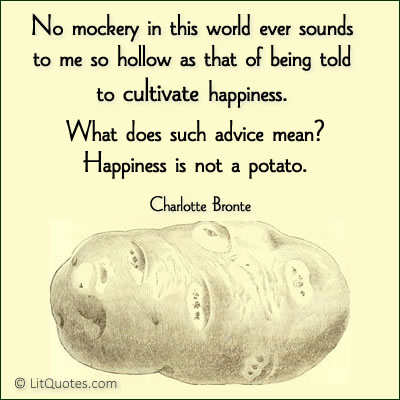 ---
There are a set of religious, or rather moral writers, who teach that virtue is the certain road to happiness, and vice to misery, in this world. A very wholesome and comfortable doctrine, and to which we have but one objection, namely, that it is not true. ~ Tom Jones by Henry Fielding
---
Annual income twenty pounds, annual expenditure nineteen nineteen and six, result happiness. Annual income twenty pounds, annual expenditure twenty pounds ought and six, result misery. ~ David Copperfield by Charles Dickens
"Happy is the man who can make a living by his hobby!" ~ Pygmalion by George Bernard Shaw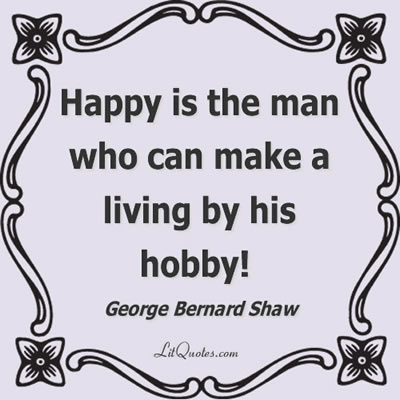 ---
"I shall take the heart," returned the Tin Woodman; "for brains do not make one happy, and happiness is the best thing in the world." ~ The Wonderful Wizard of Oz by L. Frank Baum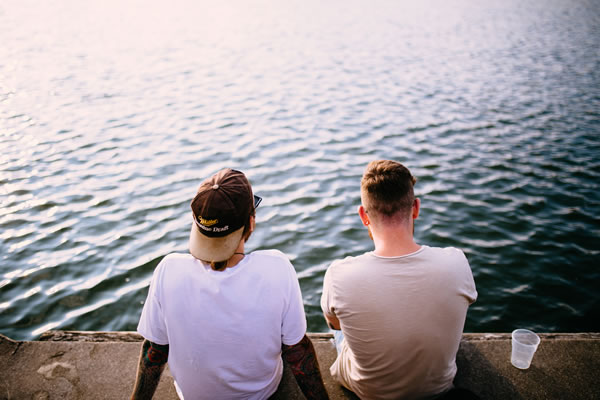 The site has a large collection of literary quotes about communication.  These are some of my favorites.
In reality they all lived in a kind of hieroglyphic world, where the real thing was never said or done or even thought, but only represented by a set of arbitrary signs. ~ The Age of Innocence by Edith Wharton
"Old men only lie in wait for people to ask them to talk. Then they rattle on like a rusty elevator wheezing up a shaft." ~ Dandelion Wine by Ray Bradbury
Often I must speak other than I think. That is called diplomacy. ~ Dune Messiah by Frank Herbert
"With no intention to take offence, I deny your right to put words into my mouth." ~ Treasure Island by Robert Louis Stevenson
Our words are giants when they do us an injury, and dwarfs when they do us a service. ~ The Woman in White by Wilkie Collins
"Words," said the host, at length, "is worse'n bullets. You never know what they'll hit." ~ The Night Horseman by Max Brand
Fair speech may hide a foul heart. ~ The Two Towers by J. R. R. Tolkien
We are never half so interesting when we have learned that language is given us to enable us to conceal our thoughts. ~ Anne of the Island by Lucy Maud Montgomery
"I make no manner of doubt that you threw a very diamond of truth at me, though you see it hit me so directly in the face that it wasn't exactly appreciated, at first." ~ Uncle Tom's Cabin by Harriet Beecher Stowe
Never tell all you know—not even to the person you know best. ~ The Secret Adversary by Agatha Christie
Fine, large, meaningless, general terms like romance and business can always be related. They take the place of thinking, and are highly useful to optimists and lecturers. ~ The Job by Sinclair Lewis
The fool wonders, the wise man asks. ~ Count Alarcos: A Tragedy by Benjamin Disraeli
A slight throbbing about the temples told me that this discussion had reached saturation point. ~ Right Ho, Jeeves by P. G. Wodehouse
Mrs. Bittacy rustled ominously, holding her peace meanwhile. She feared long words she did not understand. Beelzebub lay hid among too many syllables. ~ The Man Whom the Trees Loved by Algernon Blackwood
To read between the lines was easier than to follow the text. ~ The Portrait of a Lady by Henry James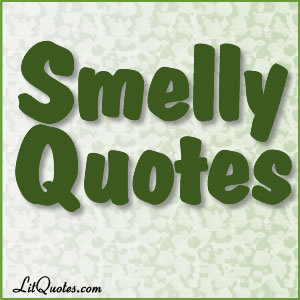 "I love to smell flowers in the dark," she said. "You get hold of their soul then." ~ Anne's House of Dreams by Lucy Maud Montgomery
It smells like the left wing of the day of judgment. ~ Moby Dick by Herman Melville
The mutable, rank-scented many . . . ~ Coriolanus by William Shakespeare
"I wish we could see perfumes as well as smell them. I'm sure they would be very beautiful." ~ Anne of the Island by Lucy Maud Montgomery
"The rankest compound of villainous smell that ever offended nostril." ~ The Merry Wives of Windsor by William Shakespeare
"Don't you love heavy fragrances, faint with sweetness, ravishing juices of odor, heliotropes, violets, water-lilies,–powerful attars and extracts that snatch your soul off your lips?" ~ The Amber Gods by Harriet Prescott Spofford
"What's in a name? That which we call a rose
By any other name would smell as sweet." ~ Romeo and Juliet by William Shakespeare
"Our highest assurance of the goodness of Providence seems to me to rest in the flowers. All other things, our powers, our desires, our food, are all really necessary for our existence in the first instance. But this rose is an extra. Its smell and its color are an embellishment of life, not a condition of it. It is only goodness which gives extras, and so I say again that we have much to hope from the flowers." ~ The Naval Treaty by Sir Arthur Conan Doyle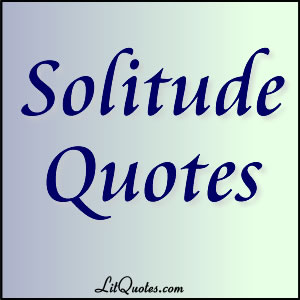 I can live alone, if self-respect, and circumstances require me so to do. I need not sell my soul to buy bliss. I have an inward treasure born with me, which can keep me alive if all extraneous delights should be withheld, or offered only at a price I cannot afford to give. ~ Jane Eyre by Charlotte Bronte
She discovered that, while solitude with dreams is glorious, solitude without them has few charms. ~ Anne of the Island by Lucy Maud Montgomery
She was not accustomed to taste the joys of solitude except in company. ~ The House of Mirth by Edith Wharton
One bright day in the last week of February, I was walking in the park, enjoying the threefold luxury of solitude, a book, and pleasant weather. ~ Agnes Grey by Anne Bronte
At the enchanted metropolitan twilight I felt a haunting loneliness sometimes, and felt it in others–poor young clerks who loitered in front of windows waiting until it was time for a solitary restaurant dinner–young clerks in the dusk, wasting the most poignant moments of night and life. ~ The Great Gatsby by F. Scott Fitzgerald
More Quotes about Solitude from Literature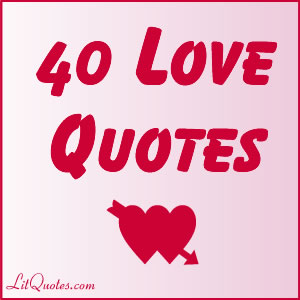 Love looks not with the eyes, but with the mind;
And therefore is wing'd Cupid painted blind. ~ A Midsummer Night's Dream by William Shakespeare

"I do love you surely in a better way than he does." He thought. "Yes—really in a better way. I want you to have your own thoughts even when I hold you in my arms." ~ A Room With A View by E. M. Forster
"God's law is only Love." ~ A Woman of No Importance by Oscar Wilde
I ask you to pass through life at my side—to be my second self, and best earthly companion. ~ Jane Eyre by Charlotte Bronte
Doubt thou the stars are fire;
Doubt that the sun doth move;
Doubt truth to be a liar;
But never doubt I love. ~ Hamlet, Prince of Denmark by William Shakespeare
Love is a flower that grows in any soil, works its sweet miracles undaunted by autumn frost or winter snow, blooming fair and fragrant all the year, and blessing those who give and those who receive. ~ Little Men by Louisa May Alcott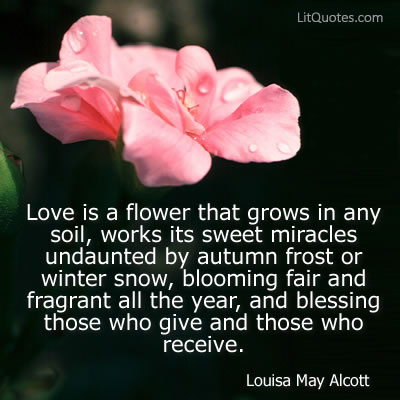 Every atom of your flesh is as dear to me as my own: in pain and sickness it would still be dear. ~ Jane Eyre by Charlotte Bronte
Lovers and madmen have such seething brains,
Such shaping fantasies, that apprehend
More than cool reason ever comprehends. ~ A Midsummer Night's Dream by William Shakespeare
"I don't want sunbursts and marble halls. I just want you." ~ Anne of the Island by Lucy Maud Montgomery
That which is loved may pass, but love hath no end. ~ Parables Of A Province by Gilbert Parker
The winds were warm about us, the whole earth seemed the wealthier for our love. ~ The Amber Gods by Harriet Prescott Spofford
"I hope that real love and truth are stronger in the end than any evil or misfortune in the world." ~  David Copperfield by Charles Dickens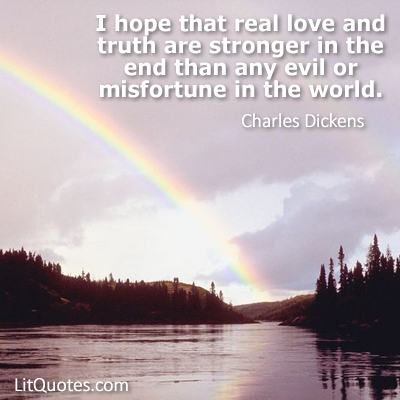 I loved her against reason, against promise, against peace, against hope, against happiness, against all discouragement that could be. ~ Great Expectations by Charles Dickens
Young men's love, then, lies
Not truly in their hearts, but in their eyes. ~ Romeo and Juliet by William Shakespeare
She had found her heart at last. Never having known its worth till now, she had never known the worth of his. ~ Barnaby Rudge by Charles Dickens
It is best to love wisely, no doubt: but to love foolishly is better than not to be able to love at all. ~ The History of Pendennis by William Makepeace Thackeray
"Love has no age, no limit; and no death." ~ The Forsyte Saga by John Galsworthy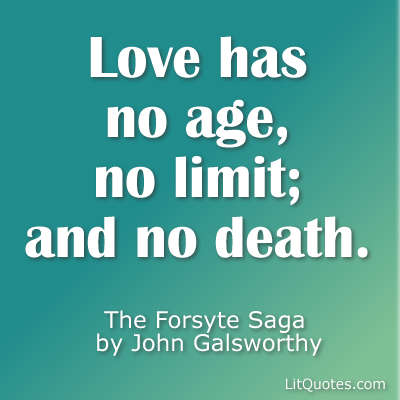 Maggie said that love was the flower of life, and blossomed unexpectedly and without law, and must be plucked where it was found, and enjoyed for the brief hour of its duration. ~ The Rainbow by D. H. Lawrence
"Love comforteth like sunshine after rain." ~ Venus and Adonis by William Shakespeare
"Love knows not distance; it hath no continent; its eyes are for the stars." ~ Parables Of A Province by Gilbert Parker
How is it that the poets have said so many fine things about our first love, so few about our later love? Are their first poems their best? Or are not those the best which come from their fuller thought, their larger experience, their deeper-rooted affections? ~ Adam Bede by George Eliot
Love, it is said, is blind, but love is not blind. It is an extra eye, which shows us what is most worthy of regard. To see the best is to see most clearly, and it is the lover's privilege. ~ The Little Minister by James M. Barrie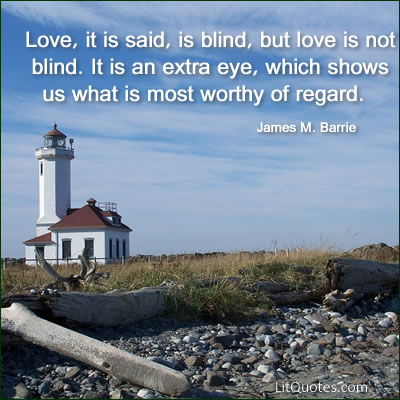 "Love of man for woman–love of woman for man. That's the nature, the meaning, the best of life itself." ~ Riders of the Purple Sage by Zane Grey
"I loved you madly; in the distasteful work of the day, in the wakeful misery of the night, girded by sordid realities, or wandering through Paradises and Hells of visions into which I rushed, carrying your image in my arms, I loved you madly." ~ The Mystery of Edwin Drood by Charles Dickens
"We are all born for love," said Morley. "It is the principle of existence, and its only end." ~ Sybil by Benjamin Disraeli
He knew that when he kissed this girl, and forever wed his unutterable visions to her perishable breath, his mind would never romp again like the mind of God. So he waited, listening for a moment longer to the tuning fork that had been struck upon a star. Then he kissed her. At his lips' touch she blossomed for him like a flower and the incarnation was complete. ~ The Great Gatsby by F. Scott Fitzgerald
"My bounty is as boundless as the sea,
My love as deep; the more I give to thee,
The more I have, for both are infinite." ~ Romeo and Juliet by William Shakespeare
"The best of life is built on what we say when we're in love. It isn't nonsense, Katharine," she urged, "it's the truth, it's the only truth." ~ Night and Day by Virginia Woolf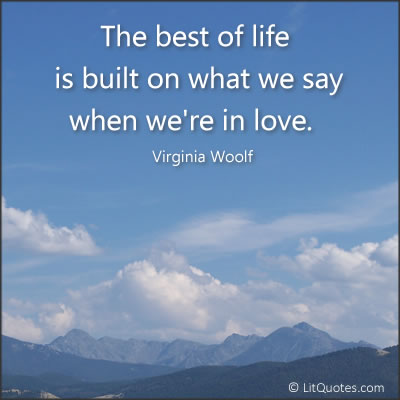 Love is no hot-house flower, but a wild plant, born of a wet night, born of an hour of sunshine; sprung from wild seed, blown along the road by a wild wind. A wild plant that, when it blooms by chance within the hedge of our gardens, we call a flower; and when it blooms outside we call a weed; but, flower or weed, whose scent and colour are always, wild! ~ The Forsyte Saga by John Galsworthy
She lifted her face to him, and he bent forward and kissed her on the mouth, gently, with the one kiss that is an eternal pledge. And as he kissed her his heart strained again in his breast. He never intended to love her. But now it was over. He had crossed over the gulf to her, and all that he had left behind had shrivelled and become void. ~ The Horse Dealer's Daughter by D. H. Lawrence
"If I loved you less, I might be able to talk about it more." ~ Emma by Jane Austen
"Men always want to be a woman's first love. That is their clumsy vanity. We women have a more subtle instinct about things. What we like is to be a man's last romance." ~ A Woman of No Importance by Oscar Wilde
She loved him with too clear a vision to fear his cloudiness. ~ Howards End by E. M. Forster
"I see you everywhere, in the stars, in the river; to me you're everything that exists; the reality of everything." ~ Night and Day by Virginia Woolf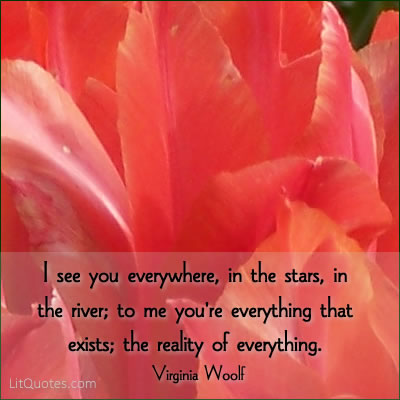 "Is love a tender thing? It is too rough,
Too rude, too boist'rous; and it pricks like thorn." ~ Romeo and Juliet by William Shakespeare
"He's more myself than I am. Whatever our souls are made of, his and mine are the same, and Linton's is as different as a moonbeam from lightning, or frost from fire." ~ Wuthering Heights by Emily Bronte
The course of true love never did run smooth. ~ A Midsummer Night's Dream by William Shakespeare
"Those who speak of love most promiscuously are the ones who've never felt it. They make some sort of feeble stew out of sympathy, compassion, contempt and general indifference, and they call it love. Once you've felt what it means to love as you and I know it–the total passion for the total height–you're incapable of anything less." ~ The Fountainhead by Ayn Rand
"You are my heart, my life, my one and only thought." ~ The White Company by Sir Arthur Conan Doyle
"Who, being loved, is poor?" ~ A Woman of No Importance by Oscar Wilde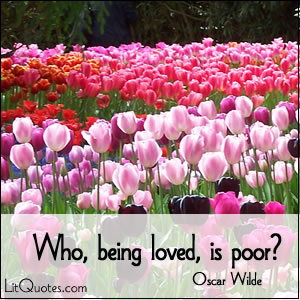 Ready for more?  See our entire love quote collection.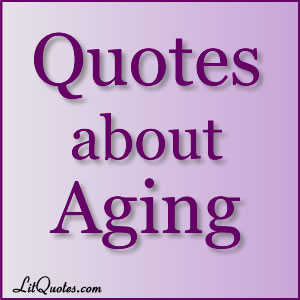 "At forty you stand upon the threshold of life, with values learned and rubbish cleared away. " ~ A Prisoner in Fairyland by Algernon Blackwood
"Anybody is liable to rheumatism in her legs, Anne. It's only old people who should have rheumatism in their souls, though. Thank goodness, I never have. When you get rheumatism in your soul you might as well go and pick out your coffin." ~ Anne of the Island by Lucy Maud Montgomery
At last, however, his conversation became unbearable–a foul young man is odious, but a foul old one is surely the most sickening thing on earth. One feels that the white upon the hair, like that upon the mountain, should signify a height attained. ~ The Stark Munro Letters by Sir Arthur Conan Doyle
When one grew old, the whole world was in conspiracy to limit freedom, and for what reason?–just to keep the breath in him a little longer. He did not want it at such cost. ~ The Forsyte Saga by John Galsworthy
Indeed, he would sometimes remark, when a man fell into his anecdotage, it was a sign for him to retire from the world. ~ Lothair by Benjamin Disraeli
"No one is ever too old to do a foolish thing." ~ Uncle Silas by J. Sheridan Le Fanu
"As I said just now, the world has gone past me. I don't blame it; but I no longer understand it. Tradesmen are not the same as they used to be, apprentices are not the same, business is not the same, business commodities are not the same. Seven-eighths of my stock is old-fashioned. I am an old-fashioned man in an old-fashioned shop, in a street that is not the same as I remember it. I have fallen behind the time, and am too old to catch it again." ~ Dombey and Son by Charles Dickens
"The young have aspirations that never come to pass, the old have reminiscences of what never happened. It's only the middle-aged who are really conscious of their limitations–that is why one should be so patient with them." ~ Reginald by Saki
Don't ever think the poetry is dead in an old man because his forehead is wrinkled, or that his manhood has left him when his hand trembles! If they ever WERE there, they ARE there still! ~ The Autocrat of the Breakfast Table by Oliver Wendell Holmes, Sr.
There comes with old age a time when the heart is no longer fusible or malleable, and must retain the form in which it has cooled down. ~ Uncle Silas by J. Sheridan Le Fanu
What is the meaning of life? That was all–a simple question; one that tended to close in on one with years. The great revelation had never come. The great revelation perhaps never did come. Instead there were little daily miracles, illuminations, matches struck unexpectedly in the dark. ~ To the Lighthouse by Virginia Woolf
More Quotes About Aging from Literature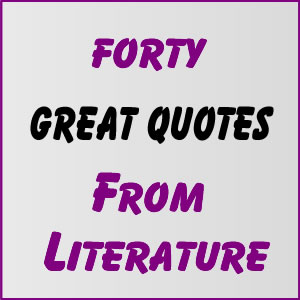 Need some advice or perspective?  Here are 40 great quotes from literature that may help.  These are some of our favorites from our words of wisdom quote collection.
"I'm afraid to speak or move for fear all this wonderful beauty will vanish just like a broken silence." ~ Anne of the Island by Lucy Maud Montgomery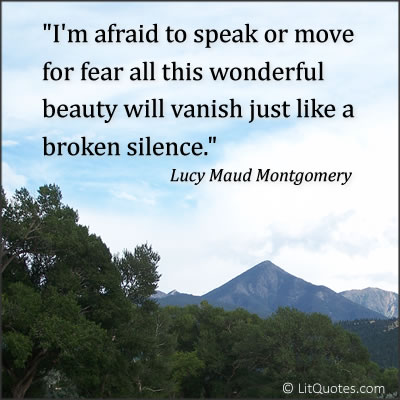 I've posted this quote photo on the LitQuotes Facebook page as well as the LitQuotes Google Plus page for easier sharing.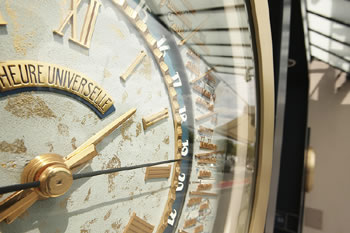 Did you remember to turn your clocks back this morning?   To mark our return to standard time, here are five quotes about time from literature.
For the first time she was vaguely perceiving that life is everlasting movement. ~ Alice Adams by Booth Tarkington
Time will explain. ~ Persuasion by Jane Austen
Passion takes no count of time; peril marks no hours or minutes; wrong makes its own calendar; and misery has solar systems peculiar to itself. ~ The True Story of Guenever by Elizabeth Stuart Phelps
"My advice is, never do tomorrow what you can do today. Procrastination is the thief of time." ~ David Copperfield by Charles Dickens
She had lived solely for the little things of life—the things that pass—forgetting the great things that go onward into eternity, bridging the gulf between the two lives and making of death a mere passing from one dwelling to the other—from twilight to unclouded day. ~ Anne of the Island by Lucy Maud Montgomery
See the Entire Collection of Time Quotes from Literature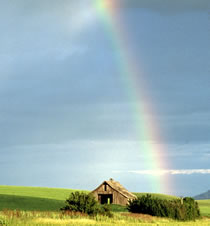 Let's start the week out right with five love quotes from literature.
Love, it is said, is blind, but love is not blind. It is an extra eye, which shows us what is most worthy of regard. To see the best is to see most clearly, and it is the lover's privilege. ~ The Little Minister by James M. Barrie
As the gambler said of his dice, to love and win is the best thing, to love and lose is the next best. ~ The History of Pendennis by William Makepeace Thackeray
She had found her heart at last. Never having known its worth till now, she had never known the worth of his. ~ Barnaby Rudge by Charles Dickens
That which is loved may pass, but love hath no end. ~ Parables Of A Province by Gilbert Parker
"I don't want sunbursts and marble halls. I just want you." ~ Anne of the Island by Lucy Maud Montgomery
See the entire collection of Love Quotes from Literature