I added new quotes to the site today.  The quotes are by George R. R. Martin and Anthony Trollope.  New titles included in this batch are A Storm of Swords and Framley Parsonage.
Here are some of my favorites from the new batch.  If you have a quote that you'd like to see added to the site, you can contribute a quote.
All men must die, Jon Snow. But first we'll live. ~ A Storm of Swords by George R. R. Martin
He took such high ground that there was no getting on to it. ~ The Warden by Anthony Trollope
Having a comfortable allowance from his father, he could devote the whole proceeds of his curacy to violet gloves and unexceptionable neck ties. ~ Barchester Towers by Anthony Trollope
A burden that will crush a single pair of shoulders will, when equally divided—when shared by two, each of whom is willing to take the heavier part—become light as a feather. ~ Framley Parsonage by Anthony Trollope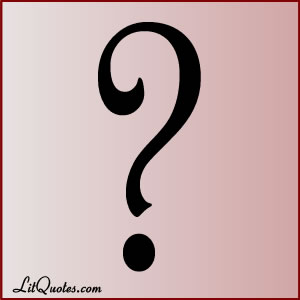 Have you ever thought about questions?  Questions are very, very important.  Without questions we'd have no answers.
Those are my thoughts on questions.  Now here are five quotes from literature about questions:
There are no ugly questions except those clothed in condescension. ~ East of Eden by John Steinbeck
Aunt Polly asked him questions that were full of guile, and very deep—for she wanted to trap him into damaging revealments. Like many other simple-hearted souls, it was her pet vanity to believe she was endowed with a talent for dark and mysterious diplomacy, and she loved to contemplate her most transparent devices as marvels of low cunning. ~ The Adventures of Tom Sawyer by Mark Twain
"What is any public question but a conglomeration of private interests?" ~ The Warden by Anthony Trollope
"Questions are never indiscreet. Answers sometimes are." ~ An Ideal Husband by Oscar Wilde
"I feel very strongly about putting questions; it partakes too much of the style of the day of judgment." ~ The Strange Case of Dr. Jekyll and Mr. Hyde by Robert Louis Stevenson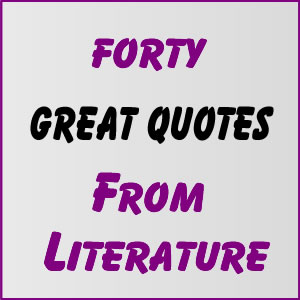 Need some advice or perspective?  Here are 40 great quotes from literature that may help.  These are some of our favorites from our words of wisdom quote collection.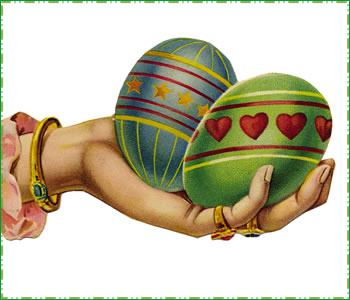 First of all, for those of you that celebrate the holiday, Happy Easter!
Secondly, I've added new quotes to the site. We're now over 2,500 quotes! If you have a quote that you'd like to see added to the site, you can submit your quote here.
Power resides where men believe it resides. No more and no less. ~ A Clash of Kings by George R. R. Martin
My civilization is not even skin deep—it does not go deeper than my clothes. ~ The Return of Tarzan by Edgar Rice Burroughs
We have only one story. All novels, all poetry, are built on the never-ending contest in ourselves of good and evil. ~ East of Eden by John Steinbeck
He lives, then, on ginger-nuts, thought I; never eats a dinner, properly speaking; he must be a vegetarian then; but no; he never eats even vegetables, he eats nothing but ginger-nuts. My mind then ran on in reveries concerning the probable effects upon the human constitution of living entirely on ginger-nuts. ~ Bartleby, the Scrivener by Herman Melville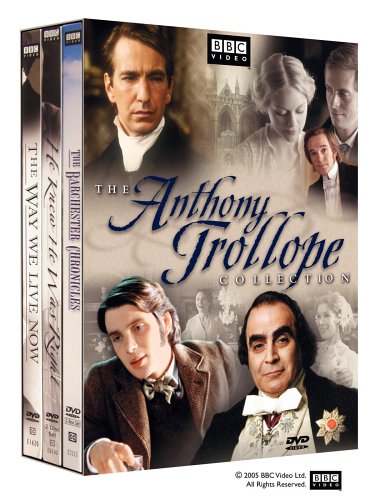 I just found this at Amazon and I'm pretty excited about it.  The Anthony Trollope Collection by the BBC is a 6-DVD set.   The set contains  The Barchester Chronicles (an adaptation of the first two Barchester novels, The Warden and Barchester Towers), He Knew He Was Right  and  The Way We Live Now.  I only wish I already had ordered this.  It would be perfect for a lazy, Sunday afternoon.
She well knew the great architectural secret of decorating her constructions, and never condescended to construct a decoration. ~ Barchester Towers by Anthony Trollope

Classic literature can be inspirational.  It can be poetic.  It can be educational.  Classic literature can also be really funny!  Check out these ten funny quotes from literature:
1 – "How dreadful!" cried Lord Henry. "I can stand brute force, but brute reason is quite unbearable. There is something unfair about its use. It is hitting below the intellect." ~  The Picture of Dorian Gray by Oscar Wilde
2 – "If you could see my legs when I take my boots off, you'd form some idea of what unrequited affection is."  ~  Dombey and Son by Charles Dickens
3 – Indeed, he would sometimes remark, when a man fell into his anecdotage, it was a sign for him to retire from the world. ~  Lothair by Benjamin Disraeli
4 – You cannot make a man by standing a sheep on its hind-legs. But by standing a flock of sheep in that position you can make a crowd of men. ~  Zuleika Dobson by Sir Max Beerbohm
5 – The bishop did not whistle: we believe that they lose the power of doing so on being consecrated. ~  The Warden by Anthony Trollope
6 – A story with a moral appended is like the bill of a mosquito. It bores you, and then injects a stinging drop to irritate your conscience. ~  Strictly Business by O. Henry
7  – From politics, it was an easy step to silence. ~  Northanger Abbey by Jane Austen
8 – Few things are harder to put up with than the annoyance of a good example. ~  The Tragedy of Pudd'nhead Wilson by Mark Twain
9 – It is not that I object to the work, mind you; I like work: it fascinates me. I can sit and look at it for hours. ~  Three Men in a Boat by Jerome K. Jerome
10 – I don't want to repeat my innocence. I want the pleasure of losing it again. ~  This Side of Paradise by F. Scott Fitzgerald
If you enjoyed these quotes check out our humorous quotes page or our random funny quote feature.