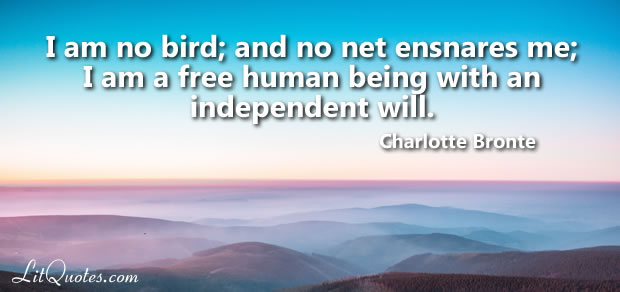 "I am no bird; and no net ensnares me; I am a free human being with an independent will." ~ Jane Eyre by Charlotte Bronte
Photo by Jakub Kriz on Unsplash
The Secret Garden, by Frances Hodgson Burnett, was initially published in serial format beginning in 1910.  It was first published in its entirety in 1911.
Nothing in the world is quite as adorably lovely as a robin when he shows off-and they are nearly always doing it. ~ The Secret Garden by Frances Hodgson Burnett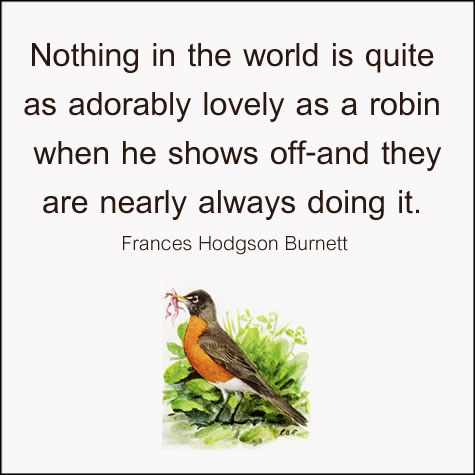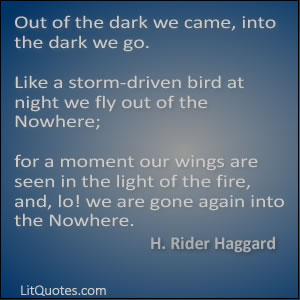 Out of the dark we came, into the dark we go. Like a storm-driven bird at night we fly out of the Nowhere; for a moment our wings are seen in the light of the fire, and, lo! we are gone again into the Nowhere. ~ King Solomon's Mines by H. Rider Haggard
I've posted this at the LitQuotes Facebook page and the LitQuotes Twitter page in case you'd like to share the photo.
Let's hear it for our feathered friends!  Here are five quotes about birds from literature.
The sigh of all the seas breaking in measure round the isles soothed them; the night wrapped them; nothing broke their sleep, until, the birds beginning and the dawn weaving their thin voices in to its whiteness. ~ To the Lighthouse by Virginia Woolf
"There is many a young cockerel that will stand upon a dunghill and crow about his father, by way of making his own plumage to shine." ~ Cousin Phillis by Elizabeth Gaskell
Nothing in the world is quite as adorably lovely as a robin when he shows off-and they are nearly always doing it. ~ The Secret Garden by Frances Hodgson Burnett
"Do you know," Peter asked "why swallows build in the eaves of houses? It is to listen to the stories." ~ Peter Pan by James M. Barrie
All is going on as it was wont. The waves are hoarse with repetition of their mystery; the dust lies piled upon the shore; the sea-birds soar and hover; the winds and clouds go forth upon their trackless flight; the white arms beckon, in the moonlight, to the invisible country far away. ~ Dombey and Son by Charles Dickens