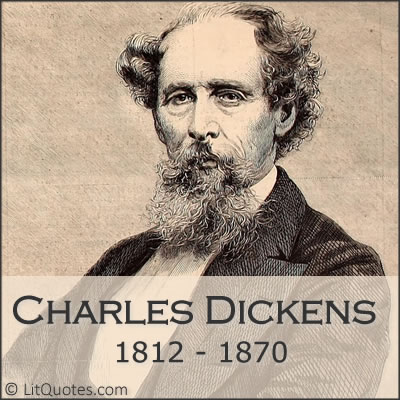 Charles Dickens was born on February 7, 1812 and died in 1870.  He's the author of A Christmas Carol, Great Expectations and other classic novels.  Now here are some things you may not know about Charles Dickens.
1 – As a child, his family was always on the verge of economic collapse. Everything fell apart for the family in 1827. Dickens' father was sent the Marshalsea debtors' prison and young Charles was sent to work in Warren's Blacking Factory. These incidents would haunt Dickens for the rest of his life.
2 – Dickens worked as law clerk, a court stenographer and even contemplated becoming an actor. Luckily for us, Dickens was ill on the day of his audition at the Lyceum Theater and couldn't go. Can you imagine a life without Scrooge?  If Dickens, who was a talented actor, had attended his audition he might not have written A Christmas Carol.
3 – In his early writing he called himself Boz. Boz? You see, one of his favorite characters in Goldsmith's Vicar of Wakefield was called Moses. Moses became Boses which became Boz.
4 – Dickens married Catherine Hogarth in 1835. There were some happy years, but in 1958 they were legally separated. One of the reasons for the separation was Dickens' interest in the actress, Ellen Ternan.
Dickens met Ellen in 1857. Matters came to a head the next year when a bracelet that Dickens bought as a present for Ellen was accidentally delivered to the Dickens household. In a scene straight from a soap opera, Catherine discovered the bracelet and accused Charles of having an affair.
5 – One of the most fascinating aspects of Charles Dickens is that he understood the power of the media. Yes, even in the Victorian Era people had to worry about the press. In September of 1860, behind his home at Gad's Hill Place, Charles Dickens tried to cover his tracks. He gathered "the accumulated letters and papers of twenty years" and set them ablaze in his backyard. What could we have learned had he not taken this action? We'll never know.
More About Charles Dickens
Is someone on your holiday shopping list a fan of Charles Dickens?  If so, may I humbly suggest you visit the Charles Dickens section of the LitQuotes Gift Shop.  One of the most popular items in the Charles Dickens section is the Novels of Charles Dickens mug.   One side features the image of the ever-popular author  of A Christmas Carol.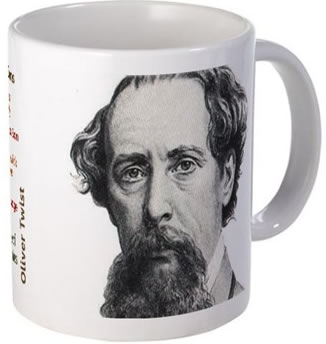 The other side lists the titles of his novels.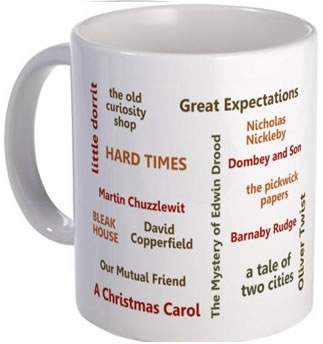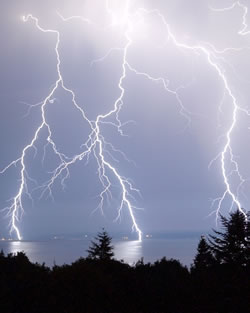 Charles Dickens (1812 to 1870) is possibly best known for A Christmas Carol.  However that's not his only work that features ghostly phrasings.  Here are five quotes from other works to give you a pre-Halloween thrill.
"I will die here where I have walked. And I will walk here, though I am in my grave. I will walk here until the pride of this house is humbled." ~ Bleak House by Charles Dickens
I saw that the bride within the bridal dress had withered like the dress, and like the flowers, and had no brightness left but the brightness of her sunken eyes. ~ Great Expectations by Charles Dickens
"I have heard it said that as we keep our birthdays when we are alive, so the ghosts of dead people, who are not easy in their graves, keep the day they died upon." ~ Barnaby Rudge by Charles Dickens
Around and around the house the leaves fall thick, but never fast, for they come circling down with a dead lightness that is sombre and slow. ~ Bleak House by Charles Dickens
There was a frosty rime upon the trees, which, in the faint light of the clouded moon, hung upon the smaller branches like dead garlands. ~ The Battle of Life by Charles Dickens
You May Also Be Interested In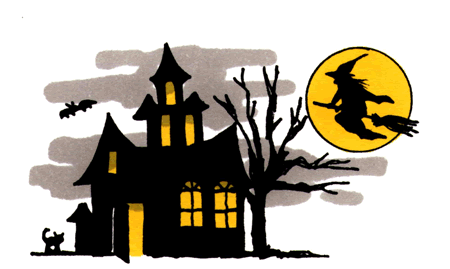 I hope you all have a fun and spooky Halloween.  Here are some of my favorite scary quotes in honour of the day . . . .
"Never walk near the bed; to a ghost your ankle is your most vulnerable part–once in bed, you're safe; he may lie around under the bed all night, but you're safe as daylight. If you still have doubts pull the blanket over your head." ~ This Side of Paradise by F. Scott Fitzgerald
All things pass. Only remain cosmic force and matter, ever in flux, ever acting and reacting and realizing the eternal types—the priest, the soldier, and the king. Out of the mouths of babes comes the wisdom of all the ages. Some will fight, some will rule, some will pray; and all the rest will toil and suffer sore while on their bleeding carcasses is reared again, and yet again, without end, the amazing beauty and surpassing wonder of the civilized state. ~ The Scarlet Plague by Jack London
'Tis now the very witching time of night,
When churchyards yawn, and hell itself breathes out
Contagion to this world. ~ Hamlet, Prince of Denmark by William Shakespeare
One disagreeable result of whispering is that it seems to evoke an atmosphere of silence, haunted by the ghosts of sound-strange cracks and tickings, the rustling of garments that have no substance in them, and the tread of dreadful feet that would leave no mark on the sea-sand or the winter snow. ~ Bleak House by Charles Dickens
It used to puzzle him that, after dark, someone would look in round the edge of the bedroom door, and withdraw again too rapidly for him to see the face. ~ The Other Wing by Algernon Blackwood