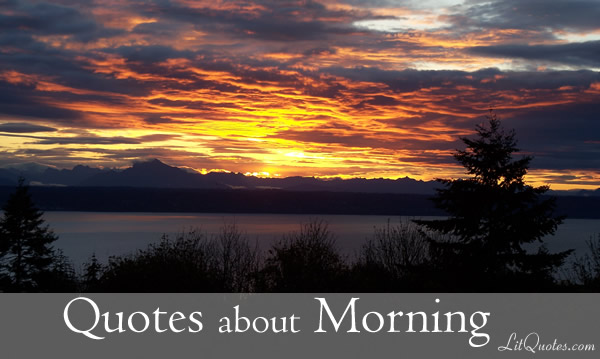 The sun comes out, a golden huzzar, from his tent, flashing his helm on the world. ~ The Confidence-Man by Herman Melville
The longest way must have its close,—the gloomiest night will wear on to a morning. ~ Uncle Tom's Cabin by Harriet Beecher Stowe
Saturday morning was come, and all the summer world was bright and fresh, and brimming with life. There was a song in every heart; and if the heart was young the music issued at the lips. There was cheer in every face and a spring in every step. ~ The Adventures of Tom Sawyer by Mark Twain
Morning made a considerable difference in my general prospect of Life, and brightened it so much that it scarcely seemed the same. ~ Great Expectations by Charles Dickens
"I like breakfast-time better than any other moment in the day," said Mr. Irwine. "No dust has settled on one's mind then, and it presents a clear mirror to the rays of things." ~ Adam Bede by George Eliot
Rays from the sunrise drew forth the buds and stretched them into long stalks, lifted up sap in noiseless streams, opened petals, and sucked out scents in invisible jets and breathings. ~ Tess of the D'Urbervilles by Thomas Hardy
From the east to the west sped the angels of the Dawn, from sea to sea, from mountain-top to mountain-top, scattering light with both their hands. ~ She by H. Rider Haggard
No man knows till he has suffered from the night how sweet and dear to his heart and eye the morning can be. ~ Dracula by Bram Stoker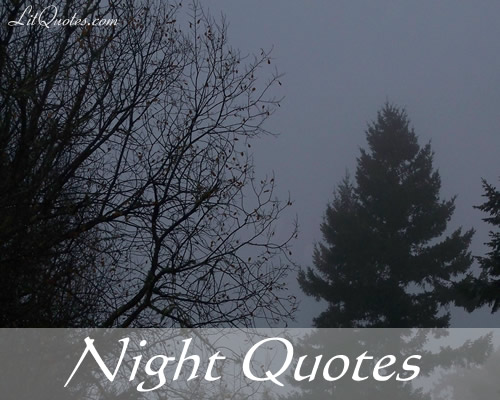 No man knows till he has suffered from the night how sweet and dear to his heart and eye the morning can be. ~ Dracula by Bram Stoker
"The owl, night's herald." ~ Venus and Adonis by William Shakespeare
They never pulled the curtains till it was too dark to see, nor shut the windows till it was too cold. Why shut out the day before it was over? The flowers were still bright; the birds chirped. You could see more in the evening often when nothing interrupted, when there was no fish to order, no telephone to answer. ~ Between the Acts by Virginia Woolf
The longest way must have its close,—the gloomiest night will wear on to a morning. ~ Uncle Tom's Cabin by Harriet Beecher Stowe
In the dead vast and middle of the night. ~ Hamlet, Prince of Denmark by William Shakespeare
At the enchanted metropolitan twilight I felt a haunting loneliness sometimes, and felt it in others–poor young clerks who loitered in front of windows waiting until it was time for a solitary restaurant dinner–young clerks in the dusk, wasting the most poignant moments of night and life. ~ The Great Gatsby by F. Scott Fitzgerald
The cool peace and dewy sweetness of the night filled me with a mood of hope: not hope on any definite point, but a general sense of encouragement and heart-ease. ~ Villette by Charlotte Bronte
Night, the mother of fear and mystery, was coming upon me. ~ The War of the Worlds by H. G. Wells
Once upon a midnight dreary, while I pondered, weak and weary,
Over many a quaint and curious volume of forgotten lore– ~ The Raven by Edgar Allan Poe
With a fierce action of her hand, as if she sprinkled hatred on the ground, and with it devoted those who were standing there to destruction, she looked up once at the black sky, and strode out into the wild night. ~ Dombey and Son by Charles Dickens
Leonard looked at her wondering, and had the sense of great things sweeping out of the shrouded night. But he could not receive them, because his heart was still full of little things. ~ Howards End by E. M. Forster
And when, on the still cold nights, he pointed his nose at a star and howled long and wolflike, it was his ancestors, dead and dust, pointing nose at star and howling down through the centuries and through him. ~ The Call of the Wild by Jack London
"Lead on!" said Scrooge. "Lead on! The night is waning fast, and it is precious time to me, I know. Lead on, Spirit!" ~ A Christmas Carol by Charles Dickens
"Good night, sweet prince, and flights of angels sing thee to thy rest!" ~ Hamlet, Prince of Denmark by William Shakespeare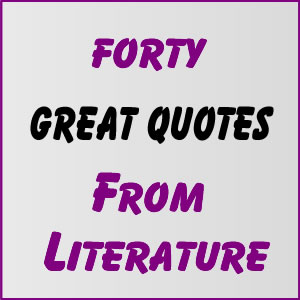 Need some advice or perspective?  Here are 40 great quotes from literature that may help.  These are some of our favorites from our words of wisdom quote collection.
Having a siesta. Taking a snooze. Getting forty winks. Heading off to slumber land. Whatever you call it, sleep is important. Here are eight quotes about sleep from literature.
"Give me honorable enemies rather than ambitious ones, and I'll sleep more easily by night." ~ A Game of Thrones by George R. R. Martin
The sigh of all the seas breaking in measure round the isles soothed them; the night wrapped them; nothing broke their sleep, until, the birds beginning and the dawn weaving their thin voices in to its whiteness. ~ To the Lighthouse by Virginia Woolf
But sleep, in the long run, proves greater than all emotions. ~ The Wendigo by Algernon Blackwood
We rose up betimes, for sleep weighs lightly on the hopeful as well as on the anxious. ~ The Swiss Family Robinson by Johann D. Wyss
The day was made for laziness, and lying on one's back in green places, and staring at the sky till its brightness forced one to shut one's eyes and go to sleep. ~ The Old Curiosity Shop by Charles Dickens
"O sleep, O gentle sleep, Nature's soft nurse, how have I frightened thee, that thou no more will weigh my eyelids down, and steep my senses in forgetfulness?" ~ Henry IV, Part Two by William Shakespeare
It was the forty-fathom slumber that clears the soul and eye and heart, and sends you to breakfast ravening. ~ Captains Courageous by Rudyard Kipling
How blessed are some people, whose lives have no fears, no dreads, to whom sleep is a blessing that comes nightly, and brings nothing but sweet dreams. ~ Dracula by Bram Stoker
See More Quotes about Sleep from Literature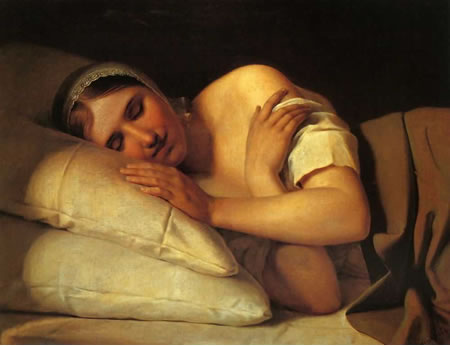 Just in time for Halloween comes a new TV show based on Dracula by Bram Stoker.  Dracula debuts October 25th.  
In the NBC series Dracula comes to Victorian London, posing as an American entrepreneur with an interest in modern science.  (Electricity must have been very popular with the living dead crowd.) However our favorite vamp has a darker goal in mind.  He's seeking revenge on those who betrayed him long ago.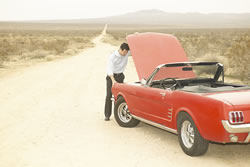 I hope that your weekend is off to a good start!  No flat tires, arguments or bounced checks.  Just in case though, here are five quotes about trouble that may help you take it all in stride.
"Most of the trouble in life comes from misunderstanding, I think," said Anne. ~ Anne of the Island by Lucy Maud Montgomery
"Would the world ever have been made if its maker had been afraid of making trouble? Making life means making trouble." ~ Pygmalion by George Bernard Shaw
"Half the trouble in life is caused by pretending there isn't any." ~ The House of Mirth by Edith Wharton
"I have read in your face, as plain as if it was a book, that but for some trouble and sorrow we should never know half the good there is about us." ~ The Haunted Man by Charles Dickens
"Oh, friend John, it is a strange world, a sad world, a world full of miseries, and woes, and troubles. And yet when King Laugh come, he make them all dance to the tune he play." ~ Dracula by Bram Stoker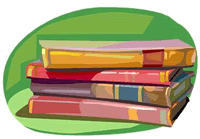 Morning made a considerable difference in my general prospect of Life, and brightened it so much that it scarcely seemed the same. ~  Great Expectations by Charles Dickens
"Self-love, my liege, is not so vile a sin, As self-neglecting." ~  Henry V by William Shakespeare
"Would the world ever have been made if its maker had been afraid of making trouble? Making life means making trouble." ~ Pygmalion by George Bernard Shaw
The mind is its own place, and in it self
Can make a Heaven of Hell, a Hell of Heaven. ~ Paradise Lost by John Milton
"Next to trying and winning, the best thing is trying and failing." ~ Anne of Green Gables by Lucy Maud Montgomery
The world is a looking-glass, and gives back to every man the reflection of his own face. Frown at it, and it will in turn look sourly upon you; laugh at it and with it, and it is a jolly kind companion; and so let all young persons take their choice. ~ Vanity Fair by William Makepeace Thackeray
Conventionality is not morality. Self-righteousness is not religion. To attack the first is not to assail the last. ~ Jane Eyre by Charlotte Bronte
"We learn from failure, not from success!" ~  Dracula by Bram Stoker
It is a fair, even-handed, noble adjustment of things, that while there is infection in disease and sorrow, there is nothing in the world so irresistibly contagious as laughter and good-humour. ~  A Christmas Carol by Charles Dickens
"This above all,–to thine own self be true; and it must follow, as the night the day, thou canst not then be false to any man." ~  Hamlet, Prince of Denmark by William Shakespeare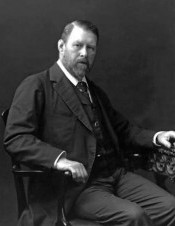 Bram Stoker, the author of Dracula,  was born on November 8, 1847 and died on April 20, 1912.  Here are five quick facts about the author that you may not know:
1 – Although we may think of Stoker as being English, he was actually born in Clontarf, Ireland.  (Clontarf is a suburb of Dublin.)
2 – He was a sickly child and was bedridden for much of his first seven years.   However Stoker thrived after that.  He grew to be over six feet tall.  His red hair plus athletic build lead a biographer to refer to Stoker as a "red-haired giant."
3 – An early romantic interest of Oscar Wilde was Florence Balcombe.  She eventually became the wife of Bram Stoker.
4 – Stoker was a late bloomer in terms of his writing career.  He didn't publish Dracula until he was fifty years old.
5 – Speaking of Dracula, in the 1980s the original manuscript of the novel was found in a barn in Pennsylvania.  It revealed that Stoker considered calling the novel THE UN-DEAD.  I don't know about you, but I like Dracula better.
Novels by Bram Stoker
The Primrose Path
The Snake's Pass
The Watter's Mou'
The Shoulder of Shasta
Dracula
Miss Betty
The Mystery of the Sea
The Jewel of Seven Stars
The Man (a.k.a. The Gates of Life)
Lady Athlyne
The Lady of the Shroud
The Lair of the White Worm (a.k.a. The Garden of Evil)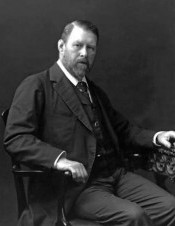 April 20th marked 100 years since the death of Bram Stoker, the author of Dracula.
An interesting fact about Stoker is that he was a late bloomer in terms of his writing career.  His work history included theater critic, civil servant and 27 years spent as the manager of the Lyceum Theater in London.  Stoker didn't publish Dracula until he was fifty years old.
Then a dog began to howl somewhere in a farmhouse far down the road, a long, agonized wailing, as if from fear. The sound was taken up by another dog, and then another and another, till, borne on the wind which now sighed softly through the Pass, a wild howling began, which seemed to come from all over the country, as far as the imagination could grasp it through the gloom of the night. ~ Dracula by Bram Stoker
[amazon_carousel widget_type="SearchAndAdd" width="450″ height="200″ title="" market_place="US" shuffle_products="False" show_border="False" keywords="dracula" browse_node="" search_index="DVD" /]