I really, really need to plan a trip to London.  I'd be sure to go on the Charles Dickens Walking Tour.  This video gives you an idea about what the tour would be like. It takes us to the George and Vulture, the home away from home for Pickwick in The Pickwick Papers.
In honor of Halloween I put together this list of five classic novels that have been rewritten with a different twist.  What happens when classic literature crosses with the horror genre?  You get titles like . . . .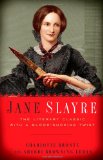 Jane Slayre, our plucky demon-slaying heroine, is a courageous orphan who spurns the detestable vampyre kin who raised her, sets out on the advice of her ghostly uncle to hone her skills as the fearless slayer she's meant to be. When she takes a job as a governess at a country estate, she falls head-over-heels for her new master, Mr. Rochester, only to discover he's hiding a violent werewolf in the attic–in the form of his first wife. Vampyres, zombies, and werewolves transform Charlotte Bronte's unforgettable masterpiece into an eerie paranormal adventure that will delight and terrify.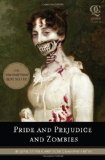 "It is a truth universally acknowledged that a zombie in possession of brains must be in want of more brains."
So begins Pride and Prejudice and Zombies, an expanded edition of the beloved Jane Austen novel featuring all-new scenes of bone-crunching zombie mayhem. As our story opens, a mysterious plague has fallen upon the quiet English village of Meryton—and the dead are returning to life! Feisty heroine Elizabeth Bennet is determined to wipe out the zombie menace, but she's soon distracted by the arrival of the haughty and arrogant Mr. Darcy. What ensues is a delightful comedy of manners with plenty of civilized sparring between the two young lovers—and even more violent sparring on the blood-soaked battlefield.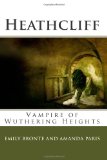 Heathcliff: Vampire of Wuthering Heights starts with a mysterious letter.  Lockwood, a law clerk in London and amateur vampire stalker, must investigate, no matter the peril to himself. Traveling into the misty moors of Yorkshire, Lockwood finds the strange owner of Wuthering Heights, Heathcliff, and becomes trapped in the evil enveloping all of Yorkshire. Driven nearly to madness by his unrequited love for Catherine Earnshaw, Heathcliff roams the moors and is transformed into one of the undead, a vampire. But when he returns to claim his beloved, he finds that she too is forever changed and cannot become one of the undead.  Heathcliff begins a cycle of madness that might satisfy his blood lust, but never his heart's desire. Now he reveals the history of carnage and revenge to his most unwilling listener and next victim…
Heaven knows, we need never be ashamed of our wolfish cravings. . . .
In Grave Expectations bristly, sensitive, and meat-hungry Pip is a robust young whelp, an orphan born under a full moon. Between hunting escaped convicts alongside zombified soldiers, trying not to become one of the hunted himself, and hiding his hairy hands from the supernaturally beautiful and haughty Estella, whose devilish moods keep him chomping at the bit, Pip is sure he will die penniless or a convict like the rest of his commonly uncommon kind.  But then a mysterious benefactor sends him to London for the finest werewolf education money can buy.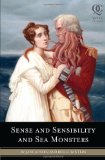 Sense and Sensibility and Sea Monsters expands the original text of the beloved Jane Austen novel with all-new scenes of giant lobsters, rampaging octopi, two-headed sea serpents, and other biological monstrosities. As our story opens, the Dashwood sisters are evicted from their childhood home and sent to live on a mysterious island full of savage creatures and dark secrets. While sensible Elinor falls in love with Edward Ferrars, her romantic sister Marianne is courted by both the handsome Willoughby and the hideous man-monster Colonel Brandon. Can the Dashwood sisters triumph over meddlesome matriarchs and unscrupulous rogues to find true love? Or will they fall prey to the tentacles that are forever snapping at their heels? This masterful portrait of Regency England blends Jane Austen's biting social commentary with ultraviolent depictions of sea monsters biting. It's survival of the fittest—and only the swiftest swimmers will find true love!
One of my Twitter followers alerted me to upcoming publication of this book. The Great Charles Dickens Scandal by Professor Michael Slater addresses Dickens' affair with Ellen Ternan.
Charles Dickens was regarded as a pillar of respectability in Victorian Britain, but in 1858 this image was nearly shattered. With the break-up of his marriage that year, rumours about a scandalous relationship he may have conducted with young actress Ellen "Nelly" Ternan flourished. For the remaining twelve years of his life, Dickens struggled to quash the gossip. After his death, surviving family members did the same. But when the author's last living son died in 1934, there was no one to discourage rampant speculation. Dramatic revelations seemed to come from every corner – over Nellie's role as Dickens' mistress, the financial help he gave her, their clandestine meetings, their coded messages, and even his fathering of an illegitimate child with her. This book presents the most complete account of the scandal and ensuing coverup ever published. Drawing on the author's letters and other archival sources not previously available, Dickens scholar Michael Slater investigates what Dickens did or may have done, then traces the way the scandal was elaborated over succeeding generations. Slater shows how various writers concocted outlandish yet plausible theories while newspapers and book publishers vied for sensational revelations. With its tale of intrigue and a cast of well-known figures from Thackeray and Shaw to Orwell and Edmund Wilson, this engaging book will delight not only Dickens fans but also readers who appreciate tales of mystery, cover-up, and clever detection.

It's reassuring to think that we all have a place and a purpose.
"No one is useless in this world," retorted the Secretary, "who lightens the burden of it for any one else." ~ Our Mutual Friend by Charles Dickens
The complex affair we call the world requires a great variety of people to keep it going. ~ The Golden House by Charles Dudley Warner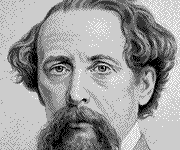 Yesterday I added 27 Barnaby Rudge quotes to the site. My favorite quote of the new batch is:
She had found her heart at last. Never having known its worth till now, she had never known the worth of his. ~ Barnaby Rudge by Charles Dickens

Other LitQuotes Features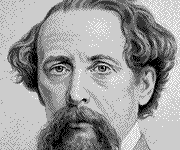 The BBC has just published an interesting article on the travels of Charles Dickens to America.   To say that the first visit didn't go well would be an understatement.  Dickens found many reasons to fault his American hosts.
Here's a quote from American Notes on just one aspect of his visit:
As Washington may be called the head-quarters of tobacco-tinctured saliva, the time is come when I must confess, without any disguise, that the prevalence of those two odious practices of chewing and expectorating began about this time to be anything but agreeable, and soon became most offensive and sickening. In all the public places of America, this filthy custom is recognised. In the courts of law, the judge has his spittoon, the crier his, the witness his, and the prisoner his; while the jurymen and spectators are provided for, as so many men who in the course of nature must desire to spit incessantly. In the hospitals, the students of medicine are requested, by notices upon the wall, to eject their tobacco juice into the boxes provided for that purpose, and not to discolour the stairs. In public buildings, visitors are implored, through the same agency, to squirt the essence of their quids, or 'plugs,' as I have heard them called by gentlemen learned in this kind of sweetmeat, into the national spittoons, and not about the bases of the marble columns. But in some parts, this custom is inseparably mixed up with every meal and morning call, and with all the transactions of social life. The stranger, who follows in the track I took myself, will find it in its full bloom and glory, luxuriant in all its alarming recklessness, at Washington. And let him not persuade himself (as I once did, to my shame) that previous tourists have exaggerated its extent. The thing itself is an exaggeration of nastiness, which cannot be outdone.
Another troubling issue was the lack of an international copyright law. It didn't exist then and Dickens was enough of a business man to realize what it cost him.  Our partner site, Charles Dickens – Gad's Hill Place, has a good article on the subject of Dickens and copyright laws.
The Toronto Star has an interesting story of the Dickens collection of Dan Calinescu.  Mr. Calinescu's extensive collection includes first editions, pages from working manuscripts, letters and many, many copies of the works of Dickens.

Happy New Year!  May 2012 bring you health, laughter and love.  Here are some quotes from our daily quotes page for the new year . . .
The future was with Fate. The present was our own. ~ The Poison Belt by Sir Arthur Conan Doyle
"Now, I return to this young fellow. And the communication I have got to make is, that he has great expectations." ~ Great Expectations by Charles Dickens
"Ride on! Rough-shod if need be, smooth-shod if that will do, but ride on! Ride on over all obstacles, and win the race!" ~ David Copperfield by Charles Dickens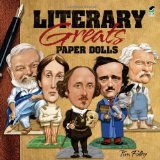 Oh, how I wish I'd seen this before Christmas!   I would have added the Literary Greats Paper Dolls Collection to my wish list.  This paper doll set for grownups contains 35 caricatures of famous authors, including Shakespeare, Mary Shelley, Edgar Allan Poe, Ayn Rand, and Charles Dickens. Each doll has three costumes that relate to the author's work.  Fox example,  the Conan Doyle doll has a Sherlock Holmes costume and Agatha Christie can be decked out as Miss Marple.  Fun stuff!!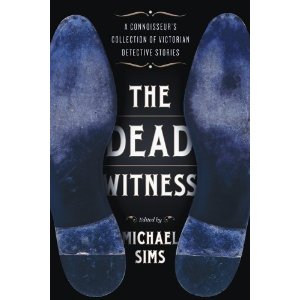 I heard about  The Dead Witness: A Connoisseur's Collection of Victorian Detective Stories on NPR this morning.  Of course Wilkie Collins and Sir Arthur Conan Doyle are represented in the collection.  However the book also has detective fiction from classic authors that aren't necessarily associated with the genre like Charles Dickens and Mark Twain.  Other stories in the collection are by authors that aren't as well known today such as Anna Katharine Green and C. L. Pirkis.
Here's what Amazon.com has to say:
From luminaries Mark Twain, Charles Dickens, Bret Harte, Wilkie Collins, and Arthur Conan Doyle to the forgotten author who helped inspire Edgar Allan Poe's "The Murders in the Rue Morgue" to a surprising range of talented female authors and detectives, The Dead Witness offers mystery surprises from every direction. The 1866 title story, by Australian writer Mary Fortune, is the first known detective story by a woman, a suspenseful clue-strewn manhunt in the Outback. Pioneer writers Anna Katharine Green and C. L. Pirkis take you from high society New York to bustling London, introducing colorful detectives such as Violet Strange and Loveday Brooke.